10 Incredible Thru-Hiking Artists Inspired by Long Trails
Have you hit the trail to find inspiration? You're not alone. These fantastic folks are hitting the trail with art supplies in tow and have stunning work to show for it. From Blue Ridge backpacking guides to muralists and more, here are 10 artists making an impact on the hiking community through their work.
If you're an avid art supporter, there are a few ways to share the love with your favorite artists up and down the trail. Giving them a follow on social media, sharing kind words, and commissioning art are all great ways to show your support: so don't be shy about visiting the links below!
Featured image via Heidi Nisbett of Sketching Summits.

Trails: Appalachian Trail (2015 and 2017), Pacific Crest Trail (2019), Israel National Trail (2018)
Mediums: Mixed Media.
Alina "Abstract" Drufovka is a Colombian-American thru-hiker, backpacking guide, and artist. After over 5,000 miles on the Appalachian Trail, Pacific Crest Trail, and Israel National Trail, Drufovka now transforms all the nostalgia and beauty from her treks into groovy designs!
She started her business, Abstract Hikes, during the pandemic and has been painting portals back to the trail ever since. During this time, she also had the chance to do illustration and design work for many companies in the outdoor industry, including Outside, REI, NOLS, American Hiking Society, Kula Cloth, and many others.
Drufovka is currently living on the road as an Ambassador for the Get Outside Tour.
"Most of my current works are a combination of gouache, watercolor, acrylic, ink, and illustrator markers on cold-pressed watercolor paper. I also utilize recycled maps to collage sections of my paintings," Drufovka said of her artwork.
"I am passionate about creating art because it allows me to create portals to the trail that transport myself and others to the magic of nature. Additionally, the process of painting has always been deeply therapeutic and cathartic for me since I was a young child.
"I am most inspired by nostalgia and memories of life spent on trail—I often say mother nature is my muse! I love the challenge of combining memories and photos with surreal elements such as oversized plants or fungi, nightscapes that blend into daytime, and the form of backpackers filled with their trail story."
Visit Drufovka's Instagram to follow along with her adventures, and click this link for everything from commissions to media mentions.
Heidi Nisbett of Sketching Summits | @sketchingsummits

Trails: Appalachian Trail (2018), Superior Hiking Trail and Foothills Trail (2020), Continental Divide Trail (2021), Pinhoti Trail (2022)
Mediums: Watercolor.
Heidi Nisbett grew up in South Carolina and currently resides in Charlotte, NC with her husband and adorable dog. She works part-time as an artist and part-time as a backpacking guide for Blue Ridge Hiking Company, finding joy in introducing others to the Appalachian Trail experience.
"I have been drawn towards creating (pun intended) since I was very young and have always been fascinated with painting and color," Nisbett told The Trek. "After studying art in college, I was a bit burnt out and avoided the practice for a few years until I thru-hiked. The journey and my surroundings inspired me to start painting again and remain my main motivation to create."
Visit Nisbett's Instagram to follow along with her adventures, and visit Sketching Summits' website.

Trails: Long Trail (2012, 2019 Unsupported FKT), Pacific Crest Trail (2014), Continental Divide Trail (2016), Appalachian Trail (2018), Arizona Trail (2019), Colorado Trail (2021 Self-Supported FKT)
Mediums: Watercolor and ink with mixed media.
"I studied printmaking and paper making in college and look forward to getting back into those mediums in the future." 
Nika "Early Bird" Meyers is an artist and thru-hiker who grew up in Vermont among fresh produce and hardwoods. Since graduating from Mount Holyoke College in 2011, she has spent the past decade working in the outdoors, creating opportunities for others to get outside, making artwork, and hiking over 10,000 miles. Her hiking achievements include the Triple Crown and several Fastest Known Times.
For the past five years, Meyers has been creating a life in Colorado, where she works as a Nordic ski coach and artist. The state's wild and rugged landscapes have become more of a home than any space with four walls, and she finds herself climbing, backpacking, running, skiing, and eating snacks as much as possible.
"Creating art is how I have learned most of my life. It connects me to this big world. The process of making art transports me to places and moments that are full of magic, change, wild silliness, and demanding challenges. It helps me to tell stories, learn about myself and others, support conservation projects, and advocate for public spaces.
"There is no way to fully re-create a sunrise dancing across a high ridge or the emotion that comes from being present for a miracle or the gratitude for having an unforgettable conversation, but I strive to bring parts of that energy into my work."
"Imagination, curiosity, physical and mental challenge, animal migrations, wild places, trails, interactions with humans, and the interconnectedness of this world all inspire my work. I also love doing commissioned pieces and collaborations, as they always bring new energy and inspiration to my work!"
Visit Meyers' Instagram here or here to follow along with her adventures, or visit her website for commissions and more.

Trails: Appalachian Trail, International Appalachian Trail, Pinhoti Trail, Florida Trail x2, Ocean to Lake Trail, Long Trail, Arizona Trail, Grand Enchantment Trail, Tahoe Rim Trail, Pacific Crest Trail, Uinta Highline Trail, Sheltowee Trace Trail, + several LASHes. All over about 14,000 miles on long-distance trails around the US.
Mediums: Physical mediums such as ink, watercolor, and acrylic paints.
Thru-hiker and painter Jupiter has had to adapt his artwork to the realities of a life centered on the outdoors. "Though I have loved acrylic paints most of my life, they are fairly messy while living in a van, and thus watercolor and ink has been my go-to for the past five years."
Jupiter is 31, was born and raised in Florida, and fell in love with long-distance hiking nine years ago: "It has been my greatest joy, and I look forward to many more years and miles to come. The art, in whichever form, goes hand and hand with the hiking.
"I think it is the feelings on a thru-hike that inspire me most, and so I want my paintings to be more of a dreamscape, representing something intangible but deep in my memories. I use a lot of stark illustrative lines, fantasy-like colors, with a focus on big features, ridges, and peaks along the way. Sometimes a hike does not feel real, and I want to reflect that.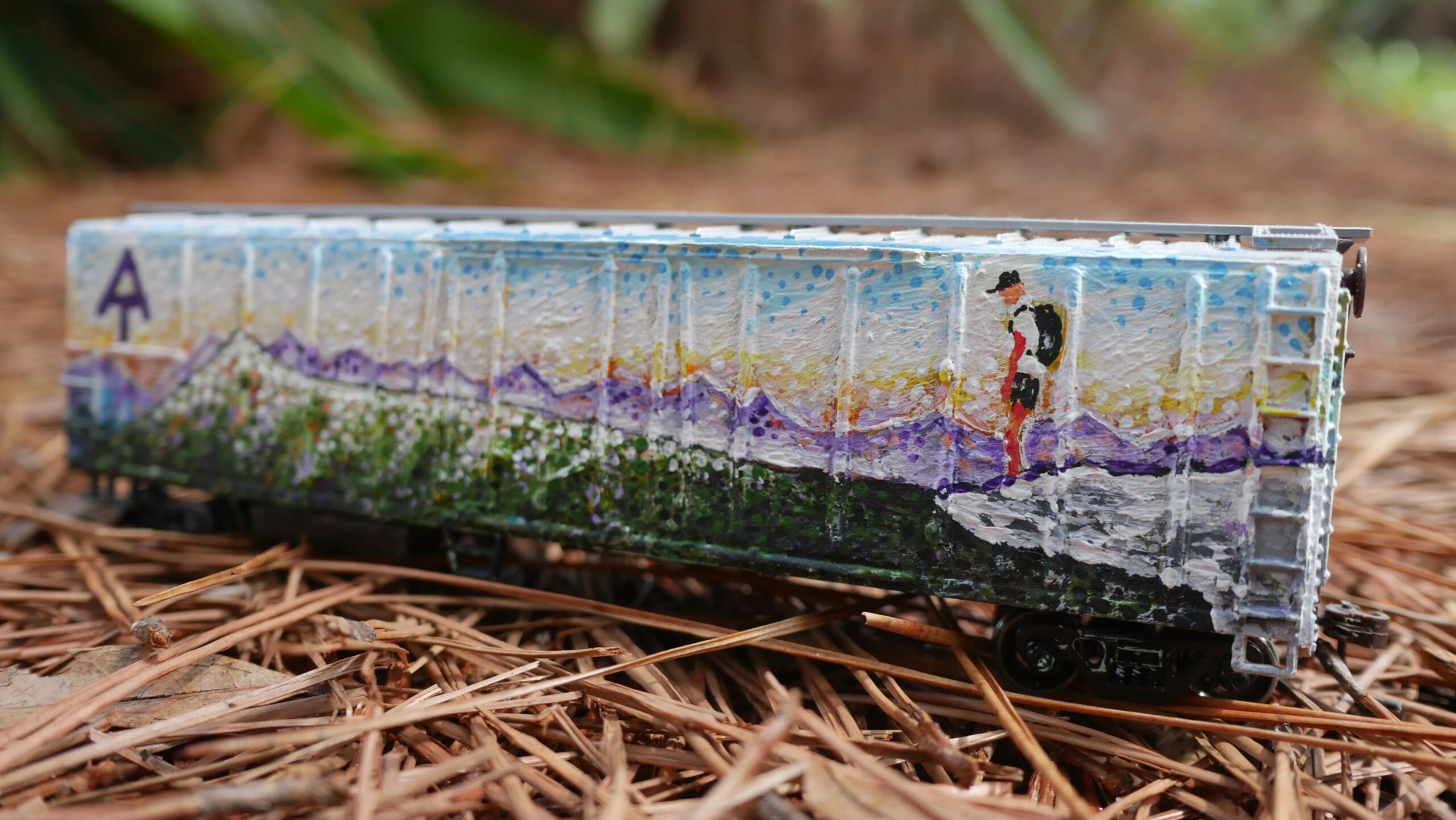 "In a lot of ways I just like sharing the experience, whether that is through art, guides, stories, or videos. I hope it has gotten others to try something new or has been entertaining in some way.
A passion project for sure, but another way for me to put a little cap on the experience and relive the land I was just in for however long, while hopefully providing something unique to those interested."
Watch Jupiter's videos on his Youtube Channel, follow along with his adventures on Instagram, and click here to check out his website.

Trails: Pacific Crest Trail (2021), Appalachian Trail, Likya Yolu
Medium: Digital illustration.
Anna Forrester credits the trail with kickstarting her artistic career.
"I found my footing in art and illustration because of my time on the Pacific Crest Trail. In short, that experience gave me an explosion of creative energy: illustrated journaling became not only a way for me to document and cherish daily life on trail, but also a way to process the vulnerable, joyous, painful, and heartbreaking aspects of long-distance foot travel."
"The creative world I found out there has stayed with me: I now work in digital illustration, where my work predominately revolves around stylized maps and place portraits, parks and green spaces, and localized and regional illustrations focusing on Appalachia and the southeast."
"A central inspiration for my work is guiding, encouraging, and empowering people—responsibly—outside, and I'm particularly passionate about working in creative service to communities that have not been thoroughly represented or funded in the outdoors."
Visit Anna's Instagram or check out her website here.
Trails: Adirondack Park (2017-2019), New England Trail (2019), Northville-Placid Trail (2019), Pacific Crest Trail (2022)
Mediums: Digital illustration.
Celia Binder didn't always plan for a career in the outdoor industry. "I studied art in college, working in formal mediums like oil painting and darkroom photography processes," she told The Trek.
"In 2018, while working in the Adirondack Mountains, I (started) making little drawings about life outdoors, or funny life observations, mostly to make my friends laugh. A year later I bought an iPad and started drawing digitally. Now I work as a freelance illustrator and cartoonist for outdoor brands."
"As an artist, most of my work centers around adventure, everyday life, and the humor in both of those experiences. My art is a lot of things. It's illustrations and cartoons, it's stickers and t-shirt designs. Sometimes it is educational, and other times it's just what I find funny.
"Besides creating, my biggest source of joy is thru-hiking. To me, the two go hand-in-hand. I think of most of my ideas while walking on trails. And when I feel like I need a creative reset, I go for a hike."
"Growing up I was always uncomfortable in my skin. It wasn't until I went away to college and discovered backpacking that I felt welcomed in a community. Soon after my first backpacking trip, I came out as a lesbian, and started fully enjoying life for the first time.
"To me, every person deserves transformative outdoors experiences, whether that means an afternoon walk or a five-month hike. I like making art that speaks to the thru-hiker community and encourages everyone to go outside because it's pretty great out there."
Follow the links to check out Celia's Instagram and website.
Trails: Superior Hiking Trail, Isle Royale National Park, Pictured Rocks National Scenic Lakeshore, Border Route Trail
Mediums: Watercolor.
For Jen Theisen, artwork inspires her outdoor adventures as much as the adventures inspire the artwork.
"Watercolor is a fresh joy that allows me to slow down, observe and engage with my surroundings in a new and present way. The idea of water from wild lakes, rivers, and puddles living in my paintings lights up my imagination and makes me feel even more connected to nature."
"Shifting gears to sketch and paint on and off the trail has also been good for my mind and allows me to engage in the 'here and now' in a deeper way instead of just focusing on the miles or what's next.
"It has been so fun to paint a perpetual trail journal on my pack, and my tiny, lightweight art kit is an essential piece of gear that comes along on every trip.  Making art on the trail has given me reason to pause and go deeper into the moments that I love most when I am outside."
To see more photos of Jen's artwork (including her unique hand-painted artpack), learn what's in her art kit, and follow her adventures, visit Wandering Pine's website or follow her on Instagram.
Mike Wurman of A Sketch and a Prayer | @asketchandaprayer
Trails: Appalachian Trail (2014-2018), Colorado Trail (2021)
Mediums: Soft pastels, charcoal, and graphite.
Soon after making the move to Asheville to pursue a career as an artist, Mike Wurman felt overwhelming self-doubt overshadowing his abilities as an artist and an individual. His passion to create had vanished, so he packed up his drawing supplies and called it quits.
Then one spring day in May of 2014, as he and his wife hiked to the summit of Max Patch, Wurman came across a scene that ignited a flame that had faded within him. As he crouched to take a picture of a weather-beaten post painted with the familiar white blaze that marks the Appalachian Trail, he was overcome with an immediate desire to draw again.
Yet it wasn't going to be as simple as grabbing the nearest pencil to start sketching. He was being called by the trail itself to make the 2,200-mile pilgrimage from Georgia to Maine.
Two months later, with no backpacking experience, he loaded up a newly purchased pack with all the necessities (including two sketchbooks and an assortment of pencils) and headed north from Springer Mountain, Georgia.
His journey not only strengthened his belief in himself as an artist and a person, but it also helped him develop an undying love of nature that he's eager to share with others.
It wasn't long before Wurman realized that the black and white pencil drawings he produced weren't enough to convey the colorful and vivid imagery that he found in nature each day. He discovered that pastels captured that vibrancy of the outdoors, so he taught himself a new medium.
His ultimate desire with each piece is for the viewer to experience emotions as if they were on their own self-fulfilling journey.
"I always felt as an artist, I lacked passion," Wurman said. "Hiking the Appalachian Trail and particularly being outdoors helped me find that passion. Once I discovered that, everything else seemed to fall into place.
"What makes me passionate about creating art is when someone sees a particular piece of mine and has an immediate emotional attachment to it.
"Maybe it's a location along a particular trail that conjures up memories of when they passed through that area, or it's a scene that inspired me that transports the viewer to that area having never been there themselves. That's what makes me passionate about creating. That's when I know I've done my job."
The everyday beauty that surrounds us inspires me, but when I have to work for it by putting in the miles and I come across something such as a view from a mountain summit or a body of water in some remote area, that's where the real inspiration lies.
"I can't wait to get home and get to work because I know all the effort, all the agony, the sweat, the occasional tears, and ultimately the exhilaration of the find will go into creating that work. Those are the pieces that I'm most excited to bring to life."
Visit Wurman's website and Instagram to see more of his work and follow along with his adventures ahead.
Kerry "S'Rocket" Uhlendorf of SherpaAnt | @sherpaant

Trails: Appalachian Trail (2013), Pacific Crest Trail (2016), all 48-4,000 Footers in NH
Mediums: Digital, pen-and-ink sketches.
Kerry Uhlendorf lives, draws, and explores in New Hampshire with her husband, Erich, and daughters Sierra and Ada. She loves backpacking and climbing.
After thru-hiking the AT in 2013, Kerry knew she wanted to combine her passions for art and outdoor adventure, so she created her first product: the Color-Your-Hike Trail Map of New Hampshire's White Mountains. Ten years later, the map is still a best-seller.
Uhlendorf took a six-month hiatus to thru-hike the Pacific Crest Trail in 2016 with her then-boyfriend. She and Erich got engaged on Forester Pass in the Sierra, and Uhlendorf's art business, Sherpa Ant, was formed soon after. Her products have expanded to include greeting cards, apparel, and gifts.
"While my main focus is mountains and outdoor adventure, I find most of my inspiration while out on the trails. And then when I am creating my maps, like the USA Long-Distance Hiking Trail Map, I get inspired and excited to find and explore new trails."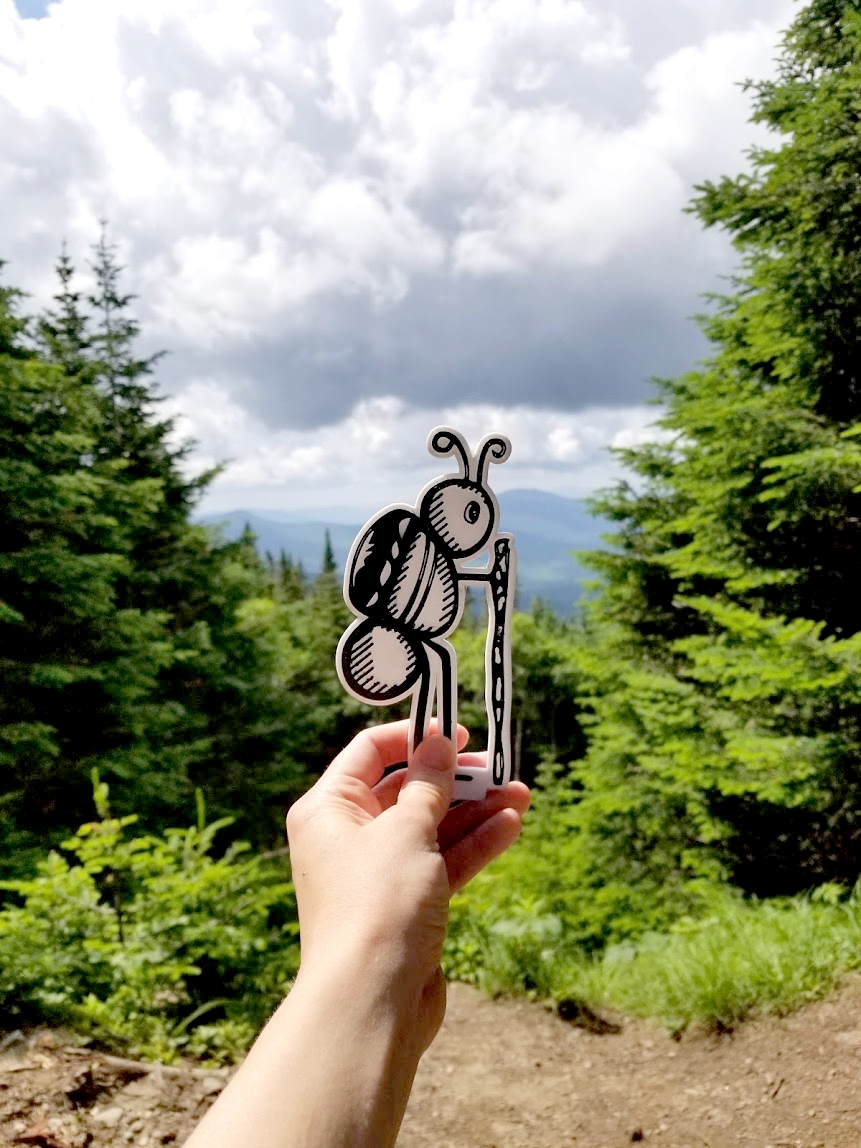 Visit Sherpa Ant's website and follow along with Uhlendorf's adventures on Instagram.
Trails: Appalachian Trail
Mediums: Prismacolor pencils.
Melinda Irby is the artist behind Wandering Arts and Crafts. Her work is inspired by nature, backpacking, trails, and exploring national and state parks. Irby has been working independently for seven years since moving to Hendersonville, NC from Bedford, VA. She enjoys hiking, traveling, and raising her six-year-old daughter.
"My artistic inspiration comes from hiking, backpacking, traveling around the country, and adventures around western North Carolina. I really love discovering new Appalachian flora and fauna, but what I really get excited about are the wildflowers and especially spring ephemerals!"
Stop by Melinda's booth at Trail Days every year, find her work on Etsy, and follow along with her adventures on Instagram.
Still craving more trail-inspired art? Check out five more thru-hiking artists who were inspired by the Appalachian Trail.
Affiliate Disclosure
This website contains affiliate links, which means The Trek may receive a percentage of any product or service you purchase using the links in the articles or advertisements. The buyer pays the same price as they would otherwise, and your purchase helps to support The Trek's ongoing goal to serve you quality backpacking advice and information. Thanks for your support!
To learn more, please visit the About This Site page.