15 of Our Best Stories For Outdoor Education, Inspiration, and Entertainment
We aren't supposed to travel out of state, many of us aren't even going to work, and depending on your local recommendations, you might even be under a stay-at-home order. We have a metric buttload of stories in our archive that deserve to be highlighted, and it was hard to pick just a few. These articles run the gamut from DIY gear projects, to the history of the PCT, to standout blogger posts, and more. We also have an extensive podcast archive of Backpacker Radio episodes to catch up on, and a special presentation of The Attempt, the story of one PCT hiker's journey.
Have a topic you'd like to see covered? Let us know in the comments. We're not thru-hiking, so we have plenty of time to sit on the computer and think about our lives.
-Maggie Slepian
Managing Editor
Related
Admit it. You've wondered the same thing. This super  popular AT hostel and deli in Vermont has long held an air of mystery, but that doesn't mean it isn't beloved by a large population of hikers and locals. Our writer pulls back the curtain to take a look at what's really going on here.
We all have a lot of time on our hands right now. What better time to start dehydrating your own food for either a future hike, or the end of the world as we know it? Our writer gives her best tips for dehydrating food, and some myths you can ignore as you get started on your own.
Our stats wizard takes a break from the yearly posts to examine the trends we've seen changing and developing over our five years of surveying Appalachian Trail hikers. From budget, to gear options, to resupply strategy, this is how AT hikers have changed over the past five years.
Looking for a quarantine project that will have more real-world applications than a 5,000-piece jigsaw puzzle, or rewatching Tiger King for the sixth time? These three projects are fun, inexpensive, and our writer lays out the steps in an easy-to-follow format. Besides, we know you've always wanted to wear a Tyvek rain kilt on your daily neighborhood walk.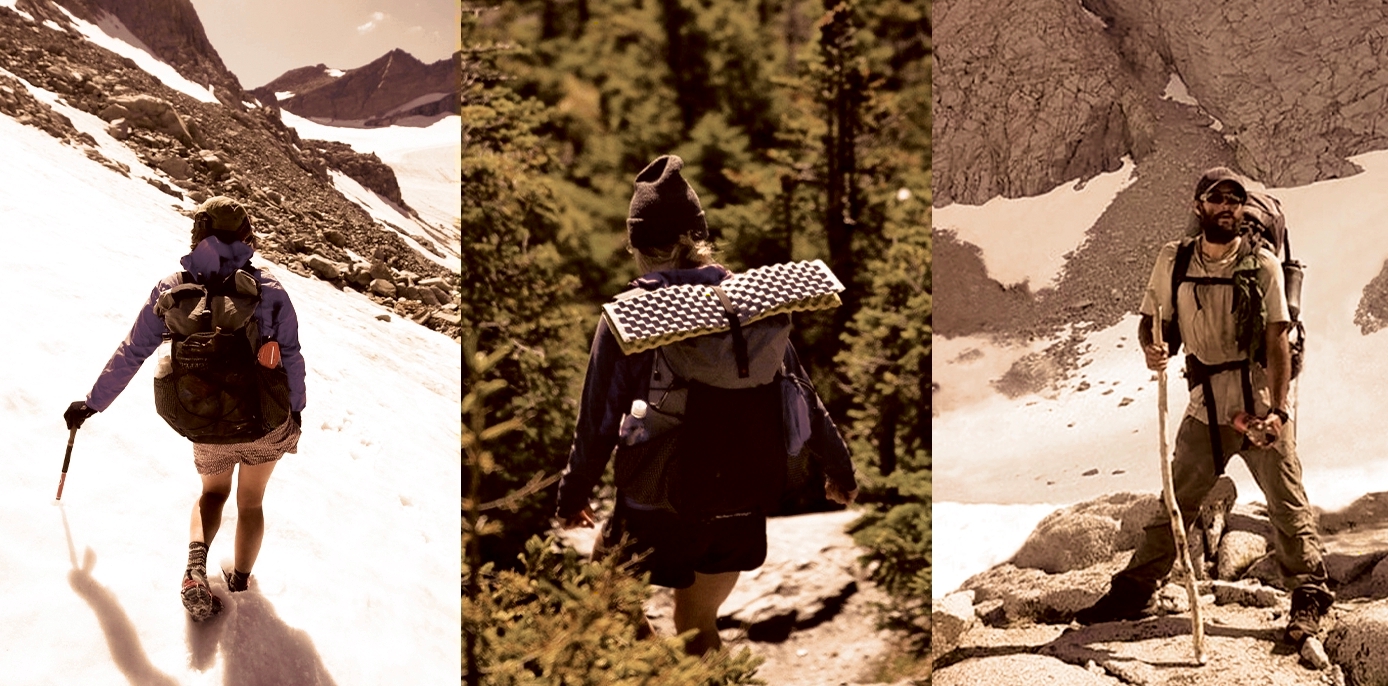 Thru-hiking season might have met its untimely demise this year, but that doesn't mean you can't hone your skills for next year, or (fingers crossed) a shorter trip this fall. Our writer has nearly 10,000 trail miles under her belt, and you better believe she knows how to pack a bag. We also check in with a few other experienced backpackers to see their different strategies, from ultralight and luxurious and everything in between.
Our community voted, and we wrote it up. From Southern Maine to the Smokies, this is an overview on the most difficult sections on the Appalachian Trail. Coincidentally (or not), most of these were also listed as thru-hikers' favorite sections along the entire trail. AT hikers are gluttons for punishment, and we wouldn't have it any other way.
We can't hike on the PCT right now, but take this time to learn about the storied history of this 2,650-mile trail from Mexico to Canada that started as just a chance conversation.
Ever wonder why some fabrics are breathable, some turn you into a human sauna, and some just don't work at all? From GoreTex to PU laminates to the actual size of the membranes, here's your nerdy dive into the technology behind your favorite (or least) favorite rain gear.
Our writer digs into the story of Geraldine Largay while giving us a rundown of this deeply detailed, tragic telling of her 2013 disappearance. The discovery of Largay's body in the woods in Maine in 2015 revealed a drawn-out struggle for survival and her innate understanding of her impending passing.
Every body has a place in the outdoors, and every size and shape has something to take into consideration for gear and overall comfort. Our badass writer is a plus-size hiker, raft guide, and all-around incredible outdoorswoman. Here, she gives her best tips on chafe, apparel, and pacing for plus-size long-distance hikers.
Evans does a deep dive into the impact of YouTube on trail culture, asking if the overall impact has been good, bad, or negligible. Whatever it is, you can't deny that the most popular hiking YouTubers have brought a huge amount of attention to thru-hiking.
In 2019, Trek writer, intern, and former AT thru-hiker Becky "Gandalf" Booroojian took on a SOBO PCT hike. Her blog posts are alternately hysterically funny, poignant, detailed, and always dead honest about trail life and starting a SOBO hike in some seriously nasty weather. Have a lot of time on your hands? We recommend reading all of her 2019 SOBO PCT blog posts.
In 2018, the eight-member Crawford family completed their Appalachian Trail hike from Georgia to Maine. Our profile writer chatted with the family a few months after the completion of their hike to find out exactly how they managed to pull this off.
We compiled advice from hikers with over 30,000 combined miles between them. But! They were all beginners once upon a time. These are their best pieces of advice for beginner backpackers, and anyone looking to get out into the backcountry for the first, second, or third time.
Scroll through these breathtaking images from Koty's thru-hike. We're pretty sure they're the next best thing to actually being out there, and it's making us more excited than ever for when we'll be able to hike responsibly again.
Featured image via Maggie Slepian
Affiliate Disclosure
This website contains affiliate links, which means The Trek may receive a percentage of any product or service you purchase using the links in the articles or advertisements. The buyer pays the same price as they would otherwise, and your purchase helps to support The Trek's ongoing goal to serve you quality backpacking advice and information. Thanks for your support!
To learn more, please visit the About This Site page.