2017 Best Sleeping Bags for Thru Hiking
Aside from something to look forward to crawling into each night, a thru-hiker's sleeping bag can literally be a lifesaver. When choosing your sleeping bag, the first thing to typically look at is the temperature rating. Remember that these comfort/lower limit ratings are guidelines, not rules. Everyone's thermal needs are different, and just because a bag is rated at 20 degrees, it doesn't mean you'll be comfortable at 20 degrees. If you're on the fence, we recommend erring on the side of caution and going with the lower temperature limit. Spending the night shivering will not make you a happy hiker in the morning.
All of the following options have down insulation, since thru-hikers favor it over synthetic. Always protect your down items from getting wet, as the fibers lose most insulating properties after saturation. Treated bags (DriDown, DownTek, DWR on face fabrics) will help protect the insulation, and are a smart option for hikers heading into a wet or rainy climate. Check out more info on treated down here.
Most of these bags come with size and fill options. We've listed the middle-of-the-road choices for each one. Check out the brand sites for alternative specs, and always make sure to choose the best option for your size and thermal needs. We listed all options as close to 20-degree ratings as we could—that seems to be the average need for AT and PCT thru-hikers. For hikers sleeping warmer or colder, you can always opt for a 10-degree+/- difference.
A Few Notes
Down Sleeping Bag Vs. Down Quilt
We're seeing a fair amount of thru-hikers opting for UL down quilts over traditional, full-zipper mummy bags. The benefits of a quilt include fewer ounces by losing the full zipper, plus sprawling sleepers might appreciate the mobility offered by a blanket instead of being fully enclosed. Science tells us that down compressed under a sleeper doesn't have enough insulting properties to warrant a full bag. However, before you make the switch, think about it. If you're used to being zipped up into a bag, it might be hard to get used to not having one.
What the heck is "fill power?"
"Fill power" references the amount of room one ounce of down will occupy in a cylindrical container when allowed to loft to full capacity. High quality down has a higher loft than low quality down, which basically means you get more warmth for less weight, ie 800 fill has a better warmth-to-weight ratio than 650 fill.
For more on the insulating properties of down and fill power, check out this post.
Without further ado, here are our top picks for the best sleeping bags and quilts for thru-hiking, in no particular order.
Weight: 1.8lbs
MSRP: $500
Fill Power: 850
Description
With 16-ounce fill weight and a down-filled collar, drafts have a hard time seeping into this classic mummy bag. The bag is breathable thanks to a technical face fabric, and it's incredibly packable. Western Mountaineering has always had smart designs, plus they're made in the US. This is a classic bag that winds up on many best-of lists.
Weight: 1.3lbs
MSRP:  $500
Fill Power: 900
Description
This is the only quilt on the list with a sewn-shut footbox, which means you don't have the option of opening it up entirely, but you save weight because no zipper. It comes with Katabatik's proprietary cord clip system to attach the quilt to a sleeping pad and prevent excessive shifting. Continuous baffles allow the down to be shifted in the bag as the weather dictates, and the footbox has extra down fill to keep your toes toasty. These high-quality quilts are all built in Colorado.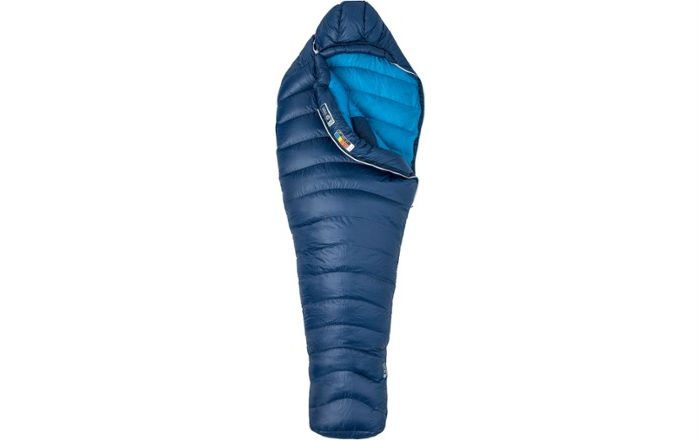 Weight: 1.5lbs
MSRP: $460
Fill Power: 850
Description
This is a classic mummy bag complete with the cozy down-filled hood. The internal stash pocket keeps headphones or earplugs close by, and the full-length zipper has a draft tube to prevent wind from penetrating. Some reviews have mentioned zipper snags on the fabric, which is something we always watch out for with the more delicate, lighter-weight fabrics.
Weight: 1.6lbs
MSRP: $479
Fill Power: 950
Description
The face fabric is treated to be semi water-resistant to protect the high-loft down, and also stays relatively breathable. This mummy bag has a hood and an ergonomic shape, but be aware that the mummy shape might feel confining to sleepers who like to sprawl. The down collar and cozy hood keep the top of your head warm and prevent drafts at the neck. Full-length zipper is easy to maneuver, and draft tube keeps the air out. This is another bag made in the good ol' US of A.
Weight: 1.3lbs
MSRP: $330
Fill Power: 900
Description
 The customizable options for this quilt seem endless (width, length, fill power, color, water resistant shell options). For this listing, we went with 900 DownTek fill and regular width/length, but check out the page and be boggled by how customizable these quilts are. The Revelation comes with a 20″ zipper on the footbox, as well as elastic cinches to tighten around your sleeping pad and a snap closure around the neck for draft control. The u-line baffles prevent the ethically sourced down from falling or clumping. Each quilt is made to order at their headquarters in Minnesota. As with any custom-made goods, be sure to order well in advance of your trip.
Weight: 1lb
MSRP: $355
Fill Power: 900
Description
Z-Packs can add quilts to the list of their top-notch UL gear. The baffles are small and tight, keeping the down where you want it, as well as an ultralight zipper that runs 3/4 of the way up the bag if you want to tuck inside. The liner and shell on this quilt are treated for water repellency, which helps protect the insulation from moisture. The zipper runs underneath the quilt as opposed to the sides, eliminating more draft areas, but some people might find it annoying to sleep on. ZPacks has a detailed sizing chart for their quilts, be sure to choose the right length and width.
Weight: 2lbs
MSRP: $560
Fill Power: 850
Description
Utilizing DownTek hydrophobic down plus a DWR-treated face fabric, your down's insulating integrity is relatively safe in this bag. The draft collar and tube keep your neck warm on windier nights, and many people love the horizontal baffles. This bag boasts an internal storage pocket for headlamp or earplugs and the ergonomic footbox to maximize down placement and comfort.
Weight: 1.94 pounds
MSRP: $299
Fill Power: 700
Description
Another bag boasting water-repellent face fabrics with hydrophobic down, you can take this bag out in wet conditions without being too worried about drowning your down. The mummy shape and cozy hood zip up tight, and the sidewall baffles ensure the down stays in place. This bag is roomier in the shoulders than others, which is a blessing for some, but might be too much space to heat up for others.
Favorite Budget-Friendy Pick
Kelty Cosmic Down 20 (men's and women's)
Weight: 2.8lbs
MSRP: $160
Fill Power: 600
Description
Kelty's classic mummy bag has DriDown insulation, a fitted hood, and a strong draft tube to seal out air flow on the full-length zipper. The women's specific bag has a slightly different shape than the men's, as well as varied insulation placement. The women's version is only available in one size, there are several length options for men. Bonus points for the unique colors on the men's and women's.
Related
Affiliate Disclosure
This website contains affiliate links, which means The Trek may receive a percentage of any product or service you purchase using the links in the articles or advertisements. The buyer pays the same price as they would otherwise, and your purchase helps to support The Trek's ongoing goal to serve you quality backpacking advice and information. Thanks for your support!
To learn more, please visit the About This Site page.