Summitting for Someone
I'm sure many of you have heard of or run across people hiking for charities. Some times it seems like everyone I run into is hiking for this or that charity. Which is beyond awesome, and something I've been wanting to do, I just hadn't figured out how to pick which charity to hike for and then fundraise for it. And do you get as much out of it as your chairty does? In my recent experience, I'd say yes. Through the feeling you get just by raising the money to help people and through the elation you feel by conquering that long distance trail or tough peak that you promised everyone you'd conquer – I'd say it about equals out. The following is my experience with charity adventuring.
Earlier this year I came across a Facebook post from Backpacker magazine encouraging their readers to join them on 1 of 4 climbs – of Grand Teton – they were doing to support Big City Mountaineers. My curiosity was instantly piqued, especially when I read what peak they were climbing. So I did a little research into Big City Mountaineers (BCM) to see what they're all about.
BCM is a Colorado based company, mainly out of Denver but they have some resources in other big cities in the US, that provides at risk urban youth the opportunity to explore the great outdoors and get out of the city. Through their Summit for Someone programs they allow adventurers to climb/hike/bike all while raising money for these kids. BCM has partnerships with several different guiding companies all over and offers several different summits to climb, such as Gran Teton, or you can create your own custom charity adventure (I believe someone just completed the CDT while raising money for BCM). Every $1000 or so gets one kid a week out of the city.
Add on the fact that this was in partnership with Backpacker, so there would be a Backpacker employee on each climb, AND that they were doing an all women's climb, and I was sold. So I sent in my application and awaited the judgement day. I got an email back a few days later telling me that I was good to start raising some money and get in shape for the climb in July.
Fast forward to July 16th, and you'll find me in Jackson, WY just as nervous as I was when I started the AT. We would all be meeting at the trail head for day 1 of our 3 day trip the following morning, to hike the 7 or so miles up to the guiding company's (Jackson Hole Mountain Guides) high camp.
So many questions were swimming around in my mind. Would we all get along? There were 5 other women on the climb, and we had only talked to each other on the phone briefly during a conference call in May. How hard would it really be/was I in shape enough? A lot of the women had mentioned via email threads, that they weren't in as good of shape as they had been hoping. How technical was the climbing going to be really? I had (still have) a ridiculous fear of repelling. And most of all: would we be held back from the summit because of weather? It had been raining pretty much every afternoon for the previous week or so, and getting pretty chilly at night.
How was I supposed to sleep the night before we were heading out to start such an amazing journey? Answer: actually not the worst night of sleep I've had.
Within 30 minutes of meeting the other women, it was clear to all of us, that this was going to be a fun and enjoyable trip, even if we didn't get to summit. We were all chatting and joking with each other before the first mile was complete. The hike up to high camp was slow, but we had beautiful weather, wonderful conversations and gorgeous scenery to stare at.

On our way we met the first group of BCM/Backpacker climbers on their way down from their unsuccessful summit attemot and got a nice pep talk from Dennis, Backpacker's Editor-in-cheif. When we got up to camp we met our 2nd guide and enjoyed dinner and more socializing before watching the sunset and heading to bed.

The highlight of the first day, for all of us, was learning how to use the poop bag and bucket system. Something none of us had completely done before – some had used just a bag, but most of us hadn't done anything of the sort. We are definitely a group of women that enjoys talking poop – all my thru-hiker friends would be proud.
Day 2, was pretty chill. We all woke up before 8, grabbed breakfast and then started learning the ropes of the ropes.  Day 2 was training day. We learned knots, how to walk up and down a big rock, how to wear our helmets and harnesses, and we got to do some climbing.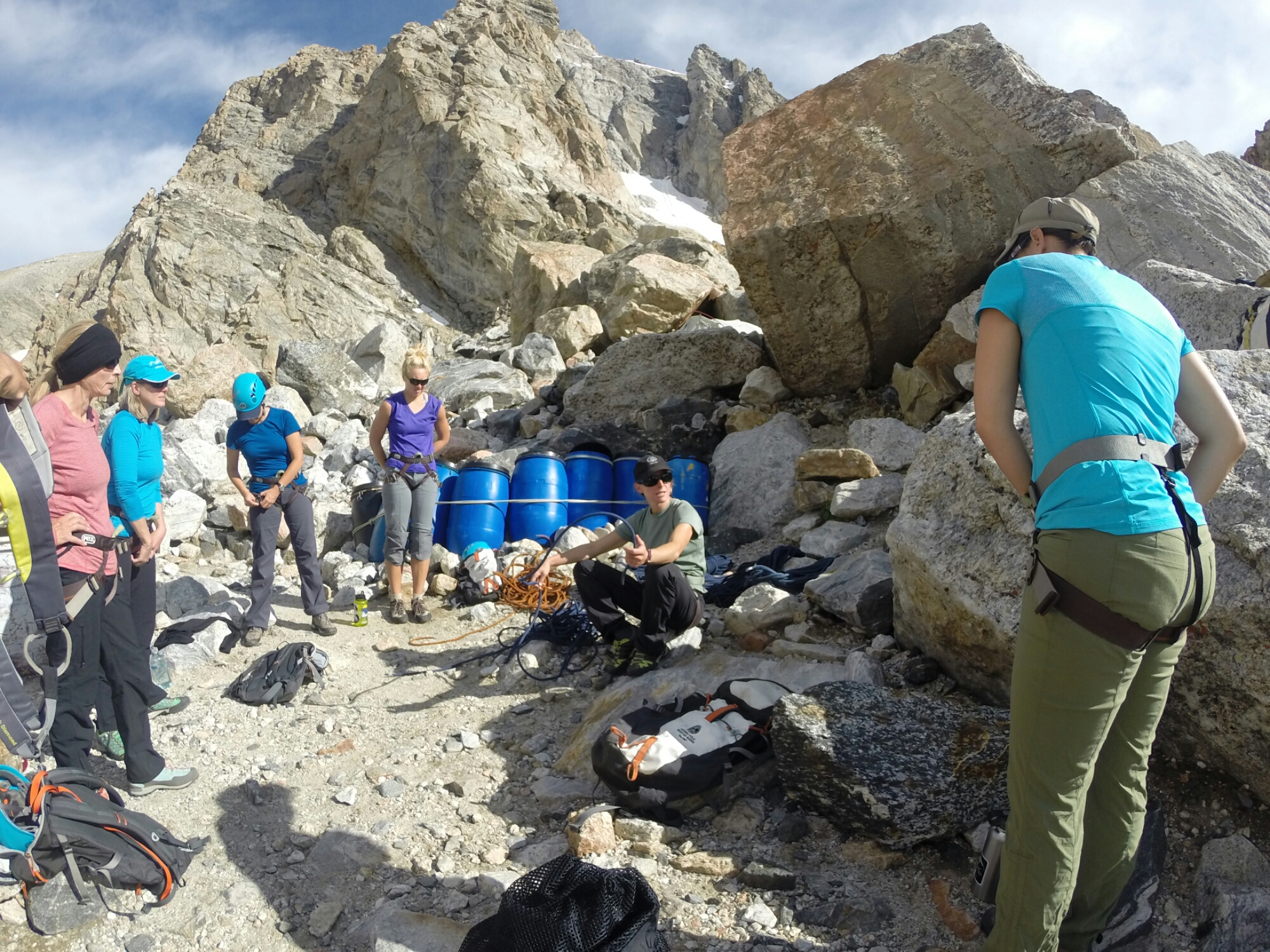 We split off into 2 groups of 3 with 1 guide each and went through some steps thay would help us get through summit day with speed and efficiency. Which included repelling. I must say that I did much better on training day at repelling than I thought I would be. It only took me 2 minutes to start heading down and I didn't fall/smash my face into the rock.
By midafternoon we all headed back to camp and discussed what would happen, in the morning and throughout the next day before eating dinner and hitting the hay early. We all were going to have to be up by 2:30 am and completely packed up, feed and ready to move by 3:30. We had a lot of ground to cover, because not only did we have to summit, but we had to go all the way back to the cars. Supposedly JHMG'S high camp is about 2 miles from the summit, but climbs just under 3,000 feet, and it can take 6-8 hours just to reach the summit. Then add in coming down over 7,000ft….it was going to be a long day.
Day 3, waking up while the stars are still out is something I haven't done in a long while, and being in a place to see them with now bright city lights to obstruct them was amazing. I wish I had pictured of the Milky Way and the moon, but unfortunately GoPro's aren't really known for their night time shots.
After a quick breakfast of bagels and bacon, we strapped on our packs and headed out. Over the course of the next 8 hours we all struggled getting up through pitches of ice, snow and loose rock.

We had split up again into 2 groups and kept close but did varying paths to keep moving. The guide I was with, Lisa, decided we should walk across the ski slope to get to the summit. It was still covered with a good amount of snow, and it was all I could do to not look to my right and down the slope as I was making my way across – I honestly think that anyone who ski's that has some screws loose (but then again I've never skied).
We made it up to the summit just before noon and enjoyed a nice break with food and many photos before the inevitable climb/hike down.
Little did we know that that was going to, in some ways be tougher.
Everything was going smoothly and we were making could progress until I got on the line to repel down 100ft. I didn't have much trouble getting started and had been doing really well, until I came to the "free fall" section (the rock jutted back, so you had no place to step and just had to lower yourself). I had been wearing my OR Helium II because we were in the shadows and it was pretty windy, I also had lightweight gloves on. I was so focused on not getting my gloves caught in the belay device, I wasn't worried about my hood. That is….until it got caught after I turned my head as in was spinning in the free fall section of the repel. So there I am, afraid of repelling, yet stuck at least 25ft in the air, with the hood of my rain jacket caught in my belay device and unable to go up or down. I tried for 10 minutes on my own to pull the sucker out while suspended in air until Mike, our second guide who was at the bottom of the repel helping everyone down, had to free climb up to me and try his luck. It probably took another 20 or so minutes to get me free. Of course it involved cutting my hood off, him trying to pull it out, and finally getting another line lowered by Lisa so that she could haul me up enough to release the tension on the device enough to unhook it, take my hood out and rehook me back up. By the time I was free, my left leg up to melt knee had fallen asleep and my abs were killing me, but I didn't freak out once while I was up in the air. It didn't hit me until I was back on the ground and safe – then I was a trembling mess for a couple of minutes. Let's just say that we all learned something from that experience. Hoods are just as important to tuck in as hair.
After my mishap, we continued on our way down to the Lower Saddle and eventually the cars. On our way we ran into someone who had broken his arm and was waiting on a helicopter evac – which we got to see from the Lower Saddle.
We unfortunately didn't get to run into the 3rd BCM/Backpacker group to give them any sort of peptalk, as it was already 6p.m. when we started descending from the Lower Saddle. Almost 6 hours later we emerged from the woods and said our goodbyes.
It had been 3 wonderful days and we'd been up for 22 hours hiking and climbing with little water and food, all any of us wanted to do was take a quick shower and pass out. If we had all been free the next day (and still in town), I'm sure we would've and all enjoyed grabbing a late breakfast and talking some more.
I couldn't have asked for a better group of women to raise money for BCM and climb Grand Teton with. They all had their own brand of humor and wonderful stories to tell. I only hope that BCM'S kids get to experience what we did (on a much easier summit scale), by making new friends, creating wonderful memories, and having life changing adventures.
Rachel, our Backpacker editor, informed us a few days later that we were the only group of the 4 that were able to summit. As much as I wish the other groups could've seen the summit, it makes our super long day that much more rewarding.
Affiliate Disclosure
This website contains affiliate links, which means The Trek may receive a percentage of any product or service you purchase using the links in the articles or advertisements. The buyer pays the same price as they would otherwise, and your purchase helps to support The Trek's ongoing goal to serve you quality backpacking advice and information. Thanks for your support!
To learn more, please visit the About This Site page.