5 Tried and True Safety Tips for Hiking During Hunting Season
With beautiful foliage, crisp air, and a newfound lack of buzzing insects, autumn is an ideal time to go hiking.  But there's a catch: hunting season. Although start dates vary by state and locality, some form of hunting is typically underway by mid-September in most regions. There's no reason not to go hiking during hunting season as long as you take appropriate safety precautions so that no one gets hurt.
Long-distance hikers and day-trippers alike need to exercise caution when hitting the trail in the fall. Hunting is allowed along much of the Appalachian Trail corridor, and the same is true of the other Triple Crown trails and other long-distance trail systems.  No matter what kind of hiker you are, follow these tried and true steps to stay safe when you hit the trail during hunting season this fall.
1. Know when hunting seasons are and where hunting is allowed.
Again, this will vary by state, weapon, and type of game. For instance, bear season starts in August in California, but not until mid-October in North Carolina. In general, bowhunting seasons start several weeks before firearms seasons. Deer are the most popular game animal and deer season is the most crowded hunting season, so pay particular attention to these dates. Your state's Fish and Wildlife Service will be the best resource for information about hunting seasons.
Note that hunting season dates and regulations may vary by locality, so check local rules before hitting the trail. Hunting is never allowed in certain areas, so if you're nervous about the prospect of hiking during hunting season, consider choosing a hike in one of these places.
2. Wear blaze orange.
The best thing you can do is wear high-visibility blaze orange clothing any time you hit the trail during hunting season. The more you wear, the better. Orange shirts, vests, hats, and buffs are all popular apparel for hiking during hunting season. (Orange safety vests from Walmart work fine in a pinch). The bright color will help ensure that hunters see you and recognize you as human. Everyone in your party, including pets, should wear orange. And note that not just any shade will do: soft salmon pink isn't going to cut it. You need glowing, neon, blaze orange safety clothing—and plenty of it—to stand out to hunters.
3. Make noise.
If you think there are hunters in the area, alert them to your presence by shouting. That way they'll know hikers are passing by on the trail. Even if you're not certain that there's a hunter around, make some noise just in case. Best to err on the side of caution.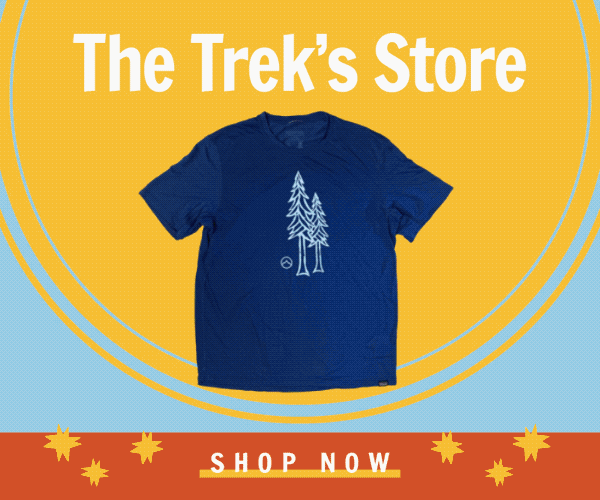 4. Stay on designated trails.
Now is not the best time for off-trail exploration. Hunters know to expect people on designated trails, but if you venture far off the beaten track, they may not know to look out for you and are more likely to assume all that crashing around in the undergrowth is a very clumsy deer. Stick to the footpath and save your bushwhacking adventures for another season.
5. Carry the 10 Essentials
Whether you're hiking during hunting season or not, you should always carry the 10 Essentials and know how to use them. You should bring these basic safety and emergency preparedness items on every hike, no matter how long or short. If you feel silly loading up on emergency supplies for a quick out-and-back, think of it as weight training for your next backpacking trip. The 10 essentials are:
Food
Water
Appropriate footwear
Navigation: map, compass, GPS, etc.
Appropriate clothing layers (including rain gear)
First aid kit
Light source, fire starter kit, emergency whistle
Small knife/gear repair materials (read: duct tape)
Sun protection: hat, sunglasses, sunscreen
Emergency shelter: Mylar bivy OK for day hikes
Featured image: Graphic design by Jacob Woods.
Affiliate Disclosure
This website contains affiliate links, which means The Trek may receive a percentage of any product or service you purchase using the links in the articles or advertisements. The buyer pays the same price as they would otherwise, and your purchase helps to support The Trek's ongoing goal to serve you quality backpacking advice and information. Thanks for your support!
To learn more, please visit the About This Site page.