6 Thru-Hiking Photographers You Need to Be Following
Capturing pretty pictures from the backcountry requires only a camera and a desire to explore. Consistently snapping jaw-dropping, eye-catching, or otherwise standout photos, however, necessitates something special.  Some pricier equipment, a photographer's eye, and willingness to capture a scene whilst others are living it is what separates the cream from the crop.
Below are six thru-hikers we deem the cream of the photographer's crop.
Nicholas "Click" Reichard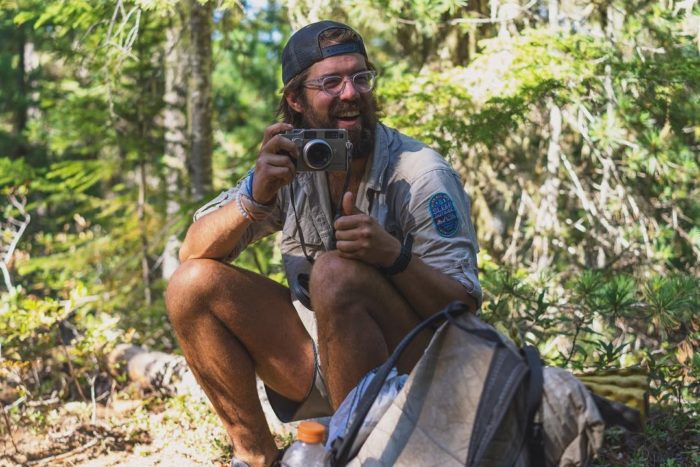 Instagram account: @nicholasreichard
2016 adventure: Pacific Crest Trail and Annapurna Circuit
2017 adventure: Continental Divide Trail
Camera: Contax G2 (35mm Rangefinder)
Photography philosophy: I just like to get lost in my work. Being vulnerable makes you more aware of whats around you and allows you to step out of your comfort zone which as an artist is a big deal and something thruhiking made me do.
– Favorite picture from last year –
"For me this would be the one picture that I could show that represents the Appalachian Trail through my eyes, I guess my interpretation of the "Green Tunnel". When I set off on the AT I wasn't trying to be better than any photographer before me I just wanted to do something a bit different as a personal challenge. Carrying 10 pounds of film cameras certainly helped but I took this picture a day after I was really sick on the trail and stopped for a short break. The lighting was perfect and this is straight out of camera, I think on the trail we all feel alone with our thoughts sometimes and this is my best interpretation of that feeling."
Krystian "SNAP" Repolona
Instagram account: @hikes.camera.adventure
2016 adventure: Appalachian Trail
2017 adventure: Pacific Crest Trail
Camera: Sony a7R II
Photography philosophy: With my photography, it's an exercise in noticing while I see. Most people can see, but not everyone notices. While hiking, I'm constantly scanning my surroundings until I notice something particularly beautiful. It could be a nearly endless landscape of mountains in front of me. It could be the soft orange glow of the setting sun to my left. It could be the vibrant fall canopy of Maine above me. It could be the sunbathing timber rattlesnake on the rocks below me in PA. Or it could be a thru-hiking bear behind me. I believe photography is a very powerful medium for expression and documentation. People come from all walks of life to hike the A.T, and being able to capture that one fleeting moment in a thru-hikers epic journey and share their story is such an honor. There is a story to be told behind the tough, smelly, and rugged exterior of every hiker. They range from those who have suffered devastating loss to those who are seeking enrichment in their lives through nature. There is also something to be said when photographing in the wilderness, where you can experience nature in one of its purest forms — a landscape with clean air and water, a place untouched by works of man. Photographers are really historians in a sense that they are documenting a specific moment in time that can never be reproduced ever again. In my humble opinion, the camera is mightier than the pen.
– Favorite picture from last year –
It may be cliche, but my favorite photograph from the past year was my summit photo at Mount Katahdin. I summited Mt. Katahdin at 4:20am October 7, 2016 under a canopy of stars.
Back when I first hiked into New England, the darkness and clarity of the night skies amazed me; it was totally new to me since I lived in NJ for most of my life where there is a lot of light pollution. I saw the Milky Way on every clear, moonless night while hiking in New England. I first envisioned this summit photo about this time.
I knew it would be possible to have a small portion of the Milky Way in the frame due to the summit signs orientation. I used the Photographers Ephemeris to identify possible dates where the Milky Way would be viewable. Even then, I knew I would have to get really lucky to arrive on a clear, moonless night. Fast forward to when I was in the 100 Mile Wilderness; I was on top of Whitecap Mountain admiring the view of Mt. Katahdin before me. It was also the last reliable spot to acquire any usable cell service, so I was able to check the upcoming weather for the summit of Katahdin — thank you Verizon. The weather report called for three clear days and nights. This is when I knew I had to turn on the afterburners. The next couple days, I pushed myself mentally and physically with an intensity I never felt before and ended up arriving at Katahdin Stream Campground late in the evening. The first thing I did was check the night forecast and morning forecast for the next day. The weather report read Clear 🙂 Yes, there was a smiley face in the report.
The stars were in alignment, I just had to get up there in time. I ate my last dinner at The Birches and apologized to my neighbors in advance for setting my alarm at midnight. I closed my eyes and they immediately snapped open again to my alarm.
The climb started out gradual, and then all of a sudden I was huffing and puffing. A leisurely stroll became a near continuous session of bouldering all the way to the top. It made me realize how little I had engaged my upper body for the past several months. Once I got above tree-line — things got interesting. I remembered seeing the wind forecast for the night reading between 10-15 mph, but I found myself clinging onto the mountain for dear life. It was cold, and windy AF. I paused very little in order to keep my core body temperature up. After a ridiculously sketchy part of the trail, I stopped to catch my breath. I turned off my headlamp and somewhere between the base of the mountain and the summit was where I discovered the reason why I hike.
The night sky was glorious, I almost couldn't believe my eyes. If I was tired then, all traces of fatigue disappeared because the excitement and anticipation of reaching the summit under a night sky of countless stars overwhelmed me.
I turned my headlamp back on and began to boulder again. It was one foot in front of the other, one white blaze to the next and then all of a sudden, the summit sign just appeared out of the darkness. This photo is very special to me, because it represents the culmination of my AT journey and all the struggles I endured to get there. I couldn't have asked for a better ending.
Aaron "Wankles" Ibey
Instagram account: @aaronibey
2016 adventure: Appalachian Trail
2017 adventure: John Muir Trail and several National Park trips.
Camera: 35mm Nikon F3
Photography philosophy: The more you know, the less you need. I think we say a lot about who we are as artist and individuals through our work. Photography for me is an incredibly personal form of expression. It's something you can not teach, sure you can teach a person to expose properly with a light meter and show them proper composition. After those aspects are grasped, the rest is entirely up to you and your creativity. Photography is such a beautiful craft to me, it enables me to capture actual emotion in moments that I have been fortunate enough to witness and share them to the world. To be able to capture a moment and share it with my friends and family, that is such a special thing for me.
– Favorite picture from last year –
This was by far the best sunset we witnessed on trail. We sat on top of Mount Liberty in the White Mountain National Forest for at least a good two hours waiting for the sun to set. The only people on the summit at the time was my trail family; 2-soles, Waterboy and Pocahontis. The temperature was a brisk 50 degrees with a 25 mile an hour wind, we put on every article of clothing we had to stay warm while the sun set. As the evening progressed the landscape became more and more stunning. This photo of Pocahontis is one of my favorite photos a captured on trail. Taken at the peak of a sunset that will never happen the same as the one on that August evening in the Whites.
Ayesha Cording
Instagram account: @wilderbound
2016 adventure: Pacific Crest Trail
2017 adventure: Annapurna Base Camp, Annapurna Circuit and the Te Araroa (17′ – '18)
Camera: Sony rx100M3
Photography philosophy: Capture not just the beautiful moments, but the imperfect moments too. The struggle can be even more beautiful than perfection. Be real. Be honest. Try to show a side of life that is often hidden. Keep no secrets.
– Favorite picture from last year –
I was half way through Northern California. I was putting in long days, no breaks, eating breakfast and lunch as I walked, only stopping to refill water and sleep. My whole body was raw, my feet felt like stumps, my skin was covered in dirt and hundreds of mosquito bites. They itched so intensely it was waking me up in the night. I took this photo to remember the physical struggle of thru hiking. To remind myself that sometimes my mind is stronger than my body. To remind myself that despite all of this I was still here and I was undeniably happy. The happiest I had ever felt. The beauty of thru hiking is not just the romance of sweeping views and the majesty of the mountains. The beauty of thru hiking is how honest it makes you, how strong it makes your mind and how alive it makes you feel. I wanted to always remember that.
The Real Hiking Viking aka "Jabba"
Instagram account: @therealhikingviking
2016 adventure: Winter SOBO AT Thru Hike. NOBO PCT Thru Hike Attempt.
2017 adventure: SOBO PCT Thru Hike Attempt
Camera: Fujifilm X-T1
Photography philosophy: Targets of opportunity. I don't sit around waiting to set up shots, if I see something I like while hiking, I stop, snap it, and continue on. I usually don't stop for more than a minute or so. Unless it's a sunrise or sunset shot.
– Favorite picture from last year –
This sunset was captured on the PCT in Northern Washington toward the end of my attempted thru-hike.
Lachlan Fysh
Instagram account: @lachlanfysh
2016 adventure: Pacific Crest Trail
2017 adventure: Something involving a bike and ideally not too much money… I'd love to ride the GDMBR but I think I'll be constrained to some Australian domestic bikepacking…
Camera: Sony RX1Rii
Photography philosophy: I shot film for a really long time when I first got into photography and the cost and time of it punishes you for wasting shots… so you slow down and think and you only take photos worth taking. I *try* to still apply that approach… but I cheat pretty often 😉
– Favorite picture from last year –
I'm cheating a bit here as I didn't actually take this photo, since I'm in it 🙂
But still, it's pretty rad. We bought these suits in Tehachapi which had the most amazing thrift store in the world… and they were the best thing ever so we bounced them up the trail to Bishop, Tahoe, Ashland, Cascade Locks (for PCT days) and then Stehekin where we committed to carrying many pounds of polyester and rayon ~100 miles just for this photo… no regrets – it's a better finishing photo than I'd ever hoped for and I look forward the crazy people will no doubt do in the future to one-up it.
This list is by no means exhaustive- so let us know in the comments below- who did we miss?
Affiliate Disclosure
This website contains affiliate links, which means The Trek may receive a percentage of any product or service you purchase using the links in the articles or advertisements. The buyer pays the same price as they would otherwise, and your purchase helps to support The Trek's ongoing goal to serve you quality backpacking advice and information. Thanks for your support!
To learn more, please visit the About This Site page.