6 Trail Foods That Never Bore Me (No Matter How Much I Eat)
Spend enough time backpacking and eventually, every bar starts tasting like flavored sawdust, every rehydrated dinner like mushy sadness. Many popular trail foods are very sugary (drink mixes, bars, candy, etc.) or very salty (ramen, most dehydrated or freeze-dried dinners, jerky, chips, etc.).
Even as my hiker hunger grew, I got to a point in my thru-hike where I was sick of salt-slurry dinners and sugary, texture-free breakfasts and snacks. But after thousands of miles on trail, I've managed to identify a handful of foods that I never get tired of, no matter how often I eat them.
Besides tasting great (at least to me), they're also generally cost-effective, nutritious, and easy to find in stores. These foods now form the core of my backpacking menu.
6 Trail Foods That Never Bore Me (No Matter How Much I Eat)
1. Oatmeal
120 calories/oz
OATMEAL IS MY LIFE. While I love the steel-cut variety at home, I opt for unflavored instant oats on trail. Emphasis on unflavored: I prefer oatmeal for breakfast because popular alternatives like Carnation Breakfast Essentials and Pop-tarts are too sweet for everyday consumption. Going with Maple Brown Sugar or any other flavored variety pretty much defeats the purpose. For comparison, Quaker's plain instant oats have no sugar whatsoever, while the Maple Brown Sugar flavor has 12 grams.
One of the best things about oatmeal is that it can be eaten hot or cold. I usually eat three or four packets for a backpacking breakfast and mix either peanut butter or regular butter in for flavor and extra calories. I can usually find unsweetened instant oats in normal-sized stores, but small stores and gas stations sometimes only have flavored varieties.
The keto diet craze offers a number of exciting culinary possibilities for backpackers: the emphasis on high-fat, low-sugar concoctions is right up my alley. My favorite premade keto discovery so far is a Flagstaff-based company called FBOMB. They make a variety of flavored macadamia nut butters, available in single-serve packets, but personally, I'm in love with their bars. (I'm not the only one, either. When I shared a few bars with a fellow thru-hiker this summer, he succinctly described them as "like crack").
They make a chocolate peanut butter bar, which I avoid because that flavor combination is a bit overdone, but also a lemon tart bar and a maple pecan bar that I'm obsessed with. Both are almond-butter-based and have a lovely, creamy consistency studded with crunchy nuts. (There are also a few other flavors that I haven't tried).
They're not sugar-free, but they have about half the sugar content of most other bars (compare the five grams of sugar in an FBOMB to the 17 grams in a Clif Bar, for instance). These bars contain eggs, so they're not vegan and do have some cholesterol.
This is one of only two items on the list that aren't widely available in stores and is on the more expensive side. Sorry, couldn't help myself—I'm just so passionate about them.
READ NEXT – The Best Backpacking Meals of 2021. 
3. Cheese
100 calories/oz
Cheese doesn't provide a massive calorie-per-ounce windfall, but it's filling, versatile, and delicious. If you bury it deep in your pack, even soft cheese will keep remarkably well. I often eat it straight-up (why dilute the magic?), but you can also pair it with crackers or tortillas or stir it into virtually any hot dinner to make it more decadent.
On hot days, I often pack out bread, butter, and romaine lettuce too and make hearty cheese sandwiches for dinner. Some backpackers prefer hard cheeses with lower moisture contents, but good ol' pepper jack is my personal favorite.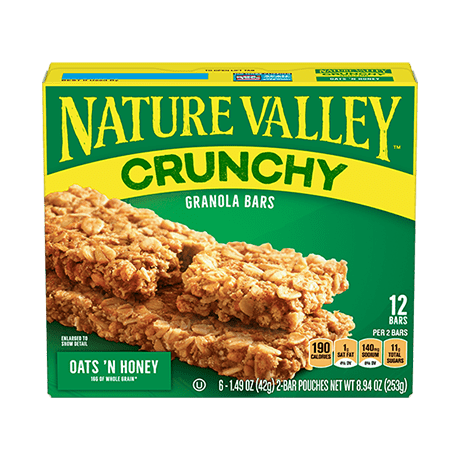 Specifically, the crunchy Oats and Honey variety. They get a bad rap because they shed shitloads of crumbs, but once you get the hang of eating them carefully it's really no big deal. I like the crunchy texture and, although they're on the sugary side, for whatever reason I never get sick of the flavor.
They also pair weirdly well with cheese, which is a nice way to change things up and helps to cut the sweetness if it ever bothers me. They're available in virtually every grocery store and most gas stations, so this is a nice, reliable option that I can count on in almost every resupply.
5. Apples
15 calories/oz
Heavy, yes, but that crunchy, juicy deliciousness is so worth it. As backpackers, we don't get to eat much fresh produce on a day-to-day basis. A little fresh fruit serves to break up the monotony and provides some much-needed water and fiber.
An apple at the bottom of your food bag can also function as emergency water: if you underestimate the distance to the next stream and run low on water, a juicy apple can feel heaven-sent. It's often just enough to tide you over to the next water source. (By the same token, I often keep a small bag of potato chips on hand for emergency salt based on the advice of a very wise trail angel).
If apples don't do it for you, oranges are a great alternative. Plenty of anti-scurvy Vitamin C, plus the peel gives the fruit extra protection inside your pack.
Eat it with crackers, veggies, tortillas, or straight off the spoon. I picked up a packet of this hummus at PCT Days on a whim and haven't looked back since. All you have to do is mix in water and the provided olive oil packet and you're golden. It's nourishing and absolutely packed with calories too.
The drawback: it's a little too expensive for everyday consumption—otherwise, I'd be serving this at parties. Because of the expense and the fact that it isn't available in stores (you have to order it online), I don't get to eat this hummus nearly as often as I'd like. It's nice to bring hummus for short backpacking trips or throw a few packets into resupply boxes for longer journeys, but this is definitely more of a special treat than a dietary staple.
What About Dinner?
You may notice that I didn't include any freeze-dried or dehydrated dinners in the list. While I love a hot meal at camp and have had some very tasty dinners on trail, I can't honestly say I've encountered any rehydrated backpacking dinner that I can eat again and again without eventually getting sick of it, which was a key criterion for this list. My solution to mealtime boredom is threefold:
Reserve hot dinners for cooler weather when I really need the extra warmth so they don't lose their luster as quickly.
Keep a steady rotation of meal options, including Idahoan mashed potatoes, Knorr sides, and freeze-dried backpacking meals (if I'm feeling fancy). In the freeze-dried department, Mountain House Mac and Cheese is a staple for a vegetarian like me: it tastes OK when dolled up with extra cheese and butter (see below), has a decent number of calories, and is relatively common in outfitters and some trailside grocery stores.
Doctor up your rehydrated mush with olive oil, butter, cheese, and mix-ins like dried veggies, bacon bits, or tuna.
What are your favorite trail foods? I'm always looking to expand my woefully limited menu, so please feel free to share in the comments below.
Featured image: Graphic design by Stephanie Ausfresser. 
Affiliate Disclosure
This website contains affiliate links, which means The Trek may receive a percentage of any product or service you purchase using the links in the articles or advertisements. The buyer pays the same price as they would otherwise, and your purchase helps to support The Trek's ongoing goal to serve you quality backpacking advice and information. Thanks for your support!
To learn more, please visit the About This Site page.