A Pedestrian on Long Island: Alex Wolfe Walks From Brooklyn to Montauk
Alex Wolfe likes to walk: around his neighborhood in Brooklyn, around the five boroughs of New York City, and most recently, across Long Island, 160 miles from the Verrazano Bridge in Brooklyn, NY to Montauk Point in the Hamptons. This is the second multi-day walk Alex has embarked on, the first being a walk from New York City to Philadelphia last spring.
Sitting somewhere between artist, documentarian, and outdoorsman, Alex uses his walks to explore the built world and experience life as a pedestrian in places that aren't necessarily hospitable to walkers. "I'm really interested in America," Alex explained. "The infrastructure we've built for ourselves, and the way we choose to live."
A Slice of American History
In many ways, Long Island represents the American experience. It holds such wonders as Levittown, the first planned American suburb, the Big Duck, a locally-loved roadside attraction, and Montauk Point, a remote and beautiful slice of the natural world. By walking all of Long Island, Alex was able to explore the history of modern America.
Welcome to Levittown
As a symbol of post-war suburbia, Alex described the homes in Levittown as Monopoly houses reminiscent of Leave it to Beaver. "Levittown is a complicated place," Alex said. "I am both disturbed and fascinated with suburban culture."
New York's Levittown is one of four planned suburban communities of the same name, the other three in Pennsylvania, New Jersey, and Puerto Rico. Built by the building company Levitt & Sons in 1946, New York's Levittown was built for GI's returning home from World War II. "It is the archetype of contemporary suburban development," Alex explained, "not just in the States, but around the world and promoted a certain post-war culture emphasizing conformity and uniformity."
Levittown is also representative of codified racial discrimination, as the original lease agreements stipulated that no homes were to be occupied by "any person other than members of the Caucasian race." Even after housing laws changed in the 50s, Levittown remained a largely segregated community.
"The Levittown communities represent attempts at housing reform and recovery from World War II, but also highlight the practices that contribute to the systematic racism of the United States," said Alex. "This place is real American history."
Big Duck Energy
With an interest in architecture, art history, and sculpture, Alex planned his route specifically to pass Long Island's Big Duck. The duck-shaped building was commissioned in 1931 by duck farmer Martin Maurer to attract customers to his duck farm. Beyond the Big Duck's history in Long Island duck farming, the building also has a place in post-modern architecture, with the term "duck" being used to describe buildings in the shape of the thing they sell. Today the Big Duck is owned by Suffolk County and is a roadside attraction and gift shop.
"I learned about the Big Duck in school a lot, in postmodern art history, and so it was sort of this big pilgrimage to see this thing," Alex said with a laugh. As an influential, albeit quirky, piece of American architectural history, it's no wonder that Alex was drawn to the feathered building. Propelling him forward with what he called "Big Duck Energy," the building became a sort of representation of Alex's journey.
The Road Provides
While Alex's journey differed from that of the typical long-distance backpacker, the spirit of trail magic was alive and well. "I think that's what the 'Big Duck Energy' was," Alex said. "I think it was my own version of trail magic…the road provided for me a lot."
Although Alex didn't sleep in a tent—opting instead to stay with friends and at a couple of motels—he fully embraced the "hiker trash" look, attracting curiosity from the everyday people he came across. From shop owners giving Alex free water and granola bars to a college friend of his mom's finding him on the road and handing him $20, Alex's walk inspired awe and generosity.
One of Alex's favorite roadside interactions came after a particularly harrowing moment from his walk. "I got into this really hairy situation where the Montauk Highway turns into a full-blown highway," Alex recalled, "and there's really no place to go. I went as far as I could and the shoulder was so tight and I was like, 'I can't, I'm gonna get hit by a car.'" After stumbling through the woods, tearing through thorny bushes, and crossing train tracks, Alex emerged onto a pristine residential street.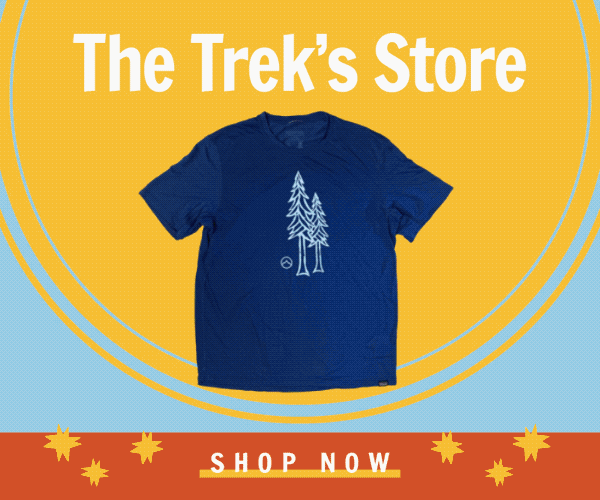 "I was just some freak that came out of the woods," Alex explained, "like some mystical creature." After being spotted by a couple of kids on bikes, Alex suddenly found himself surrounded by neighborhood boys curious about his walk. "It was crazy, because I had just gotten through this really shitty experience and all of a sudden I'm swarmed by… 20 13-year-old boys on bikes."
He jokingly asked if they were going to beat him up and answered all of their questions about his walk, the most important being how many Instagram followers he had. In a scene out of an 80s coming-of-age movie, Alex gave his new fans some parting wisdom. "I remember thinking, 'what would I say to myself if I was 13?' And I was like, 'Listen you guys, follow your dreams, and you don't have to go to college.'"
Why We Walk
As thru-hikers know, being confident in why you're hiking is essential to success. While Alex didn't have a clear reason for walking before he set out, he knew it was something he wanted to experience and discovered his "why" along the way.
"A lot of people asked me on the road, 'why are you doing this?' and Long Island is very conservative and very proud to be American and I started joking that I was doing it for freedom," Alex said. "But I think that there is a certain truth in that. Like I'm doing this because I want to do it. It's a scratch I have, and when you're doing this walk you feel so free."
So much of Alex's experience will feel familiar to thru-hikers. From using the walk to process hard things going on in his own life to feeling grateful for every sunrise, Alex gained that backpacker's peace that comes from the simplicity of walking all day every day.
"I left for this walk not very excited," Alex explained. "I was just going through some stuff and I was like, 'man, I don't want to do this walk…this sounds terrible,'" he continued. "And then the road provided for me, and I just processed some stuff, and the world gave back to me. I think that feeling is such a beautiful thing."
Reaching "The End"
Montauk Point, the easternmost point on Long Island, is aptly nicknamed "The End." As the final destination on Alex's walk, the place perfectly represents the stark transition from city, to suburbia, to remote coastal park that Alex trekked. "I was kind of anxious," Alex recalled about reaching his final destination. "Like what am I going to do when I get there? Am I going to cry?"
Walking with a dusty beach on his right and forest and trees on his left, Alex was hit with the reality of his walk coming to an end. "I got to this point where I realized the journey is ending. I have two more miles and then I'm done. I just remember slowing down."
With the sun setting, the Montauk Point Lighthouse emerged in the distance and Alex was overcome with happiness. "I just walked all of Long Island!" he remembered thinking, "and it's such a joyful experience. I'm just so grateful. I'm so happy. It makes me feel so good."
With a Big Duck shot glass full of ocean water, Alex raised a toast to his trip and thought of all of the people who helped him walk the length of Long Island.
Seeking Out the Uninhabitable
While most of us choose to escape the built world on backpacking and hiking trips, Alex dives all the way in. He seeks out the warehouse districts, suburban sprawl, and highway overpasses. "I want to experience these places where you're not supposed to walk," Alex explained. "There are so many places in this world that are just uninhabitable. We don't really design for us. We're not really building a world for human life. It's kind of interesting to directly engage with that."
From a lack of sidewalks and public restrooms, to narrow highway shoulders and car exhaust, Alex walks through the uninhabitable in order to fully experience the world around him. "We're so conditioned to tune out so many things about this world we live in," he said, "It's like this numbness we develop."
When Alex returned home to Brooklyn from this walk, he had a heightened appreciation for the world around him. "The leaves were starting to change and I was watching the sun hit the facade of the brownstones and it was kind of this sensitivity to what was visually going on around me…I just think there's a lot to be seen in the city."
Follow Alex's walks through New York City and beyond by signing up for his newsletter and following him on Instagram.
Affiliate Disclosure
This website contains affiliate links, which means The Trek may receive a percentage of any product or service you purchase using the links in the articles or advertisements. The buyer pays the same price as they would otherwise, and your purchase helps to support The Trek's ongoing goal to serve you quality backpacking advice and information. Thanks for your support!
To learn more, please visit the About This Site page.