A Series of Short Stories
(and two free verses as a treat)
I am still walking. Not only am I still walking, but I am also just about halfway done. I am doing well. I spend at least 11 minutes a day being too cold, at least 11 being too warm, at least 11 thinking about home, 11 minutes being pretty hungry and the rest of the minutes being very happy.
This feels a bit like an overdue assignment. I have intended to sit at a computer for several town-stops. I have also intended to think through what I would relay. Today is simply the first either of those has happened and I apologize. We will see if I get any better at this.
I have decided that I will be the most entertained by logging several short stories. It would be convenient if folks accepted this and forgave me for ~1000 miles of silence. Some element of chronological relevance will be employed (probably).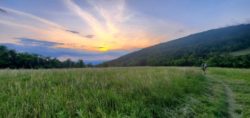 The Start
I am having a bit of trouble recalling exactly how the start went. When I think back now, I mostly find myself wondering how I got myself out here. This is my first backpacking trip; many of you may know this and many of you may not as I lied by omission whenever I could on this front. It was this information that most often made people doubt the realisticness of this endeavor. Which makes a lot of sense. It is quite an unrealistic task.
I was pretty nervous. And could not comprehend how much I had to learn (although I did try to). This is probably how I got myself walking. I am also stubborn so it could just be that. But it went pretty well. The first day was emotional. The AT was suddenly tangible and I was also suddenly rather alone. Both of these felt scary.
I met Rogue on the second day. She introduced me to a guy, DoorDash. The three of us hiked together for quite some time. It is surprising how comforting people knowing your name can be. So, the start just became the middle and people kept being kind and I kept walking.
The Snowstorm
Rogue, DoorDash, and I entered the Smokies (~ mile 200) knowing we would get a lil bit of weather. We were right and we were also wrong.
We were kinda slammed with snow on day two, the storm shutting down Newfound Gap (the road into Gatlinburg, TN which was a necessary stop for us as we had planned to resupply here). The road remained closed the entirety of the following day. These are the objective facts.
Because of the snow buildup (a foot?) and the wind, folks were gathering in the shelters. We secured the final three spots late on the initial snow day in Siler's Bald Shelter. This is also where we spent the entirety of the next day and a second night. Everyone else also chose to stay.
There are other women on trail. There were not other women in the shelter. And no one else under 40. All of us slept very close together– Rogue and I slept extra close together. Staying in a shelter with 14 men made us pretty antsy. People say weird things to strangers when they are cooped up. It was a beautiful, snowy hike out and up to Clingmans Dome. We descended straight into the jaws of Gatlinburg which was a state-fair-themed fever dream. This was a strange week.
Mice and Mesh
Mice are your most common nighttime company. They generally rule the shelters and are fairly often interested in some kind of show of power when it comes to your tent. One time a mouse catapulted onto my rain fly and I watched him slide down as though on a slip-n-slide. He then took a couple of laps around the mesh of my tent. The mice and the mesh situation has happened a number of times and has never been particularly interesting but is somehow kind of interesting?
Sometime around the first mice and mesh event, I accepted the trail name "Bird". I whistle often and unconsciously and this is how I ended up with this title.
The Breakup
Just before Hot Springs, NC (~mile 275), a tough conversation was had. Rogue, DoorDash, and I had spent most of the hike together. If people are nice, you hike similar miles and have a similar pace this can happen quite easily. Because of this, the three of us had been planning our mileage as a crew.
Planning together really feels like living together. You wake up, eat breakfast, pack, hike, snack, hike, set up camp, and eat dinner together. You are akin to chosen roommates. It was at this time that Rogue and I decided that DoorDash was not our perfect roommate. Turns out two 20 some year old women would rather hike with just each other than with each other and a middle-aged dude (even if he is nice and has been a pleasant hiking pal). It makes sense and it was still difficult.
Imagine a finale of The Bachelor-style conversation except that the candidate who is chosen is there when the other one is dismissed. This is essentially what happened, sans the overseas romantic dates and the more general drama. And so, "we" became Rogue and me.
Harry Potter Quotes in a Moira Rose Voice
Rogue and I often laugh attempting Harry Potter quotes in a Moira Rose voice. This is pretty self-explanatory and is just something that happens.
A Birthday
I turned 23 last month. On my birthday, Rogue and I tested positive for covid. It hit both of us rather hard; fevers, congestion, and fatigue took us out for three days. Being sick on trail is difficult, you don't want to walk and you want to be in a bed but you don't want to get anyone in town sick and you want some food but you have to go get it yada yada yada. It is a challenge to feel as though you are taking care of yourself and taking care of the people around you.
We told everyone we could we had tested positive hoping other hikers would stop dubbing covid as "the cold" and start testing but we instead spent a couple of weeks known as the covid girls. If you feel sick, get tested. And do what you can to be responsible.
I would also like to give a brief shout-out to Jeffery and his family at "Ruby's Rest" in Damascus, VA. We had planned a birthday double zero here and instead ended up trying to get well. Having a kind host and a welcoming space is pretty much as good as getting covid on-trail gets.
Two of the Big Three
The 'Big Three' of gear consists of your pack, sleep system, and tent. I have done some tweaking of my original set-up. I replaced my Gossamer Gear the Two, a stake-supported tent, with a Nemo Hornet 2p, a pole-supported tent. My initial tent was lighter but the reliance on a decent tent site and not feeling too confident in rough weather pushed me to switch. I have loved the Nemo; it is consistently a solid set-up and it is lovely to ditch the rain-fly on a clear night.
I have also traded my Gregory 65L pack for the Hyperlite 3400 Windrider (55L). This swap did shave weight. The Windrider is probably the most common pack on trail, Rogue swears by hers. I was inclined to switch to a roll-top pack when I realized how much smaller it could be– 65L was much more space than I required even with full food. Hyperlite packs are as close to waterproof as you can get and are fairly often sold in Outfitters along trail. It was an expensive decision and has been worth it; it carries comfortably, motivates me to shave down my base weight and my things stay dry. Cool stuff. Also, very responsive customer service. I would recommend this company to other hikers.
Food Log (for an average day)
I eat a pop tart
(except never the maple kind
As I threw that up once)
And have instant coffee with
One breakfast essential.
A candy bar.
Around four granola bars.
A fruit-by-the-foot.
Two packs of fruit snacks.
Another candy bar.
Two Slim Jims.
Ramen and
Some peanut butter.
Skincare
At night
we take a wet-wipe bath.
Whole-body.
And then I sometimes
put Aquaphor on my face
if the air is dry.
We use the sensitive skin wipes
(mostly).
Rogue has spent some time
Using antibacterial hand wipes.
I used one once and it burned my butt.
Wiping is pretty peripheral skincare
but skincare nonetheless?
Until Sometime
Okay, those were kind of a joke and it is time to leave everyone hanging for another unknown amount of time. Thank you for reading and for the support. I really enjoy getting messages from folks so please send them! If you have Spotify recommendations or know of any good karaoke along the trail let me know. Thanks in advance 🙂
Ella
Affiliate Disclosure
This website contains affiliate links, which means The Trek may receive a percentage of any product or service you purchase using the links in the articles or advertisements. The buyer pays the same price as they would otherwise, and your purchase helps to support The Trek's ongoing goal to serve you quality backpacking advice and information. Thanks for your support!
To learn more, please visit the About This Site page.