A Trip Down Memory Trail: My NOBO Route in Maine by Vehicle 2019 vs. on Foot in 2021
I've been given the opportunity to experience Maine as a Katahdin bound but injured backpacker in 2019, turned support crew for a friend I had made on trail, "Freeman" from Switzerland,
as well as the now able-bodied backpacker back on track in 2020. 
As I draw near to Katahdin, I feel a strong sense of reconnection as I see familiar sites and yet experience them in different ways. It's interesting to recall my friend Freeman's and my own experiences two years ago, in comparison to those that I am experiencing on my own this year.
On the practical side, in 2019 Freeman was able to set his tent aside and enjoy a bed in a hostel or hotel every night, because of my ability to drop him off and pick him up at the trailhead every day.
Some were nicer than others..
This year, I also enjoy the occasional comfortable bed, but I especially cherish the time under my tarp immersed in nature, sometimes lucky enough to be a lake…
… or, on my final solo night on my four-year, AT adventure, within the magical sound of a rocky river while just 10 feet from the AT. In consideration for the outdoor experience of other hikers, it is understandably not recommended camping so near the trail, but this small site with its continuous soundtrack was just crying out to me. My evening here was sacred. You understand, Lisa.
Restaurant meals were a nightly occurrence in '19, since we weren't limited to places we could reach in just a few steps. I can't believe I ordered (and survived) fat-laden meals like this one.
This year, I haven't eaten in one restaurant. I simply don't miss them. One exception was a takeout meal of a delicious salad with a side of more veggies. My taste buds and my arteries thanked me for this way of eating.
Handfuls of wild blueberries on summits are a popular treat by all the hikers. Food doesn't get any purer than this!
And I continue to enjoy every mouthful of my self-dehydrated "whole food plant based" meals, free from added fats and sugars. On trail, I have three extremely hearty meals a day, often by water or a view at noon…
…and a continuous stream of self-made trail mix, dried fruit and legumes, etc. throughout the day. On days in town, if near a market, I eat lots more by supplementing my food from home with fresh or frozen veggies and fruit, canned black beans, and/or salads topped with my own balsamic vinegar. My energy level and weight remain constant. I cringe when I see what many other backpackers eat just to get the calories in. Example: nothing but gnawing on a hunk of Parmesan cheese throughout the day. I swear I was told this! Or a young couple gobbling down handfuls of Cheerios and M&M's for dinner. And some are skeptical about my "incomplete" diet. Get out of here!
Freeman was able to "slackpack" every day, leaving his heavy backpack and most of his gear in the back of my vehicle and taking just the necessities for the day in a much smaller bag. Thus, he was able to cover more of the difficult miles each day of the challenging Bigelow range.
I have chosen to slack pack only on my first day on the AT this year, to just get adjusted to the trail. The rest of the days, I've had my full pack.
If you're curious as to what I carry , here's the lowdown: (photos are out of order, but my app and the weak wifi system won't let me correct them. Sorry. I don't want to lose this whole post)
Sleep system: Enlightened Equipment Revelation 10 degree sleeping quilt (I sleep cold), inflatable pillow, ground cloth/emergency Mylar blanket, net tent and tarp in own bags, folding foam sleeping pad.
Food system: Ursack food bag (resistant to bears and smaller critters), lined with odor proof, sealing Opsack, plastic container with lid for cold soaking meals, water collection bag, Sawyer water filter, two Smart water bottles which hook up to water filter.
Clothing: Lightheart rain jacket, Zpacks rain skirt, Zpacks windbreaker, lightweight down jacket, buff (neck/head tube), liner gloves, long sleeved hooded tshirt, short sleeved tshirt, pair of lightweight wool long johns, 1 pair sleep toe socks, 2 pairs hiking toe socks, hat with neck cover (sun and insects), bandana, 1/2 bandana as sweat band/headband, cloth mask.
Misc: TP, medical, sanitizer, soap, insect spray, personal care (teeth, eyes, supplements), sleep mask, ear plugs, charger, cables, 10,000 Anker battery pack, earphones.
My views in 2019 were from the roads. The large lakes were beautiful,
But I missed many of the smaller, mystical ponds tucked in among the woods. Now I walk and even camp by some of them.
Were the Bigelows truly as challenging as folks told me? Due to foreign language challenges, I only had this succinct description from Freeman: "Sh**, sh**, sh**!" Maine just keeps on giving.
He was right, but the views from the wide open mountaintops made you forgive them.
Even as the terrain got easier, this hiker managed to somehow stray from the intended path occasionally. One day, I had this unique log bridge to cross over a minor ravine. Slow and steady, no problem.
I then continued on my merry way, able to even daydream at times on the less challenging trail. But after about 15 minutes, I rounded a bend and came to a another unique bridge. "Huh, that's odd that they built two identical bridges on the same stretch of trail!"
Nope, somehow I had doubled back on myself and added 30 extra minutes to my day. You can bet I paid better attention the rest of the day. It's because of incidents like this that many people are given the trail name of Wrong Way.
On this particular morning, I was heading down to the "officially AT" canoe that would carry me across the wide Kennebec River. It had been fun filming Freeman's time on the water.
And now it was my turn.
There continue to be other things to be crossed as well.
A friend, Free Fall, crossing a beaver dam.
In 2019, Freeman crossing a River where I had dropped him off.
In 2021, it's my turn on the same crossing.
I continue to be amazed by what a wonderful community the backpackers form. You might cross paths with another hiker only once, but you find connections, rave or commiserate together about the trail, or hear their unique story and then move on in your opposite directions.
This fellow was out for a day hike with his daughters, bagging his first peak in Maine. He has already summited all of them in the Alleghenies and in the awaited on New Hampshire. Very impressive. I told him we most definitely don't have the same passions. I like milder hiking, despite what my photos might lead you to believe.
Patches of accomplishment on his backpack.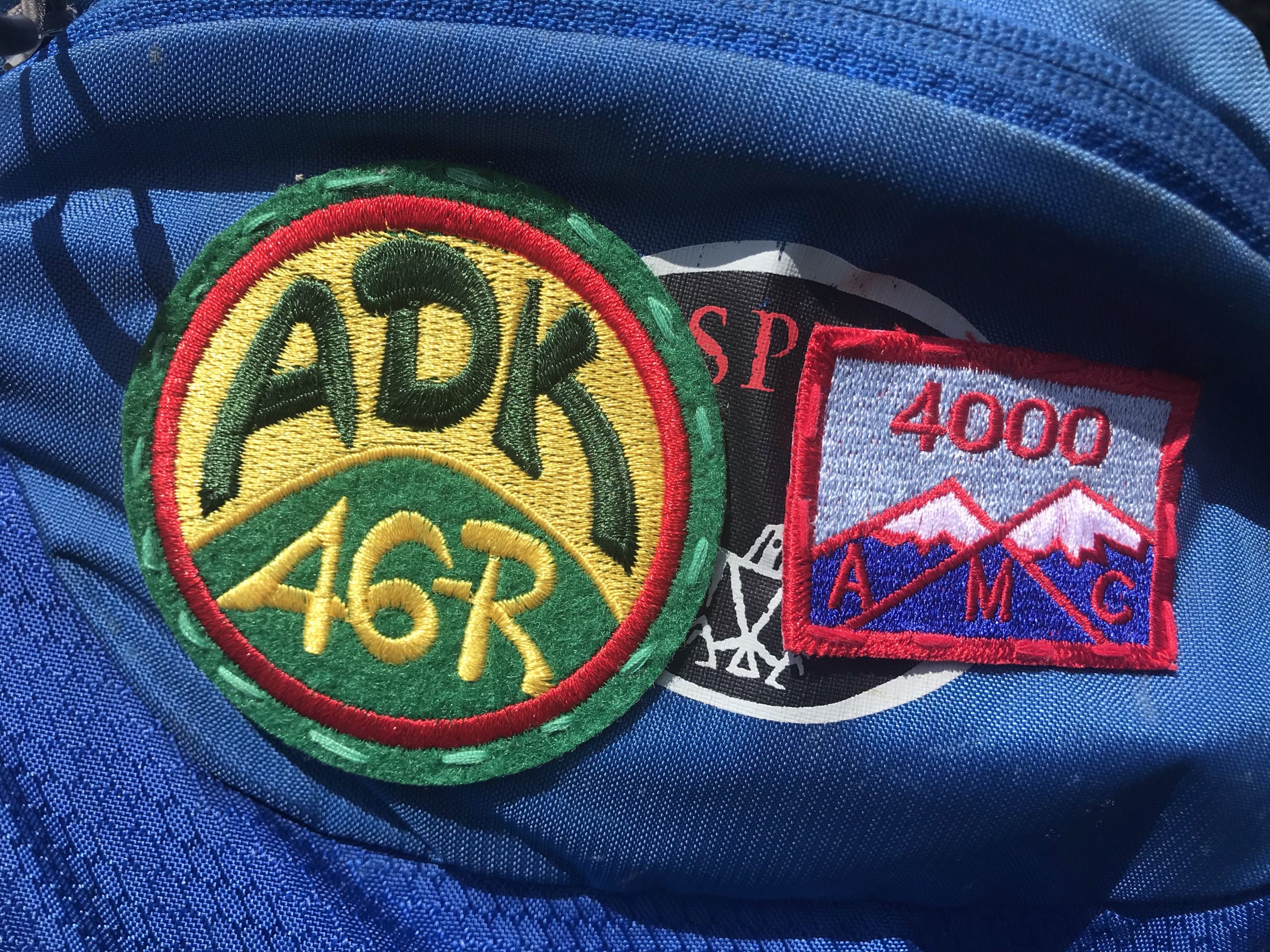 And then there are the other long distance backpackers who are also Katahdin bound, who you see along the trail during the day, hike with a bit or stay at the same shelters several times. By the second or third meeting, you finally remember their trail name (Hiker Greg? Free Fall? Wanderer? Papa John? Kenwood? Houdini? De Fib?) and have a sense of comradeship. STAY TUNED FOR THE BIG REVEAL OF MY NEW TRAIL NAME LATER IN THIS POST!
Kenwood, named after his hometown in Iowa.
Hiker Greg, named after what he's doing and who he is.
Joy, named for her general attitude. She is wearing her self-sewn backpack made from the same kit that I have used for previous packs. She also is carry the same tarp and bug net tent, kits out out by Ray Jardine. Fun to have that connection!
In 2019, flying along in my own little climate-controlled cocoon, I definitely missed out on this, although I did get to have brief moments with distance hikers during shuttles between the trail and town.
And now a very pivotal "deja vu" moment has occurred: my arrival at tiny Monson, Maine.
This is the jumping off point for the famed 100 Mile Wilderness, the northernmost stretch of the AT, culminating with the grand Katahdin. Why the nomenclature of wilderness? Because of the lack any towns and many facilities along the way. A few lower mountains during this stretch have their challenges, but after the first 30 miles, I hear the going is much leveler and easier with its opportunities to take a dip in one the many tranquil lakes.
Ignore the written descriptions in this guide and look at how the elevation changes level out at we head north (to the right).
I am staying again in the action-packed, Grand Central Station also known as Shaws' Hiker Hostel.
Lunch with Freeman in 2019.
Not much has changed except the hikers. One is the same.
This place has it all for preparing for the Wilderness: ample food resupplies, a shop filled with hiker gear, clothing, medical supplies, a great knowledge of what the next 100 miles hold, and shuttling capabilities to whatever trailhead a dirt road might be able to get you to.
Of great importance to the grand majority of hikers is their food drop system.
This is me with my boxes from home holding 11 days' of food for the Wilderness and climbing Katahdin. Sides of boxes' labeling for Gramma courtesy of our 13 year old granddaughter. I'm also carrying a lovely beaded key chain in my pack, made by our 11 year old granddaughter. Photos of our precious year old grandson are looked at frequently on my phone. All are distant but definitely not far from my thoughts.
They give you a 5 gallon bucket (or a bin, for groups) with locking lid, you put in your own food that you'll want in a couple of days, they seal the lid and then drive it to you on the agreed upon day, at the agreed upon time (more or less). You refill your backpack with food, give them your trash, and they take their containers back for the next group of hikers to fill. There are up to 3 food drop locations, thereby avoiding carrying 8-10 days worth of food in your groaning backpack.
So here I am, finally at the famed hostel at the famed entrance to the Emerald Road to completion.
I'm no longer an observer of the hikers' excitement, I'm experiencing it myself.
And what will cap this all off? The arrival this afternoon of my three hiking partners, husband Shorttimer and our friends, Jagdish and Fred. What a way to celebrate our 47th anniversary!
And let the final chapter of my four volume/section adventure begin!
Freeman entering the 100 Mile Wilderness.
The same sign two years later, awaiting the four of us.
All my best,
Ruthless
(My new trail name bestowed by Fred and Jag, during one of the sweaty grueling training hikes in Ohio. I love the name. Distinctive.)
Affiliate Disclosure
This website contains affiliate links, which means The Trek may receive a percentage of any product or service you purchase using the links in the articles or advertisements. The buyer pays the same price as they would otherwise, and your purchase helps to support The Trek's ongoing goal to serve you quality backpacking advice and information. Thanks for your support!
To learn more, please visit the About This Site page.
Comments
6
Perfect trail name! Love it.

Love how you are staying connected to the past (your photos of Freeman), present (your current trail companions), and future (your grandchildren) as you trek on. Happy anniversary, and best of luck on your "Ruthless" pursuit of Katahdin.

Way to go Ruthless! (Love the trail name!) You have definitely found some beautiful camping spots! I hope the 100 mile wilderness is a great experience for the 4 of you:) Its so sweet how the boxes say "Gramma" 🙂 Another great blog post, such a joy to read!

Ruth, the new name is perfect! Best of luck with the remainder of the trail. Happy Anniversary to the two of you.

Ruthless – the name kind of makes you wonder why nobody thought of it sooner. It's perfect and ironic at the same time. Enjoy your long walk in the woods!

I love reading your posts, I feel like I was there with you. You continue to amaze us all. The WFPB way of eating truly powered you continuously. Way to go!