A View of Trail Days From a Virgin, And Some Trail Update
Trail Days. It's a must do for hikers….at least once. Though you may get hooked. A weekend spent in Damascus, VA with Tramily, and like minded friends that you haven't met yet. A chance to win some awesome gear, and even buy some crafts. You can drink, you can not drink; you can stay up all night, or observe Hiker Midnight (gotta turn on your head lamp to see? You're up too late). Meet trail legends, and learn some new tricks. Get advice for that new gear you just won/bought, or learn how to better customize your old stuff.
When I was talking to some tramily members in the weeks leading up to Trail Days, trying to figure out who was going, some told me that they didn't want to deal with the "cluster fuck" of hikers in such a small town. It's a good reason (I guess), Damascus is a small town in southern VA with a population around 815, come Trail Days that population swells to somewhere upwards of 10,000. Add in that we all smell, the majority enjoy a good brew (and by good brew, I mean a good PBR), and many will gladly partake in some illegal substances…..it has the potential to get crazy.
Now, let me give you all a bit of background on me, I'm not a partier. While on trail, I observed baby hiker midnight (I rarely even waited for sunset to crawl into my sleeping bag and pass out). Not once did I feel out of place this weekend. I was amongst family, and in a judgement free zone. With so much going on, it's easy to avoid getting sucked in to the party scene if you don't want to be sucked in. Now, don't get me wrong, I stayed up later than I normally do, and I drank more than my fair share, but I remember every second of the weekend, and still was able to at least try to win some free things.
My weekend started the 14th (coincidentally my birthday), when my road trip partners – Money Maker (whom I met in passing last yr during our thru-hikes) and Tomkat (who got in touch with me through facebook, and we met as we picked him up – attempted a thru in '14) – and I left CT/NY, with the plan to stop for the night in Waynesboro for some trail magic. I had spent my birthday last year zeroing in Waynesboro, and figured it'd be the perfect place to spend some of my birthday this year – and it meant no scrambling for a good spot in the dark in Tent City. There were about 8 or so thru-hikers there that night to enjoy my cookies and brownies and we got to eat at Ming Garden again! By far, still best AYCE on trail.
We were also introduced to a new game carried by Dessert Wrap. I'm sure most of you have at least heard of the game "Settlers of Catan"? Well Dessert Wrap has made a mobile version of the board game and dubbed it Settlers of Katahdin.
Friday morning we packed up and started on our last 3 hours of the drive….only to get pulled over for speeding about halfway down. Nothing more annoying than getting pulled over for going with the flow of traffic. But that was quickly forgotten by the excitement of seeing hiker trash on the streets. After we set up our tents/hammock, we split up to locate friends and get a feel for the place. I got so wrapped up in scoping everything out that I'm pretty sure I only had a couple of handfuls of goldfish before I found chili around 7:30. We had't even stopped for breakfast. This lack of eating until dinnertime became the trend of the weekend for me. I was so excited to be back in the fold that I didn't register hunger.
Miss Janet's fire circle is also a must, even if you don't get up and dance, it's an amazing experience.
I was woken up Saturday (and Sunday) morning by a pup who's owners tarp was set up near my tent around 6:30 and spent most of the day in town working on getting free things and trying to locate more of my tramily. I didn't win any of the raffles, but I came home with a pretty good haul anyway. Loads of cliff products, some Nuun tablets, a fold up plate and a matching bowl, a Gregory slack pack (similar to the "summit pack" they've added to the Baltoro and Diva this year), and stickers. Some how I missed out on getting a I <3 Bob Peoples pin.
Saturday was also the parade, probably the easiest way to find all your tramily (well, that is if they don't get stuck at a booth talking and miss it). I think the town loves the parade so much because it gives them an opportunity to spray us down with super soakers and hoses. Free Shower?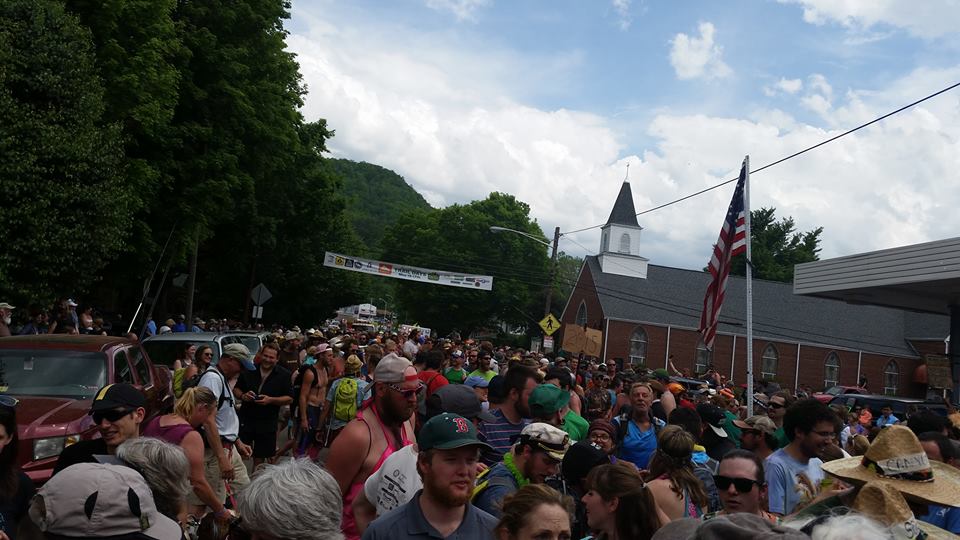 The whole weekend made me so pumped to start my hike on the 20th. Tomkat even had a mini breakdown on the drive home because he felt such a strong need to get back out and try again for his thru-hiker status. I offered to let him join me on the Long Trail (which he thru-hiked in 2012), but he's too stuck on the AT. So solo I still am 😉
I'm hoping to complete the approx. 402 miles – remember I'm adding about 130 miles of the AT (Kent,CT to the Southern Terminus) to the Long Trail – in under a month. I've got a base weight of 15lbs for this hike, and couldn't be more excited to get back on trail for more than 4 nights in a row (and way less nervous than I was to start the AT).
Affiliate Disclosure
This website contains affiliate links, which means The Trek may receive a percentage of any product or service you purchase using the links in the articles or advertisements. The buyer pays the same price as they would otherwise, and your purchase helps to support The Trek's ongoing goal to serve you quality backpacking advice and information. Thanks for your support!
To learn more, please visit the About This Site page.