Alfred Wainwright's Coast to Coast: 200 Miles Across Rural England
Wainwright's Coast to Coast is a long-distance, unofficial trail in Britain that goes from the Irish Sea to the North Sea via three national parks. The scenery varies dramatically from day to day and the trail gives hikers the flexibility of how much support, luxury, or adventure they want. Itineraries vary from ten to 15 days covering about 52,000 feet of elevation change over 192 miles. This trail is a great taste of what longer-distance trail life is like, with the security of towns and pubs along the way.
Coast to Coast At-a-Glance
Length: 192 miles.
Location: St. Bees (54.4908237, -3.6059605) to Robin Hood's Bay (54.4302882, -0.5322307), England, United Kingdom.
Trail Type: Thru-hike, end-to-end.
Terrain: Moderate/hard. Some fairly steep climbs, many exposed sections, and the joys of British weather to contend with.
Navigation: Guthook ($8.99), Trailblazer paper guides ($13.56) A-Z ordinance Survey maps.
Getting There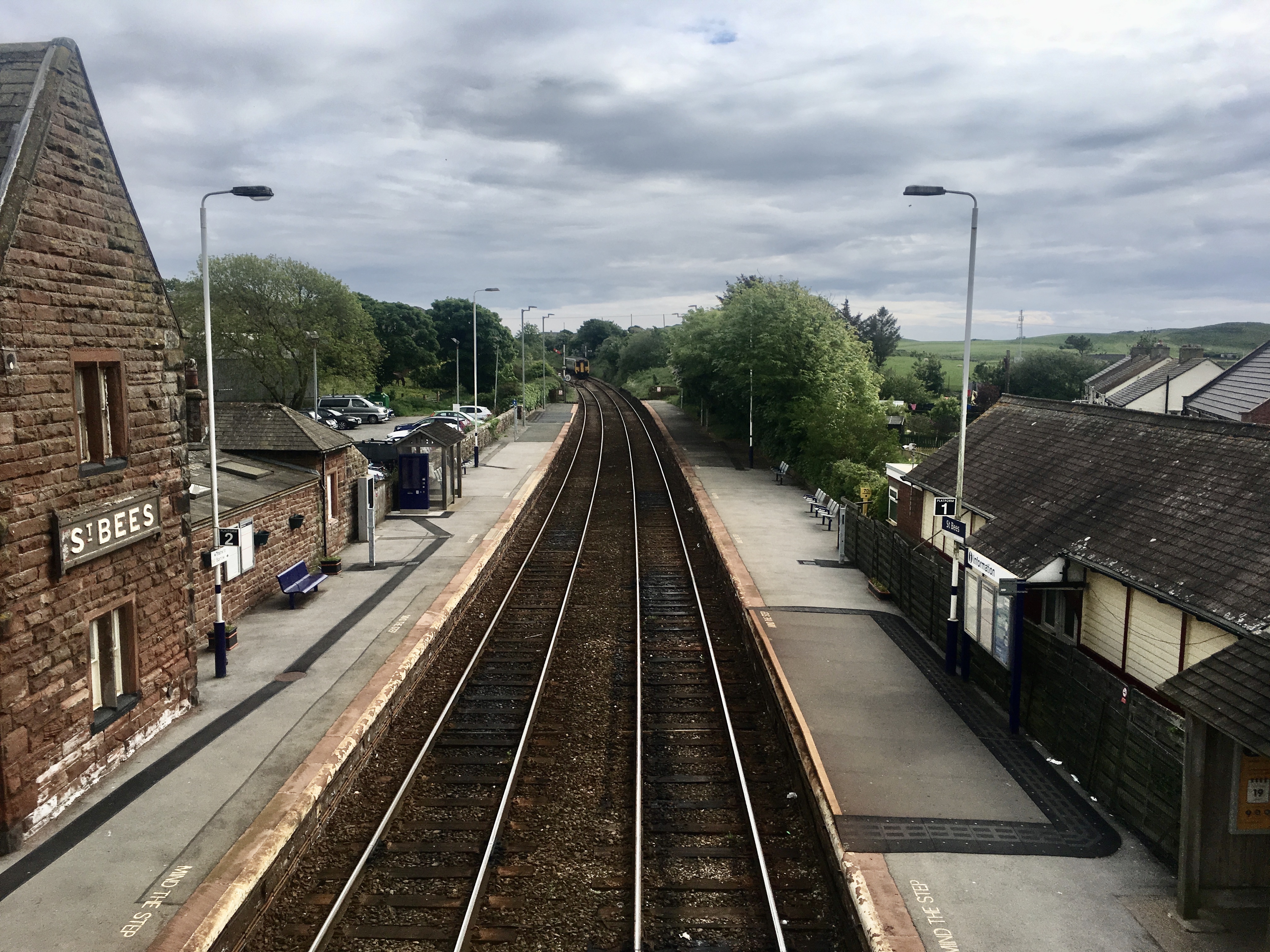 The best way to get to/from the Coast to Coast is by public transport. From London you can book a ticket to St. Bees via Carlisle for as little as $33 (£28) if you book in advance. The journey takes about five hours and 40 minutes.
Once you reach Robin Hood's Bay you can take a bus to Scarborough for about $7 (£5) and get the train from there back to London. This takes about three hours and costs about $30 (£23). The train from Carlisle to St. Bees is a little temperamental so it is better to go earlier in the day in case a train gets canceled. If your train does get canceled—which the owner of a hotel in St. Bees told us happens frequently on the weekends—it is the duty of the train provider to arrange other means of transport for you. For us they arranged a coach.
Direction
This trail can be hiked both directions (westbound or eastbound). Most people do this eastbound and this would be our recommendation. This is because the winds in the UK prevail from the west and you'll have the sun on your back for the majority of the day. It is also the direction Alfred took when he penned the trail in 1973, so the guidebooks and trail markers are set up for hikers going this direction.
Why Hike the Coast to Coast Walk
The Coast to Coast is one of the best long trails in England. You'll go through three national parks—the Lake District, the Yorkshire Dales, and the Yorkshire Moors—visit quaint historical villages, and you can say you've walked across a whole country without it having to take five months (I'm looking at you, America). It can be easily completed in 14 days, making it perfect for a two-week holiday and can be tweaked to suit how much of a challenge or how much comfort you want on your walk.
The trail is well established, although only sporadically way-marked, with B&Bs, pubs, and enough shops that you could sleep in a bed and have a hot meal every night if you choose. You can even have your bags transported from B&B to B&B every day through companies which have been set up to help you organize your hike. The biggest of these are C2C packhorses and Sherpa Van.
As the trail crosses many other routes there are a number of alternative routes along the way that add some pretty epic climbs and knife-edge ridge walks to your hike. As an introduction to the United Kingdom or to have a go at longer distance hiking—shakedown for a Triple Crown thru-hike—this is a perfect trail.
Climate and Weather
The United Kingdom has some pretty mild weather and as a result the hiking season is quite long: it starts in early April and goes through October, peaking in August when UK schools break for summer. The trail has become quite popular in the UK due to a TV program that aired a few years ago, so hiking in the shoulder seasons will help with the availability of B&Bs if you choose to go that route.
British weather, while not extreme in temperature, can be quite wet if you catch it on a bad week. Therefore we'd recommend a good waterproof shell, waterproof pants, and something to keep your gear dry in your pack like a trash compactor bag. The UK doesn't have any savage wildlife, but make sure you're not in a field full of cows or sheep when you set up your tent.
Gear Suggestions
Time of year will determine how much warm-weather gear you need. From May to August you won't need more than a puffy jacket for the evenings and mornings, with a waterproof shell to layer up / protect from the rain.
When on the hike you'll probably notice that the gear used in the UK looks much more traditional than that used in the USA. Most people wear waterproof leather hiking boots as you'll be walking through a lot of boggy, grassy areas. We wore trail runners and were fine, but it could have been a different story if it had been raining a lot. Most people in the UK also wear zip off trousers due to the temperamental weather. We would recommend a long-sleeve shirt to reduce sun exposure in the summer months.
Another trend you'll notice if you are camping is that most people in the UK use double-layer tents. This is for three reasons: first is to do with condensation. Chances are you'll be camping on exposed, dewy grass every night so a double-walled tent reduces the amount of condensation issues you have. Second is climate. Some campsites are fairly exposed and at one point of the trip we were worried our single-walled tarp tent wasn't going to make it through the night due to the wind. It also rains a lot in Britain, especially through the Lake District.
Finally, the ultralight movement isn't a big thing here. This is partially due to culture, but it is also because the distances traveled between towns are normally pretty short. On this trail you'll hit a town at least once a day so there isn't a need to carry days and days of food or water. As a result there hasn't been the focus on reducing pack weight that the USA has benefited from.
Camping and Accommodations
Most people who hike the Coast to Coast sleep in B&Bs. If you plan to do this, our advice is to book early. Some of the places we stayed in said they were already taking bookings for the summer after next during the peak August time.
Wild camping/stealth camping has always been an interesting topic in England. We could write a whole post on this but for the purposes of the Coast to Coast we'll give a tiny bit of background to help you make your own decision. So, first off, it's important to know that pretty much all land in the UK is privately owned—even national parks. The Lake District, for example, is partially owned by a water company, a trust, and the rest is privately owned. The Saddleback, one of the most stunning ridgelines on the walk, is owned by the Lord of the Manor of Threlkeld—quite a title! Secondly, the UK has a history with hobos that dates back to the 1100s—although here they are called travelers. This is probably the real reason why the laws are quite strict. We've had a lot of high-profile cases where
travelers were forcibly removed
from land they were living on. The law is designed to progress these evictions, not really to stop LNT wild camping.
As a result, on paper, wild camping is illegal. That said, even the
Lake Districts marketing website
promotes LNT wild camping while calling out that you can be moved on. In the interest of keeping this trail profile focused, we recommend that if you are thinking of going down this route to do further research.
For the most part, there are good camping facilities along the route that fluctuate in price from around $7-15 (£5-12) per person per night. These range from being a grassy area by a pub to a place with a shower, kitchen, and laundry facilities. We recommend the spots by a pub, as it makes rolling into bed after a few Wainwright Ales nice and easy.
Our accommodation highlights:
The Fox and Hounds Inn – Ennerdale Bridge  (Mile 14): Camping in the pub garden ($7 per person) or B&B for about $50. Big portions of English pub grub and English ales on tap.
Frith Lodge – Keld (Mile 90): an amazing place to stay for a halfway treat. The cleanest and most hospitable place we've ever stayed in the UK. Amazing home-cooked food. Be warned, though; it is a 45-minute detour off trail and up a steep hill, although you can arrange with the owner to be picked up. Bed and breakfast for $50 p.p.
Bluebell Inn – Ingleby Cross: Another good pub with a nice, flat camping ground behind the pub. The owners were really nice, putting on a fire to dry our shoes. There are shower facilities and toilets for campers. $12 a tent or $60 for a bed and breakfast.
Coast to Coast Walk Water Sources
We wouldn't recommend trying to get your water from natural sources on trail. You will be going through a lot of farming land full of sheep and cows, and there are a plenty of places in villages that will gladly fill up your bottle if you ask politely. We hiked the trail during a heat wave and never ran out of water, carrying a maximum of three liters at any time.
Resupply Options
There are a good number of places to resupply on the Coast to Coast, with a small village store being reached about every three days. It is not possible to send packages to a post office as general delivery in the UK, so mail drops are not an option.
Here are the towns with the best shops:
Patterdale (Mile 45): Small village store with some supplies for hikers.
Shap (Mile 60): Village co-op store has a good supply of groceries. Also randomly has a New Balance factory outlet.
Kirkby Stephen (Mile 83): Village store for groceries and two outdoor stores.
Richmond (Mile 117): Probably the biggest town you will meet on the trail. Many shops here including Mountain Warehouse, a discount gear store.
Grosmont (Mile 168): One of the oldest village stores in the country.
The best places to eat on trail:
Shap Chippy (Shap): Award-winning fish and chips.
Duncans (Richmond): A tea and cake shop located up some stairs off the main square. This place was amazing for traditional cream teas, high teas, and cakes. We took a doggie bag full of shortbread as it was so good.
The Joiners Shop (Ingleby Cross): Hipster coffee shop. The best coffee on trail.
Lion Inn (Blakey Ridge): A 16th-century free house popular with locals and hikers alike and in the middle of nowhere. Good pub grub and decent portions.
Coast to Coast Walk Highlights
The Irish Sea 
This is where the hike starts. Here it is tradition to "get your feet wet" and take a pebble that you will carry with you to Robin Hood's Bay. The coastline and cliffs are quite spectacular and on a good day you can see across to the Isle of Man.
The Lake District
This is the first national park that the walk comes to and you will probably reach this on your first day. This is the hilliest section of the hike, but also the most spectacular. There are a good number of wild camping spots in this section.
The Yorkshire Dales
The Yorkshire Dales feel like taking a step back in time. You'll pass stone-built houses in tiny villages surrounded by patchwork farmland. For most of this section you'll be walking through green valleys.
The Yorkshire Moors
The Yorkshire Moors are something quite different from what you're probably used to hiking through. For this section you'll hike high on a plateau surrounded by lots of heathland. Once you get to the coast, this turns to an impressive chalky cliff line.
Grosmont
No trip to the UK would be complete without a bit of Harry Potter. As you go through Grosmont you'll be transported into a 19th-century boom town that is now home to the North Yorkshire Moors Railway. The trains here were used as the Hogwarts Express in the Harry Potter movies. We sat in the pub and watched the steam trains go by every half hour.
Robin Hood's Bay
This town marks the end of the hike and is a stunning place to finish. The whole town is on a steep pitch and has a history of pirates, smuggling, and ghosts. There are also a good number of pubs, restaurants, and ice cream parlors to celebrate the end of your hike.
Closing Thoughts
For anyone thinking about doing a thru-hike in England this is a great choice. The flexibility of the hike, its varied terrain, and trail towns will give you a true taste of rural UK while fitting nicely into a two-week break.
If you are planning on hiking this trail, do reach out in the comments—we'd be happy to answer any questions.
Related
Affiliate Disclosure
This website contains affiliate links, which means The Trek may receive a percentage of any product or service you purchase using the links in the articles or advertisements. The buyer pays the same price as they would otherwise, and your purchase helps to support The Trek's ongoing goal to serve you quality backpacking advice and information. Thanks for your support!
To learn more, please visit the About This Site page.