Algonquin Bound: How to Canoe Camp/Portage OR how not to??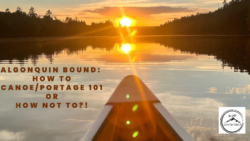 https://www.youtube.com/watch?v=WCjA3VtuksE
Algonquin Bound: How To Canoe Camp/Portage 101 – or how not to?!
My best friend, Justin had mapped out this epic, yet ambitious journey in the massive Algonquin Park. We were excited!! Geared up and armed with enough bug spray to kill an army of mosquitoes (so we thought!!) We set off…..across the windy lake…but we are strong we got this!! Wrong direction from the start! We had the maps downloaded on our phones….but unfortunately no little blue dot telling us where we were. After a fun paddle around the perimeter of Grand Lake to warm up our paddling arms we get ourselves on track….briefly!!
First portage coming up…20 m….ok…leave gear in canoe and we haul it across the little rocky trail to get to the other side of a small waterfall. Short paddle to next portage….90 m. We haul the gear over to the other side and onto his head he puts the canoe….this is not how I envisioned portaging to go!! Did you know there are shoulder rests on the canoe for portaging?? I did not!! Over the rocky trail he went and I suddenly knew my limitations and he was on his own carrying it for all the portages or it would end in disaster!! I was not born a graceful girl….I have issues running on technical trails staying upright at times let alone let's now put a canoe on my head….or shoulders…whatever!! Was not happening!!
Off we paddle to next portage, 220 m….oh boy!! We had some big ones to come…I was starting to feel bad…but not bad enough to try doing it!! I would haul the heavy gear instead!! We are not even half way through our journey….Justin checks the map. Directs us to the left…..we weave through the tall weeds down a zig zagging weed channel….to arrive at another portage and lake….but hmmmm….not the right one. Justin's limitation….reading the map. I take over…back we go a few kms at least…I asked if we could have a snack and beer….that was a negative til we get back on track!! So I stuck my cheezies between my feet as I paddled and snuck my snack in and pouted that I was not allowed a beer when he was the one that got us lost! We got back on track…saw where we went wrong!! Off to cross 2 very beautiful lakes. Another 255 m portage….between the Lower and Upper Spectacle  lakes. The big one was still to come!! At the end of Upper Spectacle was our big portage…or I should say Justin's big portage. The sign says 1790 m ….in total ended up being over 2300 m.  So we haul our packs over the very technical and hilly trail to the water on the other side….back we go and  he grabs the canoe and I grab the bear bin, life jackets and oars. The journey back to the water where our packs were proved to be interesting with the canoe on his shoulders….climbing over dead fall…break….getting caught in a tree ( I was very quiet at this point….not offering any advice as it was not going to be welcomed warmly) … break….back of the canoe smacking on rocks as he went down hills….me just being very quiet behind him!! My job was to lift the canoe up at the break spots to help him get it back on his shoulders!! We finally make it to the water relieved….portages done let's paddle and find our campsite…about 300 m later…. We see another portage…..I looked at the map…yup it was on there….oops!! It was only 300 m but it was the most technical and hilliest of them all. Again, Keri be VERY quiet!! Take the packs over…then back for the canoe and rest of the gear. When we got back there with the canoe the most amazing sunset greeted us. 15 minute paddle to find our beautiful campsite for the next 2 nights where we would watch the beavers, listen to the loons, a male grouse that pretty much thumped his chest the whole time, more exploring the next day further down Little Carcajou Lake to Wenda Lake, rain storms, bonfires, and of course providing a wonderful feast for mosquitos that have not had the pleasure of human flesh for awhile! The goal was to take a journey to a remote rugged area to experience a part of Algonquin that not many go. The journey that took us over 8.5 hours to get to this wilderness haven took us only 4.5 to get out!! But remember….it is not just about the destination…but the journey along the way!! My first trip to Algonquin filling with all the bloopers, blunders, and wonderful memories!
Affiliate Disclosure
This website contains affiliate links, which means The Trek may receive a percentage of any product or service you purchase using the links in the articles or advertisements. The buyer pays the same price as they would otherwise, and your purchase helps to support The Trek's ongoing goal to serve you quality backpacking advice and information. Thanks for your support!
To learn more, please visit the About This Site page.