Altra VIA Olympus Review
When you have plans for a long run through your city or down a winding paved neighborhood rec path, comfort sometimes becomes the difference between being able to go a few extra blocks, or having to turn around early.

The Altra Via Olympus is designed to help you push further on every road run by combining generous amounts of cushion with Altra's signature Original FootShape fit and a zero-drop design. The shoes give your feet space for natural movement and are the perfect companion for sunny spring and summer road runs.
Price: $170
Weight: 1 lb. 1.8 oz.
Heel-To-Toe Drop (mm): 0
Material: Engineered Mesh (upper), Nylon (lining), EGO Max Foam (midsole), Rubber (outsole)
Intended Use
The Altra Via Olympus is designed as a long-distance road running shoe.
Circumstances of Review
I gave these shoes a run for their money with daily, heavy use during the testing period. They were taken on road runs a few times a week around my neighborhood and daily walks (5–8 miles) on my desk treadmill. Weekly mileage in the shoes was around 30–35 miles.

Altra Via Olympus Features
5mm Contour Insoles
33mm EGO Max foam midsoles (Altra's highest stack height yet)
Altra's signature Original FootShape™ fit
Rocker-shape geometry for a more efficient toe off
Engineered mesh uppers
How Do I Know If Zero Drop Shoes Are Right For Me?
Any shoes designed for athletic pursuits—from running and walking to hiking and backpacking—require your foot to stay happy and supported. The conditions that will keep your "dogs from barking" after a 15-mile day in the woods will vary dramatically from person to person. However, in the past few years, many hikers have found that zero-drop shoes are a game changer.
What Are Zero Drop Shoes?
Traditional shoes are designed with a slight downward angle from your heel to your toe, referred to as the heel-to-toe drop. Although this number varies from shoe to shoe, most athletic shoes average around a 10mm drop (high heels are a great visual of a shoe that has a dramatic heel-to-toe drop).

Zero-drop shoes, on the other hand, have completely flat soles. This is not to be confused with the support found in the shoe itself—zero-drop shoes still provide arch and foot support inside the shoe. Zero-drop simply refers to the slant that the foot is on while in the shoe (which would be 0 millimeters, as compared to 10mm of drop on average).

The idea behind zero-drop shoes is that they allow our feet to stay in a more natural position while still having the protection of a sturdy shoe.
What Are The Benefits?
The biggest selling point is that zero-drop shoes allow your body to travel in a more "natural" form—almost as if you were running barefoot. Traditional road and trail running shoes force your body into an unnatural position of movement with your foot on a slight slant at all times. Zero-drop shoes allow your foot to move more freely – your toes can spread out, the soles of your feet can expand and contract as needed, and your body will naturally become more stable.

By allowing your foot to move as it's designed to while running or hiking, your feet will become stronger, preventing injuries and helping with long-term mobility. Happy feet often lead to a happier overall body, and many people report improved knee, hip, and back pain after making the switch.


Altra Via Olympus Pros
True To Size: I have been wearing Altras for years, and they are one brand of shoes that stays consistent with sizing. I am a 6.5 in the Via Olympus road runners, as well as my Lone Peaks, Riveras, and Solstices.

Insane Cushion: If you want a comfortable ride on your next run, then this is the shoe for you! Hard concrete or treadmills are often tough on feet and knees, but the EGO Max Foam is Altra's way of providing a little bit of extra padding between your body and the ground. The enlarged sole reminded me of heartier trail running shoes (like the old Hoka Challenger ATR 6, which I loved!), and I was excited to see this type of padding on a shoe designed for road use.

Zero Drop: The Via Olympus features Altra's famous zero-drop design, which supports a more natural running gait, disperses impact better, contributes to a lighter overall shoe, and helps strengthen your foot (which often leads to fewer injuries). I had issues with my feet being comfortable in hiking boots and running shoes for years before switching exclusively to Altra zero-drop shoes, and quite literally never looked back since.
Altra Via Olympus Cons
Support: Although the shoe provides exceptional cushion, I found myself experiencing new hip and foot pain after a few weeks of giving the Via Olympus a fair amount of weekly mileage. I often get knee pain when overdoing it with road running—surprisingly, though, my knee felt fine, and the pain was concentrated in my hips and occasionally the soles of my feet. I focused on these two areas when stretching, and it seemed to help enough that I did not have to switch to another pair of shoes for my daily activity, but it was still enough of a concern to raise a few flags.

It's important to note that—as alluded to in a few other places in this review—I have sensitive feet. Many athletic and hiking shoes do not work well with my foot shape and contribute to pain. However, I was surprised to have these new issues emerging from Altras. I have owned about six other pairs of Altras in various models and have long considered the brand to be the only one I can wear without additional issues popping up. I have not been able to pinpoint exactly why I am experiencing mild pain when wearing the shoes, but it is worth considering if your feet also run on the sensitive side.

Mesh Picks Up Dirt Easily: I tested out the Orchid color (mostly white with a pop of color) and the material picked up dirt exceptionally easily. At the end of the day, they are shoes designed for outdoor use, so I wasn't expecting them to stay pearly white forever. However, I noticed significant scuffs and marks after just one use. I even threw them in the wash to try to clean them up a bit after a few weeks. From what I could tell, the issue comes down more to the Engineered Mesh used than the lighter color (although having a white shoe certainly didn't help).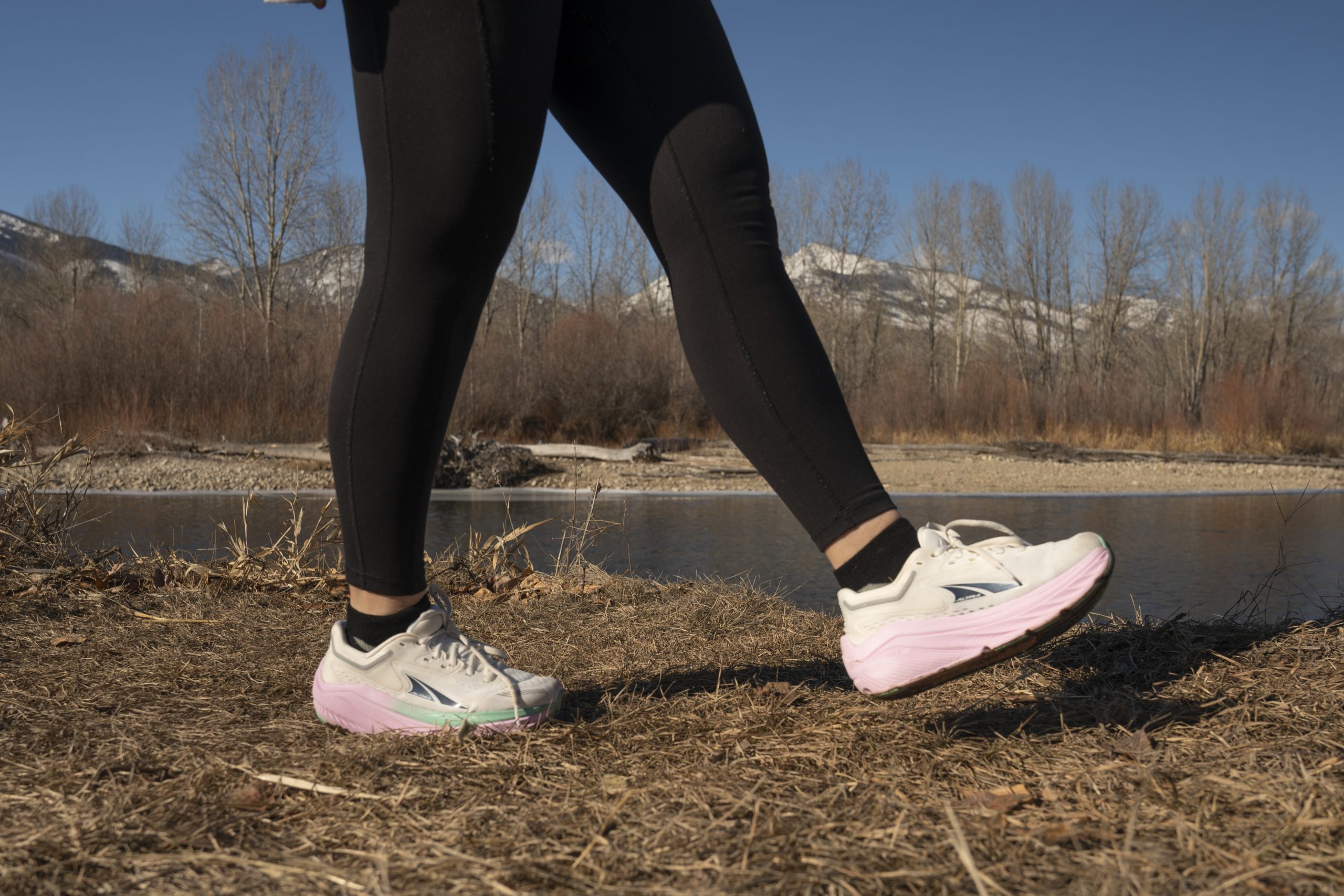 Altra Via Olympus Overall Value
I'm somewhat torn—I really wanted to love these shoes. I found myself wanting more cushion than my Altra Riveras offered, and the Altra Via Olympus definitely delivers there. However, it's hard for me to confidently recommend these shoes considering foot and hip pain I experienced after putting a fair amount of weekly mileage on the shoes. I should emphasize again that these aches and pains were mild and weren't enough to make me switch back to my Riveras, but it was enough for me to keep my guard up and be wary of the shoes.
With footwear preferences varying wildly between individuals, I'd say it's worth trying these shoes out and seeing how your body reacts. The added cushion is wonderful, and my foot felt secure while wearing the shoe. At $170, they are starting to lean on the more expensive side for road running shoes, but I can see these providing an extremely comfortable experience for a runner with less fickle feet.
Shop the Women's Altra Via Olympus


Shop the Men's Altra Via Olympus
Comparable Road Running Shoes
*The Altra Via Olympus was donated for the purpose of review.
Affiliate Disclosure
This website contains affiliate links, which means The Trek may receive a percentage of any product or service you purchase using the links in the articles or advertisements. The buyer pays the same price as they would otherwise, and your purchase helps to support The Trek's ongoing goal to serve you quality backpacking advice and information. Thanks for your support!
To learn more, please visit the About This Site page.