An Adventure Waiting Right out my Front Door….in OHIO?
So I've already been doing all the recommended procedures for protecting my physical health during the Covid-19 crisis:  mask, social distancing, covering coughs and sneezes, washing hands, using hand sanitizer, and avoiding crowds.
But what about my mental health?  Like the grand majority of you, I'm getting mighty tired of being home most of the time.  After three summers on the Appalachian Trail, I need to move!  To explore!  To sleep outside!
Taking matters into my own (sanitized) hands, I headed out on  a solo expedition in July to lovely Hocking Hills State Park in central Ohio.  The trail  running through the middle of the rock outcroppings and waterfalls is named after Grandma Gatewood, the first woman (and Ohio native) who thru-hiked the Appalachian Trail.
As I was enjoying my hike there, my eyes kept being drawn to the blue blazes that mark this trail.  It is said that this color was chosen for this special trail because blue blazes traditionally signify a side trail branching off a main one.
It was Grandma Gatewood's dream that the Buckeye Trail might someday be considered a side trail off the Appalachian Trail.
Hold it! Backtrack! The Buckeye Trail? What the heck is that? 
I almost stopped in my tracks when the thought came to me, "What are you waiting for?  You ordered the complete set of maps years ago…"  Maps to what trail???   "… and you're not on the AT this year.  Why not start now?"  What exactly are we talking about starting?
And that was that.  Just as I had decided overnight to immediately adopt a whole food plant-based way of eating (see my previous post below this one),  seeing blue blazes repeatedly on trees during a one day hike spurred me into beginning a multi-year project.
Okay, so let's explain.  The Buckeye Trail is a 1444 mile walking/hiking route that winds around Ohio, reaching into every corner of the state.
A combination of off-road hiking trails, paved bike/hike rail trails, dirt and paved country roads and city streets, it gives a hiker a good tour of the state. As a continuous loop, one can begin at any point and just keep on going indefinitely, but many people enjoy starting at either the southern terminus in Cincinnati, overlooking the Ohio River, or the northern terminus, just east of Cleveland, on the shores of Lake Erie.
How many years might it take to complete 1444 miles on a part-time, short section plan?  One common practice is a weekend a month with other members of the Buckeye Trail Association, which equals a five year project, but this would not be nearly enough hiking to satisfy me. I am firmly aware of the frigid temperatures that Ohioan winters can bring, but I can be selective about when I get out and where I spend my nights.  With my car available,  hotels would serve me well in the winter, with camping in warmer months.  I'm thinking I could complete it in about two years, but does it really matter?  I'd be in this for the fun of exploration on my own two feet.
Fast forward to the present.  Updated maps have been purchased, the Guthook (Atlas) app for the Buckeye Trail downloaded, camping gear organized, food planned.
Outing #1, early August, 2020:
I stepped out my front door in Cincinnati and walked from our older suburb almost 10 miles to the large sign in Eden Park signifying the southern terminus of the BT.
My intention is to eventually encircle the whole state by foot and finish the adventure by retracing these initial steps right back to my own front steps.
Outing #2, mid-August, 2020:
I drove four hours diagonally across our state to the quaint little town of Burton, to join other members of the Buckeye Trail Association for two days of group walking.  This is new for me, hiking with a large group (12-14 this weekend).   The Buckeye Trail is not well known and is little traveled (the total opposite of the Appalachian Trail), so it will be good to add companionship and diversity to my hike.  Because the group always hikes in a clockwise manner around the state, that will also be my direction when hiking solo.  I was the only person in the group for whom the day's walk was my first "official" day on my BT journey.  Among the others, some had logged hundreds of miles, one had just hit 1000, and another was on his second go-round of the state, which frankly surprised even him!
Meeting at the town of Burton, our final destination for the day's walking, we loaded into several cars (masks on, windows open) and drove to a parking area 12 miles north that was to be today's starting point.  Walking generally in a southerly direction on paved rail trails,
quiet country roads past fields and farms, and a dirt trail through a forested state park,
we were back to our cars at Burton by 2 pm.  One person drove the morning's drivers back to their cars parked at the morning's trailhead.  It takes organization to hike point-to-point.
My camping was at a nearby state park.
I still enjoy the open feeling of my tarp as much as ever, but state park campgrounds are very, very different from camping on the AT, where one is usually far from the sounds of civilization and all the tired backpackers are ready to go to sleep by 8 pm.  State park campgrounds?  Somebody's going to be partying till the early hours, and either a baby's going to be crying or a dog barking.  Or both.
Noted in my journal for my favorite things about the day:  officially starting the BT and meeting new people.
The second day of hiking followed the same pattern, again around 12 relatively flat miles southbound. A bit was on trails through woods and around a field,
but the majority this day was nearly all on a long straight stretch of a country road.
This is not the AT.  A small volunteer organization keeps the trail organized and marked with its blue blazes, but certainly lacks the funds or manpower to build an extensive set of trails on private land.  I knew there'd be lots of road walking, and I bought a good set of Altra trainers meant for paved surfaces.  I'm ready for this, be it paths or pavement.
This weekend of group hiking was now completed.  The best thing about this day had been all the conversations with my fellow hikers, during those long stretches on the road, socially distanced whenever possible, and masks always at hand.
Now I began two days of solo hiking, in order to connect this weekend's section with Lake Erie 28 miles to the north, a section that the group had completed earlier in July.  Parking my car at the safest place possible near to my final destination  (the parking lot of the police station, with permission), the picturesque  little town of Chardon,
I was given a ride to a hotel further north by the kind volunteer supervisor of that section of the trail.  I'm finding that there are "trail angels" on the BT, just as there are on other trails.
The next morning, I was picked up by another trail angel, one of the hikers who lived nearby,  and was shuttled to the Headlands State Park, with the longest natural beach on Ohio's portion of Lake Erie.
It was exciting to know that I had now stepped foot on both the southwestern and northeastern termini.  My backpack had all I needed for two days of hiking:  my sleeping bag, inflatable pillow, air mattress, battery for recharging my phone, food and water.  A shelter/lean-to awaited me at lovely Big Creek Park, 18 miles south.
This day was my longest so far on the Buckeye Trail.  My feet were tired by the time I reached my own little private lean-to, but it had been a very enjoyable day's walk,  continuing on a long greenway,
going through several parks on beautiful trails,
and a long stretch on a very quiet, winding country road along a babbling river, under towering trees and past unique homes.
A good day!  Favorite things?  Walking on the quiet country road along the River, and arriving at my own little lean-to in Big Creek Park.
Day Four of this outing was much shorter, just 9 miles back to my car, waiting obediently in the police station parking lot.  A lot of the walking was on another paved bike trail, which was, along with Big Creek Park,  part of what is called the Emerald Necklace of greenways and parks encircling the Cleveland metropolis.  Two thumbs up!
It was a good day, lots of shade for the most part.  But I was ready to arrive at my car and head for home, a four hour drive.  Dinner was a Subway spinach sandwich loaded with veggies, topped by a small can of chickpeas purchased at the local supermarket.  My snack for the drive home:  a large circular platter of raw veggies (carrots, broccoli, tomatoes, etc).  That got me many miles down the highway!  Best thing about this day?  Starting the day with my customary morning yoga on my tent groundcloth under the trees by my sweet little lean-to.
Outing #3, late August, 2020:
Now I began to tick off the northbound miles from the SW corner of Ohio, my home turf.  After the customary photo at the starting point, overlooking the Ohio River,
I headed off through the city, searching for the blue blazes on lightposts for the most part.  It's sometimes harder to follow a trail through a city than through the forest, given all the streets branching out every which way, and all the other confusing signs and markers.
Eventually I reached the Little Miami Scenic Trail, the nation's third longest paved trail at 78 miles.
I have cycled along this trail that follows the Little Miami River literally dozens of times, but never have done extensive walking or running here.  This was my chance to really see the trail up close and personal.
I was surprised how many cyclists and runners were on the trail all day, even though this was a Monday.  It's a real highlight of our region and is beautifully maintained by the Friends of the Little Miami State Park.
13 miles later, I arrived at this day's destination, the small town of Milford.  Short-timer (husband) joined me according to plan, at the lovely city park right by the Little Miami River,  where we each set up our own tent and tarp.  How fun that this hiking adventure presented us with this camping opportunity within a half hour's drive from home!  With extra time on our hands, and a car at our disposal, we drove to a nearby retreat center  where one of us walked the labyrinth, and one of us felt she had walked enough for one day.
Our picnic dinner consisted of sweet potato-black bean burgers with the works, homemade potato salad, oil-free hummus and fresh veggies, with pineapple for desert.  We love our food!
Best thing about this day?  Hanging out at the park in the evening with my husband, sitting with our feet in the river and watching young teen boys fish and a man fly his model airplane.
The next day was a shorter one, just nine northbound miles on the bike trail to the  little town of Loveland, where I was picked up by Short-timer, yet another trail angel.  What was formerly a sleepy little place, Loveland has definitely become quite lively the past decade.  As the paved trail has continued to lengthen, increasing numbers of cyclists, runners and walkers stream here for the trail and the great little cafes.
Best moment of this day?  Reaching Loveland by foot.  This is territory I know very well, having cycled here from home many times, as well having ridden the full length of the trail many times, as well as several of its adjoining trails.  I appreciated having the time to admire the beautiful little pocket park in honor of firemen and police officers, something I've biked by many times but never noticed before.  Hurray for foot travel!
Outing #4, early September, 2020:
Labor Day weekend, so the Little Miami bike trail was HOPPIN'!  No problem, I just walked close to my side of the paved trail and enjoyed the entertainment of watching the never ending parade of others out enjoying the shaded trail.  The weather was beautiful and the walking was peaceful under the huge leafy boughs of green, much like the AT (but no bone-breaking boulders or food-stealing black bears).
I reached today's destination, the little town of Morrow by 1 pm.  Just as I finished my sweet potato/cooked greens/black beans lunch, Short-timer arrived by car.  After retrieving my car from Loveland (always carpooling to be dealt with!), we parked it at the next day's destination, Caesar Creek State Park, about 16 miles to the north.
That done, we drove to a company that rents out canoes and kayaks for floating down the Little Miami River, one of the 156 National Wild and Scenic Rivers.  Wild?  Not really, at least when there hasn't been much rain, but good enough for a nice afternoon's journey via kayaks. Again, hurray for having this opportunity to do something we had never done together since moving to this region in 1981.
Having survived the wilds of the Little Miami, we drove to a nearby private campground, Morgan's Riverside, where we found the most spacious campsites we've ever seen at any camping facility.
We had a very pleasant evening there, skipping stones into the river and walking around the campground.  However…..please refer to my earlier reference to loud partiers and barking dogs.  I'm glad I sleep in earplugs.
Best thing today?  This lovely campground, which I had passed so many times before and thought, "Someday I must camp there!"  Today was Someday.
Up early the next morning and wanting to go bark at the now silent dog,  I played nice and left the campground quietly.  Short-timer returned me to Morrow, where I began my second and final day of this outing.  I continued most of the day on the paved Little Miami bike trail, still enjoying watching all others out enjoying the day. It was fun when Short-timer and two cycling buddies caught up with me, as they put in three times the miles that I was doing.  The miracle of bicycles.
Later, I had the pleasure of two different moving conversations.  The first was with a young mother who I caught red-handed as she was writing with chalk on the pavement one of her many endorsements for her chosen presidential candidate.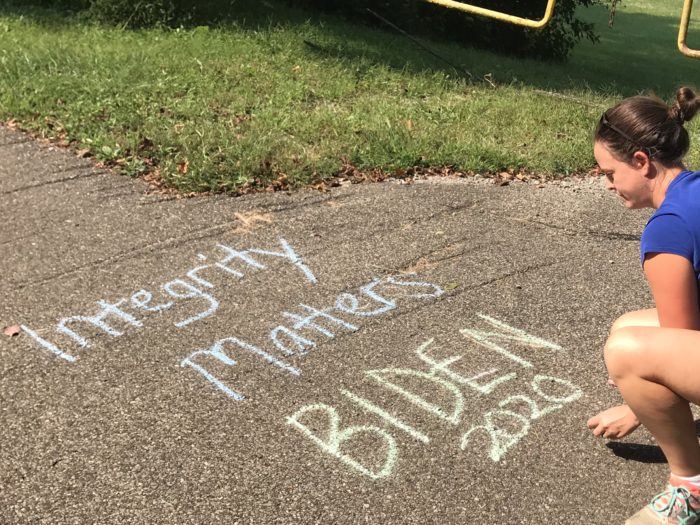 We had a very good half hour of talking together, as her daughter in the stroller surely was thinking, "Mommy go far today!"   My second encounter was with another  30-something, who was biking on the country road I had now turned onto.  He was out with his wife and child, but they rode on home as he slowed his cycling pace way down to my pace, in order to hear more about both the Buckeye  and Appalachian Trails.  These person-to-person encounters truly enrichen the hiking experience.
After walking my final few miles on trails through Caesar Creek State Park and longing for a fresh drink of ice cold water on what turned into a hot afternoon,
I finally arrived at my car, waiting right where I had left it the previous day.  Good car!  I found no cold water at the visitor center, but was successful just down the road at a little country gas station, where the water was the ONLY item in the entire store that met my criteria for "healthy food."  It was a good thing home was less than an hour's drive away.
The best thing about this day?  The walk and talk experiences with the two 30-somethings.  They brought a smile to my face. I really have enjoyed inter-generational friendships on trails
So that's it for now, folks!  I really like the way this adventure is going so far.  This trail will be completely different from the AT, just as the AT was different from the GR5 (my long distance journey in Europe).  Each is unique in its own way. Each has value.
But something has to be done about all this carpooling business.  I can't keep relying on the kindness of trail angels to get me back to my vehicle at day's end.  What to do, what to do?
Hmm….I have an idea.  And, in fact, I have already acted on it.  Check back with me in a week or two to see how it works out.
Thanks for following my journey!
Affiliate Disclosure
This website contains affiliate links, which means The Trek may receive a percentage of any product or service you purchase using the links in the articles or advertisements. The buyer pays the same price as they would otherwise, and your purchase helps to support The Trek's ongoing goal to serve you quality backpacking advice and information. Thanks for your support!
To learn more, please visit the About This Site page.