An Unexpected Beginning
Day 1
Miles: 10
Dr. Dab, Travis and I decided we were going to start from Robinson Creeks Trailhead, take that until we hit the PNT/Boundary Trail and then take that to the PCT. Wow was that a wild ride. We got to the trailhead fine thanks to Danielle and Tom! But it was HOT. We started together and quickly separated, me falling quite a bit behind. It was so uphill, it was so hot, and I cried. Was the whole PCT going to be like this?
As I was coming up to a river, I saw Dr. Dab wrote me an encouraging note to get me through. I thought of how wonderful it was to already have made such encouraging friends.
I came up to Dr. Dab and Travis, they were bored hiking alone so we decided to all hike together. By the 9 mile mark I was feeling so horrible. I was trying to push and keep going but both of my new friends were worried about me. I was drinking so much water but I hadn't peed since the morning. When I came to that realization I started worrying.
Dr. Dab and I stopped and I got my stuff out ready to be done for the day. Travis decided to go ahead and see how far ahead the Slate Pass intersection campground was from us. He came back without his pack and brought water for us. Travis said it's less than a mile ahead and he wanted to carry my pack. I had a bunch of stuff I didn't need in there like my Sony camera, Chacos, Nook, warm clothes and 15lbs of food. (I have been eating all of the food I brought for each day since day 2, my trailname was almost black hole). I was not going to let him carry all of this. So, I added some gear to the extra string bag I had, carried that, and let him carry my backpack.
I was starting to feel better after setting up camp and as the temperature dropped. I drank three different packets of electrolytes and cooked Mac and Cheese with a salmon packet and olive oil. I was feeling much much better but I still didn't have to pee that night.
Day 2

Miles: 3.5
After waking up we disgusted what our plan would be. Dr. Dab wanted to go into town and exchange his backpack for a frameless one that was sent to him as well as switch out some gear. I thought this was a FANTASTIC idea. I'd get rid of all the weight I didn't need and The Goat's Beard in Mazama would hold it for me until I got back to resupply from tagging the border. I had originally not planned on resupplying in Mazama/Winthrop, but seeing the heatwave start to bring the temperatures up I knew I'd be slow moving.
Crossing Slate Pass was the most epic thing I had ever done at this point. We took the trail to a beautiful meadow, and then up into the mountain where there was no trail, just snow! It was so beautiful and exciting. We got to a clearing and there's a path carved out to the top. Dr. Dab decided to make his own way up to the pass as Travis and I took the cut-out. It wasn't really a great path, but the microspikes helped so much.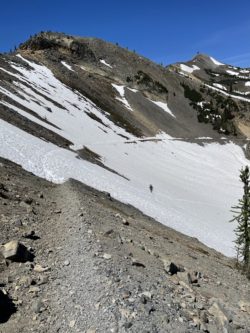 The three of us hitched down to Mazama and I'm not kidding you when I say it was 100 degrees. Dr. Dab was not feeling well all day and he decided to stay behind until the heatwave passed. Travis and I wanted to keep hiking, we would just be safe about it.
Travis and I took three different hitches back to Hart's Pass. That's when I started to feel really awful again. I couldn't move more than 50ft at a time and I felt so out of breath. We decided it would be better to camp at the Hart's Pass Campground that night and begin hiking again in the morning.
We asked the Ranger if there were any open sites and this wonderful woman came out of her spot and said she has her two open tent sites because she has her van. That was the best trail magic ever. I quickly set up my tent, ate dinner and laid down for the night. I was really worried about how awful I felt. My heart felt like it was beating out of my chest. I was just hoping I would feel better in the morning as I forced myself to go to sleep.
Day 3

Miles: 15
Tada! I felt so much better this morning. Travis and I quickly got up and headed for Slate Pass. We decided to take another trail, Whistler Trail back to Robinson Creek Trail because it wills cut out going up Robinson Pass and we could get to the border faster. Whistler Trail was so beautiful! There were meadows with so many bright, beautiful flowers and so much water flowing. I love the sounds of the snow melt rushing down the mountain.
We hiked 8 miles before taking a long break at a camp site by a river. I tended to my new blisters and drank a lot of water
We were told there were a ton of blowdowns. But they were NOT exaggerating. On top of there being a lot of blowdowns anyway, there was a 2 mile stretch where we were just doing gymnastics over the blowdowns. It was fun for a bit. But after miles of it I was so done.
We camped at this little peninsula with water rushing on all sides of us. We also stayed up later to see the stars. Overall it was a good day, even with all of the crazy blowdowns.
Day 4

Miles: 12.5
We woke up to two lost people, they didn't have paper maps, Guthook doesn't really show Robinson Creek Trail and their buddies that had paper maps bailed. We pointed them back towards where we came from to get out of the trail. I hope they made it eventually.
There were SO many flies – I covered myself in deet. We walked through the airfield and I felt like I was in Holes, walking through the heat. I could hear Dig It in my head.
We finally made it to the PNT. My watch first showed us where to get on the PNT, otherwise we would have missed it. But then we trusted it too much as we walked vertically to a trail that wasn't there. We did back track and found the trail across a river crossing again.
I'm so fucking hot and exhausted. We push on and cross a stream to a campsite to wait out the heat of the day. We got there at about 2:30pm.
We start hiking again at 6:30pm and at some point the trail turned into a snow melt river that we had to hop across trees and rocks to keep our feet dry.
We got to camp pretty late, found some water, backtracked to a flat spot in the meadow just before the switchbacks to the PCT.  I had the best dinner ever of freeze dried veggies, ramen, soy sause and olive oil.
A short story for a long hot day, I'm excited to be on the PCT tomorrow.
Affiliate Disclosure
This website contains affiliate links, which means The Trek may receive a percentage of any product or service you purchase using the links in the articles or advertisements. The buyer pays the same price as they would otherwise, and your purchase helps to support The Trek's ongoing goal to serve you quality backpacking advice and information. Thanks for your support!
To learn more, please visit the About This Site page.