Animal Farm Initiation Day: Days 7&8 on the ECT
Day 7  – Kilometer 162.3 – 184.5
The day I got heat stroke, I was moving at a 2km per hour pace for 18km; that trail was rated as "difficult to strenuous" by the ECT Association. Today the Spout Trail is rated "strenuous," and instead of having a town at the end, it continues on to the next trail. I wouldn't hit a town or civilization for about 30km. Needless to say, I'm a bit nervous and am praying the day doesn't get too hot. Hoping that my energy will hold up until the next town; I got an early start on the day, moving nice and slow in hopes of getting through an entire day without feeling ill.
I tried not to think about the burning pain on my shins as the sharp rose bush thorns, wild raspberry bushes, and trim shrubbery ripped the skin from my legs as I pushed through the overgrown bits of the trail. Instead, I focused on the many waterfalls and sea stacks along the coastal cliffs.
Don't quit on a hard day…
I stopped to chat with a couple who were on their way back to town after an overnight hike on the trail. The woman told me it was her first overnight hike, and she wasn't sure she would ever do it again. She enjoyed her trip but thought it was difficult and didn't think she was cut out for it. Then she focused her attention on my pack. She expressed that she was impressed with how small my backpack was for a multi-night trip. I assured her my bag isn't always this small and that it took me many, many years of hiking before getting to a somewhat lightweight backpacker status. Every time I go on a trip, I learn something new and adapt my gear as needed. She asked how many times I had backpacked and what my most extended trip was.
I gave the couple a brief history and told her about my attempt at the PCT. I assured her it would get easier the more she got out there. They wished me luck on my adventure and started to head on their way. Just as they were almost out of earshot, I overheard the women say to her partner. "She's inspired me; I want to do this again; maybe we can make the whole trail one day." I could not help but smile; I felt like that woman had just given me the most loving hug. Never have I thought of myself as someone to inspire a stranger. Overhearing those words made me proud that I didn't quit like I felt doing so the other day.
I continued through the path, not really paying attention to where I was going, as I wanted to ensure I didn't miss the main feature of the trail. I turned a corner, my heart leaped into my throat, and started to race.
Hello There, Mr. Moose…
I was now face to face with a giant male moose.
There's moose in BC, but I've never encountered one while hiking. My brain went directly to be loud, act big – as I would with a bear or a cougar encounter. I lifted my arms over my head while loudly talking to the moose.
"HI, MR. MOOSE" I shouted. He stomped his front leg on the ground and snorted at me. "Okay, Mr. Moose," I continued in a whisper. "I guess we don't like loud sounds. I will go over here" I backed up on the trail while maintaining eye contact with the beautiful creature. He tried to force his way into the dense forest to the left of the trail. His antlers kept getting caught and I knew his only way past me was through the path I was on.
On my left was the very dense forest and to my right was about 30 feet of rose bushes and then about a 90-meter drop off the cliff to the ocean (or possibly rock below).  The rose bushes are really my only option. I slowly backed into the rose bushes and got very small – so as to hopefully not look very threatening. Once I was as far as I could get away from him with still keeping an eye on him, I pulled out my phone and recorded him. No one would ever believe I was this close if they didn't see it.
***PLEASE NOTE***
I waited until I was as far away as I possibly could be in order to let him get by me before I pulled out my phone. Moose can be incredibly dangerous and PLEASE always get a safe distance between you and a wild animal before trying to snap a photo of them.
I watched him as he continues to munch down on trees, get his antlers caught in the bushes, and then eventually continue on the trail, stepping closer and closer to me. I had a cliff behind me so I couldn't back up anymore so I just crouched down into the roses in order to look a little less threatening the closer he got. Once he felt like he had a straight and clear path he took off from where I had just been standing a few minutes earlier.
The Spout…
Since the excitement of the moose was over I looked forward to the next thing on the trail. Although, nothing today can top being face to face with such a giant beautiful creature. The Spout Path is home to a wave-powered geyser. When the waves crash towards the shore, the salty, cool, Atlantic water sprays in a mist through a hole in the rocky shoreline and straight up into the air. Apparently, you can see it from far away but I didn't exactly know how often the spray happened or if there would be a sign, or if there was a side trail I would need to take to get there. I guess I should have done more research on the trail before I came out here.
As it happens, I didn't miss it. You can hear the water funneling under the ground and feel the mist spray you from the trail. Unfortunately, it didn't hold up to the photos of it online, however, I think the tide levels probably have a little to do with how big the spray is. Nonetheless, it was a pretty unique thing to see while hiking but I don't think anything was going to measure up to my 8ft furry friend today.
Day 8 – Kilometer 184.5 – 211.5
It was a cold and rainy day, so in order to stay warm, I hiked pretty much straight through the day. The terrain was pretty cruisy, so the Kilometers came easy. I only had 27 km to go before I arrived at the last camp space before hitting the town of St. John's – where I would be stopping for a full zero day. I can NOT wait for a shower and the chance to let my feet fully dry out. It feels like I have trench foot. It's so swampy out here I don't think my feet have been dry for an entire day since I started a week ago in Cappaheyden.
I made it to Cape Spear- the most eastern point on the trail and in North America. Cape Spear is home to a National Historic Lighthouse built in 1836, the current lighthouse built in 1955, World War II bunkers, and WWII Gun Barrels. The original lighthouse and WWII bunkers are now open to the public for self-guided or guided tours.  It's unfortunate that the visibility is extremely poor today, however, it provides a sort of moody feeling to this historically rich area.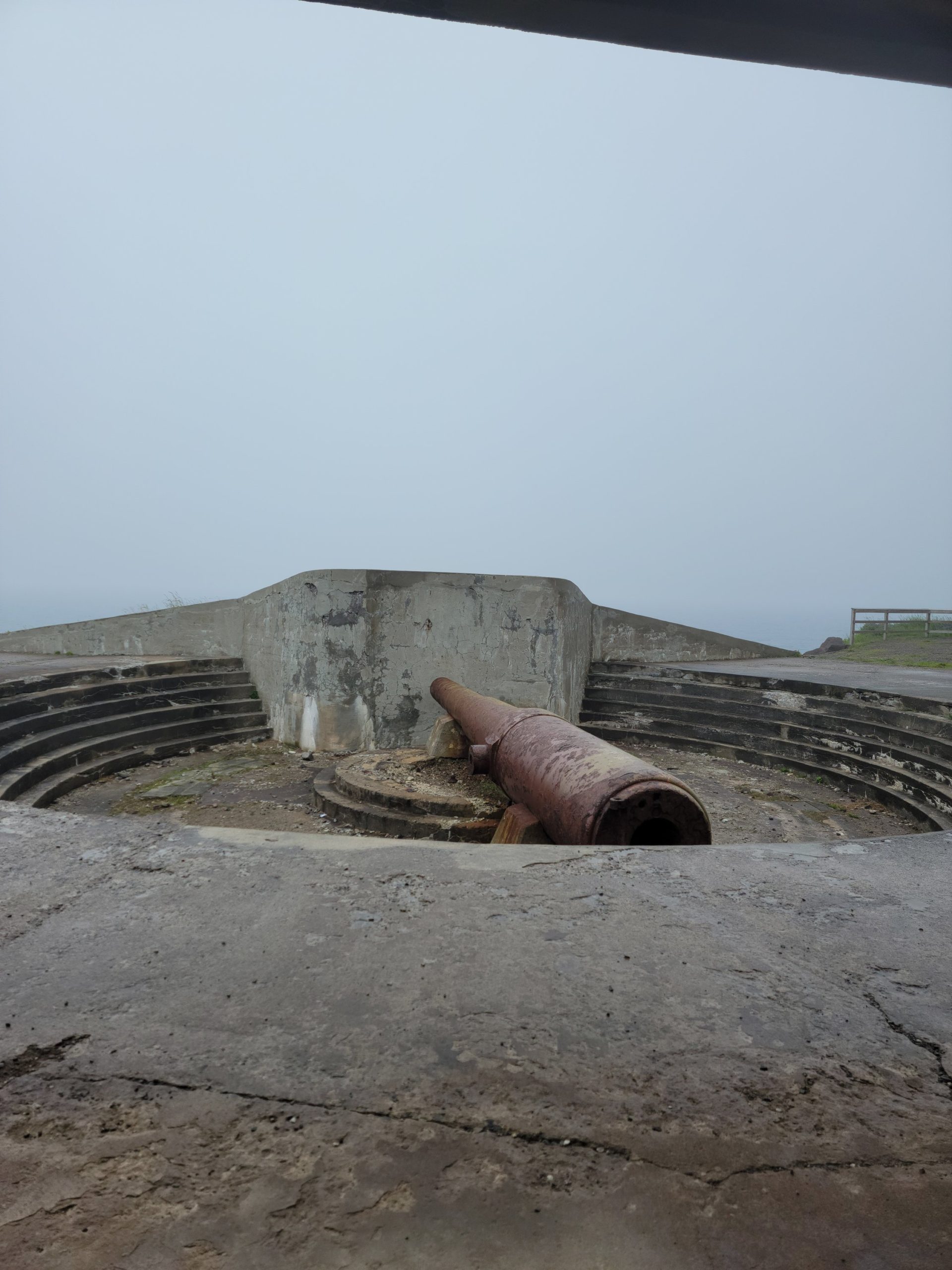 Without stopping to take in the views – since there were none due to the weather. I made really great timing for the 27 km hike. Arriving at the last campsite before dinner time and spent a moment contemplating if I should just go straight to St. Johns for an extra night in the city. I walked across the boulder field separating a bay of salt water from a pond of fresh water and into the camping area. There were two tents already set up, but no sign of their occupiers. In order to not startle the hikers, I loudly whispered my arrival and decided to stop for the night after all. It would be great to camp with people for the first night ever on the trail! 7 nights alone, is too long for no hiking friends.
FINALLY, I HAVE FRIENDS!
I tried to be quiet as I hammered in my tent stakes, failing in my attempts to not wake my new friends. I heard a zipper, and a male's voice "oh hey." He (Shane) and his two friends (Sammy J and Peter) were having a bit of a snooze. They had spent the last few nights in St John's and they overindulged in the festivities of The George Street Festival that was happening in town. They hiked out this afternoon, stopped only 5 km into their hike, and napped for the afternoon to try and recuperate.
The others eventually emerged and we filled each other in on the other ends of the trail. Swapped trail stories and got to know each other. This was only the 2nd night they had camped with someone as well so we were all pretty happy to have the extra company. Before bed, Shane serenaded us with his musical renditions of the Jaw Harp. The others rolled their eyes when he suggested it but honestly, the small concert entertained the hell out of me.
They mumbled amongst themselves talking about a duck. After much deliberation between them, Shane turns to me and asks "Would you like to be the duck?" I was a little afraid to answer without knowing what I was getting myself into and then they introduced me to the animal farm. They each had a small plastic animal that accompanied them on the hike. There was a goat(Sammy J.), a collie (Shane), a ram (Peter), and a duck. They inducted me into the animal farm, there was a ceremony and I now had a duck friend to keep me company the rest of my hike. "Enjoy those extra ounces of weight" Peter laughed while making fun of his friend for the unnecessary items he brought on the trip.
Hiker midnight was upon us and after the animal farm initiation ritual and solo concert, we crawled into our tents for the night. From inside my tent filled a bright pink and I stepped out of the tent to see why. The entire sky was glowing and a full rainbow appeared above our tents. I shouted to the others to make sure they didn't miss the magical moment.
Another majestic view on trail.
Affiliate Disclosure
This website contains affiliate links, which means The Trek may receive a percentage of any product or service you purchase using the links in the articles or advertisements. The buyer pays the same price as they would otherwise, and your purchase helps to support The Trek's ongoing goal to serve you quality backpacking advice and information. Thanks for your support!
To learn more, please visit the About This Site page.