Appalachian Trail Daze
This first two weeks on the A.T. has been nothing short of amazing. The weather has been nothing short of bipolar. I am in all my glory.
The Journey
On March 12, I hopped on a bus from New York City to Athens, Georgia. It was a roughly 20-hour ride. My butt was numb by the time we finally got to Athens. We got picked up by a friend of mine, grabbed lunch, hit Akademia Brewery and then got dropped off at the Motel 6 in Gainesville. From there we were given a free ride to Amicalola. This gentleman is a volunteer for the ATC in Georgia and follows my hiking buddy's channel and offered us a ride. This was this first of many times the trail has provided to us.
The Healing Properties of Trail Magic
The first days went pretty smoothly. We made it to Neels Gap a full day early. At this point we had received Trail Magic three times. We had a great two nights just north of Neels Gap and trudged on. Something didn't feel right at all, I couldn't tell you what was wrong but I was moving at less than half of my normal speed. This was five days. I felt great so far; what's going on? We rolled into Hogpen Gap and Momma Goose was set up making hot dogs and a tons of cold drinks. It changed my life. I immediately felt better. The healing properties were essentially magical.
A Word From The Wise
After Mama Goose, we went a few more miles and made it to a campsite. We looked at the weather and the next day was looking awful, thunderstorms forcasted for most of the day. We decided to keep the next day short — seven miles to the next shelter — and get in early to keep ourselves dry and dry out our tents from the previous night. We got there and someone was already there. No big deal, right?
My first introduction to squatch was rolling into shelter and seeing a big burly fella swinging a cuckaree chopping up wood. OK, strange, but great for this cold foggy afternoon.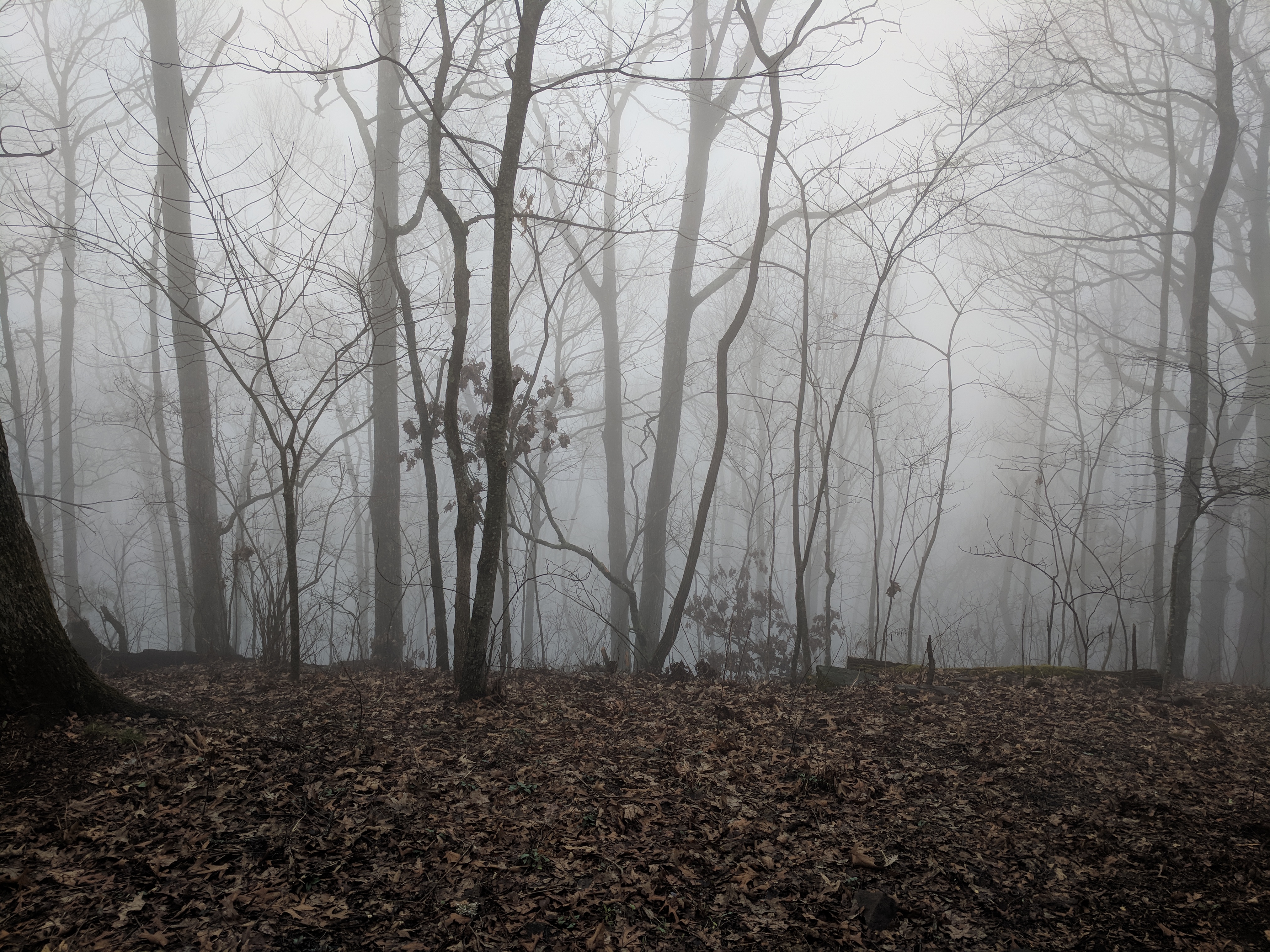 The first thing Squatch says to me is, "I don't like nobody close to me! I ain't puppydogging it!" He is, of course, referring to the lack of personal space in the shelter. Boy, was Squatch rough around the edges, but once you got past that rough exterior, he had a lot to say. That gave off less of a "I'm going to leave your dead body in the woods" vibe.
Squatch was eight months into his hike and so close to being done. He did a SOBO hike thru winter and spent over two months on trail without another contact outside of town. Boy, did that lack of human interaction show. He gave sage advice, and though many people ignored most of what he had to say, I hung on to every word.
I'll summarize. We have each other; there are tons of fresh NOBO's — and together we are stronger. We have every advantage that he didn't have: the weather, the camaraderie, the ability to have trail legs when we hit New Hampshire. At one point he looked around said "most of you aren't going to make it, and to be honest I can tell which of you are going to make it just by looking at you." Most laughed nervously but I smiled. His strange sage-like advice for a bunch of fresh hikers like a priest giving their homily.
Where Am I Now?
Today is day 13 and I'm taking my first zero day in Franklin, North Carolina. The trail has thus far exceeded all expectations. The weather has thrown everything it can at us 20 degree nights, almost 70 degree days, rain, thunderstorms, snow, and fog like I gave never seen before.
The south has been amazing. As a northerner you have a certain idea of what the south was supposed to be. And, of course, there has been some of that, but the people have been kind and giving beyond my wildest expectations. I love it here, the mountains feel like the home I have spent so long looking for.

Mile Summary
Day 1: Amicalola to Stover Creek 11.6 miles
Day 2: Stover Creek to Gooch Gap 14.4 miles
Day 3: Gooch Gap to Bull Gap 15.3 miles
Day 4: We stayed at Bull Gap; ended up doing 2.2 miles to resupply and come back.
Day 5: Bull Gap to Low Gap Shelter 10.4 miles
Day 6: Low Gap Shelter to Blue Mountain Shelter 7.3 miles
Day 7: Blue Mountain Shelter to Deep Gap Shelter 15.5 miles
Day 8: Deep Gap Shelter to Dicks Creek Gap 3.6 miles; spent the night on Hiawassee
Day 9: Dicks Creek Gap to Plum Orchard Shelter 4.5 miles
Day 10: Plum Orchard Shelter to Standing Indian Shelter 12.2 miles
Day 11: Standing Indian Shelter to Long Branch Shelter 16.2 miles
Day 12: Long Branch Shelter to Rock Gap 3.6 miles
Day 13: Zero day in Franklin
Affiliate Disclosure
This website contains affiliate links, which means The Trek may receive a percentage of any product or service you purchase using the links in the articles or advertisements. The buyer pays the same price as they would otherwise, and your purchase helps to support The Trek's ongoing goal to serve you quality backpacking advice and information. Thanks for your support!
To learn more, please visit the About This Site page.