100 Days on Trail
Day 100
It was still mist-raining when we woke up around 7AM.  The heavy fog had not lifted and we could barely see the cabins below ours.  This made it harder to get up so we slept in a little more and slowly packed up.  Just a few hours later, when we pulled the curtains back, there was sunshine! Much to our surprise! Glorious sunshine!  This hastened our pace, as we were now excited to get back on trail having felt cooped up the past few days waiting out the hurricane.
However, the weather had another surprise in store.  The next two days were going to be unseasonably cold with temps rarely exceeding 50 degrees.  Coupled with higher elevation and constant wind, we were chilled, but happy to be on trail again with blue skies.
Skyland Resort is a great place for anyone looking to enjoy everything Shenandoah National Park has to offer.  This includes hiking, biking, and even horse back riding.  Hayley was excited to stop by the stables and several horses poked their heads out.
Clouds rolled in and out all day but we still had several great views.  Unfortunately, Eric snapped one of his trekking poles.  Not 100% sure how it happened, but now it's almost like having to learn how to hike again. Having one trekking pole just seems to throw off your balance. We'll have to order some new ones soon or maybe we'll get lucky and find a lone trekking pole in a hiker-box. Eric can't be the only person who has broken a trekking pole, maybe someone abandoned one after replacing like Eric will. We shall see…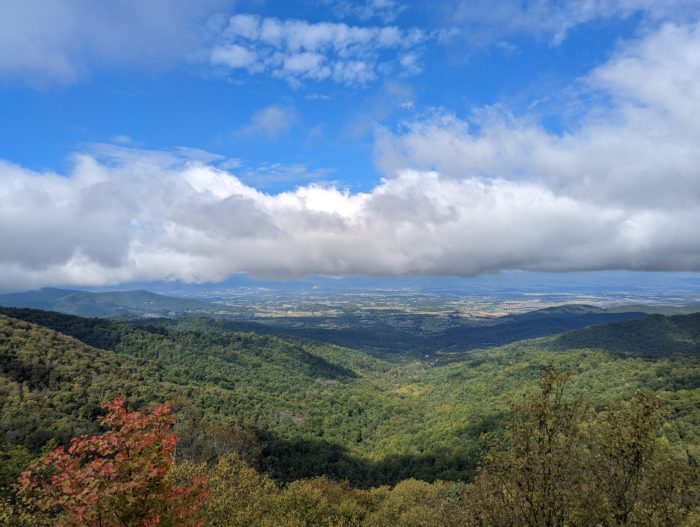 Halfway through the day, we would stop at our final Wayside.  Even with the cold temperatures, we would not be denied the famous blackberry milkshake!  Naturally we got some hot food too and a few more snacks.
We strolled into camp and set up our tent.  Spur, a section hiker we had met before Ian hit, was already set up in the shelter.  Another section hiker, named Sweatshop, had set his hammock up in the distance.  Linguini (he just recently found out linguine is spelled with an "e") rolled in just before dark.
The temperature was cold and still dropping.  Due to the hurricane, it was easy to gather wood from the freshly blown down trees and branches.  We all enjoyed a big fire and joked that the drying wood above the flames reminded us smoking salmon. We all talked about our experiences on trail and Sweatshop promised us some trail magic near Daleville (about 10 days from now). We will see if his friends come through for us!
Also, today was our one hundredth day on trail!  Wow!  We have enjoyed looking back at just how far we have come since Mount Katahdin and reliving the memories through the pictures we took.
Day 101
It was easily the coldest night we've had on trail.  We're really glad to have changed out our sleeping bags and remained toasty warm inside. We absolutely love our Nemo sleeping bags. There is no need to wear tons of layers, the bag somehow keeps you warm throughout the night. If you go to bed cold, you'll warm up and stay warm all night. They might not be the most lightweight sleeping bags but at this point you know how we roll.
The cold temperatures would continue throughout the day, never getting above 50 degrees.  While we are used to hiking in cold weather in Whites, it's certainly different when there isn't a warm car waiting at the end of the day.
Not a whole lot to report today, the miles melted away and to stay warm we stayed in motion opting to take short breaks.  Even with a later start than usual, we rolled into camp later than expected and opted to sleep in the shelter which also provides some extra warmth. We also knew we had an early morning the next day so saving time on breaking down our tent would help. We were able to gather some wood and have another fire. This one was a bit more fickle and unfortunately Eric spent a while getting it going.
At the shelter we met a another section hiker named Hootenanny, Linguini showed up too.  Little Calves arrived just after dark. We chatted and enjoyed the warmth of the fire.
Day 102
Our alarm rang at 5:15 and with a groan we extracted ourselves from our warm sleeping bags. We enjoyed a quick cup of coffee while staring up at the stars that still dotted the sky. We tried to pack up quietly so Linguini and Hootenanny weren't disturbed. Little Calves woke up not long after us, packed up and took off at warp speed.
We started the day under headlight knowing we would potentially be finishing the day under headlamp as well. Today we had to do a marathon…26.2 miles. One of the downsides of hiking in a national park is you can only camp at designated areas and our choices were a shelter within 12 miles or 26 miles. At this point in our hike 12 is just too short and 26 is a little long but doable. We opted for long knowing we had a short day into town the following day.
The trail was gentle but we kept joking about how we said no more 20+ mile days. We wanted to slow down a bit and enjoy our days but now we were doing back to back 20s. These 20s were also motivated by food.  This long day set us up for a Nero into Waynesboro and the infamous AYCE (all you can eat) Chinese food buffet. Eric has fond memories of Waynesboro and the Chinese buffet from his 2011 hike.
Speaking of 2011, while hiking we met Old Fat Dad a 2011 NOBO thru-hiker who offered us some trail magic in the form of fun size snickers bars. We also had another trail magic offer in the form of a shot of fireball. We thanked the hiker who offered it to us but we were at mile 19 and still had 7 to go, we were starting to hit a wall and couldn't afford to be derailed. Two magic in one day! We were so surprised as we hadn't had any since Pennsylvania we think?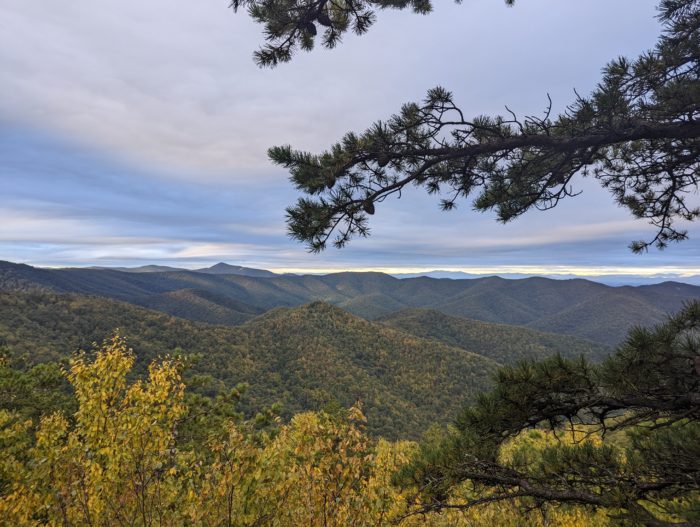 We pushed through the pain of two long days and finally made it to our shelter just minutes after Little Calves. We enjoyed some nice water from a pipe spring and the rest of the items remaining in our food bags. We would be leaving Shenandoah National Park soon and we reminisced about the beautiful views and colors of the changing leaves. We will miss the nearby Waysides and the readily available snacks for purchase. We didn't see any bears but did see many deer and heard many owls. We are excited for a short day tomorrow.
Affiliate Disclosure
This website contains affiliate links, which means The Trek may receive a percentage of any product or service you purchase using the links in the articles or advertisements. The buyer pays the same price as they would otherwise, and your purchase helps to support The Trek's ongoing goal to serve you quality backpacking advice and information. Thanks for your support!
To learn more, please visit the About This Site page.