Celebrating My 1,000 Miles in Ten Pictures
To celebrate the first 1,000 miles under my belt, I decided to pick ten pictures—five showcasing the beauty of the trail and five showcasing the funny, behind-the-scenes moments. If a picture is really worth a thousand words, then this sure will be long.
Pretty Pictures First
First picture is my favorite so far. Taken in the early morning while walking through Southern Maine. Honestly wasn't trying to do anything cool with this shot—I just held up my phone above my head and took a picture. When I looked through my pictures at the end of the day I was wildly happy with the result of my sleep-deprived morning self.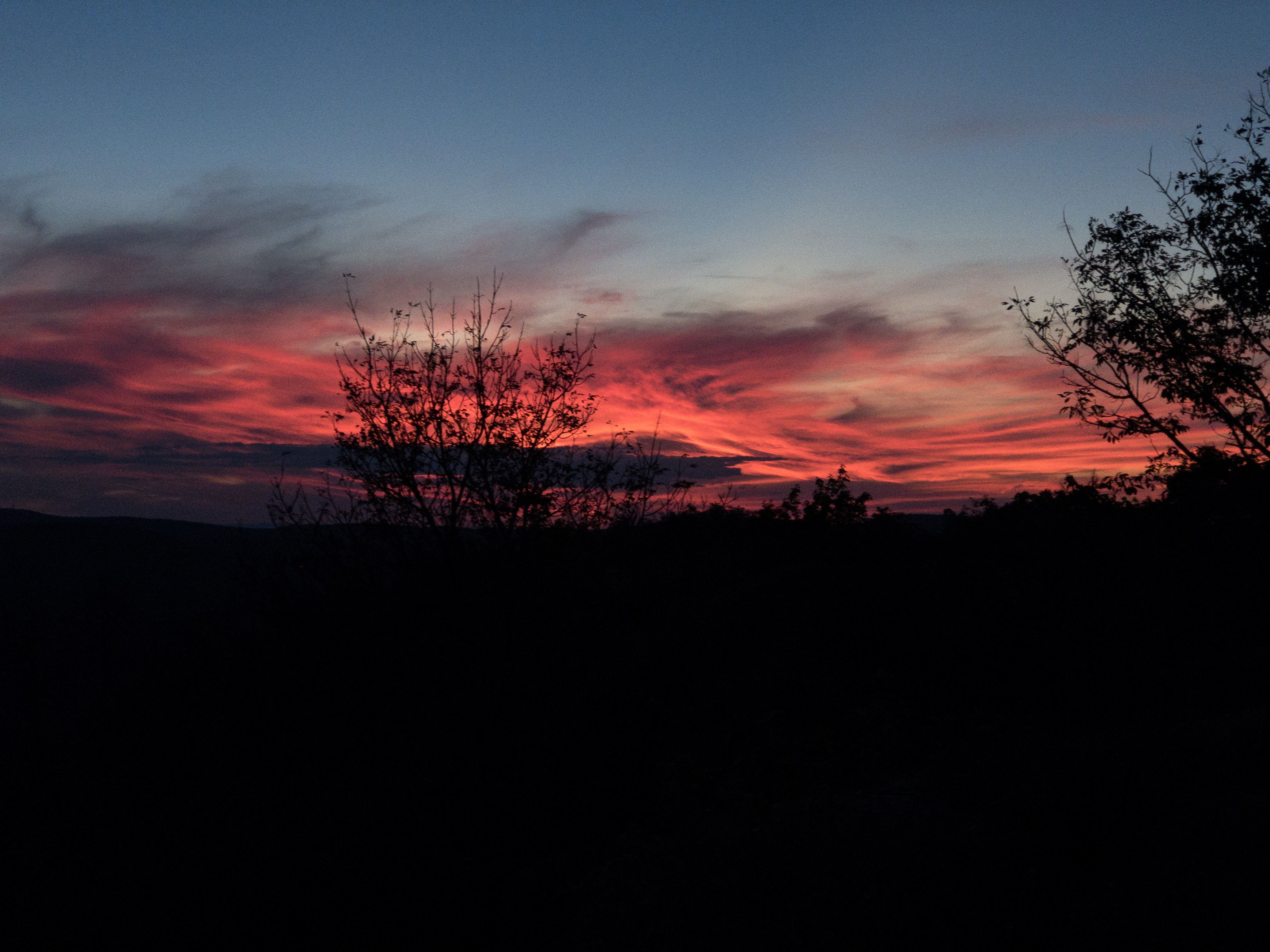 I think this sunset shot is what Pocahontas meant when she sang about painting with all the colors of the wind. Bear Mountain, NY, is a very touristy place. Lucky for us, most of them cleared out after phase one of the sunset—when it's mostly orange—and only I and the DSLR shooters remained. This image is unedited. The sky proved so beautiful that there was no enhancement I could make.
This was the first double decker shelter I encountered. I was so excited to sleep on the top bunk that I crawled into my sleeping bag much before it was actually dark out and snagged this photo. I learned an important lesson the next morning—climbing down that ladder with the stiff body from hiking for weeks is not a good idea.
SOBO thru-hikers are much like monarch butterflies. It seems that both species are flying south to escape winter. This little butterfly was sitting in one of the many meadows of Massachusetts just waiting to have its photo taken. Lucky for Alex he was walking in front of me and got to be the backup star in this shot.
There are mornings on the trail that are rainy and misty and leave you wondering if there's a man with a chainsaw hiding just out of your sight. This particular morning a deer was trying to get cast in a new version of Bambi. Sadly, she didn't make the cut. On the plus side, she did pose long enough for me to snap this picture. I think she was curious about what I was doing wandering the woods at 7 in the morning. (Answer: Taking down spiderwebs with my face, duh!)
Behind-the-Scene Pictures
If you've ever seen someone taking wedding pictures then you know the secrets. Spreading the dress out, throwing the veil so it looks like the wind took it, etc. Posing for pictures on a mountain is no different. You may only have one outfit to wear, but gosh darn it that one outfit is going to look good! The SOBO Rangers (tramily name) were fed up with the huge climbs in the White Mountains that were providing none of the views. We took a break at the top of this peak and I decided to make light of the situation. It was lightly raining and the wind was blowing, so why not whip out my towel as a cape? With some help from Little RedCoat my SOBO Ranger character came to life and this picture was born.
The joy encountered when drinking your favorite soda and eating your favorite pizza is unreal. I'm sitting outside a laundromat, sweating my butt off in the sun while wearing my pants and down vest… but it doesn't even matter! There's half (yes, I shared it) of a large barbecue bacon, chicken, and pineapple pizza with my name on it. Pro tip: there is a carryout deal from Domino's if you order online—any large, three-topping pizza for only 7.99 + tax. Cheap and delicious!!
Having a'trail beard is a staple for guys hiking. When else in life can you keep such mangy facial hair and it be considered cool? As a woman I can't grow a beard… but that doesn't mean I don't want one! I found this strap-on beard at a shelter and we couldn't resist the photo-op comparison.
Thru-hiking isn't all sunshine and rainbows. Everybody tends to share the highlight reel on social media—hikers included. This picture was taken when Little RedCoat face-planted one day. After we established she was OK, I made her pose for this. It was funny to watch her fall, and inspirational to see her get up, wipe off the dirt, and keep hiking.
I've saved the most ridiculous for last… I love string cheese! To celebrate our special bond I wore it as comic relief in this photo during our morning snack break. The 3,000+ vertical we were hiking up to get to Mount Madison needed some comedy to break up the difficulty. The hardest climbs do in fact lead to the best views. (Disclaimer: the weather decides if you can actually see the views.)
Find more of the best, worst and craziest pictures of my AT adventure on Instagram, @adventurous_als.
Affiliate Disclosure
This website contains affiliate links, which means The Trek may receive a percentage of any product or service you purchase using the links in the articles or advertisements. The buyer pays the same price as they would otherwise, and your purchase helps to support The Trek's ongoing goal to serve you quality backpacking advice and information. Thanks for your support!
To learn more, please visit the About This Site page.