Four States, One Update: Weeks 14-15 on the Trail
After a week off in the big city with my girlfriend, I returned to the trail in New Jersey happy and fat, but not entirely relaxed. Playing tourist in NYC and D.C. meant a lot of walking on aching feet! Since then, I've hiked all the way from New Jersey into New England, and I'm starting the last third of the trail!
5 Realizations from a Week Off
I definitely look like a homeless person.
I definitely prefer the quiet tranquility of the forest to the mad urban jungle of the streets. I prefer the weirdos in the woods to the weirdos riding in the subway.
My feet hurt. Every single day when I first stand up I'm reminded that this whole thru hiking business hurts.
Too many options to eat is so confusing. I'm used to my trail towns with 3 restaurants to choose from.
It's bittersweet that I can feel this journey coming to an end, but I'll definitely enjoy the nice things civilization has to offer like couches and microwaves.
Bear-way to Heaven
I had one last major climb in New Jersey before entering New York. It was my second day back on the trail since taking a week off and my legs were not having it. I'd started the day with the famous Pochuck Boardwalk in New Jersey.
After passing the boardwalk and making friends with some cows on the trail, I had to tackle the part of the trail known as the "Stairway to Heaven." You better believe I was jamming out to some Led Zeppelin! Despite the name, the climb wasn't all that tough and on completing it, I dropped my pack to go the 150 yards off trail to enjoy the view I'd just earned. I grabbed my butt pad and a snack, walked over to the viewpoint, and climbed a 10 foot rock outcrop to see the view. As soon as I popped up, I looked to my right and there was a black bear not 15 feet from me!
"Whoah!" I thought. I grabbed a video and while doing so, despite me telling the bear to go away, he incredulously started lumbering toward me. "Oh no, aren't they supposed to be afraid of me?? He's still coming towards me!" While he wasn't a huge bear, you just never know how one will react so I cautiously backed away as the curious bear climbed down the same rock I'd just scrambled up, cutting me off from my pack 150 yards away. I walked over to the ledge, looking down at my bear friend. He looked up at me, snorted, then walked off. "Whew," I thought, "maybe, I won't eat a snack here!" I quickly grabbed my pack and hightailed it out of there. What an adventurous way to finish New Jersey!
Climbing Rocks and Squeezing Lemons
PSA: New York is more than just NYC. The AT in New York is challenging and breathtaking (in both the awe-inspiring and physical way). The trail follows the sculpted rock of the mountains and constantly switches elevation, steeply ascending then descending. You can't see the difficulty on an elevation profile, but the trail is a mini roller coaster. And the views just might give you that funny feeling in your stomach!
One of the best examples of the trail in NY is the Lemon Squeeze, named so because it squeezes your lemons. The Lemon Squeeze is a split boulder that is so tight, you may have to take your pack off to maneuver through it. Right after the Squeeze is a vertical wall, about 12 feet high, that felt like a straight rock climb. (Don't worry, there's a blue blazed "easy way" around these obstacles for the cheaters out there). It wasn't easy, but boy I couldn't help but smile after getting past it. I love a good challenge!
Bear Mountain and BBQ City
The busiest but prettiest summit in NY hands down is Bear Mountain. I conquered Bear Mountain on a clear Saturday, and the trail was the most crowded I've ever seen the AT! But I won't complain, day hikers smell soooo good when they walk by (makes me wonder what they smell when I walk by…). Even though the overlooks were crowded, the views of the Hudson River and the NYC sklyline were gorgeous. To top things off, there was a vending machine at the summit! Who knew I'd ever get so excited by something so trivial as an overpriced Powerade/ice cream vending machine?
After descending Bear Mountain with Smeagol in a crowd of people, we entered the picnic area of Bear Mountain State Park, pure torture for a hungry thru hiker. There must have been 300 family BBQs going on! Normally when I pass a hiker in the trail, they'll ask if I'm thru hiking and then will treat me with a sense of awe. My thru hiking super powers had no power here in the picnic area! And it smelled so good… We passed through the zoo (yeah there's a zoo on the actual AT), and crossed the Hudson River. Instead of any amazing BBQ, had to settle for my normal tuna and cheese wrap…
Connecticut and the 30 Mile Day
Before hiking the Appalachian Trail, I set a goal to hike at least one 30 mile day. I'd walked 25 miles in a day before the trail (twice… thanks, Army), so I wanted to best that out here. After discussing this with other hikers, I decided that Connecticut would be my best bet to complete my goal since the remaining trail up north only gets more difficult. After a quick stop in Kent, CT and some trail magic from an old college pal (thanks Laura and Purple Aluminum!), I planned my 2nd day in CT as D-day.
I almost couldn't sleep with anticipation. I hit the trail by 5:45 tired, but rested. I made it to Caleb's Peak for an overcast sunrise and then descended the super steep monolith of St John's Ledges. I spooked at least 10 deer grazing in the early morning. 4 miles into the day while collecting water, I slipped into the spring and completely submerged my left foot in the water and bruised my hand. Oh brother… Great way to start my biggest day.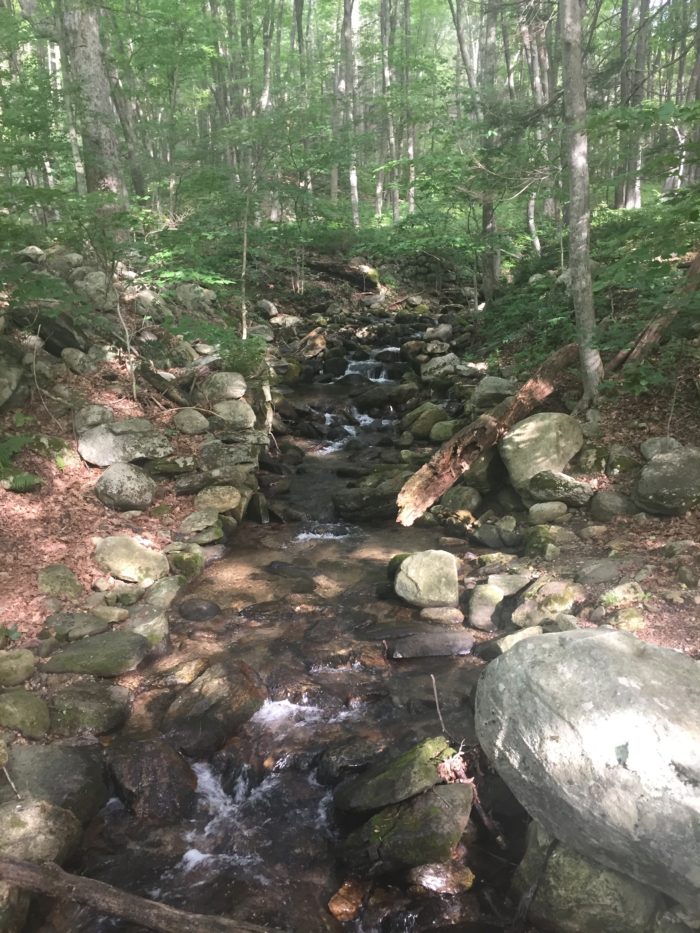 I cruised along the Housatonic River for about 8 miles before I started the first of two 1000′ climbs and a constant roller coaster. I ate lunch at a spring 18 miles into the day pretty exhausted already. No giving up now! I started to hear race cars then saw the racetrack from the hang glide viewpoint. Of course I had to stay and watch the cars race past for a few minutes before pressing on.
At about 6pm, I crossed the Iron Bridge over the Housatonic and stopped to take in the Great Falls. With about 4 miles to go I stopped for a water break again and could hardly stand back up. But I persevered. I finally made it to the 30 mile mark, and ended my day by filling my water bottles from a cemetery spigot. It was a pretty creepy feeling wandering a cemetery at dusk looking for a spigot the guidebook says exists. I found a great campspot in a bed of pine needles and fell right asleep. Whew. Mission success! What a day in the life!

Skunksachusetts
I passed the 1500 mile mark and into Massachusetts in the same day, both huge milestones. Finally, back to a little bit of higher elevation! The first part of Massachusetts has had some bigger climbs with stunning views. Mount Everett (can I please change one letter?) was a beast of a climb.
After a bone-soaking thunderstorm, I climbed off the ridge line in a river (I mean trail), and fell on my butt three times (bringing my total falls to 11). Slick rocks and worn out shoes don't really go together.
Before making my way into Great Barrington, I hiked through a pasture, crossing the soaked ground on wooden planks. To my chagrin, I came upon a family of skunks hiking the trail ahead of me. I had no way around them. To my right was a wall of bushes and to my left was an electric fence. I had to wait on the skunks for about 20 minutes as momma skunk huddled all 7 of the baby skunks slowly forward. The babies kept falling off the planks and struggling to climb back up. At one point, one baby skunk spotted me, turned around, and started chasing me to say hello. Finally, they took a right into the brush and I sprinted by new friends. I wonder if I'd smell better if they sprayed me?
(sorry, only took a video here and my phone isn't letting me take a screenshot to post a picture)
Miles Hiked so Far
1520.6
Up next is Mount Greylock in Massachusetts and the Long Trail in Vermont. Stay Tuned!
Affiliate Disclosure
This website contains affiliate links, which means The Trek may receive a percentage of any product or service you purchase using the links in the articles or advertisements. The buyer pays the same price as they would otherwise, and your purchase helps to support The Trek's ongoing goal to serve you quality backpacking advice and information. Thanks for your support!
To learn more, please visit the About This Site page.