2017 NOBO Thru Hiker
       From the Amazon to the Andes
to the Appalachian Trail! 
                Hello! My name's Becca and I'm STOKED to be heading NOBO on the AT this March. I fell in love with the AT during college and have been dreaming of a thru hike ever since. After graduating with a degree in history in 2014 I had the opportunity to serve with a mission organization in South America for two years.
The Amazon
My journey started out in the mountains of southern Mexico where I studied Spanish for 4 months. Once I was semi functional in Spanish I moved to the Amazon in Leticia, Colombia where I lived in a tiny apartment on the banks of the Amazon River and taught the sweetest kids you'll ever meet. I lived there for a year and had the best adventures of my life, traveling the river, staying in villages, holding baby sloths and eating piranhas.
The Andes
After lots of love, laughter & life experience I left the jungles of Colombia for the booming coastal city of Lima, Peru. I taught school, worked in a transitional home with girls who had been removed from their orphanage and made friendships that will last a lifetime. I was also able to see some incredible sights. I spent a week trekking the untouched mountains of Patagonia in southern Chile. I did several treks into the Andes, seeing only villagers for days at a time. I did my first solo trek through Colca Canyon which is twice the size of the Grand Canyon. And for my grand finale my younger sister and I did the five day Salkantay Trek though the Andes into Machu Picchu
The Appalachian Trail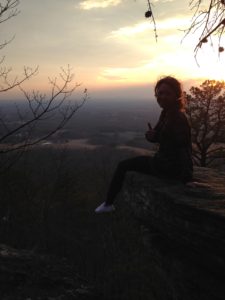 After two years of adventure and growing closer to Jesus I came home where my awesome family was waiting to take me to the beach for a week of sun, surf and sand. After lots of sunscreen and card games we left the salt water for the fresh water and went to our annual family camp out.
Now I find myself living back at home with dad and mom, waiting tables and researching Ultra Lite gear while I sit on the couch and dream about trail life. I'm deciding between major things like whether to use a Fancy Feast cat food can stove or cold soaking? Do I want to carry a Sawyer squeeze or use purification tablets? I reread "Becoming Odyssa" for the fourth time and have been avidly stalking the 2016 Thru Hikers (Maranda Stone I'm slightly obsessed with your hike!)
When my sweet friends and family ask me what's next I excitedly start gushing about the AT. Their automatic question is "WHY?" My answer is for the community. I'm thrilled to get to know the trail angels, trail maintainers, weekend warriors, day hikers, dreamers & thru hikers that make the AT the beautiful footpath she is.
Thanks for reading! Lots of love!
xoxo,
Becca
Affiliate Disclosure
This website contains affiliate links, which means The Trek may receive a percentage of any product or service you purchase using the links in the articles or advertisements. The buyer pays the same price as they would otherwise, and your purchase helps to support The Trek's ongoing goal to serve you quality backpacking advice and information. Thanks for your support!
To learn more, please visit the About This Site page.
Comments
8
How awesome! I'll also be starting my AT thru-hike in march 2017 maybe were meet up out there. How you write your story?! I want to write one! Do you click Submit a story, hope to hear from you and Good luck on the AT

Hey Jeff, go to the top banner where it says "Writers and Bloggers" from there you can click on the "Appalachian Trials Writers" link and it will have a big button that says "Apply to Become an Appalachian Trials Writer!" You fill out a form and Zach will email the info about logging into the site and publishing your post. Happy writing!

It sounds like your blog will be a view of the trail from a spiritual, cultural and historical perspective. I'm section hiking so we might bump into one another. Happy trails,

Becca

Amazing few years and I suspect an amazing hike on the AT. My family and I love Peru and spend a couple weeks there last year. I want more than anything to go back for more hiking. I also dream of doing a NOBO, but that will have to wait until I retire. Most importantly, we love Jesus as well! Good luck and may He bless you as you go.

Hey Michael! The hiking in Peru is absolutely gorgeous, I hope y'all get to go back and enjoy some more of it! Thanks for the encouragement!

Hi. Email me please. Been thinking about it. AT. Never have done any hiking real……
Can you tell me does don't s things need. Any thing would help. Tent or tree tent. Shoes boots or hiking shoes? I have no idea … help.

Hey Tamera! You've found a great resource in Appalachian Trials. They have everything you could want/need to know about an AT Thru Hike! At the homepage of the site, underneath the banner about the book is a link called "How to Thru-Hike the AT: A 101 Guide" I highly recommend reading it because it will answer all your questions and then some!!

Didn't know till today, mom leaving pick you up. Congradulation…been viewing those youtube video's too. Hopefully one day!