2020 Appalachian Trail Section Hiker Survey: Resources and Gear
Long overlooked in our annual surveys, Appalachian Trail (AT) section hikers were the focus of the Trek's 2020 survey. We surveyed 448 people, 43 of whom had completed the entire AT in sections, i.e. become "2000 milers" in over a year, and 405 who were in progress working towards this goal.
This post focuses on resources used, backpacks, and footwear, including comparisons to thru-hikers from our 2019 survey and to the past six years of survey data on packs and footwear. For the nuts and bolts, keep reading, or else skip to the TL;DR at the end.
498 hikers completed our survey. Of these people, 34 hikers in the survey had completed the entire AT, or become 2000 milers, by hiking it in sections. Four hundred fourteen hikers were attempting to complete the AT in sections but had not finished it yet.
Hikers who had completed a section with no intention to complete all 2000 miles (59 of them) were not included in the rest of the analysis below. From here on out in this post, "section hikers" refers to people who have completed the entire AT in sections or are working towards that goal and have completed at least some portion of the AT.
Further reading: check out Parts One, Two, and Three of our 2020 AT Section Hiker Survey.
Resources
We asked section hikers to rate 16 common AT and backpacking resources as to whether these were helpful or inspiring, not helpful nor inspiring, or to indicate if they had not used this resource. In order from most helpful/inspiring to least, the graph below shows only the percent who rated these resources as helpful/inspiring (right-side bars in green) or rated them as NOT helpful/inspiring (left-side bars in blue).
One resource preference stood out in contrast to thru-hikers. Over the past two years, the GutHook Guides app has overtaken the AWOL guidebook as the most popular resource for Thru-Hikers. Currently, among section hikers, the AWOL guidebook remains the most popular AT/backpacking resource, while GutHook is close behind in second place.
This difference could be due to section hikers already having the AWOL guidebook before GutHook existed and seeing no need to upgrade. I also wondered if this ranking was being pulled by hikers who had completed their sections before the GutHook app existed or became popular. I didn't want to discount or exclude these hikers, since I think it's valuable to pay attention to the preferences of the hikers who succeeded in completing the AT.
But I wondered if hikers who are still in progress would be adopting newer resources, so I examined that sub-sample on its own to see if GutHook was more popular among them. For section hikers whose hikes are still in progress, their rankings of resources were almost the same, so I'm not including a second graph. For hikers in progress, the AWOL guidebook inched to the top with one more person ranking it as useful (291 people) compared to the GutHook app (290 people).
Podcasts
For the podcast and YouTube categories of resources, we followed up by asking hikers to list their favorite ones. Of the podcasts that hikers listened to, the most popular were Mighty Blue on the Appalachian Trail and Backpacker Radio. Many hikers mentioned "The Trek's podcasts" in general, which include Backpacker Radio and several others you can download or listen to here.
YouTube
The most popular YouTube channels/series mentioned by far were the Homemade Wanderlust series by Dixie/Jessica (the channel is often just called "Dixie" within the AT community) and Darwin on the Trail.
Backpacks
Section hikers told us about their backpack frame type, capacity, and typical pack weight. For all of these questions, we asked them their typical or average over the past five years in order to more accurately compare to the data we have on thru-hiking over the past five years.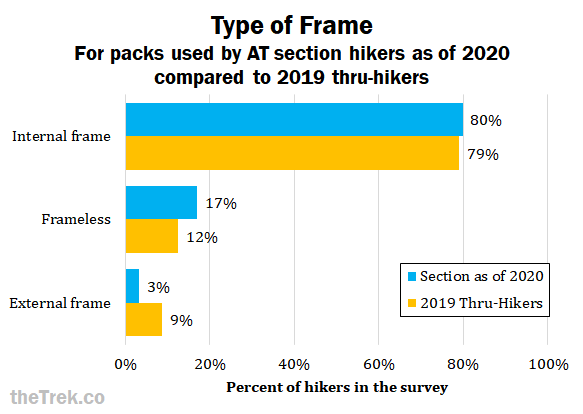 Section hikers estimated that their packs' average capacity over the past five years was 55 liters, with most packs having capacities between 48 and 60 liters. The maximum pack capacity a hiker had was 100 liters and the minimum was one liter. I am not sure if the lower capacities reported were errors or if these hikers typically "slackpacked" or hiked with vehicle support.
As you can see in the graph below, even with some hikers likely slackpacking, the average pack capacity was comparable to the average for thru-hikers over the past five years. Put differently, while SOME section hikers seem to be carrying day packs, the typical section hiker typically carries a standard size backpacking pack.
We asked section hikers their average estimated pack weight in lbs. while section hiking over the past five years. They estimated it was 28 pounds, with most section hikers' pack weights falling 24-32 pounds. Again, with some hikers estimating weights as low as one pound, I assume they were slackpacking, i.e. had a support vehicle for most of their hikes. (I had intended to ask their pack base weights, i.e. without food and water, as well as total pack weight, but accidentally did not include this question.)
Footwear
As with backpacks, we asked about typical footwear worn while section-hiking the AT over the past five years. In the graph below, I compared section hikers' footwear choices to thru-hikers. In both cases, this is not necessarily the footwear they wore to start with, but what they preferred by the end of their thru-hikes or at this point in their section hikes.
Trail runners are more popular overall than hiking boots for section hikers. When compared to thru-hikers since 2016, section hikers use hiking boots more than thru-hikers do. Some of the reasons thru-hikers have cited preferring trail runners include foot swelling and becoming more comfortable with less supportive footwear the longer they hiked.
Since most of the section hikers in our survey were still in progress, they hadn't, on average, hiked as far as our thru-hikers. Similarly, unintentional LASHers (hikers who did not finish their thru-hikes) have been less likely to switch to trail runners, in our 2014-2019 surveys.
TL;DR
Personal Life Note
My apologies that these third and fourth (final) posts in the section hiker survey series were so delayed. A lot has happened in my life in the time since February when I meant to get this post done. In March of this year, I gave a TEDx talk! (check it out here if you like – it's about my research on psychological resilience, not directly hiking-related). In April, I finished section-biking the Natchez Trace Parkway National Scenic Trail. In June, I defended my doctoral dissertation which was a huge weight off my shoulders. In July, I moved from New Mexico to Arkansas and finished section-hiking The Long Trail in between. And this month (August), I graduated with my Ph.D. in Clinical Psychology and just started a new job with the Central Arkansas VA Medical Center! It's been a whirlwind of a year.
Thank you!
Many thanks to the section hikers who completed our survey and shared this valuable information, which will help prospective section hikers prepare! I have so much respect for the hikers who had to cut their thru-hikes short due to injuries and/or the COVID pandemic. For those whose hikes are still in progress, I wish you the very best and happy trails! For the 2000 milers who have completed their hikes, especially those who have persevered in this goal since the 1970s, CONGRATULATIONS! You are an inspiration!
Affiliate Disclosure
This website contains affiliate links, which means The Trek may receive a percentage of any product or service you purchase using the links in the articles or advertisements. The buyer pays the same price as they would otherwise, and your purchase helps to support The Trek's ongoing goal to serve you quality backpacking advice and information. Thanks for your support!
To learn more, please visit the About This Site page.