22 Trail T(r)ips: Life Lessons Learned the Hard Way
I am just a couple miles from the quarter-way point on the trail. The imposter syndrome has worn off: I officially feel like a thru hiker. Maine is still a long ways off, but it seems significantly more attainable now.
I've also been battered a bit by this beautiful and brutal adventure, so without further ado, here are my Trail T(r)ips: Life Lessons Learned the Hard Way
Trekking poles are awesome for stopping falls, especially in the unpredictable southern mud. That said, you'll never actually know exactly how to use them. 85% of the time, you'll just look like some awkward, lost, four legged creature learning to walk for the first time.

Trekking poles

are

awesome, but they make it incredibly hard to pet the plethora of dogs you'll meet in passing on the trail.

Going solo as a woman isn't scary, at all. Giant beetles that fly into your tent the one night you've decided to ignore the LNT principle of not cooking in your tent over your exhaustion and the encroaching darkness? Yeah, you're going to scream like a little kid and spill your Knorr side all over everything.

You're going to be more concerned by potential storm clouds than strangers you meet on your own out here. The storm clouds are also particularly fond of utterly soaking you half a mile from the shelter.

Hostels are great for showers, laundry, and beers with fellow hikers. They're terrible for sleeping. The one night you ignore this and decide to stay in a bunkhouse, someone will have a complete and utter psychotic break, and wake everyone in there up twice before they get arrested at 2am.

You can fit anywhere from 9 to 12 hikers in a single hotel room. $8 is totally worth falling over someone on the way to the bathroom at 2am in order to pick your roommates and take unlimited showers.

Gatlinburg isn't worth it. Unless you're from New England and missing Dunkin Donuts. The $45 shuttle to the outfitter from Erwin, TN was worth it for the Dunks next door, too.

It's going to be impossible to make it to Maine and avoid rain. That said, if you can avoid rain, do. We have these nifty pocket sized devices with fairly accurate weather predictions. There's no reason to hike in nasty weather, like when it's 45 degrees out and the sky is dumping 3 inches of rain on you and everything you own and you've just shipped home your cold weather gear…

For the gentleman readers: consider the wind before whipping out your willy for a mid-hike piss.

Ladies, you're going to start trading coverage for timing, and nearly get your pants drenched in your haste. "Well, I passed that guy ten minutes ago, so I have exactly two minutes to squat just off the trail…"

The moment your cathole needs become imminent, you will be surrounded by six other thru hikers,  thirteen day hikers with their elementary school aged kids, your mom will call you, and there will be no substantial foliage, anywhere in sight. Bonus points if the steep switchbacks you're on have no end in sight.

The one day you think you don't need sunscreen will be the day you get in touch with your lobster ancestors.

Hiker tan lines are up there with some of the worst sports tan lines. You're going to be in the best shape of your life, and nobody is going to want to see you in a bathing suit with your shorts, socks, and trekking pole strap tan lines.

You'll think at some point "it's only a slight incline, camping here can't be too bad." You'll remember you're wrong about 90% of things and shouldn't have been allowed to graduate college when you wake up at the bottom of your tent.

At some point, you'll consider night hiking and say "huh, this could actually be fun." And you'll find it can actually be kind of neat, but only after you've shat your pants and questioned why rabies shots aren't thru hike requirements upon encountering a growling pair of eyes off in the woods that isn't demonstrating a proper fear of singing, stomping humans. It'll just be some stealth campers dog, but the damage to your shorts will be done.

There is no such thing as nice weather on the AT, and there's no such thing as being dry on the AT. You've promised your first born child to the gods if the rain will finally stop, so naturally the weather will shift to a humid and sweaty 95 degrees.

You'll expect the unexpected April snow showers, but, like the Spanish Inquisition, the May snow will catch you totally off guard (and gloveless).

Town stops are good for two things: spending too much money on too much food for a way too heavy food bag, and getting food poisoning after chicken tacos you couldn't resist.

You'll realize just how important adequate nutrition is when you try to hike twelve miles on an empty, post food poisoning stomach. Fun fact: the trees can dance.

Small rodents along the AT have wings and/or the power of teleportation, and are no match for bear cables. They also have an unfortunate fondness for the Lil' Debbie cookies you saved for tomorrow's lunch and causing hiker heartbreak.

You will slip in a cow pie exactly 22 minutes after you mention to someone that you haven't fallen on your ass since the muddy snow in the Smokies.

Literally every bad mood on the trail can be solved by food. It's just that sometimes that food looks like a lot of beer on icy, windy afternoons.
The trail has done it's best to kick my butt the last few weeks. The rain has been nearly incessant with only four or five days of sun, and the temperatures turned incredibly cold for nearly a week. I hiked across the Greyson Highlands in a long sleeve, a fleece, and my puffy; a struggle I didn't expect in May. The Roan Highlands almost blew me off the balds with 60mph gusts as lightning crackled around me. My sleeping pad failed me almost a week from a town, and I both ripped and burned a hole in my tent in the same twelve hour span. Worst of all, however, was the horrible case of food poisoning in Damascus. I laid on the hostel's bathroom floor for almost twelve hours, wishing for death and wondering how I could ever eat or drink anything ever again. I can't thank my trail family enough for bringing me Gatorade and taking pity on me as I all but crawled the mile out of town to the first campsite after the violent emptying of my insides had stopped, where I proceeded to sleep for 16 hours straight.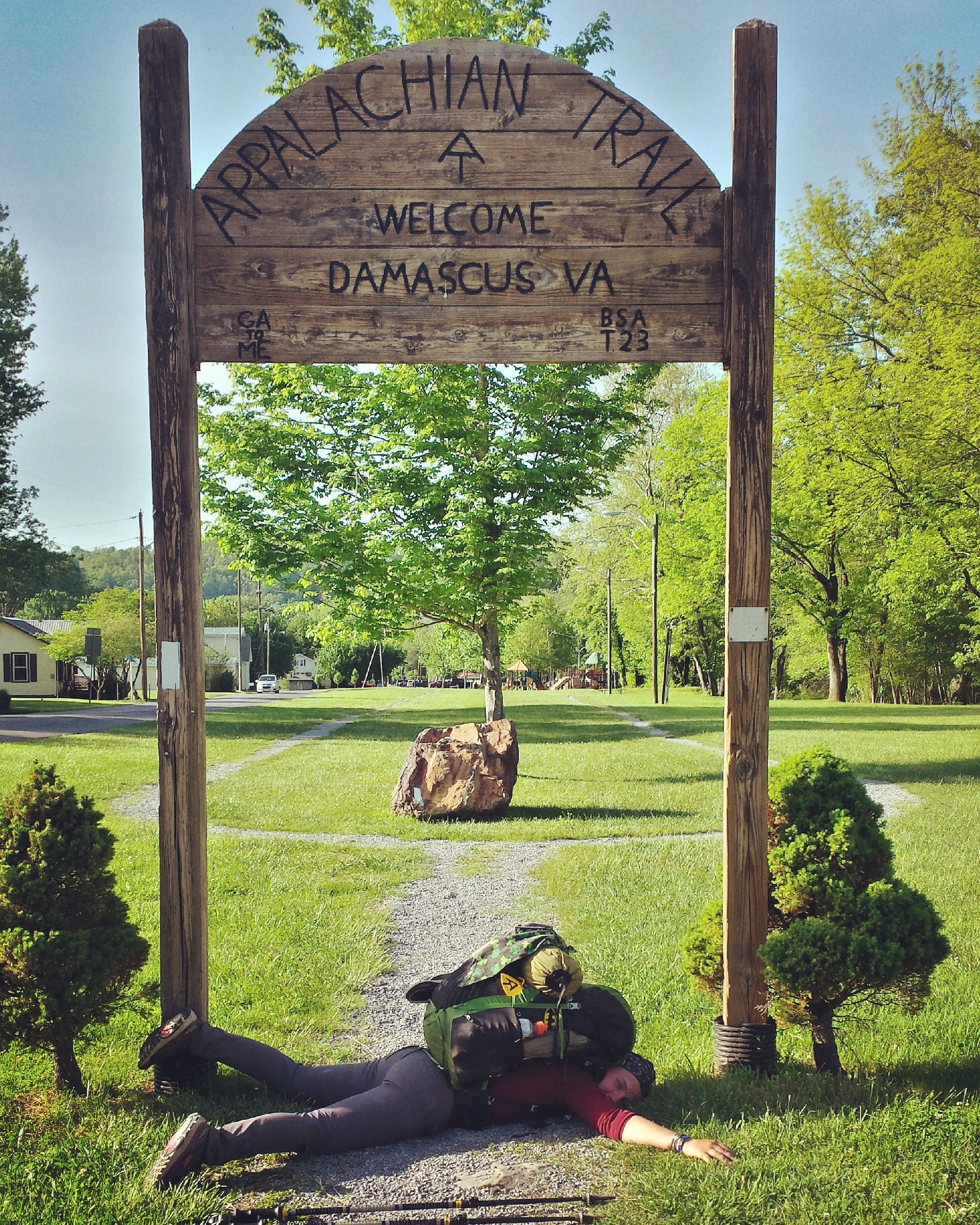 Butt whooping aside, I still have yet to think about quitting again. The trail, however brutal it's been to me, has continued to shock and awe me as well. It's beauty is far brighter next to the struggles it's given me. There's a unique mystique in the rainy, foggy forests or on the balds with the mist closing in on all sides. Hiking alone through them, you feel like you're on your own planet.
And sometimes, the rain breaks.
For almost two miles, I was followed by a yearling buck, who sniffed my hands and pack curiously and seemed content to share my company, munching ferns beside me on my snack breaks. The ponies in the Greyson Highlands were adorably round with soon to be babies or accompanied by tiny, awkward balls of fur that warmed this cold heart of mine. I've made plans to have my German Shepherd meet me soon, and cannot wait to have her squishy face to cuddle up with on the seemingly endless, chilly, rainy nights. 
And I'm not sure the Virginia Blues can get me down after the week I've had!
Affiliate Disclosure
This website contains affiliate links, which means The Trek may receive a percentage of any product or service you purchase using the links in the articles or advertisements. The buyer pays the same price as they would otherwise, and your purchase helps to support The Trek's ongoing goal to serve you quality backpacking advice and information. Thanks for your support!
To learn more, please visit the About This Site page.