400 Miles and Pneumonia
We were saddened to hear of Clyde's passing. While unfortunately we did not know him all that well, what we did know is that he lived a rich, full life. We both have an admiration for the love Clyde had for his daughters as well as the love they had for him.
Trail life continues to have its ups and downs, no pun intended. We still remain humbled by the generosity and genuine caring displayed by our fellow hikers.
Good Bye Hot Springs
Last we left off, we were in Asheville NC taking a break while Patmos visited her brother. During our time in Asheville, we went by REI and traded in our two two-man tents for one three-man. Yolo also got a new pair of shoes.  Hiking through rocks takes a toll on shoes. We are thinking that we either need to switch out of our trail runners or be prepared for a lot of shoe changes.  Large kudos to REI.  REI has a service for REI members if during one year from purchase, if for any reason the customer is not happy with their purchase they can return it no questions asked.  That is exactly what we did with our tents.  Here is a picture of our new "deluxe apartment in the sky."
Next Stop Nature's Inn
Via slackpacks and full packs, we stubbornly walk north. We had made a decision to stop at Nature's Inn so that Yolo could see Nora, Kristy, Derick, and Cooper who were visiting Gatlinburg for a few days. While at Nature's Inn we took advantage of the situation by slackpacking a few days before we took a zero to spend with Yolo's (and by extension, my) tribe. There was much rejoicing when the tribe showed up with not only a great Fried Chicken lunch, but also a newspaper.  Thanks again Tribe!  After getting caught up on a lot of family news, the tribe headed back to Indiana while we headed to plan our next few days hiking.
Hello Uncle Johnny
We reach Erwin TN and decided to nero at Uncle Johnny's. Erwin has a McDonalds and we needed a resupply anyway. As often happens on the trail, we meet a few hikers who we become instant friends with. There is a saying about the AT, "Only on the AT can you break down a tent next to someone, bump into them as some random place where you both randomly decided to have lunch and be licking each others spoon at dinner." We can attest that this saying is a hundred percent valid. 'Sidewinder', 'Lost and Found', 'Hoolihan' and her dog Hawkeye all fit into this category.
After hiking with this crew for a few weeks, different hiking speeds, injuries, or other commitments split the group but not before we all take a zero at Mountain Harbour. Here Yolo managed to get in her dog fix by dog sitting Hawkeye while Hoolihan went to town.   The hike to Mountain Harbour was elevated to the 'Most Picturesque' spot on our list of beautiful places. We cross over mountains, creeks and streams to summit Roan Mountain and take in the beautiful Balds. The Balds had Santa wondering if he had somehow been transported to  the 'Sounds of Music' film location.  We even saw Bald Eagles.
For those who have any interest in hiking the AT, do yourself a favor and make Mountain Harbour (Roan Mountain TN) a must stop.  The best breakfast on the trail as well as the best food truck can be found here. Santa is a connoisseur of Patty Melts and Philly Cheesesteaks, both of which the food truck nailed (thanks Dave!!!!).
For some, the trail is a time for metamorphosis. Patmos decided to go full on Sigourney Weaver and have her head shaved.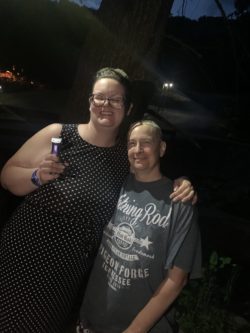 Bucket List and a Tree-House
Every morning while taking our neighborhood walk, we walk by a tree-house to which Yolo almost always says,  "I have always wanted to sleep in a tree-house." Mountain Harbour had one so check that one off the bucket list.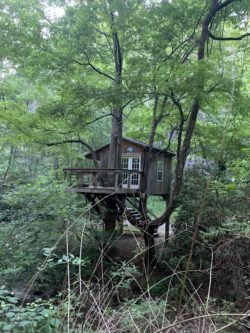 Pneumonia
Reluctantly, we left Mountain Harbour. Santa almost had to be dragged away muttering something about how having to trade in a Patty Melt for Ramen Noodles just somehow did not sound like a great trade to him.  A command decision was made to march forward to Hampton TN and do a quick resupply before continuing on to Damascus VA.  However, fate had other plans.  About a day into the hike Yolo started feeling fatigued, this was followed by chills and finally by a fever. Three days later, we all realized it was time to get off the trail and get her to a doctor.  We ducked into Hampton TN, found a place to stay (Black Bear Resort) and quick like a bunny got Yolo to the Urgent Care. Diagnosis: Pneumonia.  Pneumonia is nothing to be trifled with either in 'civilization' or on the trail. With this in mind, we decided that Yolo is staying off trail while Santa and Patmos move the flag forward.  This situation will remain the status-quo until Yolo is 110 percent better. We are very happy to report that Yolo is getting better and Santa is keeping her supplied with M&Ms and whatever else she needs.
Moving the Flag and Aqua Blazing
In an effort to be constantly moving north while Yolo mends, an opportunity presented itself for Santa and Patmos to do an AquaBlaze.  The Aquablaze allowed for adding trail miles by substituting a backpack for a kayak.  What a beautiful day it was for an eight-mile kayak trip up Watauga Lake.  The only thing that could have made this day any better was having Yolo with us. The additional miles also allowed for the logistical move from Hampton TN. to Damascus VA.
Future Plans
We are currently in Damascus VA staying at the Dancing Bear Inn. Here, while Yolo continues to mend Patmos and Santa will continue moving north. Yolo is thinking that it will be three or four days before she is trail ready.  At that time, before hitting the trail hardcore, we will slackpack for a few days so that she can get her trail legs back and ensure that there is no health regression.
Poops
Yolo getting Pneumonia
Patmos rolled her ankle.
Popsicles
AT mile 300 crossed
AT mile 400 crossed
The land of Infinite Toilet Paper
Koolaid
Yolo dog-sitting Hawkeye
Oda Mae, the hostel cat at Mountain Harbour
Aqua Blazing
Reuniting with AT friends across 400 miles
McDonald's
Real Plates
Random Pictures
Affiliate Disclosure
This website contains affiliate links, which means The Trek may receive a percentage of any product or service you purchase using the links in the articles or advertisements. The buyer pays the same price as they would otherwise, and your purchase helps to support The Trek's ongoing goal to serve you quality backpacking advice and information. Thanks for your support!
To learn more, please visit the About This Site page.