7 Ways Our Hike Changed Us (and a VIDEO)
Who's ready for a trip down memory lane? No one? Great. It's here anyway. And it's mandatory. There will be a quiz. And free peanuts. That's a lie. They aren't free. Or peanuts. They're walnuts, and they're expensive.
Anyway. this time last year, we were eagerly buying gear and watching YouTube videos of people's thru-hikes instead of doing shakedowns ourselves. We had never been backpacking before but had every belief we would make it to Katahdin.
Mike was expecting that he would have a lot of fun. He wanted to learn new skills and was staunchly denying the possibility of being granted some grand epiphany about life.
Grace was looking forward to proving herself as a fierce independent person, conquering the mountains and taking on this brand new challenge. She wanted to live like she was on vacation and get out of the work-bills-repeat cycle. She wanted to put her study of minimalism into practice.
Together, we wanted to savor six months together before splitting to follow diverging priorities.
Then we went hiking. We shook off our old identities and were christened "Possum" (he likes hanging upside down) and "Ukelady" (never bring an instrument with you). Here's what happened on our Appalachian Trail adventure:
1. We got engaged.
So much for Ukelady's dreams of fierce independence, amiright? This was in no way part of our plan when we set out to hike. We really genuinely thought we'd be saying sad but necessary goodbyes at the end of the hike, that this was kind of a last-great-adventure for the two of us. But we learned that we really like spending time with each other, and that we're willing to rearrange our lives to keep each other as our top priorities. We, like, really love each other a whole lot. I know, sappy. But true.
There was no dramatic gesture, just a conversation in the woods that turned into something lasting. We kept it a secret for the whole hike, making only a couple of allusions and jokes in a few shelter logs when we thought we would burst.
2. Possum had a grand epiphany about life.
I did not look at the trail as a spiritual journey or as an escape from the hardships of life. I just wanted to spend more time with Grace, and this sounded like a fun way to do that. What a maroon! Of course the idiot who thinks he won't have an epiphany has an epiphany. Without a doubt, the hike changed the course of my life. I've always had big dreams about what my future could be, but they always stayed dreams. I never had the confidence to actually go for any of them. During the hike, however, I found the confidence I needed and started believing all of the supportive encouragement people kept giving me. It may sound obvious, but my epiphany was that I could make those dreams a reality. As a person who has suffered and recovered from depression, that was the one thing I still wasn't ready to believe in. The hike changed all of that. I am still not even sure how, but I guess that is how epiphanies work. I am now working at the best hot dog stand in America, gaining the necessary experience to one day own my own hot dog food truck. Everything's coming up Possum.
3. Ukelady lived the life she imagined.
Trail life may not have all been roses, but damn was it the closest I've come to what I want my life to be like. My trail mantra was "Nothing to prove, everything to gain." I got to spend all of my time with my best friend, seeing new things and traveling every day. We woke up with a purpose and went to bed most nights knowing we had achieved it. We moved under our own power and were responsible for all of our successes. I carried all of my belongings on my back and set my own schedule every day. It was an incredible ownership of my own life – I didn't feel beholden to other things or people. I lived richly without spending much money, I worked hard to make better choices with my time and energy and I think I was honestly a happier person while I was out there. Transitioning out of trail life has been pretty rough for me – I feel pulled between two warring worlds and I'm fighting to make them compromise. But I'm grateful to my time on the trail for giving me a grand reassurance: that the life I want to lead is both a possible and a beautiful thing.
4. We met wonderful people.
Bullet and Blue, Whizbang, Moonlight and Moonlover, Teddy Bear, Olaf, Arrow, Beepa, Bookie and No Shame, Two Dogs, Rikki Tikki, the Three Amigas, Lizard, Teach, Book Bag, Bear Bag, Float, Jumanji and Crusty Goat, Smiles and Salamander, Weeble Wobble and Katman, Whip and Tater, Pops – some we knew well and some we shared brief but memorable moments with. Trail families come in all shapes and sizes – you never know who might become part of yours.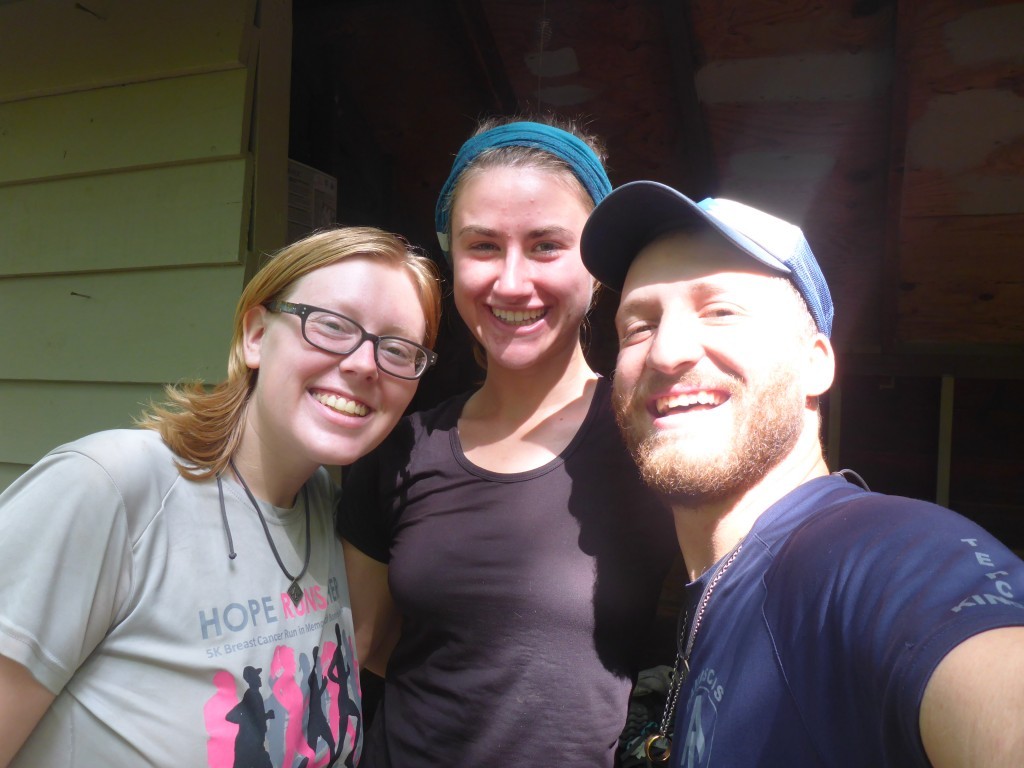 5. We were given so many kindnesses.
People's support of us on this journey was so incredible it was almost incomprehensible. We were humbled by the gifts we were given. It's a weird reality, knowing you've done nothing to deserve such kindness but accepting it in the spirit it was given. The feeling of not having enough to eat and being given food by someone who has less is indescribable. People are so genuinely nice – it was great and so important to be reminded of that during the hike, and to try and emulate that goodness ourselves.
6. We chose smiles over miles.
Not going to Katahdin was the single best decision we made. In the end, we hiked over 1,300 miles. We walked all the way from Georgia to West Virginia, and then from New Jersey to Vermont. The ATC has us down in their big beautiful book as section hikers, and we're content with that. We have no plans to go back and hike the sections we missed. We had an amazing journey and made sure to enjoy our time in the woods – Possum climbed as many rocks as there were hours in the day, and Ukelady got naked in several waterfalls. Some of our favorite moments happened in the Grayson Highlands, the Roan Highlands, Max Patch, the Shenandoahs and the Delaware Water Gap. For a few days, instead of chalking up more miles on the trail, we helped maintain it. We sampled the pizzas of many small towns, saw fireworks, worked on farms, took zeroes in our tent just to watch Space Jam, took paddleboats on lakes, and even went backwards instead of forwards once just to get some ice cream. There's no arguing the point: we definitely took "hike your own hike" to heart.
7. We had a hell of a lot of fun.
Here's a video of some of our adventures along the trail, soundtracked by our favorite trail jams.
Thanks to everybody who was a part of our journey – who supported us along the way, read along with our blog posts and gave us no shortage of encouragements. Thanks to the Badger Sponsorship for ensuring we'll never eat dates again as long as we live. And to all the hikers about to start their amazing hikes: have a fantastic time, and enjoy the ride.
Affiliate Disclosure
This website contains affiliate links, which means The Trek may receive a percentage of any product or service you purchase using the links in the articles or advertisements. The buyer pays the same price as they would otherwise, and your purchase helps to support The Trek's ongoing goal to serve you quality backpacking advice and information. Thanks for your support!
To learn more, please visit the About This Site page.
Comments
2
Love this! Great journey, great attitude, great life!

I was wondering if you still keep in touch with Crusty Goat. My mom and I met him on Bigelow Mt. in Maine. We gave him a ride to Kingfield to a B&B. I wanted to get in touch with him and ask him about his journey because I am looking to hike the trail before I turn 25 (22 years-old now).

Thank you,
Fresca
[email protected]