999 Miles to Go
Day 85
I arrived in Duncannon, PA with Firestarter and Frizzle. We went to a breakfast place where Youngblood and Dosu (a hiker named after a ninja) were about to undergo an eating challenge. If you could finish eight pancakes they were on the house. Doesn't sound too hard until you see the pancakes (the owner took cruel pleasure in delivering them).

Youngblood only made it through two-and-a-half, and gave his leftovers to Firestarter and Frizzle. Dosu had eaten six on a previous occasion. I had no desire to try, and enjoyed a more reasonably sized massive breakfast.
I resupplied, purchasing a dozen eggs for the first time. Keeping them in their carton, eggs actually survive just fine on the trail. 8.6 miles out of town, just before a thunderstorm hit, I set up at Clarks Ferry Shelter and cooked up scrambled eggs and egg-fried ramen. Not bad!

Day 86
I camped by a stream with Frizzle, Firestarter, Gigs, Gruff, Everready, and Unhinged. We all cooked on a big fire, complete with some drying their socks out on sticks like you would roast a marshmallow.
When we woke it was raining. I hung in my tent for a while. I figured by the time I had meditated and left camp I'd easily be the last one, but no! As I returned to the trail I passed everyone sealed up in their tents and hammocks. Still, I was determined to make it a full day of hiking.
The forest darkened and the rain never eased. I was lost in thought when a figure in full camouflage stepped out of the woods in front of me. My eyes went to the long black machete in his hand. I stopped. He looked at me. "Just gettin' some firewood," he said. I nodded. He disappeared into the woods on the other side of the trail. I picked up my pace and removed my hood to better hear behind me. For the next half hour I kept looking back. Perhaps my most unsettling encounter thus far.
Around lunch time I crossed an old cement bridge, managed down the steep bank to sit under it. I ate and then pulled out my harmonica, hoping someone would cross above me while I played, but no one did.
After that the day stretched on and on. One of my more miserable days, for sure. 20.7 miles in the rain. I arrived at another threshold: only 999.9 more miles to go.
The next day I nearoed to 501 Shelter, a special shelter near a road, fully enclosed. In a few days I would meet my grandmother again who would take me to my brother Ryan's high school graduation, and I was ahead of schedule.
I met a family at the shelter looking for a brother who was hiding from them somewhere on the AT. A strange situation.
I hung around, and by evening the shelter was packed with all the hikers from the past few days and then some. We all ordered pizza delivery and had a feast. Apparently Firestarter and Co had zeroed the day before; they never moved from their tents.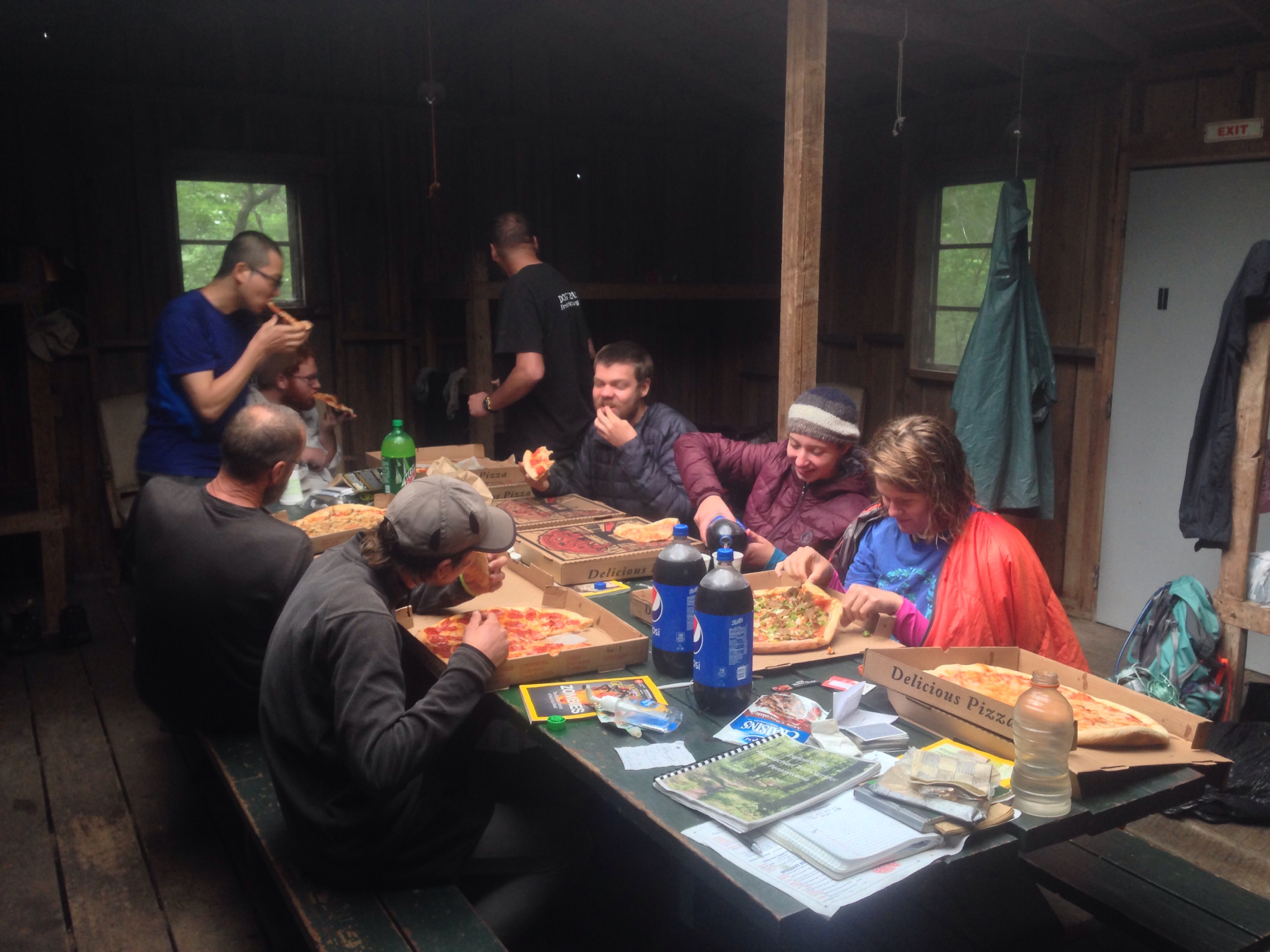 There was talk of a hiker named Hawkeye at 501 the night before, a notorious and occasionally belligerent drunk. He had been belligerent then, and scared some people.
Sure enough, the next day Firestarter and I encountered a man sitting on a log in the woods in jeans with a blanket over his shoulders sipping on a Four Loco (if you're unfamiliar, a Four Loco is a beverage designed to get you trashed). He started talking and didn't stop until a coughing fit took the air out of his lungs; he coughed so hard and so long I started to worry we'd have to do something to help him, but as he seemed to recover, we slipped away. Assuming he would stay at the next shelter, we pushed a little further and camped in the woods.
Day 90
I went into Port Clinton where I would be meeting my grandmother. I ran into Frizzle and Samson the Bear hanging out at the fantastic Port Clinton Barber Shop, easily the best barber shop I've ever visited. Run by a father and son who welcomed hikers with coffee and cookies to improve the lively environment, a decor already rich with musical instruments, stacks of books and magazines, and eclectic nicknacks.
I waited there until my ride came, now getting off the trail for about two-and-a-half days, the longest break yet.
Affiliate Disclosure
This website contains affiliate links, which means The Trek may receive a percentage of any product or service you purchase using the links in the articles or advertisements. The buyer pays the same price as they would otherwise, and your purchase helps to support The Trek's ongoing goal to serve you quality backpacking advice and information. Thanks for your support!
To learn more, please visit the About This Site page.