A Day in the Hike
Hey all! Believe it or not, I'm still out here making my way toward Maine. I apologize for not doing a great job updating this blog. I have tons of things I'd like to write about, but time on the trail really flies. While I'm definitely never busy, my days are very full. So, to give you a little glimpse of what my days are filled with, I took one day and broke it down. On this particular day, I hiked from Trapper John Shelter to Ore Hill Campsite. Read on to hear about all the details. And, if you want more frequent updates, be sure to follow me on Instagram!
6:30 a.m., 0.0 miles
My alarm clock goes off. I wake up briefly and listen for my trail family (who are all camped near me). I don't hear any deflating sleeping pads or unzipping tents, so I snooze.
6:40 a.m., 0.0 miles
I wake up to my alarm again, and this time I actually get up. I wipe the sleepies from my eyes and start getting ready for the day. I change from my sleep clothes into my hiking clothes. Then I deflate my sleeping pad and pack up my pad, bag, and pillow. I take everything that was in my tent and put it outside.
6:57 a.m., 0.0 miles
It's time to face the world. I step out of my tent and start to break it down. One of my favorite things about my tent is how fast it is to set up and take down. It's held up by one trekking pole and six stakes, so I basically kick over the trekking pole, pull up the stakes, and pack it up.
7:01 a.m, 0.0 miles
When you gotta go in the woods, you can choose to dig a hole or find a privy. Luckily the shelter I'm at this morning has a privy, so I head that way. When I open the door though, I have an on trail first: it's too gross for me to use. Like, it's actually full. Since I am extremely lazy when it comes to digging holes, I decide to wait until the next shelter.
7:08 a.m., 0.0 miles
After my failed privy attempt, I grab my water bag and head to the shelter's water source to fill up on water for the day. At this shelter, the source is a nice stream. I find a spot with a good flow and fill my bag with two liters of water.
7:17 a.m., 0.0 miles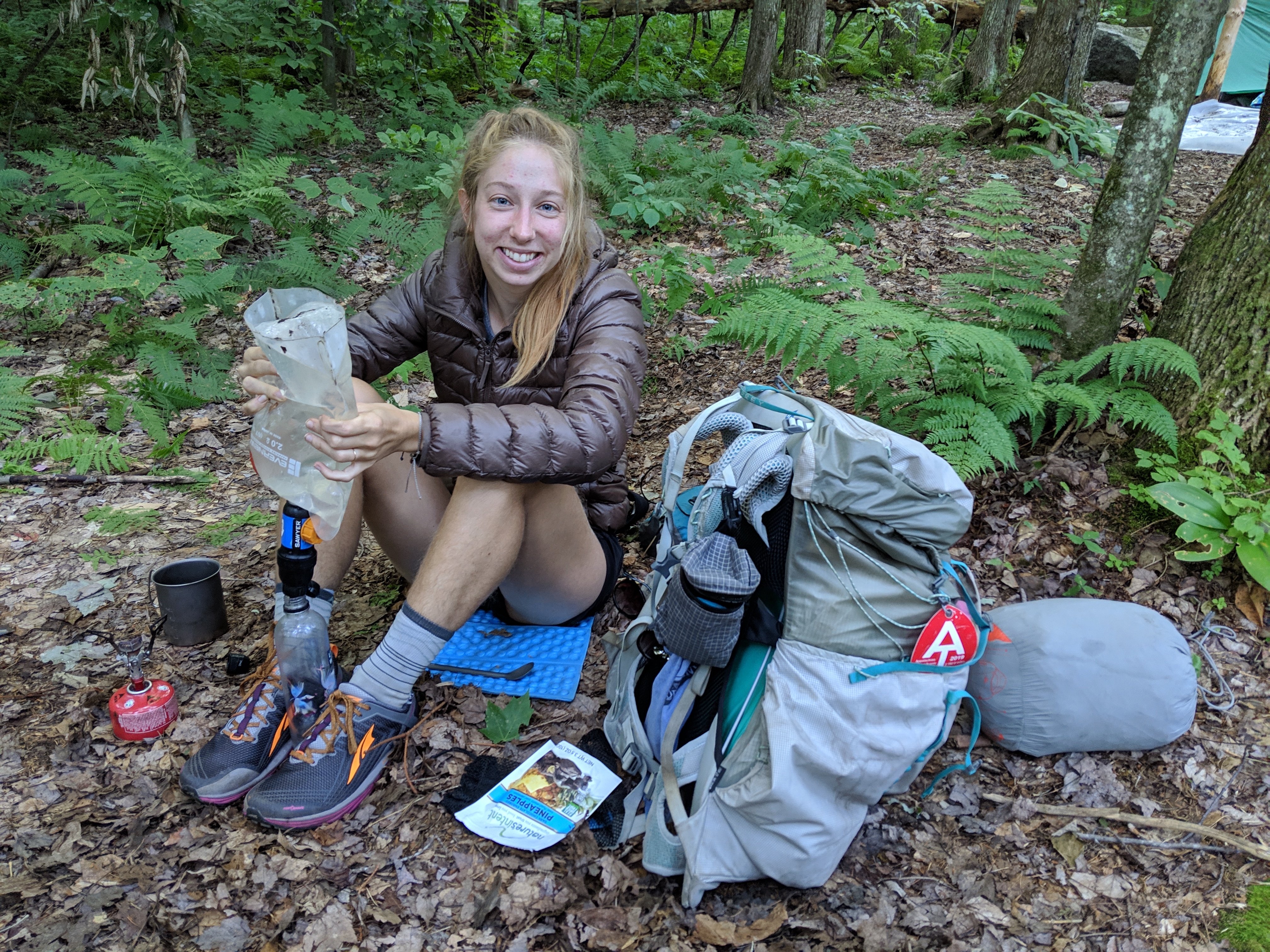 I grab my stove and food bag so I can start making my breakfast. I put some water in my pot to heat up for coffee. While the water is warming, I filter the dirty water I just gathered from the stream. Once I'm done filtering, I make my coffee and eat some dry granola, dried cranberries, and chocolate-covered dried pineapple (which is literally the best thing I've ever eaten).
8:01 a.m., 0.0 miles
It's time to hit the road! I pack the rest of my bag and head out with the rest of my trail family.
9 a.m., 2.3 miles
We come to a stream crossing on trail. This is the last water we will see for the next 9.3 miles, so, as Grubbie says, we better "tank up." I chug the rest of the water I have in my bottles, fill my bag, and filter again.
9:34 a.m., 3.1 miles
After a few miles of hiking in silence and enjoying the morning. I decide to put my earbuds in and listen to a podcast. We are starting the ascent up Smarts Mountain, and listening to something interesting helps the climb pass quickly. Today, I listen to Patient Zero, a podcast about Lyme disease (recommend by my beautiful, podcast-obsessed friend Mel).
9:55 a.m., 3.7 miles
Just about a half mile into the climb, we come to a beautiful overlook where we decide to stop for a quick snack break. I enjoy an Owl Enery bar and some pretzel crisps. Grubber also shares an amazing mocha madness cookie with me.
11:45 a.m., 6.6 miles
Toward the summit of Smarts Mountain I find another privy. Business is taken care of.
11:55 a.m., 6.7 miles
Just a bit past the privy is the summit of Smarts Mountain. Chef and Grubber are already there and Top Knot and Silver Fox join us shortly for lunch. Today, I eat pepperoni and cheese on pretzel rolls and a little bit of candy (or maybe a lot). After we eat, Grubber, Chef, and I head up the fire tower to take in the amazing view.
1:30 p.m., 6.7 miles
After a (long) lunch, we hit the trail again to put some miles behind us. I chat with friends and listen to some more podcasts while I hike.
2:55 p.m., 10.5 miles
I finally reach some more water. I fill up my bag again and filter.
5:06 p.m., 12.9 miles
After a couple more hours of hiking (and another climb), we stop near the summit of Cube Mountain to take in some views and eat some more snacks. Everyone else has phone service and takes some time to connect with the world. I, fortunately or unfortunately, do not have service (US Cellular hasn't been the most reliable in the Northeast) so I eat my pretzel crisps and enjoy the evening. We make a plan for where we are going to stop that night and hit the trail again.
?:?? p.m., ??.? miles
Somewhere along the way I stop to fill up on water one last time. I also get my headlamp out since I know I'll have to do a little bit of night hiking.
8:35 p.m., 19.2 miles
I finally make it to camp! I find a decently flat tent spot and get my tent set up. I grab my food bag and stove and get to making dinner. I make some bean, cheese, and hot sauce burritos using some freeze dried black beans. As I'm eating, the rest of the trail family trickles in and we finish up dinner (with some laughs) together.
10 p.m., 19.2 miles
After a long day of hiking, I say goodnight and head to my tent. I blow up my sleeping pad and pillow, give myself a baby wipe bath, change into my sleep clothes, and brush my teeth. I usually read a little before I fall asleep, but I am way too sleepy tonight, so I pass out.
As always, let me know if you have any questions or comments! Thanks for reading!
Affiliate Disclosure
This website contains affiliate links, which means The Trek may receive a percentage of any product or service you purchase using the links in the articles or advertisements. The buyer pays the same price as they would otherwise, and your purchase helps to support The Trek's ongoing goal to serve you quality backpacking advice and information. Thanks for your support!
To learn more, please visit the About This Site page.