Power to Petites: Thru-Hiking Tips for Small Women
(Originally published June 2019; updated September 2020)
Acing a long hike on short legs
An underrepresented population
Welcome, small-sized gals (and guys!) We may be a minority on the trail, but don't let that stop you from living your thru-hiker dreams.
Before I left for the Appalachian Trail, I intently searched for "petite women hikers" online and found—well, nothing.
Nothing helpful, that is.
So here is my contribution to the conversation on how compact-sized hikers can make the most of their trek in a world that caters to the tall.
Where have all the short girls gone?
Not to the woods.
I've looked.
I see many men. And lots of average-to-tall women.
But petite women?
Not so much.
Why is this?
I have a theory:
Tall women tend to be encouraged into athletics at a young age. Small women, less so. Or if we are, it's things like dance, gymnastics, and maybe track or soccer.
Those who consider themselves athletic are more likely to consider themselves fit for a thru-hike.
Women who excel in athletics, research shows, develop a higher confidence about their bodies, their capabilities outdoors, and even their ability to defend themselves against threats.
Though danger can strike us all, I wonder if tall people in general feel less vulnerable to being attacked by an animal or violent human? Do they feel more confident living in the wild?
And are men and tall women overall given more support in their outdoor pursuits? Maybe.
Men outnumber women in the thru-hiking world by about 2:1, which I imagine is due to a combination of scouts, wilderness exposure, and cultural narratives that foster a "man in the wild" image.
I know many women who love the outdoors but feel daunted by the ever-present warning issued by friends and family: "You're not hiking alone, are you?"
For small women, go ahead and put that question in all caps and you'll have the general reaction to my decision to hike the Appalachian Trail.
But here's the skinny, short girls:
You will be fine.
You will be more than fine.
You are every bit as qualified to enjoy an extended hike on the Appalachian Trail as the next person.
And there's no reason to think it will be harder or less possible for you.
There is the matter of bunk beds, though:
In all seriousness though, there are a couple of things to keep in mind if you want to not only survive, but thrive, in your thru-hike.
Much of what we share below could apply to any hiker: short or tall, male or female.
But here are some tips I wish I'd had before I left that might help small-sized women prepare to love living in the woods.
And you don't have to take my word for it
I have found two other contributors for this article because I have hiked with a total of two women under 5'3," and I've learned a lot from them.
If you too count yourself among the Step-stool Sisterhood, here's what we've got:
?
Note: These anecdotes are from my 2019 AT thru-hike.
Me / "Sprout" / from New York
Height: 5 feet, 1 inch (and a half!)
1. Cut the gear list in half
I'm not kidding.
When preparing for a thru-hike, you will find all these "essential gear lists" that are not made for you.
You will not need two sets of clothes. You will not need mad amounts of first aid. You will not need a two-person tent.
As a small female, a light pack weight is (almost) everything. Ask yourself with each item, "Would I die without this?"
If the answer is "Enh, well…" then it's a no. Unless it is mascara. (Good selfies don't take themselves, people!)
2. Spend the money on ultralight
I know. That stuff costs more than your car.
But save money and cut corners elsewhere.
Go cheap on hostels, drink less beer, do a work-for-stay in town, sell your antique jewelry, take out a loan, but DO NOT CARRY HEAVY GEAR.
(See my gear list below)
Especially on the Big Three (pack, sleep system, shelter), going light is so worth it. It's great for everyone, but it's nearly non-negotiable for small hikers.
Your knees and feet and back will thank you later.
And if the costs are too high, buy the lightest gear you can afford, and save weight in other areas (toiletries, clothes, food, etc.).
3. Let go of the scarcity fear
I get it. You want to carry all the food and water you could ever need in case of emergency.
But this is not necessary. It's not gonna work if you're little.
Water? Carry no more than a liter, and just fill up at streams and drink it there. No need to pack it all out. Water weighs a lot.
Food? You can go three weeks without food, three days without water. The trail is rarely more than a day away from a town: you will survive.
Go lighter on food, pack only 2-3 days of resupply, and know your body can replenish in town.
But DO eat healthy snacks all day long. There are plenty of big men on trail who barely eat anything all day and then have a big ramen-bomb (ramen with mashed potatoes mixed in) at night.
You are not them. Small people need small frequent quantities of food throughout the day. Eat early and often. Just don't pack a ton of it.
4. Nourish yourself with high-octane, premium fuel
Yes, this matters for everybody of every size. But it really matters for you.
If you are smaller, you need to eat more often, and you are likely more sensitive to what you eat (especially if you are over 30).
In my other life I am a clean-eating coach, and what's true off the trail is even more true on the trail.
A nutrient-dense, healthy-fat, protein-rich, high-fiber diet is everything.
Sugar is inflammatory and does not provide sustaining energy.
My two cents:
Your stomach is small and it's working hard to convert calories into energy. Eat every four hours, and pack things like:
Nut butters, nuts, olive oil, oatmeal, protein bars, protein powder, greens powder, dried fruit, quality meat jerkey (unless you're vegetarian), quinoa, legumes, rice, and dehydrated vegetable meals are all great.
You can even do fresh avocados, apples, and bags of spinach and carrots: pack these out and eat them on day 1-2 of a new week.
Don't skimp on nutrition. Brands of dehydrated meals I love include Good to-Go, Mary Jane's Farm, and Packit Gourmet. Harmony House is super healthy, but sometimes boring to eat.
Bottom line: you will see dozens of people on trail subsisting on Pop-Tarts, Snickers, mashed potatoes, and ramen.
I get it. They're light! They're cheap! They taste good! They give a momentary burst of energy.
But ya know what else? They're nutritionally almost worthless and they bring on a boatload of inflammation, headache, constipation, acne, and joint pain. The chemicals can mess with your hormones, and the very brief energy jolt won't last.
Eat. Good. Food. (Emphasis on real food.)
5. Be patient with yourself
Yes, you may have to take three steps to someone else's one. You're asking a small body to do a big job.
I recommend taking a break every couple hours and elevating your feet, even if it's just sitting down with your legs propped up on your pack.
Giving yourself a daily foot massage and some morning/evening stretches helps too. Get a lot of sleep and don't apologize for it.
Make sure your gear is sized and fitted properly for you, especially your pack and trekking poles.
Here's the good news! Being small means your gear is small too. You can even buy the "junior" versions of some things to save money and weight.
Own every inch of your fabulous self and walk into the woods with pride! I am cheering you on all the way.
And please feel free to reach out if you have more specific questions I can help you with.
Will pickles make me taller? Probably not, but we crave them on trail!
?
Lauren / "Tadpole" / from Nashville
Tadpole is a kindergarten teacher, naturalist, singer-songwriter-guitarist, and award-winning earliest riser at camp. She likes peanut M&M's and knows all the names of the wildflowers.
Height: 5 feet, 3 inches
Pack: Zpacks Arc Haul
Tent: Zpacks Duplex tent
Sleeping bag: Sea to Summit Spark 1 (summer weight bag)
Advice: Hike slow and steady throughout the day, especially if you're an older hiker. If you are thin, don't hike too long in cold steady rain conditions for risk of hypothermia.
Nutrition tips: Get a lot of electrolytes and water so you don't get dehydrated. Eat well in town to replenish your calories and nutrients.
?
Cate / "Small Slice" / from D.C.
Small Slice, self-employed, rocks the aqua blaze—meaning she paddled in a canoe for part of the Shenandoahs along the AT. She reads at least a book a week on her Kindle and has been known to pack out a beer in her puffy coat pocket.
Height: 5 feet, 2 inches
Pack: Osprey Eja
Tent: MSR Freelite 1
Sleep system: Sierra Design Backcountry bed
What's helped you the most?
"Lightening up my pack by sending unnecessary gear and clothes home in the first few weeks made a huge difference. I also tend to chug water at springs/streams when I can see water will be readily available along the trail that day. Water is heavy so I carry less in my pack when I can."
Any funny things you've learned the hard way?
"I hiked in shoes that didn't properly fit me for over 700 miles. How is that funny? I came to a crossroad in rural Virginia (a literal crossroad, this is not a metaphor) and a man walking to his car asked what was wrong. I said it was the same ol' foot pain I'd had since Springer. He replied, "Oh, I'm a shoe expert from the REI flagship store in Denver. Mind if I recommend an alternative shoe for you?" What were the odds this man crossed my path in the middle of nowhere Virginia?! Listen to your body. If you're in pain it's trying to tell you something."
Best and worst things about being a small woman on trail?
"Best: My tent has a tiny footprint. I wouldn't recommend it to anyone much taller than me, but it means I can set it up almost anywhere! Worst: I often require some un-ladylike movements to get over fallen trees."
Any other gear or nutrition tips?
"A fellow thru-hiker has helped me out a lot with my nutrition (shout-out, Radagast!), mostly by finding ways to cut sugar. I was eating way too much sugar because it's easily available and we burn so many calories during the day we can truly eat whatever we want. But I had a lot of joint pain in the beginning and there are much better alternatives to the non-nutritious, sugary snacks and foods. For example, instead of eating Pop-Tarts for breakfast I now do cold-soak müsli overnight. I still indulge in an ice cream cone in town, but I feel so much better and have more energy since I changed what I eat."
The long and short of it
Some great things about being a short hiker gal
1. Getting a hitch (free ride) is super easy.
2. Your gear is small and you don't need to pack as much food.
3. You always have enough leg room in cars, and beds are always long enough for you.
4. You can maneuver fairly easy under and over fallen trees on the trail.
5. You can hide behind trees easily, to pee or to jump out and scare a friend.
6. You don't get quite as hot on those midsummer days.
7. You can save money and sometimes buy youth-sized clothes and gear.
8. You can practically stand up in your tent to change.
9. Sometimes people want to help or protect or provide for you, which is a mixed blessing. But it's not hard to find folks who will help you throw a bear bag line.
10. Your diminutive stature is often disarming for women and men alike, old and young. Many types of people trust and open up to you as a small female. This is my favorite thing of all.
Some tougher things about being tiny on trail
1. Staying warm in the cold temperatures is vital for you. Make sure to prioritize insulation on the front and back end of your thru-hike, in chillier climes.
2. Everything has to be hemmed and/or altered, including sometimes hiking gear.
3. Being taken seriously as a grown-up who can take care of herself can be a challenge on and off the trail.
4. On a thru-hike, as in real life, I find it's true what research statistics show: that the small among us have a harder time being recognized as leaders, capable adults, and those possessing strength.
5. Some studies have found that when it comes to mating, a higher percentage of people prefer tall partners.
But Alex Honnold, climber in the film Free Solo, takes more of an ultralight approach to romance. ? He says of his girlfriend:
"Having (her) in the van is nice. She's cute, small, livens the place up, doesn't take up too much room… makes life better in every way."
So there you go! We take up very little room—even in a tree.
My recommended (summer) gear

list

For the spring and fall of a thru-hike, just add gloves, hat, puffy, long johns, and heavier sleeping bag.
Tent
Zpacks Plexamid 1-person tent, 14.8 ounces plus 6-10 UL titanium stakes at .18 ounces each
What I like: Lightweight in the extreme, durable, easy to set up and take down, uses one trekking pole and no additional tent poles. The new titanium struts for the roof of the tent is a huge improvement over the carbon fiber they used last year.
What I don't: Takes up a surprisingly big footprint (space on the ground), long inside but not wide, fair amount of condensation accumulates, very little air flow
Pack
Osprey Lumina women's XS, 45 Liter- 1.715 pounds, designed to carry around 21 pounds or less
What I like: Almost everything. This is a great pack, my third already on trail, and very comfortable and well made. Fits my torso (finally!) like a glove. Super light for all the features it has.
What I don't: They really mean it when they say don't fill it much over 20 pounds. It's not designed for that. I also had to have part of the top cover section (the brain) patched up less than a month after buying. Thankfully Osprey team tailors were on-hand to do that at Trail Days.
Sleep System
Feathered Friends UL Flicker: 40-degree quilt, standard size and width, 18.4 ounces.
What I like: Nearly everything. Beautiful, lightweight, comfortable, warm, well-made quilt that can also zip up like a bag.
What I don't: No petite sizes available. But the length is nice to cozy up on on a colder night.
Small Sea to Summit pillow: I love this thing. You can even wash and dry it in the machine!
NeoAir UberLite Small: It weighs next to nothing and is easy to blow up. Downside: I fall off it easily and it slides around the tent. Good for shelters, though. I set it on top of my torso-length Z Lite.
Z Lite: Regular, cut in half (just bring half); indestructible. I love the traction and insulation and that I can also sit on it, eat on it, and get it wet. I sleep most often on this (cut in half), with my feet propped up on my pack. That way the blood flow gets restored and my feet get to recover.
Shoes
On all three of these: I've used the Superfeet Berry women's insoles.
Started with Altra Lone Peaks zero drop. Too minimalist for me and I felt every rock. Feet and knees hurt a lot. Lasted 200 miles in these.
Switched to Salomons and loved the supportive structure but the tread wore off and they got too small. Lasted 500 miles.
Saucony Xodus: Comfort, traction, cushion, lightweight, and support for 500 miles. But in my second pair (which never felt like they fit right), I fell on an exposed ridge in NJ, ending my hike. To their credit, Saucony refunded me the money for those shoes since I sent them back, barely worn.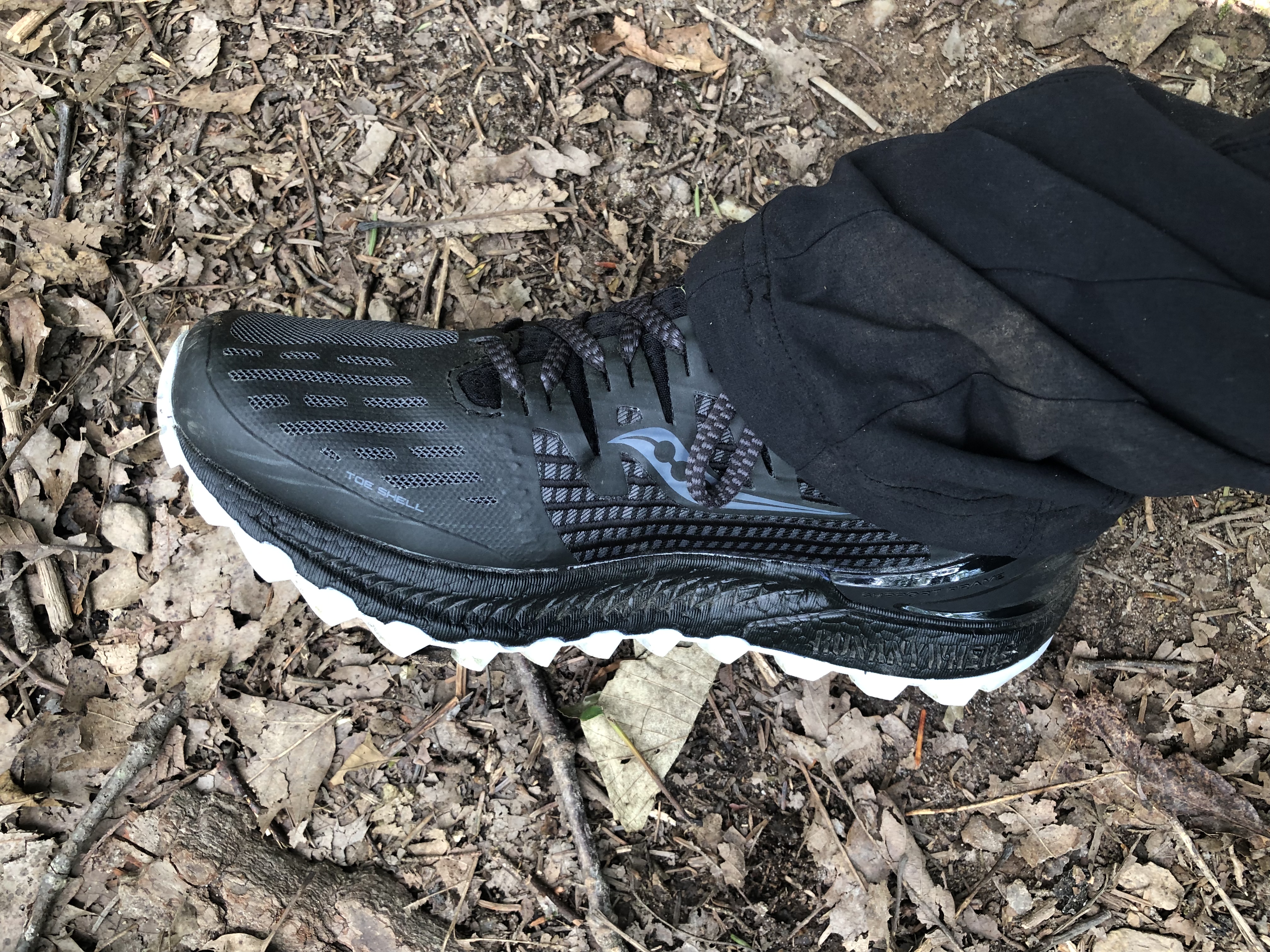 On my 2020 continuation hike, I did 100 miles in Altra Timps, 75 miles in Altra Olympus, and 100 miles in La Sportiva Ultra Raptors (I work at an outfitter and get a discount on shoes now- something I'd highly recommend for an affordable backpacking future!). I liked them all, but the Ultra Raptors proved superior for their traction on steep climbs and slippery rocks (see above for why tread is life).
Trekking poles
These Leki poles are great. Super light. Foldable. Adjustable. And when one of mine lost some of its lock–function (and started slipping down) last year, Leki sent me a brand-new pair free of charge.
Clothes
Icebreaker T-shirt
https://www.icebreaker.com/en-us/womens-tops/cool-lite-merino-sphere-short-sleeve-low-crewe-t-shirt-/104680.html?dwvar_104680_color=440
Salomon crop legging tights
https://www.salomon.com/en-us/shop/women/clothing/tights.html
Icebreaker sports bra
https://www.icebreaker.com/en-us/womens-underwear/merino-sprite-racerback-bra-/103020.html?dwvar_103020_color=013
Icebreaker merino wool base layer
These are the key items. I also have a Purple Rain skirt that I love, four pairs of Ex-Officious synthetic underwear, and two pairs of Darn Tough hiker socks. Plus an Outdoor Research cap.
You really don't need anything else. But I also have a cotton black tank top for sleeping (Toad & Co), Hanes leggings from CVS, and trail gaiters by Dirty Girl.
Why pants instead of shorts? Think ticks, bug bites, poison ivy: oh my!
If I can impress upon you one thing for your basic clothing, buy wool. For all the seasons on trail. Not because you are short but because you are smart, and you would rather not smell like garbage and locker rooms. Wool lasts longer, feels really good, breathes well, and retains odors way less than anything synthetic you can buy. Trust me on this. I have thrown out every synthetic shirt I've had, because after one day's wear, the smell was unbearable.
Rain gear
I have an Arc'teryx SL hybrid shell and a Zpacks rain skirt. They are pricey, sweaty, and seem to lose their rain protection pretty fast. They help more in the cold than the rain. I am experimenting with Nikwax tech wash to restore the rain repellency. I use an Osprey small pack cover and a trimmed trash compactor bag inside my pack.
Food and
water system
I love my 1L Katadyn Be Free so much:
https://www.katadyn.com/us/us/31462-8018006-katadyn-befree-1.0L_usa
I know, everyone has a Sawyer Squeeze, and I'm sure they have their reasons. But I love the lightweight-ness, the collapse-ability, and the bigger O-ring for faster filtering. There's no wait for your water. I have had to replace the filter once, but they're not expensive.
This year I also added an Osprey reservoir so I can keep hydrating while hiking and not stop as often.
Cook system: It's true. I have thought about sending my Jetboil micro home on numerous occasions, because so many people swear by their lighter stoves or having no stove at all. And this one does have some weight to it.
But here is why I remain resolutely Team Jetboil: I love how fast it is, I love how it's all-in-one, and I especially love how fuel-efficient it is. Nothing like quick hot coffee in the morning and hot tea at night. I now have the additional Jetboil French press accessory which is fantastic!
I also have a long titanium spoon, sno-peak titanium cup, and a propane fuel canister.
First aid

, toiletries, other

Only these: a few Neosporin bandaids, nail clippers, tweezers, toothbrush, toothpaste, floss, small Dr. Bronners camp soap, smallest Swiss Army knife, Goodwipes shower/cleansing wipe singles, menstrual products as needed, toilet paper, small trowel for digging bathroom hole, Picardin bug spray wipes, small headnet for mosquitoes, sunscreen, sunglasses, eye glasses, Advil, Allegra, Zpacks dry sack for clothes, safety pins, sea to summit UL 20L sil-nylon bear bag, 30 feet of cord for hanging it.

Permethrin: I sent in a number of clothing items to the company Insect Shield. So far no ticks on me!
Luxury
items
My iPhone, battery charger (insignia, four charges) and cords, Petzl Bindi headlamp, AWOL's AT guide (only carry a few states at a time), pen, tiny journal, Spot GPS, and tea tree oil.
Also a small Patagonia fanny pack, which I love. https://www.patagonia.com/product/ultralight-black-hole-mini-hip-pack-1-liter/49447.html
Short P

eople

Benefits!
OK, enough of all the problems and accommodations.
Here's the good

news

In his book Short: Walking Tall When You are Not Tall at All, John Schwartz of The New York Times says that we have some decided advantages:

1. We are less injury-prone (less distance to fall). 2020 update: this information proves to not be always true. See my post "And that's how she got off trail."

2. We tend to build character early and often because back in school we couldn't physically lord it over people. We have to be socially astute and pay attention to nuances in groups, because we aren't used to depending on our stature to gain respect.

3. We look younger, well into older age! Many actors are short and can play a variety of ages of characters.

4. And we live longer! Who knew? Look it up.

5. We make very happy little hikers, even if we do sometimes have to stand on our toes in photos.
Signing off,
Sprout
Affiliate Disclosure
This website contains affiliate links, which means The Trek may receive a percentage of any product or service you purchase using the links in the articles or advertisements. The buyer pays the same price as they would otherwise, and your purchase helps to support The Trek's ongoing goal to serve you quality backpacking advice and information. Thanks for your support!
To learn more, please visit the About This Site page.