A Pennsylvania Pummeling
Pennsylvania, where do I even begin?
You started out so promising and nice but so quickly you became one of the most challenging and unpleasant parts of my hike so far.
Now before I upset anyone with describing my salty time on the AT in Pennsylvania, I will admit that there are some really beautiful areas. The Laurel Highlands, Allegheny National Forest, and parts of Central PA to name a few. Unfortunately, with the exception of one area, the AT takes one of the worst possible routes through the state.
Let's take a recap of the good, the bad, and the ugly of Pennsylvania.
Southern Pennsylvania
Leading up to Pennsylvania everyone is talking about how terrible this state will be. They warn you about the rocks, the lack of water, and just how hard it can be. I took those warnings with some seriousness but mostly shrugged and tried to keep an open mind and form my own opinion of what was ahead.
The night we crossed the Mason-Dixon line was just one of those amazing on-trail nights. Hikers from different trail families all together, hanging out and eating pizza in a town park. The weather was beautiful and we were all excited about finally crossing into the North.
The few days after this was just incredible. The weather was good, the terrain was like a continuation of the amazing trail we had in Maryland, minus a few rocky sections. Most of the trail through Southern PA goes through the Michaux State Forest. This area was absolutely beautiful. Going through the old pine forest was just breathtaking. Caledonia State Park was also a welcome treat! Bathrooms, showers and water fountains along with one of the nicest stealth spots for camping just outside of the park was really amazing!
So far Pennsylvania had disappointed with how tough it was supposed to be, this wasn't bad at all, sure a bit rocky in spots but I was having a ton of fun! This fun continued through Boiling Springs where I ran into Mary Poppins, a hiker that I had started in Georgia with but hadn't seen since being in Damascus, VA.
After meeting up with Poppins and a few others we continued north to Duncannon where we got off the trail for the night to go to a co-workers 4th of July party!
Northern Pennsylvania
As we got closer to Duncannon the warnings about Pennsylvania became more descriptive and concerning. One trail angel even went so far to tell me that this upcoming section of the trail is the type of stuff that gets people to quit. Again, trying to keep an open mind and not get hyped up, I shrugged it off and kept going north.
The day we crossed the Susquehanna river was downright miserably hot and humid. Walking across the bridge over the river is the exact point where Pennsylvania went from good to straight up ugly seemingly overnight.
The next few days were tough, the heat had been cranked up to uncomfortable and there wasn't much relief in the forecast. Right around the same time, the rocks that everyone had been talking about and the mud that needs one had mentioned finally came, and holy shit, there were rocks. Not the fun boulder climbing rocks but the sharp ones coming out of the ground that make it impossible to take a flat step, the ones that twist and turn your ankles and knees in ways they're not designed to move. Yeah, those rocks and they seemed endless.
Just as things were getting tough, Sydney's mom and a family friend of theirs, Karen, came through big time! An offer to get picked up off the trail for two nights and sleep inside, in a house with air conditioning, laundry and showers! This was so perfectly timed. Just as I was starting to get frustrated and beaten down by the heat, the humidity and putting on sweaty wet clothes in the morning, this amazing hospitality was offered! Karen, if you're reading, again thank you so much!
After the two days of feeling like a real person again and not some sweaty, melted mess of a hiker, it was back to the trail and time to finish this state. How hard could 70 more miles be?
Spoiler alert, pretty effing hard.
Just when you think this state couldn't get harder, it does. The rocks get bigger, the stretches of rocks are longer, pointless climbs with rocks become more frequent and for more added fun the water sources become drier or polluted. The lack of views and being trapped inside the green tunnel begin to wear on you. The heat and humidity are relentless. It's hard to keep any semblance of a pace because the trail under your feet is changing every half mile. All of the sudden the ability to just let your mind wander off or listen to music and zone out while walking is next to impossible. You spend your days staring at rocks, thinking about your next step, feeling rocks grind against the bottoms and sides of your feet while you twist your ankles and hope that this isn't the one that actually does damage.

Finally the end of this state is in sight. Getting to Delaware Water Gap felt like such an accomplishment. More than I ever would have imagined before getting into Pennsylvania.
As I look back on my Pennsylvania experience now, sure I'm still salty about it but it gave me a new level of perspective to take with me going forward. The trail doesn't get any easier from here, the toughest parts are still ahead. Pennsylvania did make me stronger though. This part of the trail I learned just how capable I am of pushing well past my limits and my comforts and that I'm even more capable of pulling my self back up just when I feel like I've been beaten down. This is something that going forward on the trail and in life will be tested time and time again.
I also had to refocus myself and remember that you can't fight the trail. The trail is not an opponent. The trail is nature, humans have tried to fight nature since the beginning of time, and they always lose. The trail is merely a means for me to get from point A to point B. The trail doesn't dictate my journey along it, it's a foot path that is just there, trying to fight a dirt path is ridiculous. How I respond to the obstacles I face out here does dictate how my journey will be remembered.
The Highlights of Pennsylvania
To try to end on a good note, here are some of the great parts of Pennsylvania!
– Southern PA from Mason- Dixon to Boiling Springs. The trail here was absolutely beautiful, if you have a chance to go to the Michaux state forest and walk some of the trails, do it! You won't regret it.
– The 501 shelter, pizza delivery and a fully enclosed shelter that's more like a hostel! What's not to like about that!
– The rope swing into the ice cold pond. Cold water on a hot AF day!
– Rausch gap shelter. One of the coolest shelters on the AT. Flowing spring and water coming through a trough in front of the shelter. Nice open tent sites next to a flowing creek and in a beautiful open old pine forest.
– Lehigh water gap. Fun rocks, like the stuff you get to climb and scramble up. Also a walk on a ridgeline that was a nice change of scenery. Just don't drink the water around here, it's an old zinc mine and a current brownfield site.
– Bert's hostel/ diner in Palmerton. Best hostel deal on the AT and super friendly staff.
– The arrival of my new shorts. Less chafing and more airflow!
Until next time,
Baloo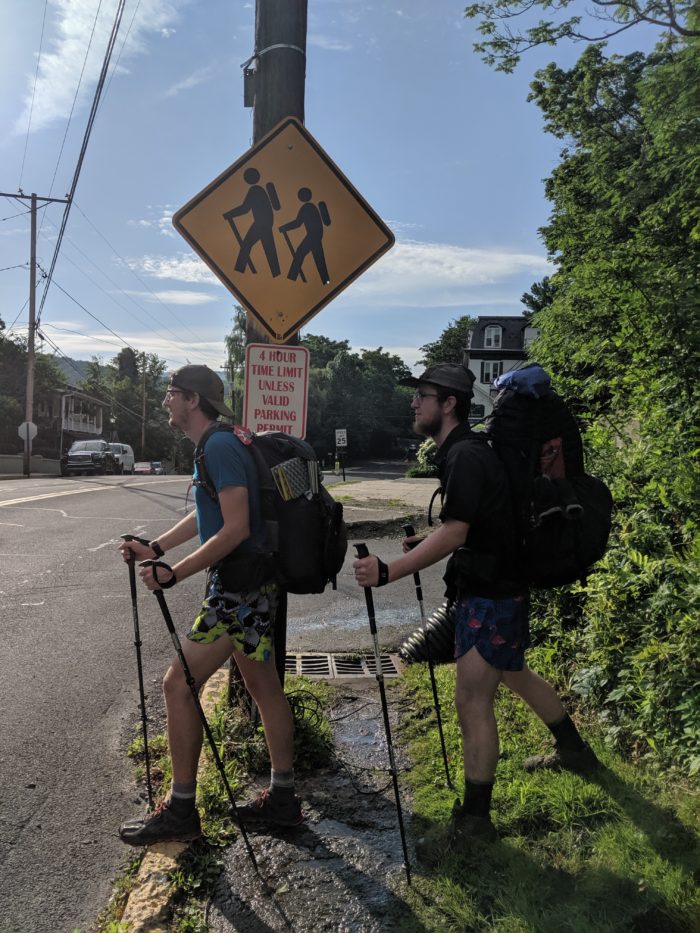 Affiliate Disclosure
This website contains affiliate links, which means The Trek may receive a percentage of any product or service you purchase using the links in the articles or advertisements. The buyer pays the same price as they would otherwise, and your purchase helps to support The Trek's ongoing goal to serve you quality backpacking advice and information. Thanks for your support!
To learn more, please visit the About This Site page.