Adapting and Unfolding on the A.T.
Normally, I go to sleep at night as soon as my head hits the pillow. The temperature is where I want it, I'm freshly clean, and fueled with whatever food I wanted that night. I'm content because I'm comfortable.
On the trail, it looks a little different. I ask myself questions like: Did we hang our food far enough away from the tent? Was that noise I heard a bear? Are the trees that creak overhead strong enough to withstand the wind gusts? It's humbling to step into a reality that is uncomfortable, even scary, in many ways. I've found this to be the more challenging aspect of adapting to backpacking. Situational awareness and acceptance of the circumstances are growing as time goes on.
I'm keeping faith that these things will increase naturally with time, along with my confidence, physical ability, and mental fortitude. I'm grateful for to have my limits tested because of how it will let me grow. I hope to do my best to maintain this gratitude in low spirited times.
Stronger Legs and Mind
My backpack has been feeling lighter and lighter as my legs adjust to carrying ~30 lbs over elevation. Some of the climbs are getting steeper and longer, but my body manages to carry me forward with a steadiness and calmness.
Some of these climbs have sent me into a place of humility with tears of gratitude and rawness. It was pouring and freezing one morning, and the rain was coming down the hardest as we tried to climb some switchbacks. My spirits were low. It was still early in the day, which meant we had the whole day left to face our miles, wet and freezing. The climb was wet and painful, and comfort felt so far off. I cried. But the tears, originally from a place of defeat, turned into a release as I leaned into my own strength. One step turned into 100, then more, and it got easier as I felt myself move forward unrelentingly. The tears were then for gratitude.
I'm thankful to have made it here, for my legs carrying me through, and to keep going. A journey like this can bring you to a hard place where you have to dig deep… and I've found that the real beauty is in the climb itself. That's where the learning happens. The journey is the reward.
When all you do is hike all day, you become sensitive to the needs of your body. Eating enough quality calories and tending to your body's aches are intuitive parts of every day. It's really cool to have so much space and time to feel my body and fuel it mindfully.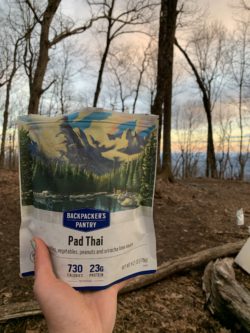 Slow and Steady
Some of the cooler people we've met have been older hikers. They have a vibrancy and vitality that is infectious. They have a lot of stories to share. One couple in their 70s was out hiking for their anniversary. They'd completed their own thru-hike 22 years ago. They gave us oranges and were excited for us our own journey. It was 40° with high winds on rocky terrain. There was another older man who we met on a day he had hiked 20 some miles in the rain. He was an early riser, taking his time but cranking out those miles steadily. His philosophy rubbed off on us, and our next day of hiking was blissful and relaxed and more conscious.
There are so many badass people whose enthusiasm for the trail is infectious and inspiring.
Seeing all different kinds of people out enjoying hiking is a big motivator for my own journey.
It's nice to be on a NOBO at this time of year, because there are so many others also headed to Maine. We're excited to keep crossing paths with these unique people as we cruise along.
Thanks for keeping up with the journey! Next stop: Great Smoky Mountains National Park.
Affiliate Disclosure
This website contains affiliate links, which means The Trek may receive a percentage of any product or service you purchase using the links in the articles or advertisements. The buyer pays the same price as they would otherwise, and your purchase helps to support The Trek's ongoing goal to serve you quality backpacking advice and information. Thanks for your support!
To learn more, please visit the About This Site page.
Comments
2
I have often wondered if people read the comments while on the trail or if they designate town time to do such… or if they do it at all. I suppose everyone has there own way of doing it.
I am an aspiring through hiker. I wonder if I will ever be able to get to a point where I can do it with no worries to surpass. I will never do it if I must have a job. In other words I wont quit my job to do the hike. Time will tell.
I others like yours stories and I am fascinated on how much they speak of other people they meet. For myself, being on the trail is partly about solitude. I wonder if that would change at all after being on the trail alone for any length of time and if it did, what length would that be?
Each of the stories with exception of a few here I find to be inspirational. You've found something you are interested in and have made so many things fall into place to accomplish it.
I wish you the best on your journey.

I am following many of this year's thru-hikers because next Spring I hope to be one of the cool older hikers you mentioned.

BTW, you mentioned all the badass people you have met out there – you know that you qualify now, right? You are doing it. One foot in front of the other.

All the best and keep updating for all us jealous, can't-wait-for-my-turn readers.