A Jam Packed Three Weeks
T-minus 276 days 
So, clearly this post is going to be jam packed with all the wonderful adventures I have experienced in the past three weeks. BUT, first thing's first…
Gear Review
Boots- The final verdict on my Vasque Breeze 2.0 GTX is that they are too small. Other than that they have wonderful traction, I love having ankle support, and I am as comfortable as ever walking up mountains. I haven't even gotten a single blister from the boots yet! The only thing is that my toes keep hitting the top of the boots which will eventually lead to missing toenails during a thru-hike. Since I would like to keep my toenails for as long as possible, I am going to experiment with a size bigger. The size up may leave too much free space and therefor giving blisters perfect opportunity to form, but I'd rather experiment with boots now than waiting until I am in the middle of Georgia with bleeding feet and no toenails!
Water Filter- The Sawyer Mini is a really nifty little water filter, and that's the problem. The mini is just took small. I was filling 600 ml Camelbak water bottle with it, and couldn't image having to fill something larger. The flow is so slow, but like I said, this is probably because of the size. I bought the mini over the original size because of the weight savings, but will actually be returning my mini and trying out the standard size to see if it has a faster flow.
Day Pack- I bought an Osprey Daylite a few weeks back and love it. The bag is incredibly comfortable and can fit a surprisingly large amount. It offers multiple compartments, as well as chest and waist straps for stabilization. It even has a few straps on the outside that allow my to attach my camp shoes and tripod to the back. Definitely a solid choice for a day back.
Water Reservoir- I actually ended up returning my 3L Platypus Hoser. There was absolutely nothing wrong with the bag: it had a strong flow and had no plastic taste. I was just incredibly paranoid about water spilling all over my pack because you close the water valve on the bottom of the bag with this model. I ended up deciding on the Platypus Big Zip 3L: I will be able to hold the same amount of water while being able to fill and close the pouch from the top, which will hopefully lead to no spills. It also has a much leaner design, and I have the option of closing the water valve.
And, while we are on the topic of new gear: I went to REI and tried on a few packs. I am currently between the Osprey Aura 65, Osprey Ariel 65, and Deuter ACT Lite 45+10 SL. A lot more research and trying all of them on a few more times is going to be needed before I make any final decisions, but if anyone has strong opinions on either pack then please leave them in the comments!
Adventure 1: Loyalsock State Forest, PA
It really is a shame that PA gets such a bad name with the rocks and humidity because IT IS GORGEOUS. Loyalsock State Forest in PA is breathtaking and I highly recommend it to anyone. There are extensive backpacking and hiking trails, as well as two huge state parks. When we arrived, we explored a small section of the 60 mile Loyalsock Trail. The trail winds through a very happy and mature forest, and is surrounded by huge rock formations covered in the most beautiful moss. A pretty bad thunderstorm flushed us off of the trail a little before we had planned, but I must say that it was pretty cool (and absolutely terrifying) to experience my first thunderstorm in the woods.
We slept about 4 miles away from Ricketts Glen State Park, and woke up at 6am to explore the area some more. We had already hiked Ricketts Glen in November of last year, so we decided to head down the road a bit to World's End State Park. We filled up our water bottles while cooling off in one of the prettiest and cleanest creeks I have ever seen, and then headed up the mountain to see both the Loyalsock Canyon Vista and High Knob Vista. High Knob offered an extensive panorama view, and showcased more than 90,000 acres of Pennsylvania forests. The view was literally jaw dropping, but we soon went down the mountain to splash around in some rapids and make our long trek home. It is safe to say that I have officially added thru hiking the Loyalsock trail to my bucket list (sounds like a great spring break "shake down hike" to me!)
The trip was my first time using my tent and sleeping bag, and aside from the giant rock that was poking at my spine, I am extremely excited to use both of these items on the trail (paired with a sleeping pad, of course).
Adventure 2: Pennsylvania Grand Canyon (Pine Creek Gorge), PA
Wow okay so all I have to say is that if you are ever in upstate PA, this place is a must see. My dad, little cousin, and sister also tagged along on this mini adventure. We made the four hour drive, quickly set up camp, and we were off to explore the canyon. A large portion of the mountains that make up the gorge are composed of  huge rocks that support overhangs with trees somehow growing on top of them.
We followed the very narrow path and tried our hardest not to look down at the steep drop we would be taking in the event of a misstep. We hit a few of the lookout points, and scurried our way back to camp to make smores and play the classic 90's game: Bop It (packing light was obviously not a priority here). As we all fell asleep we heard a few bobcats barking not far from our camp, owls hooting over the canyon, and A LOT of  animals patrolling the surrounding area. It was the perfect way to fall asleep.
The next morning we headed out with a plan to reach the canyon floor. The trail was very poorly marked so we got lost a few times, but because of that we found some pretty cool places. Four Mile Run was my personal favorite. This little, powerful creek was covered with lots of moss, rapids, and small waterfalls.
We finally stumbled our way back to the trail and reached Pine Creek, the body of water that carved it's way through the mountains and made the gorge. The water was relatively shallow, but we spent some time fishing and splashing in the water. Unfortunately a suddenly thunderstorm pushed us off of the trail sooner than we had hoped… and got all of our tents wet (second weekend with surprise rain yay!), but there could be worst things. So we hurried down the trail, threw our wet things into the car, and started the drive home.
Overall, the trip was a success. I used my water bladder for the first time and realized just how wonderful it is to have a straw full of water on your pack to drink from whenever you get the slightest bit thirsty. I also learned to always be prepared for rain while camping… even when the forecast says there is a 0% chance.
Adventure 3: Appalachian Trail: Bake Oven Knob to Lehigh Gap
So, this adventure was bittersweet because the multiple weekends of camping were supposed to lead up to a wonderful backpacking trip in the Adirondacks. I was looking forward to the trip for weeks and was jumping off the walls with excitement. However, something at home came up so James and I had to settle for a day hike on the AT, which ended up being super awesome.
The trail leading up to and immediately after Bake Oven Knob have to be where PA gets the nickname "Rocksylvania" because I have never experienced a trail this rocky before. We may have gone a solid mile before touching soil again, but it was a great way to test the traction on my boots and get used the climbing  massive rock piles. The view from Bake Oven Knob was breathtaking as always, but somewhat disheartening because of the amount of graffiti at the top. Once we got back to our car, we decided to walk a little further on the AT going SOBO. The trail was so nice: soft dirt and beautiful shade.
I now officially think that I am going to need to add rock conditioning to my list of trail workouts and realize how awesome trekking poles would be when going over rocks.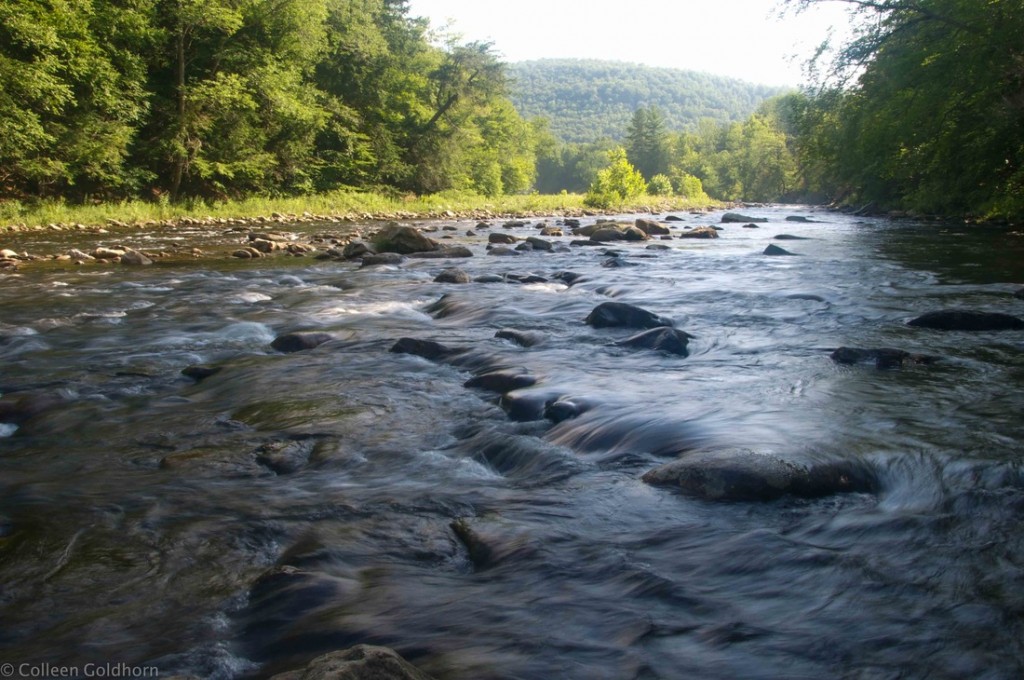 My life has basically consisted of working around 40 hours a week to make thru-hike money, then camping and hiking the whole weekend. I have never been so exhausted, but I am having the most fun summer of my life (hopefully next summer beats it with my thru hike though!!) Just a few more hikes of the summer, a family vacation, and then it's back to school for this chick to finish up undergrad.  I have explored more of PA and the Appalachian Mountains this summer than I ever could have imagined, and have fallen in love with the region more and more with each new hike.
Happy Hiking!
Affiliate Disclosure
This website contains affiliate links, which means The Trek may receive a percentage of any product or service you purchase using the links in the articles or advertisements. The buyer pays the same price as they would otherwise, and your purchase helps to support The Trek's ongoing goal to serve you quality backpacking advice and information. Thanks for your support!
To learn more, please visit the About This Site page.