Almost halfway there!
Day 84
We woke up on time (5:30am) even after a "late night" out. Since many others were still sleeping we gathered our stuff and headed outside to a sitting area. We made coffee, shouted goodbye to the chonky cat waiting on the porch and then set out knowing we had another 25 mile day and had to get going.
Our hiking focused minds immediately got sidetracked when we saw the Quick Mart on the way out of town. We had to get a second breakfast snack. We ate quickly and resumed our hike out of town…then we saw a Sunoco….more coffee is needed. We finished our beverages knowing we needed to get our act together and break away from the town vortex.
We finally pushed through and made the ascent out of town to Hawk Rock. When we reached the summit we were rewarded with a beautiful view. The thick mist swirled and covered the town. We stayed for a minute but had to push on. The landscape rolled up and down and the rocks continued on but have been less consistent. We know they will end soon! Our poor feet need a break.
We had a frightening moment on trail just several miles into our day. We were moving through the winding, single track trail and then heard a gunshot ring out. It was very loud which meant it was very close. Uneasily we made our way forward, talking loudly hoping the blaze orange hat Eric had on his backpack was enough. After a minute or two we saw a couple on the trail firing their rifle into the woods. They stepped off trail to let us pass and we were glad to get away from it. We knew hunting was allowed in the area but felt pretty uncomfortable that it was taking place on a high traffic, narrow, winding trail. A couple miles later we ran into Amethyst and Mishap. We chatted a bit and brought up the gunfire incident and they seemed unsurprised. We guess it's something we will have to get used to seeing the farther south we get. While we knew what they were doing wasn't illegal, it still just felt unsafe.
We put the uneasiness behind us and continued on moving quickly. We didn't get far before we had another scare. Hayley hopped over a down tree and on the other side saw a massive black snake just hanging out. While it's not poisonous, it's still startling seeing a three or four foot snake staring up at you from behind a log as you hop over it.
We stopped for a lunch break and were soon joined by Wildfire and Ducky. They too were caught by the town vortex and had a later start. We chatted a bit about the easy terrain coming up for the last several miles of the day.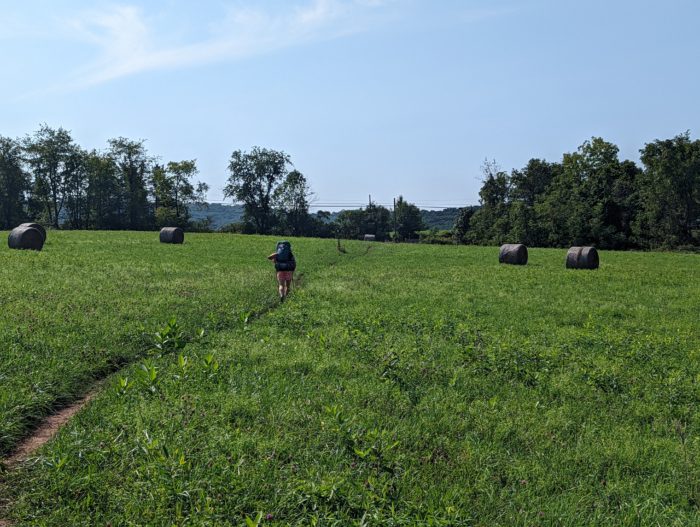 We took off and immediately hit some of the beautiful southern PA farmland. We skirted fields and reveled at rockless flat expanse in front of us. We cruised pushing 3.5 miles an hour. We hit a road and then passed a farmstand. We all stopped and purchased some chocolate flavored raw milk. Hayley laughed because she couldn't find chocolate milk at either of the two gas stations this morning and then this afternoon it's available and better than you can imagine! The trail provides! We downed our nutrients and took off again.
Wildfire and Ducky pulled away but we knew we would see them again soon. Less than a couple hours later we hiked into Boiling Springs, a very quaint town. The pond was beautiful and had dozens of geese and ducks swimming around. We grabbed some pizza and watched the sun set over the picturesque town.
We put our headlamps on and walked the half mile to the campsite in town. Some others were already camped so we just took any flat spot and threw up our tent. We went to bed at our usual 9pm and then the train came. We had crossed train tracks either and knew it would be an issue but we had no idea. It was extremely close, loud and frequent. We prepared ourselves for a long night.
Day 85
We woke early, mostly because a train came through at 5AM, so we packed up and back tracked a few tenths to a picnic table near a peaceful stream for our morning coffee. During coffee we noted how much later the sun was rising and the nice cool feel in the air. Fall is definitely just around the corner. We set off a little before 7AM and enjoyed strolling through the farmland in the early morning light.
Not much to note from the trail.  We did stop by a small deli/camp store for second breakfast.  Many of the other SOBOs who camped at the shelter a few miles from Boiling Springs were already there. We also saw Field Medic again whom we haven't seen since New York.  Everyone is excited for half gallon challenge.  This thru-hiker tradition is completed at Pine Grove Furnace, near the half way point of the trail.  The goal is to eat a half gallon of ice cream as fast as you can.
The trail continued to mosey along over some non descript PUDs.  The thought of eating ice cream for lunch was on our minds.  We cruised into Pine Grove Furnace a little after 2PM.  We dropped our stuff at the hostel next door and headed over to the general store.  It was really nice to finish early.  This allowed time to rest our tired feet and eat lots of ice cream.
At the general store we saw Cast Iron, Ducky and Wildfire had finished their challenge. We went to the freezer and chose our flavors carefully.  Eric went with 1.5 quarts of black cherry and pint of strawberry, his theory is the smoother the ice cream the easier it goes down. Hayley chose 1.5 quarts of Oreo and a pint of birthday cake, her theory is the more interesting the ice cream the easier to finish.  Our weapons in the dairy battle were our own titanium sporks! The others made rookie mistakes by trying to use plastic spoons (Wildfire broke two spoons earlier).
Eric completed the challenge 15 minutes and 20 seconds.  Hayley determined to be under a half hour, finished in 29 minutes and 28 seconds.  Feeling both accomplished and defeated we relaxed with full bellies. Eric said he could do the challenge again, no problem. The SOBO in our bubble with the best time was Wildfire at 12 mins.
We collected our trophies (a small wooden stick with a Half Gallon challenge stamp on it) then waddled over to the ATC museum.  It's a very interesting and well done little museum about the history of the Appalachian Trail.
Afterwards, we strolled back the Ironmasters Mansion hostel.  A very picturesque historic mansion with manicured lawns and big porch.  It's open to hikers and campers of any kind. We claimed a bunk, did some laundry and showered. We enjoyed hanging out with the other hikers (mostly the SOBO bubble we had been hiking around) and had a restful nights sleep.
Affiliate Disclosure
This website contains affiliate links, which means The Trek may receive a percentage of any product or service you purchase using the links in the articles or advertisements. The buyer pays the same price as they would otherwise, and your purchase helps to support The Trek's ongoing goal to serve you quality backpacking advice and information. Thanks for your support!
To learn more, please visit the About This Site page.