Am I Gonna Have To Fight This Pony? (Days 44-48, Damascus to Atkins)
Day 44
Start: Damascus, VA
Finish:  Lost Mountain Shelter
AT Miles Hiked Today: 16.0
Overall AT Miles Hiked: 484.8
Miles To Go Until Katahdin: 1,704.8
I slept great last night, in a real bed for the first time since Erwin. Crusher and Reindeer stayed up a bit later than me, but the hot tub made me sleepy, and I was asleep by 10. I published the post yesterday before we got in the hot tub, so here's a shot of us soaking our weary bones in 100 degree water!
First breakfast was a leftover breakfast burrito from yesterday, along with grapes I bought at the supermarket and green tea. (I miss green tea so much out here on the trail!) For some reason Reindeer and I both bought half gallons of chocolate milk, and we were struggling this morning to choke down as much as possible before hitting the trail. Lesson learned: a half gallon of milk is way too much milk.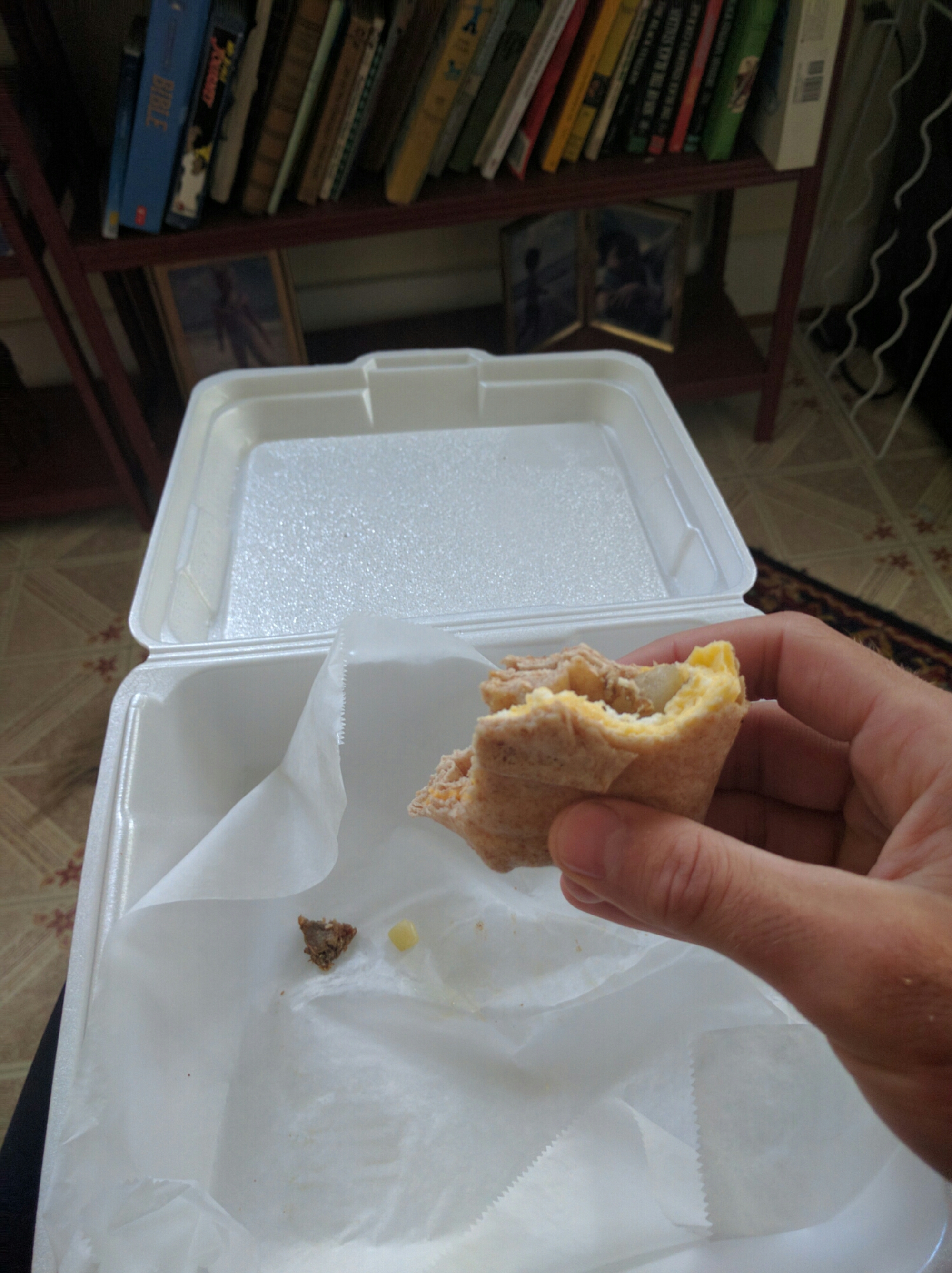 Second breakfast was the breakfast served by the B&B, which was quiche (spelling?) and bacon. By that point I was stuffed, and I went back upstairs to relax while Crusher ran over to the post office to mail some stuff home.
Here are some more shots of our B&B. We had a fantastic stay, I highly recommend Dancing Bear!
We left at 10:30 with the intention of doing 16 miles to Lost Mountain Shelter. Bit of a late start, but we were well rested.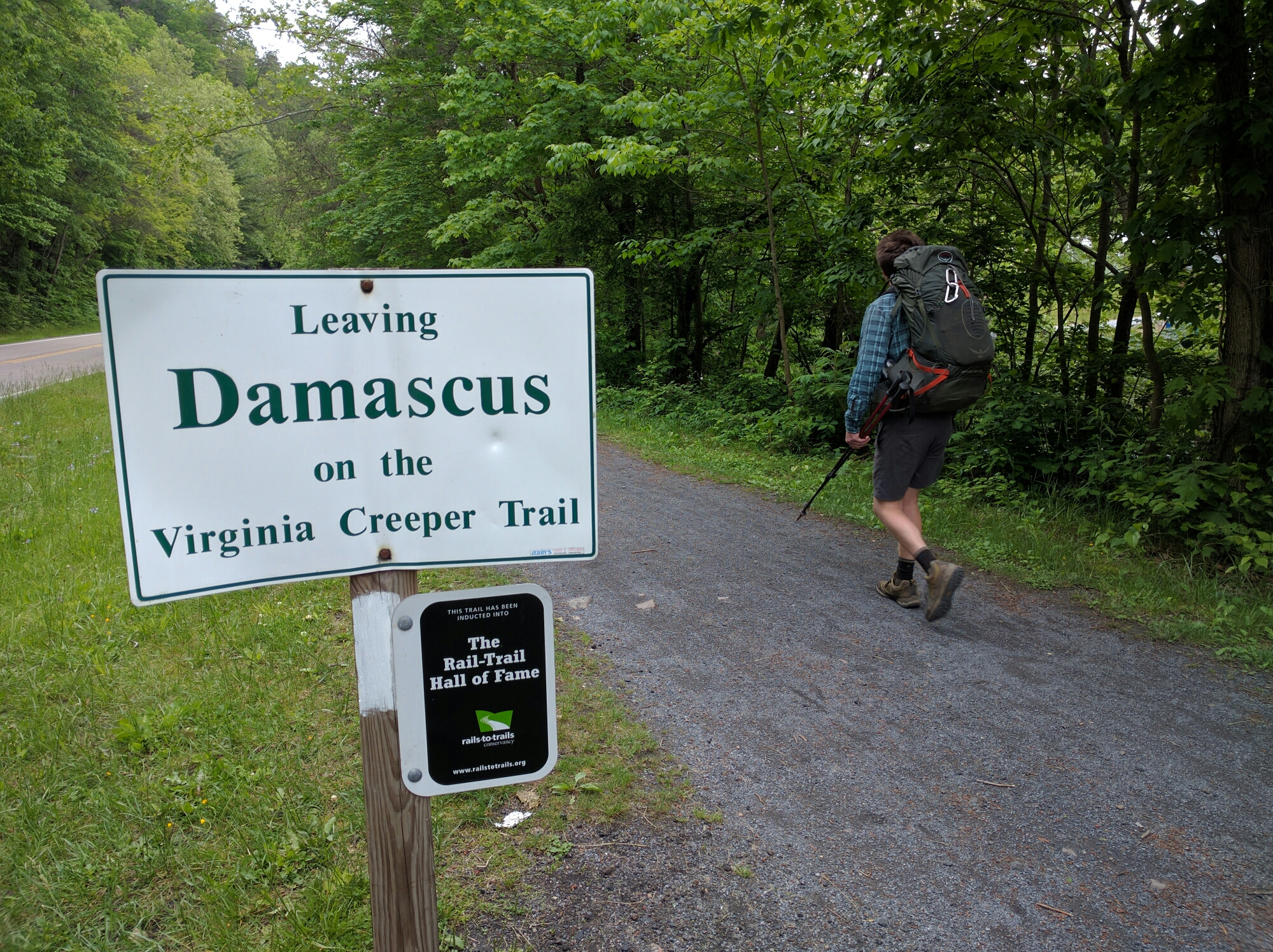 Parts of the AT today ran along the Virginia Creeper Trail, which I believe is an old railroad area in Virginia that has been converted into a biking and hiking trail. The best part is that whenever we were on the Virginia Creeper Trail, the trail was almost completely flat! But, we soon turned off onto the real AT, which involved hills and such.
It was super chilly for most of the day. The temperatures got below 40 last night according to a hiker we spoke with. The temps in the low 50's with cloudy skies were perfect hiking weather and we made great time through our morning, barely pausing and needing very little water.
I walked ahead of Reindeer for most of the day, and Crusher fell far behind. But, I was far from alone, as the trail was PACKED with thru hikers, section hikers, day hikers and bikers on the Virginia Creeper Trail!
As I rolled up to the shelter, I could tell that there were a ton of people camped there. So I went a bit past and found Nilla in a great spot. She had left town before us and hiked along the Virginia Creeper Trail for most of the day.
All in all, this was one of the easiest days of hiking that I've had on the trail. I packed way too much food out of Damascus, I think I'm overcompensating due to the terrible resupply out of Kincora Hostel last week. Oh well, I'll be well fed for the next 5 days, not a huge deal.
We hit the Grayson Highlands tomorrow, and cross over mile 500! Exciting stuff! I've heard this is a beautiful section of trail, and we got a great start today. Looking forward to the wild ponies at the Highlands tomorrow!
Day 45
Start: Lost Mountain Shelter
Finish: Wise Shelter
AT Miles Hiked Today: 17.5
Overall AT Miles Hiked: 502.3
Miles To Go Until Katahdin: 1,686.8
I slept great last night, but when I woke up, it was to the sound of rain thwaking on my tent. The rain let up and I dashed out to get my food bag, then settled back into my tent to eat and watch the rain. Unfortunately it continued to rain past our planned departure time of 8, so with a sigh I packed up my tent, put on my rain coat, and hit the trail with Reindeer. Crusher was to set off about 15 minutes after we left, and Nilla was gonna try to wait out the rain.
It was miserable walking in the rain. Cold, and no views to speak of, as the fog was pressing in from all sides.
The first half of our day was straight uphill, up above 5,000 feet to Whitetop. The elevation wasn't so bad, but it was so rocky! We slowly picked out way up the trail and moaned aloud about our sore ankles.
A little past noon, the rain finally started to let up. We cleared the parking lot and started ascending Mt. Rogers, which is the last time we will go above 5,000 feet for a very long time! The terrain went from gently rolling fields to terrible rocky sections, back and forth.
The shelter on top of Mt Rogers was PACKED with hikers. I think we are still in the bubble of hikers who went out of Trail Days last weekend. Hopefully they clear out soon. I posted up a little ways away and ate a snack, but was soon on my way.
A few miles later, we entered the Grayson Highlands! The Highlands are known to have wild ponies roaming the hills. So I was psyched to hang out with the ponies. The weather was starting to clear as well, and the views were magnificent. I crossed over the 500 mile mark at the start of the Highlands. 500 miles, damn. Where has the time gone?/
I was a bit ahead of Reindeer, so I sat down at a scenic spot and took out my jerky and almonds to wait. I heard a rustling from my left and there they were, two wild ponies! One came right up within a foot of me and just hung out, clearly hoping to score some beef jerky. I didn't feed it, but I did reach out and pet it. A few other hikers rolled up and it hung out for a bit, then wandered back down the trail.
The other hikers departed, and I sat back down to wait for Reindeer.
Not even one minute later, I hear a rustling from up the trail, and see a flash of white. What the…? I thought to myself, and out runs a pure white pony, looking like Gandalf's horse from Lord of the Rings. And it's coming right for me at a full gallop.
The first thought that popped into my head: Oh shit, am I gonna have to fight this pony?
Fortunately for me (and for the pony) it turned at the last second and galloped off into the brush. Crisis averted. Still, I thought I better get a move on, before these ponies turned aggressive.
The rest of the day was uneventful. All downhill to the shelter from there. We covered good mileage today despite crappy weather and pony breaks. We may do 20 tomorrow depending on how we are feeling, which would set us up very nicely for a Nero into Atkins in 3 days. We shall see!
Day 46
Start: Wise Shelter
Finish: Dickey Gap / Troutdale Baptist Church Hostel
AT Miles Hiked Today: 16.0
Overall AT Miles Hiked: 518.3
Miles To Go Until Katahdin: 1,670.8
This day started great and ended great, with a terrible middle to the day.
We rolled out of camp at 8:30. Nilla never turned up last night so it was just me, Crusher and Reindeer all day today. Within a few miles we were back into the open prairie with the ponies and bulls. Great way to start the day! Very scenic.
After crossing the open fields, most of the rest of the day was downhill. The sky started to cloud over, but I was cruising and didn't mind. Cool and not raining is perfect hiking weather!
We crossed a road about halfway through the day and saw a notice for a hiker picnic hosted by a local Baptist Church with free shuttling from Dickey Gap to the picnic.
Dickey Gap was 16 miles into our day, so we shrugged and agreed to check it out if the timing worked out.
As the day wore on, Crusher and Reindeer dropped behind, and I went on ahead. My ankles were feeling fine and I was rocking out to some Talking Heads. I was just thinking about how today was pretty close to a perfect day, when all of a sudden it started pouring! At that point I was 14 miles into my day, so I threw on my rain gear and cranked out the last two miles to Dickey Gap.
When I arrived at the gap, I took shelter under a national park information sign. It was so cold, definitely below 50, and I was miserable and ready to not be wet any more. There were two volunteers at the sign telling hikers about the picnic and free shuttles. I waited about 45 minutes for Crusher and Reindeer to show up, then we hopped in the back of a truck and went to check out the food!
We got there at 4 and the food wasn't served until 6, so we bummed around and watched as they set up platter after platter of delicious homemade chili, mac and cheese, burgers and hot dogs. My goodness we were hungry.
All told there were about 60 or so hikers shuttled in from several different gaps by the time we could eat. And boy, did we eat! I had 2 burgers, 2 hot dogs, mac and cheese, potato salad, watermelon, chili, and tortilla chips. I was so stuffed! We all ate ourselves stupid, then settled in the local pastor spoke to us about God. I was happy to hear him out, as I had just eaten about 5 pounds of food and couldn't move from my seat.
I retired to my tent full and happy. We are spending the night here, and I set up my tent about 30 feet away from the food area. It's supposed to be a cold, rainy night tonight. In fact, we got a weather update from the guy next to us at dinner, and he said it's gonna be cold and rainy for the next several days. Looks like Saturday they're calling for 1-2 inches of rain. That's the day I'm supposed to shuttle back to the Grayson Highlands to meet my cousin and his boy scout troop, which is a bummer but we'll make it work! For now, I'm just happy to have a full belly and a warm sleeping bag.
Day 47
Start: Dickey Gap / Troutdale Baptist Church Hostel
Finish: Chatfield Shelter
AT Miles Hiked Today: 20.9
Overall AT Miles Hiked: 539.2
Miles To Go Until Katahdin: 1,649.9
Long, long day today – but we got within a few miles of Atkins and set ourselves up for a Nero tomorrow.
It rained out last night, but the rain stopped close to dawn. I woke as the rest of the camp woke – with so many hikers camped out on the church grounds, everyone got moving around the same time. We all packed up and tossed out gear in the back of the pastor's truck.
We got moving around 9:30, which is not conducive to doing big miles, especially as the weather was looking sketchy. Still, the rain was holding off for the moment, so we were happy.
Reindeer was flying out of the gate. I had to drop back over the first few miles as he was going much faster than me! I caught up at the top of the first mountain, where there were a gaggle of hikers checking their phones. The tops of mountains are the only place many hikers get cell phone service.
The skies were threatening rain and sprinkling on and off, so I had my pack cover on the entire day. Just hold off a little longer, I prayed to the rain gods. Both my pairs of socks were already wet, I don't think I psychologically could have dealt with another full day of rain.
The trail for the first 14 miles was mostly smooth. I was hiking with both Reindeer and Crusher for the start of the day but I eventually jetted out in front and hiked alone for the latter part of the day. Reindeer's ankles keep him from going fast on downhills or on rocky terrain.
Around 3pm I rolled into Partnership Shelter, which is a deluxe shelter right next to the Mt Rogers Visitor Center. You can order pizza delivery to the visitors center, and a bunch of hikers were already there planning their dinner orders. I decided to push on, as that was only 14 miles into my day, and I had lots of energy from eating several thousand calories for dinner the night before. It's amazing what a good meal will do for you!
The last 7 miles of the day were pretty brutal. Rocks, steep terrain, and a long waterless stretch all combined to make me a slow, grumpy hiker. My Achilles tendon on my right ankle also started to hurt again. I was slowly limping my way from rock to rock most of the way.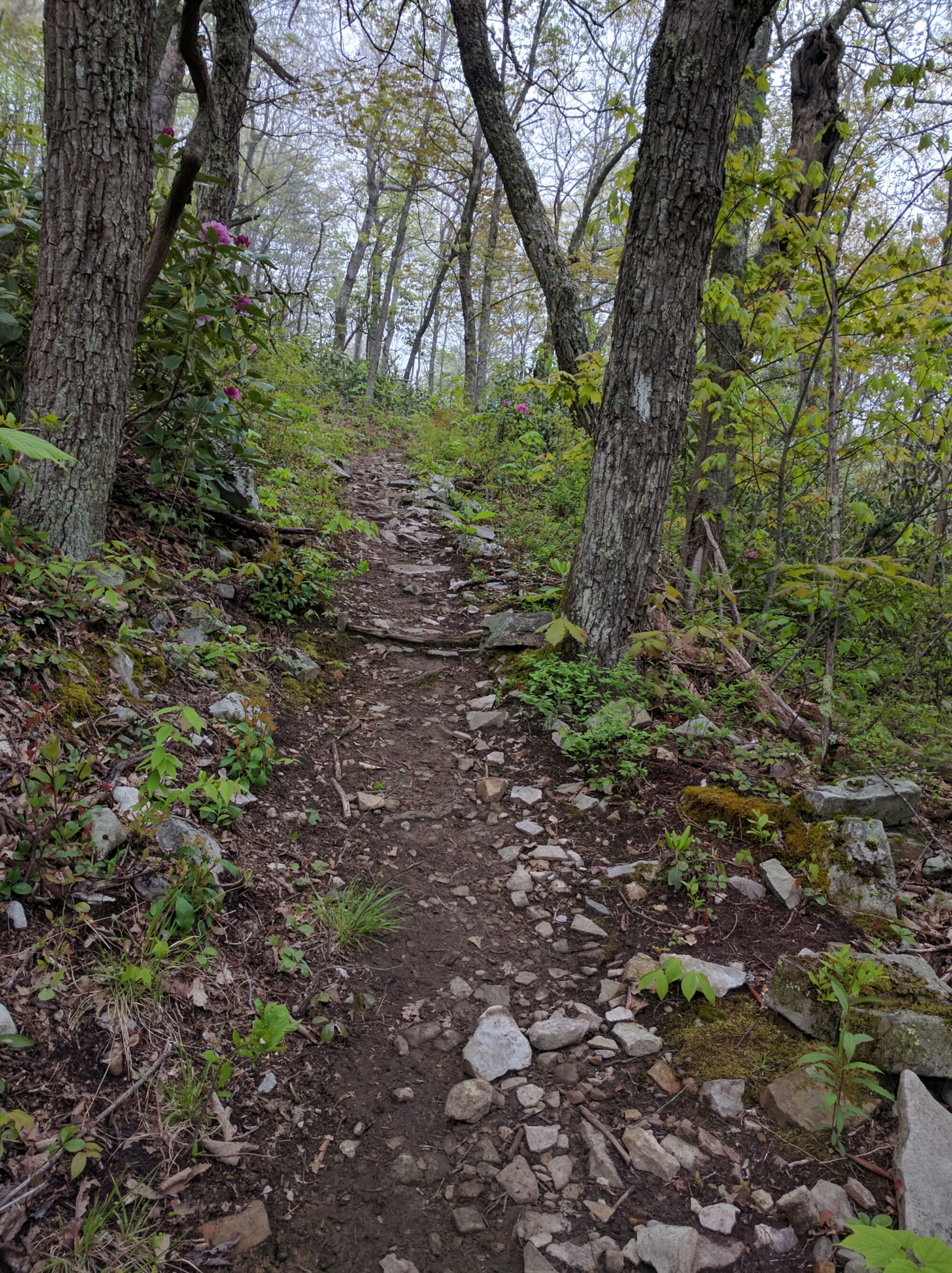 As I was taking a break I met a hiker named Peter Pan, who is flying down the trail, pun fully intended. He was trying to make it all the way to town despite it already being 5pm, with 10 miles to go.
I got to the shelter to find there was almost no tenting space, but I made it work by commandeering the area next to the fire pit. I grabbed dinner and had a great time talking to Hellbender, Backseat Driver, and some kind of mushroom, who we had met going over Bald Mountain the day it snowed on us.
Crusher and Reindeer rolled in around 7:30, not looking happy. It had been a long day and they still needed to do camp chores before going to bed. I crawled in my tent around 8.
We plan on being at The Barn, a restaurant in town, in time for a monster breakfast. If we could cover 10 miles into Damascus before 11am, we can get into Atkins in the early morning as well! Hopefully there's no rain tomorrow morning… We got really lucky today.
Day 48
Start: Chatfield Shelter
Finish: Atkins, VA
AT Miles Hiked Today: 4.7
Overall AT Miles Hiked: 543.9
Miles To Go Until Katahdin: 1,645.2
Crusher and I were up early, just after 6am, and quickly packed up. Reindeer had a rough day yesterday so he slept in for a little longer. Crusher and I rolled out a little before 7:30 for the mostly downhill sprint to town.
We passed by a really cool old schoolhouse which had trail magic left by a local church!
When we arrived in town we immediately hit a local hiker favorite restaurant called The Barn. Huge breakfast followed! Windwalker joined us as well.
The hotel is a bit dumpy, but it will get the job done!
As I got back into service for the first time since Damascus, I got a message from my cousin saying he would not be able to make it to the Grayson Highlands this weekend. I had been planning on taking a shuttle to the Highlands to meet him and his boy scouts tomorrow. Huge bummer! But, it makes it possible for me to keep hiking with Crusher and Reindeer.
After doing laundry, Reindeer and I tried to hitch into town, but we had no luck for about 20 minutes. The post office closed soon, so i was getting worried, but fortunately the local bus transit came and picked us up to give us a ride for the 3 miles into town. I shipped back my winter sleeping bag (got my summer bag sent here), my baseball cap (got a full brimmed hat sent here), my sleep pad stuff sack, and my sunglasses and case.
We had lots of trouble hitching back out as well, until a former armed forces guy picked us up in his truck. He explained this wasn't a very stranger-friendly town, which explained the trouble hitching.
Not a long post today, but my WordPress app keeps crashing again, from all the pictures. Thanks to everyone who comments on my posts and offers encouragement, it's much appreciated! I'm glad you all are enjoying the posts.
Hopefully an easy week coming up, with 46 miles to Bland, then 45 miles to Pearisburg.
Until next time, happy trails!
-Slice
Affiliate Disclosure
This website contains affiliate links, which means The Trek may receive a percentage of any product or service you purchase using the links in the articles or advertisements. The buyer pays the same price as they would otherwise, and your purchase helps to support The Trek's ongoing goal to serve you quality backpacking advice and information. Thanks for your support!
To learn more, please visit the About This Site page.