And Through The Thickets I Go
It's finally here! Nine months of excessive planning, gear purchases, endless YouTube videos, REI visits, training hikes, Facebook group conversations, and those restless thoughts rushing through my mind: everything and anything Appalachian Trail.
Hello all, my name is Amber Redfield,
and you have just joined me on my AT thruhike.
Breaking The News
"You're going to walk over 2,000 miles on a trail halfway up the East Coast? Oh Amber, you are one of a kind! Crazy, but that's just who you are."

"Please don't die."

"What, no way! That's been a dream of mine all my life and now I have a cubicle job that I hate. Hike the AT for me. Don't get caught up on corporate life. It's horrible. I wish I could just leave it all. Do it for all of us who let our daydream fade away."

"See, your problem is the fact you like spiders and snakes. And they won't realise you're not scared of them until you're trying to pick one up and educate whoever is around about the species and its behaviour."

"Why?"

"Do. Not. Hang. Off. McAfee. Knob."
Oh yeah, I've heard them all. Friends, family members, coworkers, perfect strangers… you name it! It's funny how everyone has colourful and varied reactions to my lifestyle. It seems the word "crazy" is always the ongoing theme, but my track record tends to solidify that. Whoops!
So, how did I get here? How did I come to this very moment in time writing an introductory to who I am and why I am hiking the Appalachian Trail? From Philadelphia, Pennsylvania down to Springer Mountain, Georgia… to turn right back around and head north… Why the AT? Why hike at all?
Buckle up, folks, this might get a bit rocky. Literally.
Dinosaurs. Nature. Exploring.
Let's backtrack for a moment: 24 years ago.
When I was just 4 years old, I saw Jurassic Park with my dad when it was released in 1993. Full of suspense, gorgeous dinosaurs, cool vehicles, ME (!!!!), and beautiful views – I was in heaven!
My mother wasn't too thrilled with the decision due to the fact it might scar me for life, but instead it threw me into a life of outdoor adventuresd; igging up my friend's backyard to find dinosaur bones, collecting minerals, climbing pine trees 50 feet higher than a 8 year old should, and just being a wildly curious child.
"I swear you were raised by wolves." – my mother

"I didn't teach you to eat like that; this isn't a truck stop or a barn." – my mother (again)

"How many birds have you rehabilitated at this point? People keep knocking at the door with animals they've found that are injured." – (yep you guessed it) my mother
"No, Amber, you cannot bring your cousin's tortoise here. You're not "babysitting it", you're adopting it. We know this game. No. Turtles." – my father
Jurassic Park, Crocodile Dundee, Twister, Steve Irwin, Discovery Channel, nature camps, Animal Planet, Walking With Dinosaurs (just to name a few)… I had a thirst for knowledge and adventure at a very young age. It's stuck with me all these years, and now I have my childhood dream job: working with a scientific research museum where I clean and repair fossils for study and museum display, as well as being a Naturalist and educator in Earth Sciences at the same museum. I now teach at the same museum I went to as a kid for field trips. How the tables turned in the best way possible!
Anyone ever been to the Academy of Natural Sciences of Drexel University in Philadelphia? Well, you might have met me over the years! Here, have a nerdy photo of me talking about the anatomy of a Deinonychus (raptor like in JP). Also, go to their Facebook page and you'll see me doing a Dinosaur Hall tour!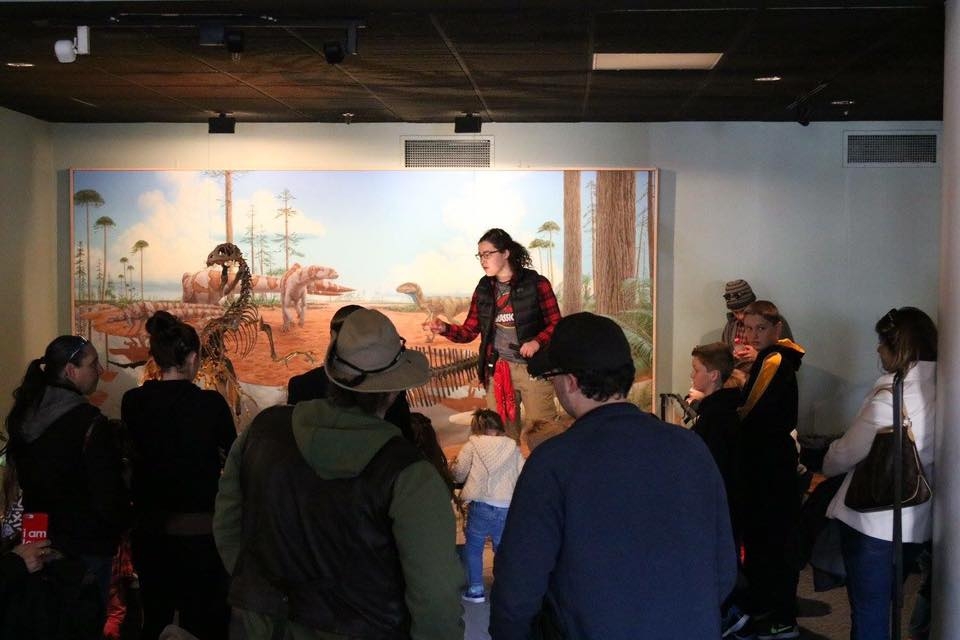 Wait, I'll do ya one better. How about me with a bunch of Jeeps from my crew? My only vehicle is a Jurassic Park Jeep, and I'm a member with other fans who recreate the vehicles from the films.
Yeah, I love what I do! And I am incredibly lucky that the museum is allowing me to take time off from working as an educator and camp counsellor to hike the Appalachian Trail. I'll be in the elements and experiencing much of what I teach to the public!
You wanna to know about that rock over there? Come find me. I'll talk your ear off about ductile deformation, strata, and subduction zones.
Why I'm Hiking The Appalachian Trail
Look, I could go on and on about the stuff I do off the trail, but I can get into that later in another post! I'm just a very passionate person who tends to go off on various tangents when it comes to explaining how I got here. There's plenty of time to dive into that during the next few months as I make my way up to Maine.
In the end – with all I've experienced so far in life – deep down it's just my full-blown love for the outdoors and always exploring the world around me. For the trees. The animals. The weather. The rocks. The natural history. The people who have walked it before. The people who will walk it in the future. The explorers who think like me and believe that our world is truly magnificent and not just about the new celebrities wearing some fashion brand I don't know. I just love hiking.
We are a part of this world. We're not above other animals. We are animals. I think too many people forget our roots as humans. Bringing that simplicity back into the fold is something near and dear to me. I want people to reconnect with nature again, and if I can bring my love for nature to them through Instagram, Facebook, or the museum… I will do so. Sharing my passions are so important to me.
Conclusion
I'm just always thinking about the next adventure. I've lived right outside Philadelphia most of my life, with the Appalachian Trail (Pulpit Rock/Pinnacle) only an hour or so away from my house, it's been wonderful to train on the AT and go out hiking to help clear my mind. I'm very well versed in Rocksylvania, and it's been a trail I've always dreamed about hiking fully.
Dreams can become a reality if you push yourself in the right direction. "It's the deep breath before the plunge" as Gandalf once said. Life will not change if you do not allow yourself to evolve and take chances that might be out of your comfort zone. It takes a lot to leave all your friends, family, jobs, a "normal" lifestyle, and everything you know to go off into the unknown.
To conclude my ridiculously long introductory post, I would like to leave you with an inspirational video made by Life Eternal, focused on the wise words of Alan Watts about trusting our instincts and brains. Alan and his words – which I discovered years back – have helped me rewire my mind and spirit to start a new chapter of my life.
Be sure to subscribe to my posts with your email on my profile page to keep up with my ongoing prep for 2018 and flashbacks to this year's 2017 section hike! And make sure to follow me on the social media links listed below for tons of images!
Keep on keeping on, family.
•  Furiosa •
SaveSave
Affiliate Disclosure
This website contains affiliate links, which means The Trek may receive a percentage of any product or service you purchase using the links in the articles or advertisements. The buyer pays the same price as they would otherwise, and your purchase helps to support The Trek's ongoing goal to serve you quality backpacking advice and information. Thanks for your support!
To learn more, please visit the About This Site page.