Angels and Magic in North Carolina and Tennessee 
I'm not sure anything will top the trail magic in Georgia (through which I gained five pounds), but North Carolina and Tennessee did not disappoint!
And so it begins…in Franklin!
My first trail magic was from shuttle driver Bobby "The Greek." I was sitting at Rock Gap waiting for the folks from Onward Hostel when he pulled up and offered us all a Coke. He spent the next half hour chatting with us all.
Bobby "The Greek" provided my first NC trail magic. He's a good guy with a great story–ask him about how much weight he's lost if you ride with him for a shuttle.
The next morning in Franklin, serious trail magic was doled out by the Franklin First Baptist Church. The church provided a free shuttle and driver Doyle picked a group of us up from the hostel. The church folks cook up a free hiker breakfast of pancakes and bacon, rounded out with fresh fruit, coffee and juice, every morning from mid-March through mid-April. They've been feeding hikers this way for 16 years.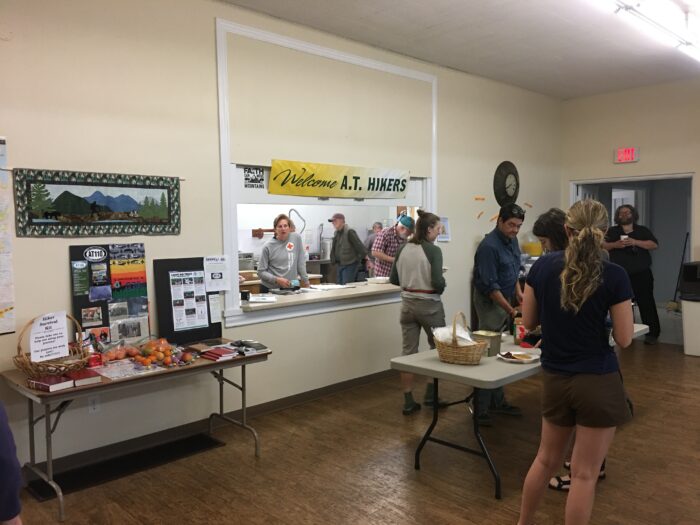 Franklin First Baptist Church provided an all-you-can-eat breakfast for hikers. They even had a table with fruit, bagged homemade cookies, and Easter candy we could take with us.
I'm not a fan of "fake" syrup (only 100% maple, thanks) so I dropped a dollop of homemade jam on my pancakes. It was super yummy!
Bryson City & Robbinsville
Easter Sunday brought two kinds of trail magic: a church in Bryson City was kind enough to send someone to pick me up for church. When I was dropped back off at the trailhead, Raymond had set up a tent and was cooking up chili dogs! He also had coffee, pop, chips, and candy bars (I grabbed a snickers).
Raymond happily cooked up hot dogs for hungry hikers. Not your typical Easter dinner, but we hikers sure did enjoy it! He also asked us to sign his shirt.
The next day, trail angel and friend, Rachael, picked me up and provided me with a zero day at her AirBnB in Robbinsville. She took me to the grocery store so I could resupply and also toured me around the Bryson City, Robbinsville, and Fontana area. What a great time we had! 
Trail Angel Rachael–check out her AirBnB called Hala Hideaway in Robbinsville, NC.
Fontana
It might not seem like much but Fontana Marina gave a free Fla-Vor-Ice to each thru-hiker who stopped in at their floating store. As it happened, the day I stopped in was hot and the giant flavored ice stick was much appreciated. 
Some sweet tea, apple juice, and a giant Fla-Vor-Ice!
The Smokies
Sometimes trail angels do more than provide food or shelter. As I came down from Clingman's Dome, desperate for a cell signal to call for a shuttle into Gatlinburg or Cherokee, a couple—Carolyn and Ron—asked me if I needed help. I said I was hoping to call a shuttle for a ride to town but had no signal. 
Carolyn said she had read Bill Bryson's book, A Walk in the Woods, and had always wanted to be a trail angel. At that moment they both offered to drive me to town and I gratefully accepted. This amazing couple from Ohio got to be trail angels and I got to town where I could dry all my wet gear.
The next morning I caught a ride back to the trail courtesy of the First Baptist Church of Sevierville. They run a free shuttle during the height of NOBO season–the month of April–and driver Paul managed to fit quite a few hikers and all our gear into the van. We must have resembled a circus clown car upon our exit. 
Paul, the shuttle driver from the
First Baptist Church of Sevierville, drove our huge crew back into the Smokies with great humor and a few stories.
Max Patch
After descending from Max Patch I came across some anonymous trail magic. A pile of fruit and candy had been left next to a sign. This kind of magic is generally frowned upon as, being unattended, it can attract bugs, vermin, or even bears. I hoped the person who left it was not far away and would check on it. I did my part and took an apple, a banana, and a few Starburst candies.
Although this kind of magic (unsupervised) is frowned upon, I was grateful.
Hot Springs
Hot Springs was celebrating their own version of Trail Days when I passed through. At the park—full of tents and tables—I picked up a free buff and a handful of candy. But the best trail angel that day was Cindy, the librarian at the public library. I was getting frustrated as I attempted to log in to thetrek.co and was continually unsuccessful. Cindy knew certain computers were more user-friendly (with more up-to-date software) and really helped me out!
Middle of what seemed like nowhere…
During a long stretch after Hot Springs I came to a sign announcing trail magic that consisted of homemade cookies, clean water, and a trash can. An arrow pointed to an idyllic log cabin where, sure enough, all that was advertised sat on the front porch. Thank you, Southern Cookie Lady!
Clean, cold water and homemade peanut butter cookies were provided by the Southern Cookie Lady at her cabin in the woods.
You might wonder how a trash can may be considered trail magic. We thru-hikers take Leave No Trace principles seriously. As we create garbage we pack it up and carry it until we come to a trash can. Not having to carry garbage any further than necessary is definitely a blessing.
Roan Mountain
The next trail angels I met definitely kept me from freezing. I had just arrived at Carver's Gap after descending Roan Mountain and I was chilled to the bone. Heading to the restroom in the parking lot to escape the wind, a couple, Donna and Joey, asked me for directions to a bald. 
Just as they asked, a gust of wind caught my pack and blew me to the ground. 
I got back up and told them where I had come from and there were no balds, so it must be the other direction. They thanked me and I again headed for the restroom.
As I stepped over a fence, the wind took me to the ground again. I must have looked completely pathetic as they asked if I needed help. I told them I just wanted to get out of the wind. My plan was to call Mountain Harbor Hostel for a shuttle and a bunk.
I called and they had no room. 
Donna and Joey offered to drive me to the state park and there I found there was one cabin that had not been rented for the night. After days of relentless, brutal, freezing wind, I was finally able to get out of the wind and warm up.
There was no cell service in the park, but there was a land line in the cabin that made local calls only. I called Mountain Harbor again and asked for a favor. They were kind enough to call my husband and give him my cabin phone number. 
The last time we had spoken I was a frozen mess descending Roan Mountain. We were both grateful for the chance to reconnect and thankful for the Mountain Harbor trail angel who made it possible.
Dennis Cove
Smokey Bear happened to be at a road crossing just prior to Pond Wilderness and handed me a Code Red Mountain Dew. Typically, I shy away from that much sugar and caffeine but I was thankful for it that day. Smokey's gift was the final trail magic of the North Carolina/Tennessee section of the trail.
By the way, I've now hiked 500 miles!
Sing it with me…
"But I would walk 500 miles
And I would walk 500 more
Just to be the gal who walks two thousand miles
To fall down at your door…"
Affiliate Disclosure
This website contains affiliate links, which means The Trek may receive a percentage of any product or service you purchase using the links in the articles or advertisements. The buyer pays the same price as they would otherwise, and your purchase helps to support The Trek's ongoing goal to serve you quality backpacking advice and information. Thanks for your support!
To learn more, please visit the About This Site page.