Appalachian Trail Gear List for Older Hikers (Beginner-Friendly)
Meet my stepmom, Nora. She's loved hiking all her life and has dreamed about hiking the Appalachian Trail since she was in her 20s. Now, at the age of 60, she is ready to get serious about backpacking and turn her dream into reality. Check out Nora's gear list and our gear recommendations for older hikers below.

Nora grew up on the Jersey shore but regularly went day hiking on the AT in New Jersey and Pennsylvania. She was fascinated by the trail from an early age. She told me, "I would hike around the Delaware Water Gap and be entranced with the idea that I could just head south and walk to Georgia."
Nora is planning to section hike the AT over the next 10 years, with a goal of completing the trail by her 70th birthday. She is hopeful that she can begin tackling her 2,190-mile trek this May, depending on the state of the pandemic at that time. 
Gear Considerations for Older Hikers
Whatever 2021 has in store for the thru-hiking community, we knew it was high time to start talking gear. Helping Nora—who is approaching thru-hiking from a very different place than me—select items that would fit her individual preferences and priorities proved to be an interesting exercise. Throughout our gear chats, I noticed a few themes that I think are reflected in her gear list in progress:
Comfort is a higher priority.

I think many 50+ hikers would agree that they find the ease and comfort of, say, an internal frame pack and a freestanding tent with side entrances worth the extra ounces. It's a careful balancing act to make sure you don't end up with too much weight on your hips and knees, but making these concessions in the name of comfort can help older backpackers to better enjoy their hikes.
A more generous budget, perhaps?

Of course, this isn't true for all 50+ hikers, but if you've spent 40 years working and saving, you may be better able to invest in quality ultralight gear. If your gear is on the heavier side (see above), being able to spend the extra $100 for the item that weighs five ounces less can really lighten your load. And once you've made those investments, backpacking can be a pretty cheap way to spend your retirement.

Health and safety considerations are paramount.

Some older hikers, for example, might choose to carry extra ibuprofen for aches and pains, or chewable aspirin if they are at higher risk of having a heart attack. Some, like Nora, may have extra equipment they need to carry with them—more on that below.
Appalachian Trail Gear List for an Older Hiker
Older hikers may find that their gear lists aren't dramatically different from younger hikers' lists. Still, as noted above, balancing weight savings with comfort and safety may be a higher priority for older hikers. This is how  Nora's kit is shaping up so far:
The 3.5 lb Elephant in Her Pack
One of the reasons Nora is planning to tackle the AT over a longer time frame is because she has to carry a larger burden than most other hikers: she has severe sleep apnea and must carry a travel CPAP machine that weighs in at almost 3.5 lbs including the battery.
Because she has this extra weight quite literally on her shoulders, Nora is paying extra close attention to the weight of every other item in her pack while also being smart about choosing gear that is suited to beginning backpackers. 
Big Three
Nora chose the Exos/Eja pack as it seems to offer the best compromise. It is fairly light compared to most internal frame packs, but still delivers the support and padding she will need to carry heavier loads in comfort. If she follows the wise advice of her stepdaughter, she will cut the pack weight further by ditching the brain. She also liked that it came without hip belt pockets, as she's planning to use a fanny pack to carry her phone, snacks, and other essentials.
This tent is already so popular with thru-hikers that it was an easy choice. Nora chose the Copper Spur over the Fly Creek because she feels the easier-to-use side entrances are worth a few extra ounces. She also likes having the option to set up the side awnings when desired.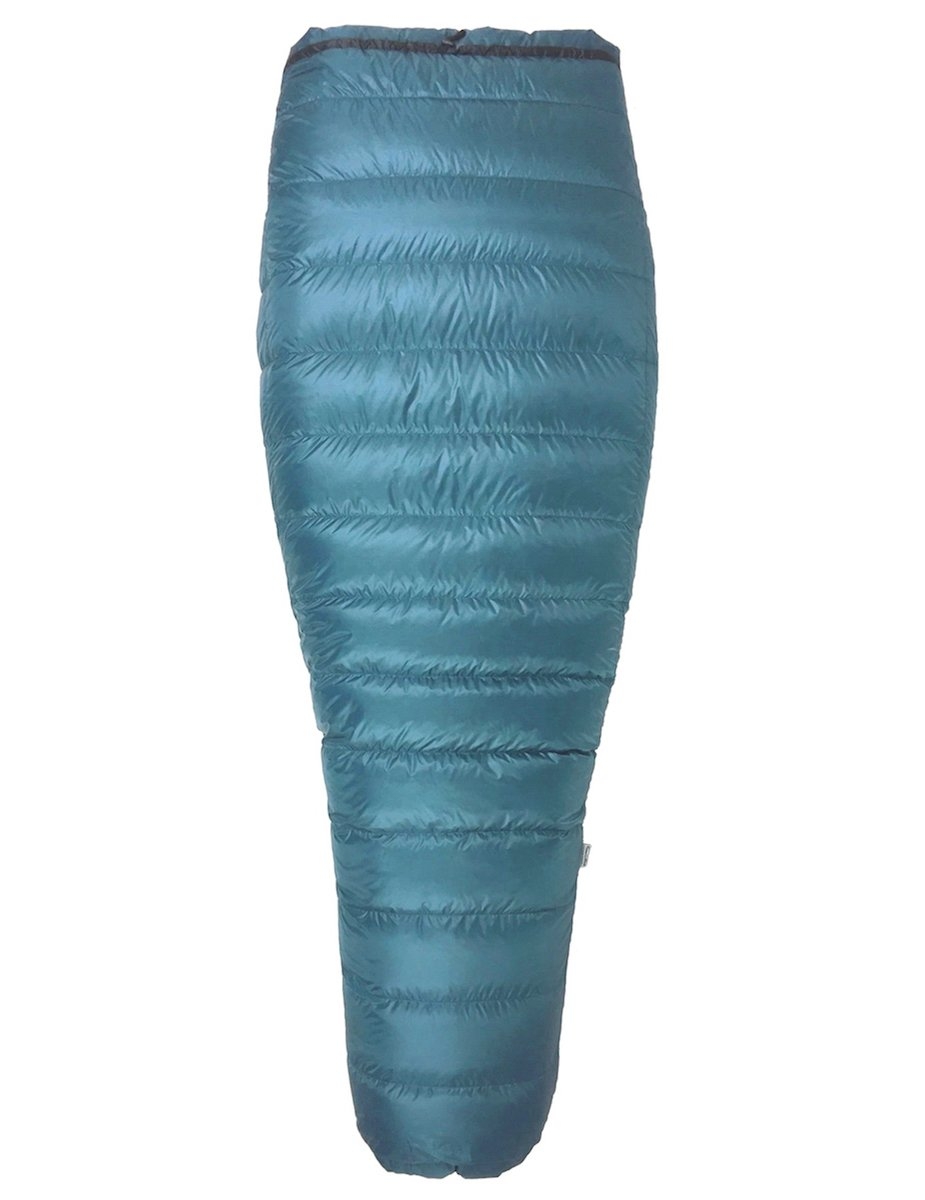 Katabatic Flex 22 Degree Quilt
I was nervous about a beginner hiker carrying a quilt right off the bat, but we ultimately agreed it was the right choice for her. Nora doesn't move around very much in her sleep and she is mostly going to plan her LASHes around milder weather, so even if she does experience drafts, it usually won't be on bitterly cold nights. Therefore, we thought the weight savings made this quilt the right choice. (The fact that I have this quilt myself and am in love with it may have influenced her decision slightly.)
Big Agnes Insulated Air Core Ultra Sleeping Pad
Nora is a side sleeper who is nervous about sliding off her sleeping pad in the middle of the night, so this Big Agnes pad is a perfect choice. It's thick enough to provide sufficient padding on her hips, while the wider baffles on the sides will help keep her cradled in the center of the pad all night.
Cooking & Water
Nora isn't big on cooking and would consider going stoveless, but isn't ready to give up on the idea of hot coffee in the mornings and at least having the option to fix herself a warm and comforting dinner after a long day of hiking. This stove is light but sturdy and incorporates a self-ignition switch for ease of use.
The Vargo BOT is also my cooking vessel of choice. I recommended it to her because I could see Nora getting into the convenience of cold soaking for some meals, but she would still want to have a pot for that morning cuppa joe. The BOT is the best of both worlds.
Sea to Summit Alpha Light Spork – Long
It's strong, it's light, enough said.
Right now this is the reservoir Nora is planning to use simply because she already has it—it came included with a Gregory daypack she purchased. 
Sawyer Squeeze with Inline Adapter Kit
With the inline adapter kit, it will be easy for Nora to filter water straight into her reservoir without having to remove it from her pack. 
Because they are just so much easier to use with the Sawyer Squeeze.
Clothes
Columbia Anytime Casual Relaxed Pants
Nora is going with pants for tick protection, and she loves the comfort of the stretchy waistband on these.
Icebreaker Motion Seamless Crew
I recommended she look at getting a wool shirt for its moisture-wicking and odor-resisting qualities; Nora liked this one for its seamless design to help prevent chafing.
Montbell Versalite Rain Jacket
It's a pricey rain jacket, but at less than six ounces, she feels it's worth it. It's proven itself to be surprisingly strong, having already survived being rubbed across granite and snagged on branches without developing holes. Nora also loves the raised pockets, which can be accessed easily even when you're wearing a hip belt.
This rain kilt weighs practically nothing and breathes better than rain pants.
Oboz Sawtooth II Low Hiking Shoes  
These are the shoes Nora is currently wearing on day hikes. She finds that many boots and trail runners irritate her ankles, and has found relief from this model's "ankle-friendly asymmetrical collar." 
Patagonia Capilene Air Crew Base Layer
This wool-blend top is comfortable and surprisingly warm considering it only weighs 5.6 ounces. 
Smartwool Merino 250 Base Layer Bottoms
Perfect for sleeping in when colder overnight temperatures are in the forecast.
Other Gear Considerations for Older Hikers
These items are often carried by thru-hikers of all ages, but can be especially important for those of retirement age:
Trekking poles to protect the knees and improve balance on uneven terrain. Nora uses the Leki Cressida Cor-Tec Trekking Poles.
A satellite communicator with an SOS button like the Garmin InReach to call for help in an emergency (and to message nervous family members on your hike to let them know you're okay).
A knee brace or patella strap for hikers with arthritis, or anyone who wants extra support and stabilization for the knee.
Compression socks and sleeves are also a common accessory for 50+ hikers because they support blood flow and can help prevent blood clots and the formation of spider veins.
A high CRI headlamp such as the Nitecore NU25 – this type of light is easier on the eyes, especially for reading and other up-close tasks.
An ultralight camp chair. Even the lightest camp chairs will add a pound to your base weight, but some older hikers may find it worthwhile to carry a chair for the extra comfort in camp at night.
We still have some more work to do on her gear list, but Nora is excited about how it's coming together. I, for one, can't wait to take her on shakedown hikes and follow along as she realizes this lifelong dream.
Affiliate Disclosure
This website contains affiliate links, which means The Trek may receive a percentage of any product or service you purchase using the links in the articles or advertisements. The buyer pays the same price as they would otherwise, and your purchase helps to support The Trek's ongoing goal to serve you quality backpacking advice and information. Thanks for your support!
To learn more, please visit the About This Site page.
Comments
31
I think this is a great article. As a 61 year old backpacker, I do agree that comfort is a key factor for those of use who attempt long distance backpacking in our 60s and 70s. I'd add that a safe (wise) approach to a thru-hike is equally important as we age.

Here is an example of comfort over weight. One of the most highly rated and popular choices for pre-hike gear lists is an UL backpack that did not work for me. It was hot and uncomfortable wiht little air flow between the pack and my back. I just sold it on eBay after using it for a 150 mile trip on the AT in October. However the dissatisfaction wiht the pack might not be limited to the grey hair set. A sales guy at the outfitter in Hot Springs, NC told me it was the #1 swapped out backpack by thru-hikers which means that a lot of people of all ages come to the realization that saving a handful of ounces ultimately does not matter if the gear is not meeting a hiker's needs and my guess is that avoiding discomfort is a top priority for all. The single walled tent by the same cottage manufacturer also did not work for me. With a syl nylon floor, I found myself often balled up at the bottom of the text multiple times a night – find me a flat camping spot on the AT! I opted for a ZPacks Duplex for this year's upcoming thru-hike of the AT. It is one ounce heavier than the one I just mentioned, but it is twice the the price at $600. As you mentioned one of the advantages of being at the upper end of the age range is having more financial resources. That balances the disadvantage of well used joints and the likelihood that you are carrying one or two or, in my case, five prescription medications. I also, just this year, added a satellite communicator – something I feel was unnecessary even a few years ago.

I think that one of the most valuable tools for hikers of any age is to look at post-hike surveys. Many people who are planning to be thru hikers have expertise based on what they've read and not what they've actually done. In that case, you often see the gear lists filled with "must have" items of the moment that do not make it to the most liked equipment as rated by successful thru-hikers. Experience counts.

My advice for the older hiker is to start slowly and increase mileage slowly. Of course, that is the standard advice from the the ATC and most hiking experts for backpackers of any age. However, I have noticed that my back, feet, and knees get cranky a lot more easily than they did in 1985. So do I (hehehe). Overuse injuries are a serious concern for older hikers who have a much greater risk of having them. Start low and go slow with mileage. Second, be as weight aware as possible. My base weight is 10.98 pounds (I already mentioned that I am a gram weenie). I've used that gear or similar set-ups for trips up to 300 miles long. Joints appreciate not having to carry lots of weight. Finally, if your budget allows for it, spring for a cheap motel more often than the younger hikers need to. Older thru-hikers are dong an amazing feat while most of our friends have long given up on being so active. A nice mattress, a warm shower, and some solitude is a beautiful thing to reward our willingness to not retreat to the sofa but rather to step out on a new adventure.

Yay for your mom and all of us older hikers. Actually for anyone who is so brave to venture out on a thru-hike. It really is a daring move.

I appreciate this article quite a bit. I reminds me that what I am doing is very abnormal for a person my age and remembering that makes me very happy. Like your mom, I refuse to retreat to the sofa, rather we are retreating to the trail!

Wazo

Thank you for your article. Do you have a gear list you would share? I would be interested to see the 10 lb base wt for a hiker who appreciates a few comforts. I have been stuck at a 17 lb base wt even after replacing with UL gear. I would appreciate any insights.

I am going to post it in my blog. To be honest, I could have never afforded all the UL gear when I was younger. As you said, there are advantages to being older including finances just as there are advantages to be younger.

I will post my gear list on my blog here on The Trek pretty soon.

Wazo

How do I sign up for your blog?

I am 55 and totally agree that i like my comforts along with being light. For the AT there is always trees which has allowed me to do the whole trail hammock style. Hummingbird hammock with the pelican tarp was key to staying light comfortable and dry. Unless i absolutely have to i will never go back to sleeping on the ground.

If tent is necessary I go with the z-pack and use my poles.

Garmin is a necessity for my husband and family to be comfortable

I stay around 14 base weight because I enjoy having my nook at the end of the day to read.

My hammock doubles as a chair so don't need to bring a chair.

Sleeping bag is a hammock bag from hyke byke (amazon) light inexpensive yet durable. No need for underquilt with these.

"If your gear is on the heavier side (see above), being able to spend the extra $100 for the item that weighs five ounces less can really lighten your load"
There is no logic on this statement. If we say I have a 30 lb. pack then I get rid of 5 oz. Ive reduced it by 1%. That is a weight that isn't noticeable. Better to have gear that can last longer and be comfortable. UL isn't always the answer.

I'm impressed that you're able to get the weight of your pack to under 11 pounds. August 2019 I walked the 500+ Miles of the Camino de Santiago from France over the Pyrenees Mountains. I'm 66 years old ,5'2 and weigh 105 lbs and could not get my pack under 11 pounds. And that was without having to carry food or a tent ! I'm hoping to hike the JMT in August and started assembling what I'll need and trying to go with the lightest items possible, we'll see.

Really liked your comment, especially since I am 70 and wanting to hike. Thanks.

ABNORMAL at 60…try starting the AT at 74.5 years old (he is younger!!!). My husband and I are seriously considering the AT this year spring 2021. Thanks for your addtional information in your comment to Jen's post.

Great information, appreciated,, especially since I'm a 64 year old hiker that enjoys getting out. I like going light, but not quite being a gram weenie. I do without some creature comforts, such as a camp chair or camp shoes. Lightweight chairs are to unsteady to make them comfortable for me. Camp shoes aren't worn enough to justify using them. My main 4 comes in around 6 pounds. Tarptent Stratosphere LI, SWD pack, sea to summit insulated ultralight pad, have a thermarest, don't care for it. Have extreme restless legs. Very noisy and I frequently find myself sliding off the pad during the night. Zpacks classic bag. Combo works well for me. Not cheap, took a while to collect it. But at age 64, major back injury 4 years ago that put me in a wheelchair, I feel Blessed to get out. Plan on Foothills trail solo trip in a couple of months. See what may happen when I retire. Tahoe rim would be nice. Great to see all the feedback.

I enjoyed your comments! I am 63 years old, and am going to be a retired nurse practitioner as of December 31st, 2022. When I lived in Colorado years ago I was an avid backpacker, but my nursing career, raising 5 kids and living in flat West Texas stopped that for awhile. I am a 4th Degree Black Belt in karate and I swim one to one and a half miles 3 to 5 times a week, karate workouts daily. I also do a lot of long walks (3 to 8 miles). I am slowly collecting ultralight equipment (I am 5 feet tall 115 pounds) and I do not have any serious health issues yet.
I am planning a short overnight hike to try the 7 mile Guadalupe Peak trail with my 8 and 11 year old grandchildren and their mom in late February or early March. I would appreciate any advice and help for getting back into the swing of my trekking poles again.

Loved this article! I'm planning to become an AT Lasher when I retire in 3 years. I've read a zillion hiking books and articles, they fuel my daydreams. But your article was clear, concise, and informative. Hopefully your stepmom will write for Trek when she begins her adventures. The fact she plans to start at age 60 and complete by age 70 actually felt as is a weight was lifted from my shoulders. I'm finally accepting that my 60 year old self will need more recovery time than my younger self. I want to hike the AT, enjoy it, and complete it…eventually. Thank you for reminding me that I don't need to rush it.

Hi,
I was on the trail in 2017. Don't forget the best thing any woman would love to have on any trail or outdoor activity: A P-Style. It allows you to pee standing up!! It was the most free feeling I had in my life the first time I used it on the trail. I didn't have to take my pack off and just stepped off the trail to do my business. AWESOME!!! Used a neckerchief as my pee cloth. When necessary, just attached it to the outside of my pack, in the sun and it was dried naturally.
Have fun.

Hike your own hike.
I also retired at 60 and started lashing with 1800+ miles on the AT over two summers and thru hiked the Colorado trail last summer.
Don't worry about keeping up the milage that most hikers do and stay within your own comfort zone. Also don't be in a hurry to get to the finish line and you will enjoy the adventure a lot more. Stop and take pictures and listen to the forest. You usually can hear the water sources before you can see them. Osprey makes good comfortable pack's and great warranty. Nemo tents have worked well for me. Thermarest mattress allows you a good night's sleep which is very important when you are on the trail for weeks or months.
Don't forget to enjoy the adventure.

from my experiences the garmin inreach mini is light and small, but not very useable for older eyes. in low light conditions the text is pretty much unreadable.

Appreciate your insight. I have the mini, I'm 64, I can still read it. Need to take directions though to figure it out everytime. I find the 3.5 ounces or so to be worth it. Insurance plan is a good idea, at least for me. Some mountain rescues are not free.

ALTERNATIVE
Jen, I am a 68 year old male backpacker with severe sleep apnea. I use a cpap machine at home but when backpacking I use a mouthpiece device called 'SnoreRX'. It pulls your lower jaw forward a bit and opens your mouth slightly all of which serves to open your airway. It works great for me and only weighs 3 oz. She should give it a try. Regards, Chip

Fantastic list – I am 62 and would like to do the same as Nora one day when I retire! Thanks so much for sharing – it is straight-forward and encouraging! I have much of what I need but loved this list as it helps focus what I don't and what I might want to change to.

As an older hiker (not quite 60 yet but it's on the horizon), I've found that I need to keep training or hiking because if I take a break, even for a few weeks, it takes me a lot longer to get back into hiking shape. Even if it is just walking around the neighborhood it's important to keep carrying the backpack because my feet make themselves heard loudly if I go a couple of weeks without carrying my pack. So I spend a 3-5 hours a week, sometimes more, carrying my pack around town or on local trails. In addition to it being good exercise it's a way to get used to carrying the weight in all seasons and weather conditions – and it's more fun that spending the 1st week of a LASH full of aches and pains as your body readjusts to the trail. I've also used it as a way to try out new gear combinations with minimal penalty if it's a poor choice. Section Hiking the AT in 10 years is great goal – best of luck to her.

Thank you, thank you, thank you for this! And I'd love to see more articles for older hikers. I plan to thru hike the AT in '22 at 58 years old. I'm giving myself as much time as possible and am ok with getting close but not quite in the season.

One thing I'm using to my advantage is my sewing experience. Made a pack already, worked out a sleeping bag design I'm testing. Honestly thought about making the tent too, still may! Gives me the ability to play with just the features I want and not worry about the rest.

I'd love to see that sub 10 lb list. My base weight is 14lbs. But like everyone else I'm trying to get it lower. Of that, 4lbs. is my sleep system alone. I guess as an older hiker you pack less of your fears and more of your aches and pains. Thank goodness experience is handy and packs light!

Hi Lisette:
I am also a quilter and seamstress. Where do you get fabric and patterns? can you email me? I would be very interested in making some of my own things for hiking.

I'll be 71 by time I start my AT NOBO in March 2022 or thereabouts. The gear considerations look similar to mine. The familiarity and price of what I already have is another factor for me.
Blessings,
Steve

Jen,
That was a great article! I am also 60+ years old, am planning an AT hike, and have severe Obstructive Sleep Apnea. I would love to know more about that "Elephant in Nora's pack". Which travel CPAP did you both choose? Which battery pack? The batteries I I'm finding are only good for up to 14 hours at most, so they only supply power for a little more than 1 night (I need 9 hours sleep). How is she planning to get by on 5 nights or so between towns without having to carry lots of weight in battery packs? I am leaning towards the Transcend 3 due to its (relative) low cost, but reviews say it's noisy. I heard from a supplier that the Z2 machine must be brought back to the store when there are updates, obviously a con while on the trail! If you have this figured out, I would love to hear back.
Thanks,
Paula

In 2005 I hiked the AT. My 60th birthday gift to myself. Today there are more lightweight options than there were in 2005. What an amazing experience. I have wanted to do it again every year since that hike but for different reasons was never able to. But I have done some smaller backpacking trips since then. I dehydrated most of my food and had mail boxes all addressed for my family to mail them to me.. Now that mail is so expensive I am not sure that is still the best option. Another thing to remember is age is just a number and on the AT you will have a lot of things in common with the younger hikers. Have fun and think about a thru hike instead of a section hike.

PS I am now 76 and still hike a 4000' mountain in NH every week all year long. Yesterday it was the Twins. The AT goes over S. Twin.

Could you email that old yet

Timers great list

Jen, you are so cute. Take some chewable aspirin in case you might get a heart attack….Probably won´t do the trick, though! If you have a heart attack on the trail, you have to call 911 and see if they can get you out ASAP. If aspirin can cure your heart attack, than there´s a big chance it was not a heart attack in the first place but just some random chest pain!

Thanks for the article! It was great to see this idea addressed. At 49, I do consider myself an older hiker. I care about comfort and I carry a chair. I get made fun of EVERY single hike. I shrug and hike on! I loved your list and rationale behind the gear picks. Thanks for the ideas. 🙂

I liked the information in your article, but I felt the tone was a little arrogant and almost patronizing. Don't forget that while some older hikers may be new, we are certainly not new to life.

Two gear choices for my older joints:
1) AARN backpack from New Zealand balances the load front to back and completely eliminates stress on my neck and shoulders, and 2) Pacerpoles reduce knee stress by directing arm forces more efficiently and ergonomically.

I completed the AT this past year as a 61 year old. For me the number one thing older hikers, especially women who tend to be lighter, need to consider is weight. This has to be balanced with safety and comfort. So test out the sleep system you are considering – I used a Thermarest Xtherm pad because the thicker ( but lower R value) pads did not keep me warm in my backyard test. I used a Tarptent that was not stand alone and did great. You learn to set it up and do not need self standing with the added weight. Smart water bottles instead of the bladder – then you can actually see how low on water you are or if you are not hydrating enough. Definitely do the Garmin Mini. Turn it off when you don't need it to check in or send an SOS and the battery will last long enough between recharging stops. I used a Gossamer Gear Mariposa pack. Yes it has a sweaty back. But it is light and comfortable as long as you don't overpack it. Keyword – light! All backpacks are going to be sweaty. I used compression sock liners – felt it helped and it totally eliminated blisters. Leave the chair at home. Too heavy! Take one of the super light foldable waffle pads – can use it in cold weather to insulate the arse from cold rocks and even the benches in the huts in the Whites! I found mine in a hiker box in the Whites and wish I had gotten one sooner. The pad that came with my pack was too much of a pain to take in and out so I ended up not using it for that. Eat nutritional meals. I did a lot of freeze dried Mountain House meals. Would suggest mailing them to yourself in New Jersey, New York, conn where it is hard to find an outfitter. Carry a small bottle of olive oil to add to your meals for extra calories. Use your bigger budget to treat yourself to good meals and good places to stay while in town;) make sure your food bag is not too big so you don't overpack food. I had on just big enough to contain the large Opsack which helped keep my food dry in overnight bear hangs.

Best of luck and have a great time. I loved my AT Adventure!