Appalachian Trail Journals Week 1: Approach + 145 Miles
My name's James, a backpacker with a passion for adventure photography and writing that has the great fortune to be attempting a northbound thru-hike of the Appalachian Trail this year. I started my journey at Amicalola Falls State Park in Georgia on May 16.
Every day on trail, I take photos and write about the things I experience, feel, and do. And each week, I'll compile my journals and photos and post them here to share my journey with you. All my writing and photo processing is done on the day it happens, not revised afterward. That means that you get to experience the raw emotions and reactions of a thru-hike just the way I did.
I look forward to bringing all of you with me as I progress towards Mount Katahdin in Maine.
Day 1 | 1 Mile
I'm thankful that the circumstances in my life and the world came together for me to go on a long hike this year, and I'm fortunate enough to find myself in Amicalola Falls State Park starting a thruhike of the Appalachian Trail today.
A long day of flights and driving with Ron's Hiker Shuttle meant that I didn't actually make it to the trailhead until after sunset, so I only did a mile by headlamp to make it out of the park boundary and find a flat spot to set up. Weird to start a big trip with night hiking.
It's going to take a few nights to get used to sleeping with all the noises of the forest around me again, but I had a magical moment as I was curling up to sleep where I noticed dozens of glowing fireflies surrounding my campsite. I've never seen them before and they made me feel calm and happy.
Day 2 | 30 Miles | Approach + 21
With all the ideal weather, beautiful terrain, and banter with other hikers, my first full day on trail was a great one.
While the beauty of the Appalachians is subtler than the mountain ranges out west, it's not at all hard to appreciate how nice it is out here. Open views of the landscape have been few, but the forest itself is wonderful. It's so full of life and activity, with birds and critters of all kinds constantly talking away or zipping all around. And being here in May means that I'm treated to wildflowers and trees blooming in shades of orange, purple, and white, although I don't recognize most of the plants.
One of my biggest stresses coming into this hike was that I would get rained on constantly, but the forecast is mercifully clear for my first week, allowing me to ease into this thing and enjoy it.
The path has been gentle and the walking pleasant so far, and I'm excited to see what the trail has in store for me coming up. I'm not sure how my body will respond to this kind of mileage, but I don't mind giving it a shot.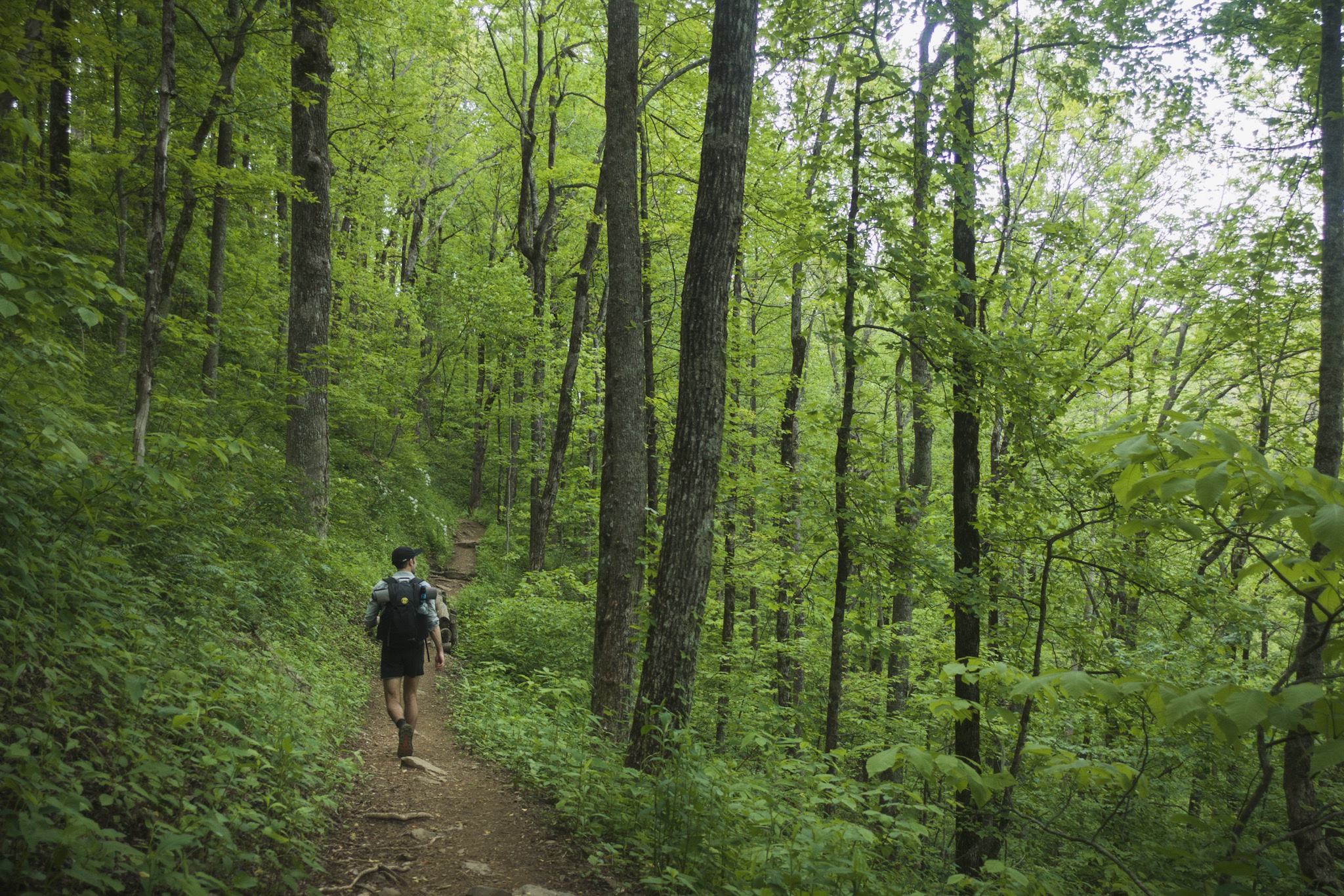 Day 3 | 27 Miles | 22-48
I didn't sleep well again because of some strong wind that was howling through my campsite all evening, shaking the trees, making noise, and generally making things stressful. I could really feel the sleep deprivation affecting my hiking today, so hopefully, I can get some good rest soon.
First thing this morning, I went up Blood Mountain, my first proper mountain of the hike. Unfortunately, I was in the clouds at the summit so there were no views. But I did enjoy the sight of the impressive stone shelter at the top.
After heading back down the mountain, I passed through Neels Gap, where there was a great little store with friendly staff that gave me an opportunity to pick up some supplies and eat a pizza. As I was sitting there eating my pizza and chatting with other hikers, I noticed I felt much better immediately, ready to tackle the afternoon.
The rest of the day, I cruised up and down the peaks along a ridgeline, pretty well the high point of the area. Instead of being deep in the forest like I was yesterday, I was up high today, peaking out at the sky and distant landscapes through the gaps in the trees below me.
I set up my shelter for the first time on this trail tonight, hoping that the walls might help me sleep. But I managed to pick a super windy campsite again. Here's hoping I can sleep through it better the second time.
Day 4 | 21 Miles | 48-69
Most of the locals I've made small talk with in the last few days have made some remark about it being a "great day". Sometimes I react skeptically like I think they're joking or being falsely positive because the weather is just cloudy and kind of blustery. But then I realize that for people around here if it's neither raining nor super hot, it's a great day. There's probably a valuable lesson for me in there.
I spent most of the day going up and down the ridgelines of Tray Mountain, catching a few glimpses of the landscape around, but mostly just admiring the different wildflowers surrounding the trail. Today also brought the first few challenging uphill climbs of the trail, getting me to really work up a sweat.
At Dick's Creek Gap, I had to road walk to the Hostel Around the Bend to pick up a resupply box, but I decided to end my day early and stay the night, resting my tired feet. I had a really nice evening eating dinner, drinking wine, and socializing with all the other hikers enjoying a relaxing stay at the hostel.
Day 5 | 27 Miles | 69-96
I woke up at my hostel this morning, grabbed my bag, and hit the road with a cup of coffee to go before I could get vortexed into a full morning of breakfast and relaxation with the other hikers.
Not long after I started, I crossed the state line into North Carolina. It was a nice little psychological victory to walk past a milestone like that. I felt thankful for the Georgia Appalachian Trail Club for making the AT through Georgia some of the most well-built and maintained trail I've ever walked on.
The transition into North Carolina was intense, as I immediately went up the steepest climb of the trail so far to the summits of Sharp Top and Courthouse Bald. It was tough hiking, made tougher by the hot sun and my pack which had just been resupplied and was weighing me down. I wondered if this was a sign of what was to come for the rest of the state.
Turns out that the trail chilled out for my afternoon hiking, staying relatively flat over sunny ridgelines. I hung out over lunch in a shelter with a 70-year old retired doctor named Mike who had some great stories and perspectives on hiking.
I set up for the night at a picturesque sight near the top of Little Ridgepole Mountain, as usual picking a campsite with good sunset views at the price of colder temps and no water source.
Day 6 | 26 Miles | 96-122
I woke up around sunrise at my campsite on Little Ridgepole Mountain after my first good sleep on trail, finally feeling rested for the day ahead. Maybe cowboy camping on a ridge felt like home and helped me relax.
The day started off with really pleasant, easy hiking in the cool morning temperatures, but the intensity quickly ramped up as I worked towards the top of Albert Mountain. The climb was steep but very short, and I quickly found myself at the summit fire tower. The view from the top of the steps was a beautiful panorama in all directions, the first of my journey on the AT, but it wouldn't even be my last of the day.
The middle of the day was hot and sweaty, the first time on this trail that I really needed to wear sunglasses and sunscreen, and I felt like I was drinking water nonstop all afternoon.
In addition to the heat, I thought the long, steady ascent up to Wayah Bald was one of the most physically demanding things I've done so far on the AT. But I was rewarded at the top with a lovely old stone fire tower, and another 360-degree panorama view of the landscape.
I ended my day camping at Licklog Gap with a group of four women just out for a relaxing overnighter away from their families. It was nice to join them for dinner, but I left them to enjoy their social campfire together as I hit the hay at hiker midnight (9 pm).
Day 7 | 23 Miles | 122-145
The day started with a trip up to the top of the Wesser Bald fire tower, where I had a really nice chat with a retired sheriff from Florida who was vacationing and dayhiking in the area with his son. We talked about retirement and hiking and all enjoyed the endless panoramic views in all directions. I'm loving these North Carolina fire towers!
After the fire tower, the trail descended thousands of feet right on the ridgeline of Fork and Paint Mountains, with open valleys to the left and right. It made for stunningly beautiful but very challenging hiking on the technical terrain in the exposed sun.
I eventually descended far enough to get back into the lush forest, thankful for the shade and being treated to the sight of gorgeous trees blooming in white and pink.
My destination for lunch was the Nantahala Outdoor Center, a tourist attraction for both river paddlers and vacationing families. I literally smelled the deep fryer from a quarter-mile away. When I finally made it down, the culture shock of having tourists, businesses, and cars all around me was extreme. It's always bad after days in the backcountry, but I think it was even worse for me this time because of Covid-19, given that crowds like this haven't really existed in Canada – where I'm from – for over a year.
I managed to calm down and enjoy a very delicious tempeh sandwich and beer at the patio bar on the banks of the Nantahala River while I took a break to recharge my electronics. Afterward, I charged up the ascent out of the valley, full of energy after my break and meal. It was hard work, but I eventually made it to the summit of Cheoah Bald, where I set up at a picturesque campsite with sunset views.
Affiliate Disclosure
This website contains affiliate links, which means The Trek may receive a percentage of any product or service you purchase using the links in the articles or advertisements. The buyer pays the same price as they would otherwise, and your purchase helps to support The Trek's ongoing goal to serve you quality backpacking advice and information. Thanks for your support!
To learn more, please visit the About This Site page.