AT 2022 Post Thru-Hike 10 FAQs
Spitfire 2022 NOBO Final Blog Entry
It's been almost 4 months since completing my 2022 AT thru-hike.  I have had some time and space to reflect a bit.  Also, I am asked the usual litany of questions, the hardest for me is the broad question "How was it?"  I mean, how do you answer that?  Although many of my answers are likely typical or even mundane to those who know a lot about thru-hiking, I hope a bit of this is a helpful glimpse into my experience, and selfishly for me, another way to close the circle on an incredible journey.
FAQs
Q1: Did you hike the whole thing?
A: Yes I Did!  2,194.3-miles AT miles but many more should be added for getting to/from shelters/water/town/etc.  I was not a "purist" (only white blazes and always with full pack) but did have some personal goals that were aligned with my ideal hike, like limiting slack-packing or any blue blazing to 10% or less (or 219 miles) and not leaving the trail.  I knew there was a possibility this would not always be in my control.  If there was a family emergency, I had a serious injury, or there was trail closure/re-routes; I would have to adjust accordingly.  I was lucky, my fate remained in my hands.  A certain amount of stubbornness, but also pure logistics, kept me to about 7% on slackpacking and less on blue blazing.
Q2: How long did it take? When did you start? How many miles did you hike a day? 
A: I started on February 26th in Georgia and was on the trail for 165 days, completing on August 9th on Mount Katahdin. In the beginning: 8-12, in the middle: 18-24, in the end: whatever we needed to to make a destination, sometimes low (like in the Whites) and other times crushed big miles over tough terrain.
Q3: How heavy was your pack?
A: Base weight without food and water was about 22lbs to start and got down to 17 by the end.  The big decision was sending home my stove and thus no need for a fuel canister either.  Summer weather made cold soaking and packaged food just fine by me.
Q4: How many pairs of shoes did you go through?
A: 4. My first pair had to be sent home because the toe box was too small (see the first blog for bubble toe blister pic!). The other 3 were worn down but I was way better than most of my trail-mates, one who shredded hers every 300 miles.
Q4: Did You… 
a) Go by yourself?  Yes, started solo.  And…no. I found my trail family (traimily) in the Smokies, where you have to stay at shelters, and our little group paced the same # of miles, and we made each other laugh!  And also…yes, I was like most everyone and hiked alone during the day (everyone has different start times and speeds) but usually met up with trail-mates at lunch or break but definitely at the designated camp spot for the night.
b) Have snow? Yep.  The big one in the Smokies and short storms even into April.
c) See a bear – no, but most everyone else did.  I did hear one near the trail and one clawing a tree near the camp, but we have black bears in my hometown everywhere – in fact, saw one my first month home – so didn't care.
d) See a moose – again no, and again saw one back home – up close on my first mountain bike ride of the season – so cool.
Q5: What was your favorite/worst part of the trail?
A: I am the worst and struggle to answer this succinctly – how do you separate the actual trail from the experience shared with the people? Here is my response by category: Beauty – Maine; Physical Challenge – New Hampshire; Mental Challenge – Vermont; Fun/Town – whenever thru-hikers were gathered in one place: all the hostels, but Delaware Water Gap, PA & the drive-in Warwick, NY; Food Trucks & Deli Blazes – New Jersey; Easiest trails – MA, Underrated – Leigh High Gap & Roan Highlands, Overrated – McAfee Knob.
Q6: Did you ever want to quit?
A: Yep, by the last 500 miles, almost every day, at some point. If I am being honest, what kept me going was more a matter of pride than just grit.  Pride could also be described as avoiding what I felt would be an unbearable self-imposed embarrassment.  I didn't want to let down all the people who believed in and supported me.  All the "You Got This" and "Finish Strong" messages were heavier than anything in my pack.  At the end of the day, or in this case, the trail, I had resigned myself to my fate – I would finish or die trying.  Dramatic, I know.
Q7: What, if anything, do you wish you knew before going on the trail?
A: There was a lot I learned on way, but I believe it had to be lived to be learned.   All the blogs, vlogs, books, maps, and discussions will always be someone else's opinion and story.  The better question is, what am I most glad I had prepared for…easy, I am immensely grateful for bringing a mostly positive and flexible attitude.  Second to the last day on the trail, after the ONLY time I had an entire day of smooth, easy terrain, I meet up with my trail mate Popeye and say "Want to hear something funny?"  Popeye, "Always," Me, "Before starting the AT, I knew it was super tough in spots but also thought 50% of the trail would be what we just did today…gravy,"  Popeye, "Ha, want to hear something even funnier?  I thought it was going to be 75%."  May be just the miles and days but we laughed hard.  And then just to prove a point, the AT gave us Katahdin in the rain.
Q8: What is the most surprising thing you learned on the trail?
A: Ok no one asked this but I almost always find a way to fit it into the conversation.  I didn't quite realize the different groups out there.  The ones who were super serious, getting in the miles, got up early and in late, not much for bonding because they were going to be 100 miles ahead of you in a week. The real eye-opener, in a good way, was all the young people out there who seemed to be combining a thru-hike with a festival vibe…I call it Trek-a-palooza:)  Don't get me wrong; they were putting in the work, the miles, and the logistics, but they also partied at all opportunities.  It was altogether inspiring, enviable, and a little crazy to this older gal.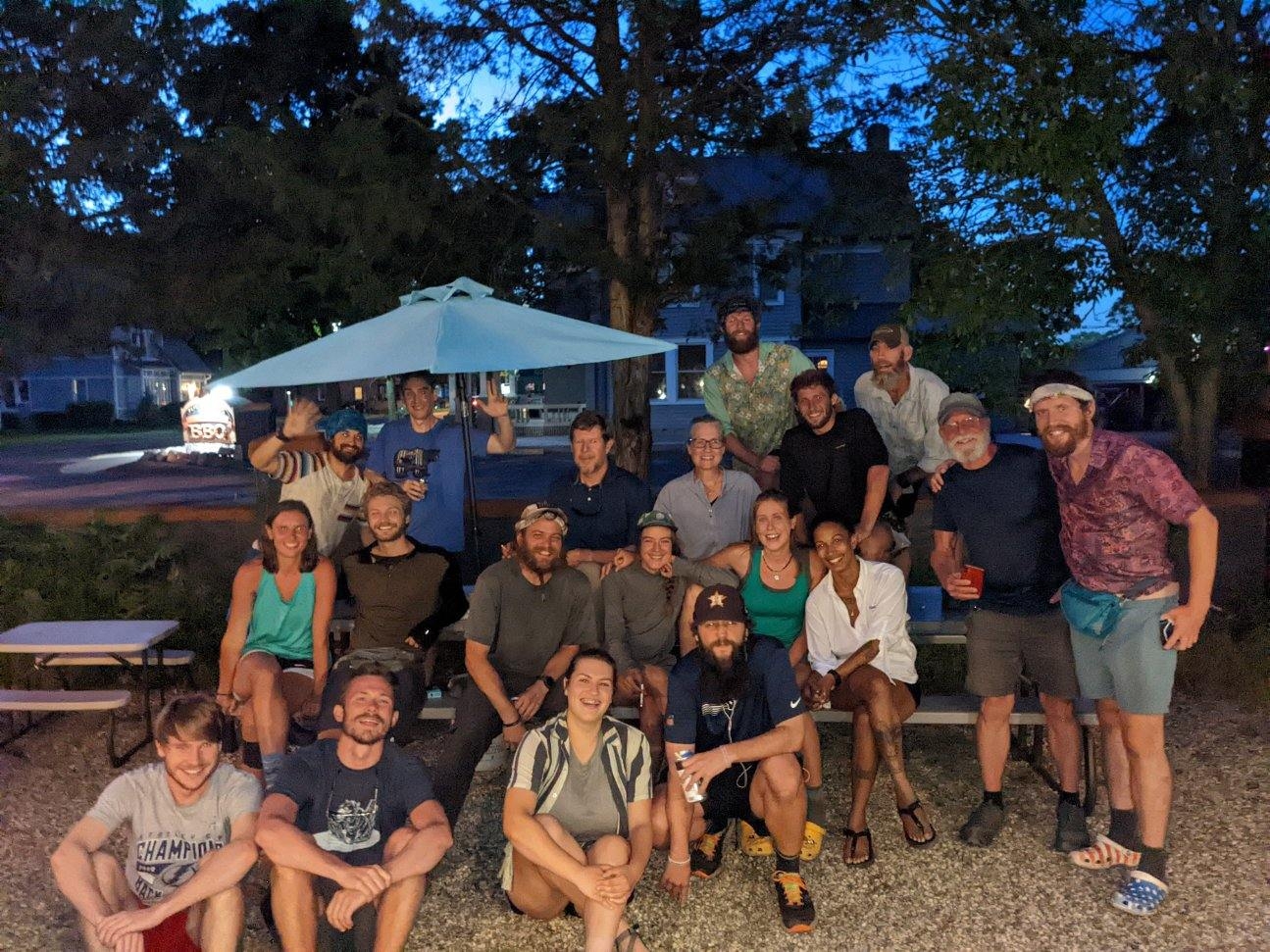 Q9: What is it like being home?
A: Wonderful….and tough.  It is taking a long time for my body to heal but I am getting there.  My mind is readjusting to releasing the need to check the FarOut guide. I thought I would know my next career move by the time I finished the AT, but that was not the case.  My gratitude is endless for my husband's support and I was able to take the time to consider my options.  Ultimately, I decided I wanted to start my own business, Spitfire Project-Based Consulting! I am using my skills and passion to help non-profit leaders achieve their goals.  Using my trail name is a daily reminder of the power of believing in yourself.  Spiritually, I miss the trail experience.  I miss my trail mates and the simple life.
Q10: What is your biggest takeaway from the whole experience?
A:  Trail magic is not just on the trail, it is everywhere, just keep your heart and eyes open to it, AND just like on the trail – the more you give it the more it will come back to you tenfold.  If you love all of nature, then you love people too, they are part of nature.  Off-trail, if you see someone in a bad mood or doing things differently than you would, imagine them as a fellow hiker.  Remember, they are doing the best they can with what they have.  The trail can be hard, but a little kindness goes long way in making the journey easier.
Love,
Spitfire
P.S. Hikers are often asked how they got their trail name, I propose we follow up with, "Why did you accept it?" or "What does it represent for you?"  What I love about mine: In alchemy Water (spit) = Heart and Fire = Mind, the combination represents a powerful transformation with Earth = Body and Air = Spirit.
Affiliate Disclosure
This website contains affiliate links, which means The Trek may receive a percentage of any product or service you purchase using the links in the articles or advertisements. The buyer pays the same price as they would otherwise, and your purchase helps to support The Trek's ongoing goal to serve you quality backpacking advice and information. Thanks for your support!
To learn more, please visit the About This Site page.