AT Days 100-102
Vermont Route 11 to Griffith Lake, 10.5 miles 
My two days off spending time at home with family went by like a blur, and it was time to get back to the wet and muddy Vermont conditions. Except this time, my dad decided he wanted to get out there and spend two nights with me out on trail. We drove the three hours back to Vermont and were hiking by around 11 AM, with the sun making a quick appearance for my first time in Vermont.
The day started off with a three mile, gradual ascent up Bromley Mountain, which is also a ski resort mountain. The last quarter mile follows a ski trail to the summit, where I finally got a view of the Vermont landscape I had been hiking in for the past couple days. The descent off Bromley was immediately followed by shorter but steeper climb up Styles Peak.
The trail stays on the ridge for a bit, making its way through dark, mossy Spruce and Hemlock forests. Large portions of the trail were covered with boardwalks, which are very slippery, and I'd honestly rather go trudge through the mud than slip and fall on my ass on these damn boardwalks. We descended down to Griffith Lake, set up camp and enjoyed dinner right on the water, chatting with other hikers. These ponds/lakes just keep getting nicer and nicer as I get farther North.

Griffith Lake to Greenwall Shelter, 14.7 miles
A longer, flat boardwalk section around the shores of Griffith Lake to start off the day acted as a perfect warm up for our legs. We remained on the same ridge for the first several miles before a short, rocky climb up Avery Peak. The sun was in and out of the clouds all day, and I was just glad there was no rain.
A long, cruisy descent brought us down to 1,500 feet at Big Branch river, before arriving to a forest service road where a table of trail magic was set up. My dad enjoyed his first trail magic experience (I told the man setting up the magic that my dad was thru-hiking the Long Trail and he deserves the magic). The next handful of miles were flat but very rocky as we soon arrived to the shores of Little Rock Pond. I instantly heard a loon shout out on the water, a true indication I was up North.
The trail follows the shores of the lakes in pine forests for an extremely scenic stretch of trail. The scenery in Vermont has been very enjoyable, and today was some peak Vermont scenery in my opinion; I'm glad my dad was able to experience some of the Vermont beauty on nicer days. We gradually climbed to the Greenwall Shelter, home for the night.
I made a prediction to my dad that the shelter area would be deserted; but boy was I wrong. Two large groups of summer camps each with 10+ kids had the same idea as us, but thankfully we were able to find a nice site further behind the shelter. I soon fell asleep to the enjoyable sound of kids running around and shouting in the woods.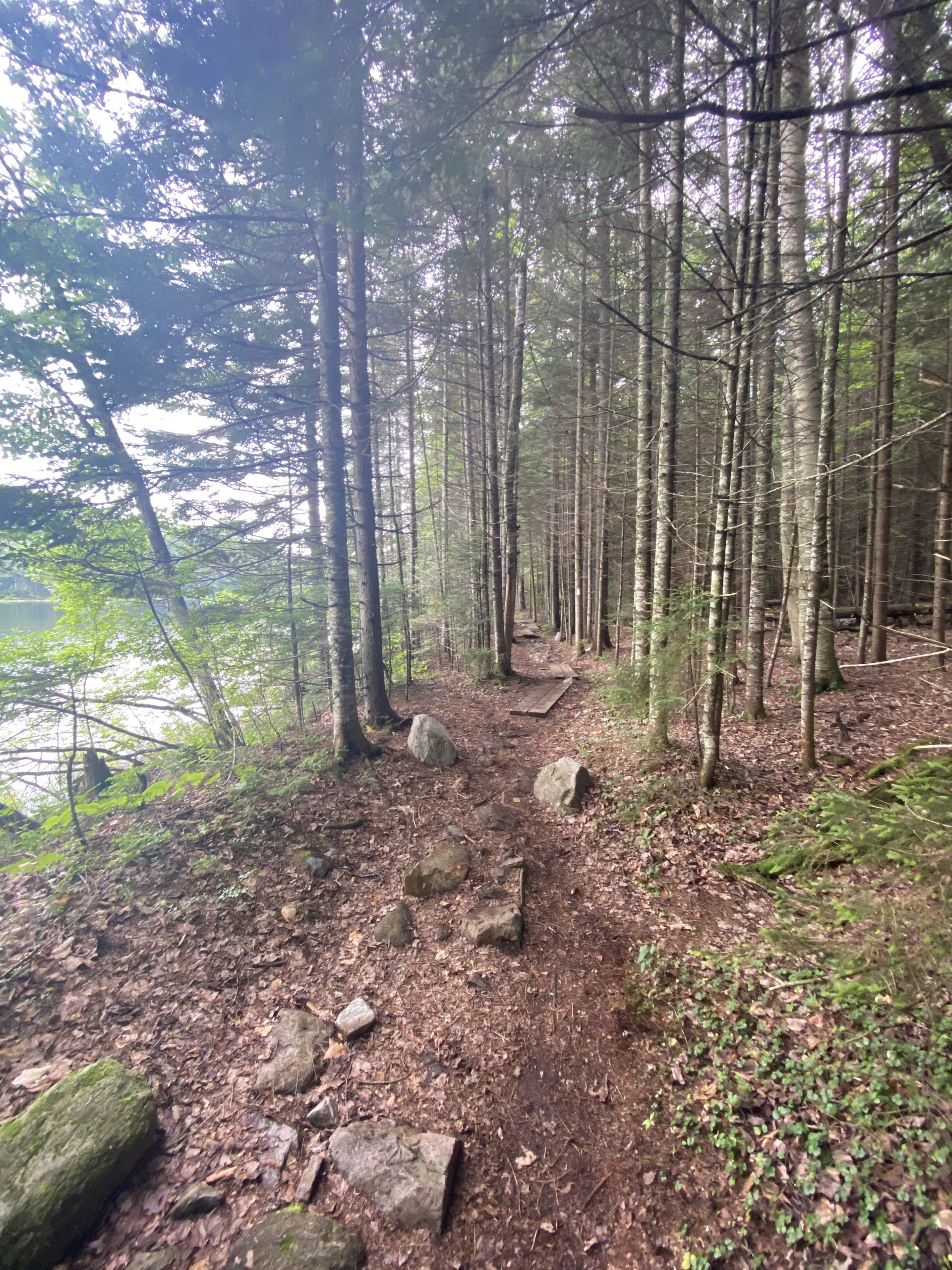 Greenwall Shelter to Cooper Lodge Shelter, 19.5 miles
It rained heavily throughout the night but thankfully had stopped just in time for us to break down camp and get an early start to the day, as I was planning on doing 24 miles while my dad only had one mile to where his car was parked. We descended off the ridge and took the short side trial to his car where I had a resupply waiting for me. We said our goodbyes and I pushed on, instantly climbing back up to another ridge.
The miles were mostly flat and cruisy on the ridge before a steep descent down to the Clarendon brook, a massive rock filled gorge. The rapids were flowing intensely from the recent days of rain as the trail crosses the gorge on a suspension bridge. A very steep, rocky descent shoots hikers right back up to another ridge to the summit of Beacon Hill, a wooded summit with no views. Flat and uneventful miles led to the base of Killington Peak, and I took a snack break in preparation for my longest climb since Virginia.
Just as I began climbing, the rain started coming down, making the copious amounts of rocks and roots very slick. Despite this, I enjoyed the scenery from the climb, and didn't find it too challenging at all. Four miles and 2,200 feet of vert later, I arrived at the Cooper Lodge Shelter, which was a four walled shelter with large bunks.
I checked it out and didn't need much convincing to stay; I wasn't exactly in the mood to do a long rocky descent down to the next shelter while the rain was predicted to get more intense by the hour. Much like almost every other night in Vermont, I was the only AT thru hiker amongst a group of Long Trail thru-hikers who asked all the similar, basic questions I've been asked for months now, but answering these questions hasn't gotten old for me just yet.
Affiliate Disclosure
This website contains affiliate links, which means The Trek may receive a percentage of any product or service you purchase using the links in the articles or advertisements. The buyer pays the same price as they would otherwise, and your purchase helps to support The Trek's ongoing goal to serve you quality backpacking advice and information. Thanks for your support!
To learn more, please visit the About This Site page.