AT Days 106-108
Hanover, NH to Smarts Mountain, 23.2 miles
It didn't come as any surprise to me that it was raining when I woke up at the hostel. Nonetheless, it was time to get after it, and I was eager to begin trekking through New Hampshire. The rain fell steadily as I walked about a mile through town before re-entering the woods. The first 10 miles of the day was mostly flat, with enjoyable cruisy terrain through thick Hemlock forests with a couple stream crossings.
The rain had stopped, the sun was shining and I was feeling thrilled to be hiking in NH. Within the span of seconds, my trekking pole got wedged in between two thick roots while my momentum continued forward, snapping the bottom piece of my pole in half. Not even two miles into my day. Shit. What now?
After speaking with my dad about my situation, he completely volunteered to make the four hour drive to a random road crossing and meet me with a new pole. Can support get any better than this?
I obtained my new trekking pole right at the perfect time, as back-to-back climbs up Holt's Ledge and then Smarts Mountain were on tap for the remainder of my day. The climb up Holt's Ledge wasn't too long but very steep, and was a great warm-up for the big ascent up Smarts Mountain. This climb was no joke; relentlessly steep with much of the "trail" consisting of slick rock faces and roots that went straight up the mountain. This would be the perfect preview of the terrain that lies ahead.
I reached the top, pretty gassed, at around 6:00, happy to see a good tent site still remaining. The summit of Smarts Mountain features a fire tower, and I enjoyed one of the best sunsets I've ever seen with two few hikers Toboggan and Surplus, who I met back in Hanover. A tough but rewarding first day in New Hampshire capped off with a picturesque sunset was a great welcome into my second to last state.

Smarts Mountain to Wachipauka Pond, 18.1 miles
Yet again, I was greeted to some morning rain as I awoke inside my tent. It wasn't pouring, but still rained hard enough for my tent to get wet as I quickly broke down camp and headed down the trail. By this point it was pouring, and the trail instantly flooded as I began the four mile descent off Smarts Mountain, down to the base of Mt Cube, another "warm-up climb" for the Whites.
The rain continued to fall as I began my ascent up Cube, making the large rock slabs difficult to climb. The majority of this climb consisted of climbing large rock slabs, and it took me a while to finally arrive to the socked-in summit. The descent was even tougher, and I was happy to have come off the sketchy, rocky mountain, but was feeling pretty mentally drained from how long it took me to cover the four miles.
I soon arrived to a stream crossing that was completely flooded, and couldn't find any safe rock-hopping options. My shoes couldn't have gotten any more water logged than they already were, so I walked straight through the stream, shin deep in the strong current as I did my best not to lose balance.
Immediately following the stream was a road crossing with trail magic waiting for me, instantly boosting my morale. The rain had now stopped and I enjoyed the next several easier miles through pine and hemlock forests to the shores of Wachipauka Pond, which was more like a lake. This was to be one of my most scenic campsites, without a doubt.
Upon arrival, three other hikers my age were already there and had a fire going. I dried out my shoes by the fire and chatted with my new friends; soon discovering that they live no more than 30 minutes from where I grew up. Small world! A tough day trudging through the rain and mud ended with a relaxing evening by the fire on the shores of a beautiful lake. All was well on the AT.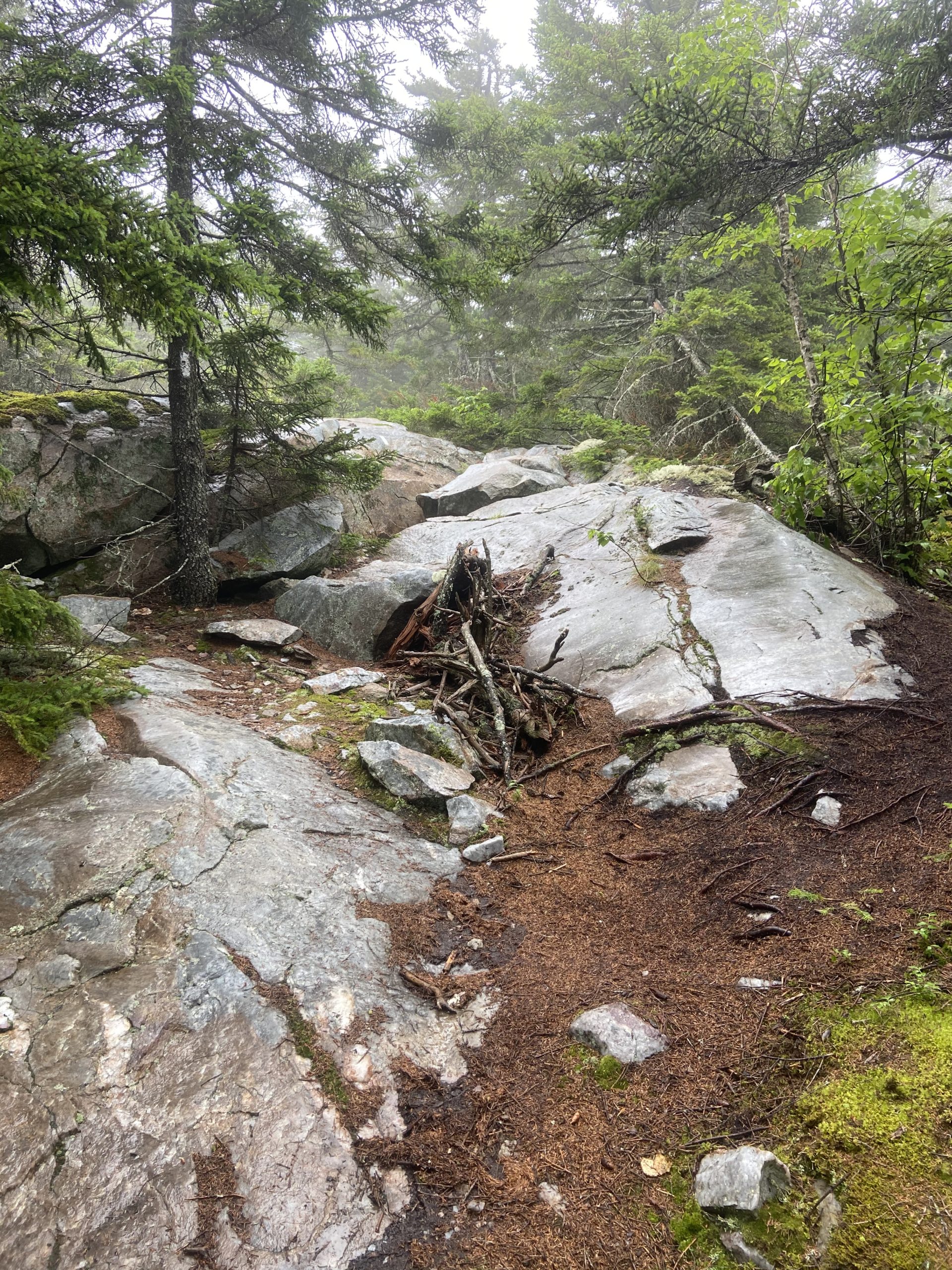 Wachipauka Pond to Kinsman Notch, 10.9 miles
I was up bright and early in anticipation for the short but exciting day I had ahead of me on trail. Today I would be climbing Mt. Moosilauke, referred to as the "gateway of the White Mountains". At 4,800 feet of elevation, this climb was surely to be the longest and toughest climb I had yet to face on trail. I was stoked to get after it, and to finally begin my hike through the White Mountains.
Three flat warm up miles brought me to the base of the mountain. I was to climb over 3,200 feet over the course of about 3.5 miles. Thankfully, the sun was shining, and the rain that was predicted for the day seemed like it would hold off. The climb started off pretty gradual before getting much steeper over time. These climbs weren't anything like the ones in the South, which featured smooth terrain and many switchbacks. These climbs were all rocks and roots and intensely steep, often seemingly never-ending.
I found a comfortable pace at 2.0 miles per hour and got into a good groove as I slowly but surely arrived to 4,000 feet where I reached the Alpine Zone, with the trees soon becoming much shorter that I am. I made my way closer to the summit, breaking tree line. I was completely socked in and heavily relied on the cairns to guide me to the official summit.
Despite no views, I was thrilled to be up here as a large adrenaline rush began to kick in the closer I got to the top. Here I was, in the Whites! No more of hikers telling me "just wait until the Whites" or "you haven't seen anything until the Whites" I was now in the thick of it, ready for the challenging hiking that lie ahead.
The 3.5 mile descent down to Kinsman Notch was much tougher than the ascent; many times being forced to scoot down slippery rock slabs on my butt. A couple times, the trail seems to drop straight off a small cliff, leaving me questioning if I was going the right way. But sure enough, I was on trail, and I very slowly made my way down the gnarly descent down to the road. One wrong step or one slip-up on these descents could potentially result in tragedy, or worse; the end of my thru-hike.
I was headed into town to resupply and figured I'd spend the night at the Notch Hostel in Woodstock, NH. Some other hikers who were farther ahead in the Whites were at the hostel also, and it was good to get some recon on the trail that lie ahead. My first day in the Whites was tough, as expected, but I was hooked on this more intense type of hiking. Very tough but very rewarding, just how it should be.
Affiliate Disclosure
This website contains affiliate links, which means The Trek may receive a percentage of any product or service you purchase using the links in the articles or advertisements. The buyer pays the same price as they would otherwise, and your purchase helps to support The Trek's ongoing goal to serve you quality backpacking advice and information. Thanks for your support!
To learn more, please visit the About This Site page.