AT Days 120-123: Mt Rogers / Grayson Highlands
In far southern Virginia the AT passes through the Mount Rogers National Recreation Area and Grayson Highlands.  I really enjoyed the terrain in this area.  Here are the daily details:
Day 120 – Stealth site, Possum Creek to Chatfield Shelter (17 miles) miles 
Day 121 – Chatfield Shelter to Stealth Campsite, babbling brook (13 miles)
Day 122 – Stealth site to Old Orchard Shelter (18 miles)
Day 123 – Old Orchard Shelter to Stealth Site, Deep Gap (13 miles)
A day in the meadows
I was pleasantly surprised on the morning of Day 120 to be awoken by a whippoorwill call at 6:08 AM.  I hadn't heard one of those since Maine and it put a smile on my face as I arose.
The morning was pleasantly cool and foggy.  After crossing VA Route 42 the trail led me through a cow pasture.  The trail rut was muddy and surrounded by taller wet grass.  Even though it wasn't raining my boots and feet got soaked from the grass.  Just can't shake getting wet in Virginia!
After the fog lifted, there were some really nice scenes in these meadows, as I'll share with you below:

By the way, as a hiker I strongly prefer meadows over pastures:  no cow pies to avoid, and no live cattle staring me down!
A follow up to "Where are the hikers?"
I was also very pleased to meet a fellow SOBO, Lucky Charms, on the trail!  I passed him at midday, then I can't express how happy I was to hear him catch up and call me by my trail name "High Road" hours later!  I was departing a Mexican restaurant inside an Exxon station in Groseclose, VA.  (Don't laugh, the food was great and there was table service!)  It's the type of thing that would happen every day in the North.
I'd also meet someone coming NOBO who was one of the 68 Harpers Ferry flip-floppers that have seemingly evaporated.  Mistah Blue's (badge #15) story is that he got to Mount Washington and blew out his knee.  After rehab at his home, he resumed hiking nearby in Georgia.  I felt fortunate after hearing his story – there but for the grace of God go I.
More fun with canines
Look, let me just say this upfront: I'm not a dog lover.  I've met some very nice dogs over the years, some that I'd even pet – but with most of them I'm just very uncomfortable.
With that as background, along with my prior blog post on the coyote frenzy I encountered, I'll now share the details of the early evening at Chatfield Shelter on Day 120.
The "Bear Dogs"
As has been typical in Virginia I was solo at the shelter, and got in my hammock around 8 PM. Within 10 minutes I heard a nearby male voice yell "Help, help, woooo!"  Now typically a distress call is not followed by a Ric Flair catchphrase.  I honestly didn't know what to do … this person either needed help now or was a certifiable nut case.  Before I could decide to assist or run away I got another "Help, help woooo!" really close by.
A young lad holding a radio gadget then appeared on the trail right next to my hammock.
"Do you need help?" I leaned out and asked.
"No, no, no, we just runnin' some bear dogs through and just trying to round 'em up."
Bear dogs? I didn't like the sound of that! Is that some kind of cross-bred rural pet? Were these things running up and down the AT without leashes? I didn't like the sound of THAT either!  But before I could explain I'd been a lifelong resident of the Boston suburbs and didn't know what a bear dog was, he was gone.  I didn't need to do SOS response.
The Wild Dogs
Ah, but that little incident paled in comparison to what occurred two hours later.  I'd dozed off in my hammock, confident that this country version of Elroy Jetson would rein in his mutant canines.
Then at 10 PM I was roused from my sleep by the sound of wild dogs or coyotes or something crying and heading in my direction!  Did the lad not round up all of his "bear dogs"? These unleashed animals were highly distressed, and worse, they were clearly headed in my direction!
This was all especially frightening because the Chatfield Shelter wasn't an ideal site for hammockers like me.  The only feasible hang spot I could find was about five feet from the trail – not my preferred location.  So, knowing I was in the path of these approaching distressed canines, I leaned out of my hammock and clapped and yelled "Go Away!"
Amazingly, it worked!  The dog cries got more and more distant, headed up the mountain.  I eventually got to sleep.  You might say by that point I was dog tired ….
A resupply in Marion
I took advantage of a free shuttle bus to the town of Marion on Day 121.  Before that I reached this sign:
Only a quarter of the trail to go!  After a complete resupply at Food Lion, I walked to Macado's to get one of their famous sandwiches.  I couldn't resist washing it down with a couple of New Realm "Hazy Like a Fox" drafts.  At least one brewery here in the south seems to understand how to make a hazy IPA:

But my MMM (Most Memorable Moment) for the day was my stealth camping spot near this babbling brook.  Just awesome:
In the Mount Rogers National Recreation Area

I really enjoyed the hiking and the terrain within the Mount Rogers National Recreation Area (yeah, it's abbreviated NRA but that doesn't work for me).  The trail maintenance was excellent, and the terrain resembled the northeast much more frequently.
Horses and ponies
After lunch On Day 122 I ran into a sight I'd not seen yet on this AT trek – horse riders!  And why hadn't I seen this?  Because it's typically illegal, as it was on this Virginia section!
It also looked completely ridiculous, as these horse riding people were a good five feet above me, scraping against tree limbs.
When the riding pair appeared I immediately snapped their photos, and that put them on the defensive immediately.
"Is this the Hurricane Trail?  I think we're lost.  I can't access my cell phone maps."
I was kind of enjoying this moment.  I felt like a cop that had pulled over a speeding car and got to hear the flood of useless excuses.  I wasn't buying any of this woman's babble, because when she allegedly lost her cell signal:
She must have also lost her ability to read, as the trail signs were very clear that horses were prohibited da half mile back

She also must've lost her eyesight, don't know how it could be any cleaner based on these pictograms that were posted.  Do you understand what this means?:

Anyway, I let them go with a warning, but I'm sure that since their photos are now public these scofflaws will be brought to justice for their crimes!
Ponies that are supposed to be there!
The morning of Day 123 was another indication that my luck may have been changing here in the South.  I expected rain during the night, but happily awoke dry.  As I packed up I could feel the sky's rain weight above me – halfway through  breakfast I brought all my gear into the shelter.  It started pouring just minutes later.  I ate my oatmeal under dry cover, watching 40 minutes of downpour in front of me.
When I finally got up to the top of the Grayson Highlands ridge I was treated to some wonderful views:
But Grayson Highlands is noted for its wild ponies, which roam around and often end up outside your camping space. They are known to be docile and friendly.
I really didn't see many of those, although I skirted lots of pony poop on the trail!  It wasn't until I was well out of Grayson Highlands State Park when I ran into this trail dilemma: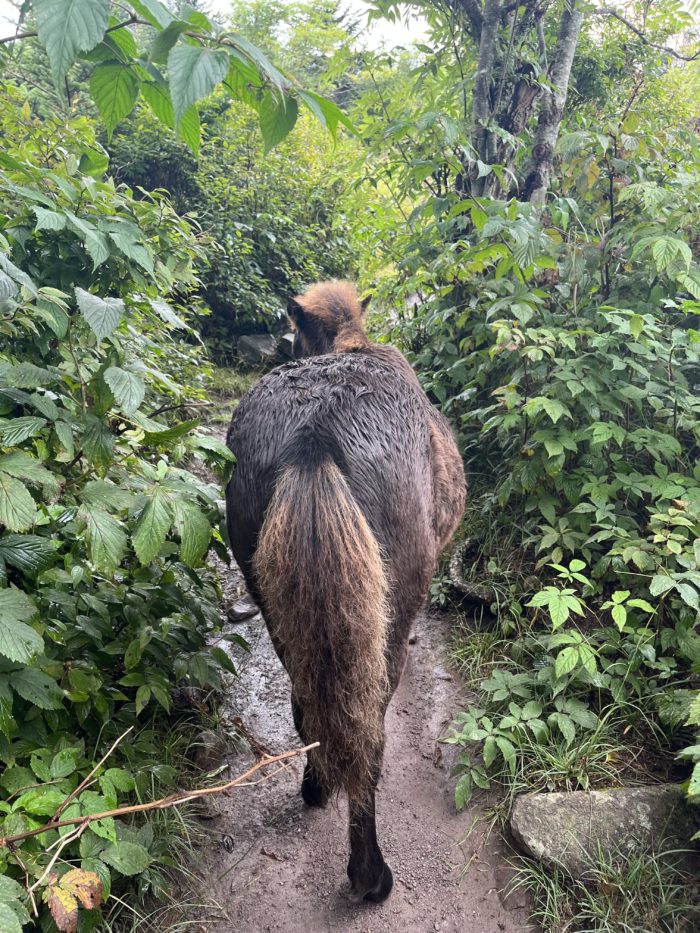 Yes, a pony was blocking my AT path and had no intention of moving!  On each side were thornbushes – I had to go straight through.
But how do I encourage this pony to move?  I have zero experience with horses.  I first tried the "jockey method" – I tapped the pony in the rear flank with my pole.  Nothing.
I was acutely aware that I could be kicked by this animal, and stared intently at its back legs as I next attempted to persuade it verbally to move aside.  Nope.  Eating thornbushes was the priority.
Finally, after three or four exasperating minutes I kind of squeezed beside the animal and explained that I wanted to shimmy by. It didn't object, and finally I was on my way again. But this was certainly the day's MMM!
The ending place
The nearby shelter at Thomas Knob had a lot of restricted spaces for tents and hammocks, so I decided to push on for a few more miles.
At a place called Deep Gap (4800 foot elevation) I found a nearly perfect hammock site,  The trees were perfectly spaced, the spot was open and airy, and there was even a good cell phone signal!
After setting up camp I was treated with a completely quiet surrounding at 9 PM.  No crickets, no cicadas, just peace.  It was a fantastic finish to a really special day.
Affiliate Disclosure
This website contains affiliate links, which means The Trek may receive a percentage of any product or service you purchase using the links in the articles or advertisements. The buyer pays the same price as they would otherwise, and your purchase helps to support The Trek's ongoing goal to serve you quality backpacking advice and information. Thanks for your support!
To learn more, please visit the About This Site page.