AT Days 152-155: Franklin, NC and on to Georgia!
I'd really enjoy my two days of resupply and recharge in Franklin, North Carolina.  When I continued south, I'd cross quickly into the final AT state of Georgia.  Here are the details:
Day 152 – Siler Bald Shelter to Winding Stair Gap (4 miles)
Day 153 – Zero Day in Franklin, NC (0 miles)
Day 154 – Winding Stair Gap to Standing Indian Shelter (24 miles)
Day 155 – Standing Indian Shelter to stealth site (16 miles)
A pleasant morning descent
When I awoke on the beautiful morning of Day 152 – once again without a rain tarp overhead – I was facing the reality of reaching the end of the trail.  I had just 114 miles left to go!  At my current pace of about 17 miles per day, that was a mere week's worth of hiking!  During this final round of town time I'd need to plan out my final schedule.
The weather continued to be fall-like during this stretch of days.  I reveled in the cool clear air as I headed downhill.  This small waterfall was an unexpected morning surprise:
I arrived about thirty minutes early for my hiker shuttle at Winding Stair Gap, and had a really nice conversation with a NOBO section hiker who was headed to the Smokies.  He'd have great weather ahead of him!
One last nearo/zero:

 

Franklin, NC
In researching my final resupply and rest spot, Franklin NC looked to be a nearly perfect choice.  With a charming and active downtown, two craft brewery taprooms, and resupply locations all within walking distance I was really looking forward to my visit.
And the town certainly didn't disappoint!  After getting settled at the Hilltop Inn and doing my laundry there, I strolled out in my clean duds to The Lazy Hiker Brewery. 
It would turn out that I'd enjoy the music and the vibe of the place quite a bit more than the beer itself.  The only ones I rated higher than a 4.0 out of 5 were the Creeksong Fresh Hop IPA and the 10% ABV Night Hike Stout.  The latter was their best offering, a thick Imperial Stout with a smoky coffee flavor. 
But the music! Here are a few of the tunes that rocked me while I sampled several brews:
Collective Soul's "The World I Know", a beautiful and emotional song about introspection.  Often I can be moved to tears listening to it, and I nearly was right there in the taproom as I tied the words "So I walked up on high …" to so many special AT moments over the past months.
Phil Collins' "In The Air Tonight", a hauntingly beautiful track that's a timeless classic.  And yes, of course I unleashed the air drum solo at that incredible point in the song!  How can you not?
Huey Lewis and the News' "Do You Believe in Love?".  I've got to admit that I was shocked that I found myself singing along enthusiastically to this 1982 hit, but I hadn't heard it for so long it felt great!  The song would stick in my head for days after this, too!
Day 153:  Filling in the Zero
The next morning I started my zero day by feasting on a huge breakfast at Kountry Kitchen, a great local spot:
After some blogging back at the motel, I struck out across town at midday to Curahee Brewing.  The setting here at the other end of town was nearly the polar opposite to Lazy Hiker:  very tasty beer in a deserted taproom with (ugh) country music blaring away on the speakers. 
The IPAs at Curahee turned out to be solid and well-built.  I tried their Garand IPA and two versions of Lucky Scars IPA.  My personal favorite there was Hop Ensemble, a fresh hop pale ale that was floral with a clean finish.  I utilized my time at the bar to book my Atlanta hotel and plane flight about a week away!
After a resupply at Dollar General, I picked up some excellent Resident Culture IPA (Forever Alone – Riwaka single hop) to pair with a fresh pizza that night.  This black-canned beer was by far the tastiest ale I'd drink in Franklin.

Who could ask for a better zero day?  Not me!
Back on the trail
I'd set an aggressive hiking schedule to Springer Mountain when I locked in travel plans.  My strategy was to hike about 18 miles per day for six days, then leave only a few miles for my Springer summit day.  That would allow me to take plenty of pictures and still depart for Atlanta midday.
On Day 154, I planned a big day so I'd get a jump start on this six day sprint.  After a delicious early morning re-visit to Kountry Kitchen to fuel up, my shuttle driver arrived early – getting me to the trailhead for a 7:40 AM start.  Perfect!
The trail was surprisingly busy with other hikers.  By noontime I'd met eleven of them, mostly overnight or section hikers.  As I worked my way up to the high ridge I noticed for the first time that I was making leaf-crunching sounds under my boots.  At this point the leaves were mainly yellow rhododendrons and some maples, but no doubt fall was coming quickly to the mountains now.

Mount Albert proved to be a short but steep grind up to its fire tower, but the views were rewarding:
I'd also see this encouraging milestone marker as I ascended the metal steps.  Under 100 miles to go!
Through the brush to Standing Indian 
I'd seen hiker comments about overgrown trail conditions from Carter Gap to Standing Indian Peak, so I was happy to see a trail crew out at work in this section.  The overgrowth was not as bad as I anticipated, but the final climb of the day up Standing Indian Peak seemed endless.  With 20 miles already on my legs and hot afternoon sun bearing down I really didn't enjoy the never ending straight path rise to the summit.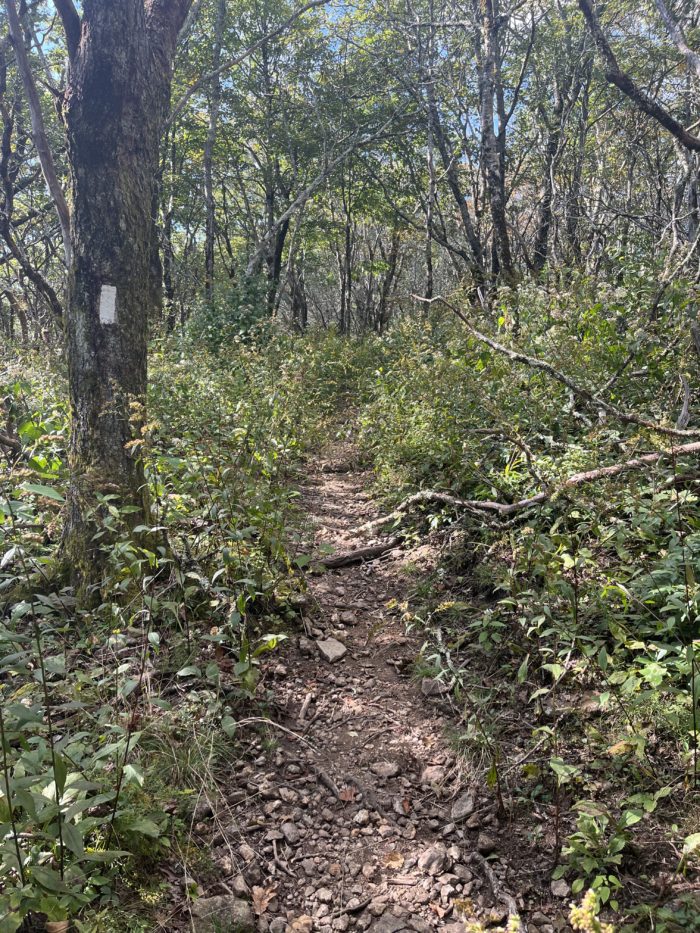 In addition, my feet (specifically my middle toes) weren't taking well to the new hiking boots I had just purchased.  The flexibility and sole thickness of my beloved prior Hoka hiking boots had apparently shielded me from the AT hiker phenomena known as "Christmas Toes".  This occurs when the middle toes of each foot get extremely painful and often numb from a repetitive hiking motion.  In fact, I'd talked with many thru-hikers who were hiking daily with numb middle toes. (The name "Christmas Toes" implies that the feeling doesn't return until a couple of months after completing the trail!)  My toes were still in the early stages here, but the intermittent shooting pain in each foot was unbearable at times.
I'd eventually complete the 24 miles to Standing Indian Shelter as a dog tired hiker.  Despite all of the hiker traffic I encountered on the way, there were no others staying there.  I'd settle into my hammock before 8 PM and fall asleep listening to falling acorns explode like shotgun blasts on the shelter's metal roof.
Day 155:  Final state – Georgia at last!
The next morning I'd cross the state line into Georgia, the last state on the AT.  That's one happy dude below who's seen a lot of different terrain over these past few months:
Here are my initial impressions of the trail within Georgia:
The trail was maintained extremely well.  There was obvious evidence of very recent drainage and stair work in the initial section that I traversed.
In many places the terrain was a bit rougher than the topographic map suggested it would be.  I hoped that I hadn't overestimated how quickly I'd be able to finish up the last hundred miles.
The afternoon brought a couple of bursts of rain showers — something I'd almost forgotten about over the magnificent last week of weather — but they were about twenty minutes each in duration.  The sun emerged shortly after each, the skies clearing quickly to a wonderful blue hue.
With no shelter located between twelve and twenty-four miles out, I'd settle into a wonderful stealth site on a little knoll after a sixteen mile day.  After two days my Springer schedule plans were well on track.
Things I'll miss off the trail
With my time on the trail winding down, I spent a lot of hiking time reflecting on what I'll miss when I head back to civilization.  Below are some of my thoughts.  I will sadly miss these things:
The emergence of the morning sun over the hiking ridge.  Most AT hikers are out on the trail before the sun ever makes it above the ridgeline.  It's truly magical to watch this wonderfully slow unwinding as part of each morning's hike.  The first rays penetrate the trees as solitary light beams, illuminating a few trees.  After a few more minutes bands of light start to awaken the forest's colors all around.  Your shadow eventually appears, sometimes hiking in front of you in the still-chilly morning air.  It will be quite awhile before solar warmth kicks in, but that's just fine for an AT hiker — the morning is the best time to crush some trail miles.
The earthy fragrance of the trail.  The smell of hiking the trail is something that can't be matched by walking on your town's bike path or by jogging on asphalt.   You've got to be in the forest, preferably after the morning dew has settled in on the dirt and green plants all around.
Identifying a mountain creek on the trail.  Is that wind or water that you hear as your boots amble along your route?  At first, it's nearly impossible to tell the difference.  You've got to patiently wait to see if the sound dies out quickly or if it maintains its strength.  If it's the latter, you'll soon hear some bubbling and gurgling – and if it's a big enough water source, maybe the always-exciting sounds of water rushing downhill through rocks.  Even if you're not thirsty, encountering running water on the trail always feels refreshing.  A slight breeze constantly sails along the top of a stream, offering a cool moment even if you're just crossing and moving on.
It's hard to believe that the end of this magical journey is drawing ever closer!
Affiliate Disclosure
This website contains affiliate links, which means The Trek may receive a percentage of any product or service you purchase using the links in the articles or advertisements. The buyer pays the same price as they would otherwise, and your purchase helps to support The Trek's ongoing goal to serve you quality backpacking advice and information. Thanks for your support!
To learn more, please visit the About This Site page.