AT Days 156-158: Georgia brings wildlife, rocky peaks
These three trail days offered up some intriguing Georgia peaks and wildlife encounters on the AT.  Here are the daily details:
Day 156 – Stealth site, mile 2123.5 to Blue Mountain Shelter (20 miles)
Day 157 – Blue Mountain Shelter to Baggs Creek Gap stealth site (14 miles)
Day 158 – Baggs Creek Gap stealth site to Millers Gap stealth site (12 miles)
A memorable first full morning in Georgia
When I awoke in my stealth hammock site on Day 156 in Georgia, the severity of the morning chill surprised me.  A quick check on my iPhone showed that nearby Hiawassee was only registering 47 degrees, implying that here on the ridge I probably was experiencing temperatures in the low 40's.  However, skies were blue and sunny with very little wind, making for great hiking weather once again.
The first hours of the trail took me down to the road crossing at Dicks Creek Gap, followed by a stiff early climb out of the low point.  As I was working my way towards the top of the ridge, I suddenly heard a deep rustling of leaves a good distance off the trail to my right.  I scanned the tree tops – was it a microburst storm?  Couldn't be. The weather was clear and calm.  Then I spotted what looked like a tiny black bear running downhill in the woods about thirty feet from me — and he had others with him.  Finally, my mind figured out what I was seeing: a pack of wild boars known to inhabit the mountains of Tennessee and Georgia!  There were probably a dozen of them charging down the slope together.  Now, I called it a "pack" earlier, though I just researched it and found that a herd of boars is actually called a "singular", or a "sounder".  All I can tell you is that seeing and hearing this ambling group of black wild animals was my MMM (Most Memorable Moment) of Day 156, and one of the top animal encounters of my trek.
The tune that popped into my head after that incident was "Wild Thing" by The Troggs.  Now THAT'S the type of song that will stick in your head for lots of trail miles, and it stuck around all day for me!  I can only imagine that when that song hit the airwaves in 1966 that it caused a lot of reaction, both good and bad.  It's just so different from other music in the mid-60's.  (By the way, it's worth three minutes of your time to check out the video that I linked above.  It's hilarious because it's as if none of the audience wanted to be there!)
Taking a swag
You faithful readers know that I've been ranting about the proliferation of useless "Gap" signs that seem to be everywhere south of the Smokies.  After the boar encounter, I'd cross over a different but equally confusing sign for the "Swag of the Blue Ridge":
My first instinct was to look around for a storage box somewhere with some free T-Shirts, or maybe some cool Blue Ridge wristbands or pens that I could take home – but no dice.  I'm not really sure what this sign is communicating.  I checked a few online dictionaries to see if I could find a meaning of "swag" that would explain it, but struck out there too.  I'm guessing that it's a special type of gap?
An afternoon of rocky peaks
My preview of the topography of my planned 20 miles suggested that the second part of Day 156 would be challenging.  I had three sizeable peaks to scale, the last two with fairly steep vertical rises.
I scaled Tray Mountain around midday, my poles hitting trail rock and boots crunching dried leaves the whole way up.  The grade was challenging, especially up to the shelter area.  I took my lunch break just on the other side of the summit, finding too many bugs lingering at the peak itself.
Rocky Mountain was next, fifteen miles into my day.  The 900+ feet of vertical rise proved to be really tough, as it was one of those mountains that just always seemed to have more to climb.  I'll be honest, though, I really enjoyed the challenge.  As you can see from the photo below, the trail was rocky and steep in many places – but much more like my familiar New England hiking surroundings than many peaks in the South.
There was a view at the top – but it struck me for the first time that I'd actually hiked my way out of the "very mountainous" areas!  Look at how relatively empty this vista is.  No ridge after ridge of higher peaks:
The descent from Rocky Mountain was equally steep and rocky, and at the bottom I would be challenged with an 1100 foot vertical ascent to Blue Mountain a full 18 miles into my day.  But as I dropped into Unicoi Gap and stared up at the dark ridge rising mercilessly across the paved road I knew I could dig down for the strength for this final push of the day.  How many peak battles did I have left on this whole trek?  Bring it on!  I'd actually reach the top of the peak (and the shelter) sooner than I expected, as I took very few breaks on the steep grade upward.
And once again I have to state that I can't believe the lack of useful hiker trail signage at road crossings!  Unicoi Gap has a parking lot that could probably hold thirty or more cars.  It's a major starting point for day hikers climbing either Rocky Mountain or Blue Mountain, both accessible in less than three trail miles.  Yet there is no signage at either AT trailhead, and those getting onto the trail will run into one of these practically useless gap signs about 0.1 mile in:
Why???? I don't get it, Georgia! Help out your day hikers!  Make their trail experience easy!
Lots of hikers – but where do they sleep?
I arose in the pre-sunrise light, as usual, at Blue Mountain Shelter on Day 157.  The shelter was wonderfully situated on an open knoll which let the early morning sun rays in to paint bright colors across the site:
Once again, despite seeing large numbers of hikers with overnight packs during the prior day, I was the only one staying over at this shelter location.  In fact, over the last week I'd probably encountered at least a dozen backpackers daily in NC/GA,  but rarely saw others at my camp location!  Back on the trail, my head music reminded me of Gavin Rossdale's lyrics from the song "Glycerine":  I'm never alone, I'm alone all the time.  The parade of passing backpackers would continue on this day as well, a Saturday, as I'd pass well over twenty people doing multi-day hikes.
After a bit of a rough rocky descent off of Blue Mountain, the trail would smooth out and I was able to crush some miles.  My enthusiasm grew as I realized I was really closing in on finishing the AT when – owww! – sharp pain in my right ankle! I looked down and saw three yellow jackets stuck to my boot sock, and a fourth one still circling.  That one would get me in the wrist, giving me a total of four bites.  It's almost not fair when you get stung by yellow jackets.  You rarely see their nests, which can be right on the ground of the trail itself.
At midday I loaded up with three full liters of water, recognizing that the next seven miles of trail right up through my camp spot didn't have any good water sources.  That made the day's final two ascents a bit more of a grind.  Both were filled with ledgy rock, like the picture from Cowrock Mountain shows:
Again, I enjoyed the New Hampshire-like texture of these climbs immensely!
As I neared my intended camp site, a stealth area known as Baggs Creek Gap, I figured that I would again be solo.  But about a half hour after I arrived, a NOBO section hiker named Nathan arrived and was great company!  He aspired to do a full AT hike someday, and asked lots of great questions about gear, planning, terrain, etc.
Neel Gap and Blood Mountain
After a set of 5AM morning showers swept through, I wished Nathan good luck on his future plans and headed towards the Mountain Crossings outfitter store at Neel Gap.  This was a critical stop for me to assemble a final couple of days of resupply food as well as to charge my phone and my battery charger.  I'd anticipated needing the extra food when I left Franklin, but the charger was my screwup:  I thought I fully charged the battery, but somehow the charge never increased.  I had to have cell charge on Springer, otherwise there'd be no picture taking!
Mountain Crossings provided everything I needed, with an outdoor hiker charge station and water fill area.  I grabbed two orange juices and a microwave burger for a quick lunch in addition to my resupply.  I even bought an AT T-shirt for my upcoming plane ride home!
When I got back on the trail I had a climb over ledgy Blood Mountain to reach my intended destination of Lance Creek.  Unfortunately, rain clouds had not cleared from the morning, and I didn't get views from the ledges.  I did find the summit cabin pretty cool: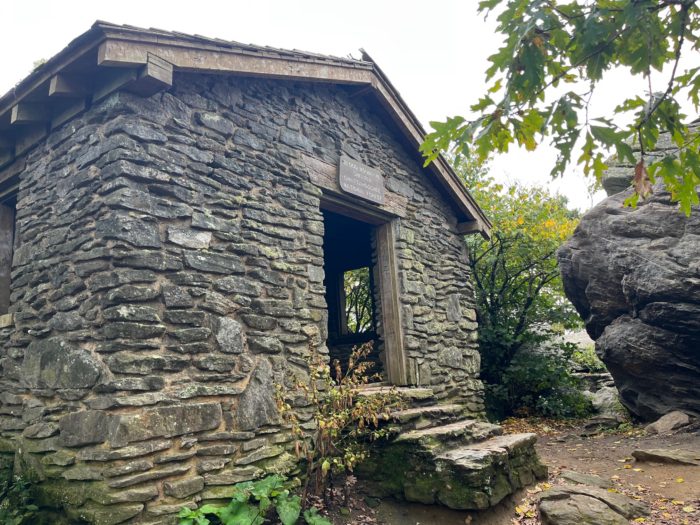 Arriving at Lance Creek in the late afternoon, I discovered that it was one of the very few AT campsites I'd encountered where there wasn't an obvious spot to hang my hammock.  So after grabbing water there I headed 0.4 miles up the trail to a stealth site which had adequate hang trees and – bonus! – two bars of cell reception.
I'd turn in that evening knowing that I was a mere 25 miles from the AT finish line at Springer Mountain.  It was incredible to think that this journey of over five months was that close to being complete!
Affiliate Disclosure
This website contains affiliate links, which means The Trek may receive a percentage of any product or service you purchase using the links in the articles or advertisements. The buyer pays the same price as they would otherwise, and your purchase helps to support The Trek's ongoing goal to serve you quality backpacking advice and information. Thanks for your support!
To learn more, please visit the About This Site page.