AT Days 159-160: Mission Accomplished!
After 160 days of memories, I'd summit Georgia's Springer Mountain to fulfill my lifelong dream of completing the Appalachian Trail.  I've had so many incredible experiences on this adventure of a lifetime!  Here are the details of my last two days:
Day 159 – Stealth site to Stover Creek Shelter (21 miles)
Day 160 – Stover Creek Shelter to Springer Mountain (3 miles)
A big day to bring me to the doorstep
Conceptually I believed it was wise to cover as many miles as possible on the day before my ascent of Springer Mountain.  A long Day 159 would give me extra photo and celebration time on the summit morning.  Being a little extra tired that night before couldn't hurt, either.  I thought it might be difficult to get a good night's sleep ahead of the big day!  So I aimed for more than twenty miles.
Fortunately I'd made a decision the prior night to keep the tarp over my hammock despite good weather forecasts.  At 11 PM a surprise rain storm moved in, yet I stayed warm and dry listening to the rhythm of the raindrops above.  After 4 AM my sleep was fitful and restless.  I wanted to get on the trail to start crushing miles!  I awoke to the early light of a beautiful, clear morning.
The first eight trail miles of the day would be smooth and easy.  I felt like I could fly along the trail, running high on adrenaline as I got closer and closer to my goal!  Once again I met a lot of overnight hikers – many of whom were extremely gracious and congratulatory on my impending AT finish at Springer.  What a great community the hiker world is!
The latter part of the climb would actually turn out to be tougher than I expected, but I was on a mission.  All around me I noted the sounds of backcountry residents:  woodpeckers, squirrels, chipmunks, and catbirds to name just a few.  There was so much variety that it felt like the Appalachians woods were giving me a trip-long farewell medley of its most recognizable sounds!
I earned some great views along the way.  Here's what I saw from the trail:
As the miles fell behind me through late afternoon I was soon within just five miles of my ultimate destination:
Stover Brook Shelter was located just off the AT a short way ahead.  I'd roll in at 4:35 PM, having covered my big 21 mile day in a scorching 8 hours and 15 minutes.  Do you think I was ready to finish off this hike, or what?  As usual I had an empty shelter waiting for me – which worked out great in spreading my stuff out for camp setup and dinner.  By 7 PM I began to think that I'd spend my last trail evening solo once again, despite passing hordes of hikers.
At the nearly dark hour of 8pm I heard a round of young voices way down below me on the trail. Ten minutes later two adults and three youngsters made their way up to stay at the previously empty shelter.  Though they'd bang around in the dark with headlamps for the next ninety minutes I welcomed having them nearby.  I was truly pleased that I had some shelter company on this final night!
Summit day!
The morning of my summit hike to Springer was as brutally cold and uninviting a morning as I'd seen on my entire trip. I could see my breath for the first two morning hours.  The wind ripped ruthlessly out of the northwest, and I wouldn't warm up enough to be fully comfortable until almost midday.  It was 45 degrees in nearby Hiawassee.  Just how cold was it in the mountains?  See this guy below?  Despite being as bundled up as possible I couldn't get any warmth flowing to my hands!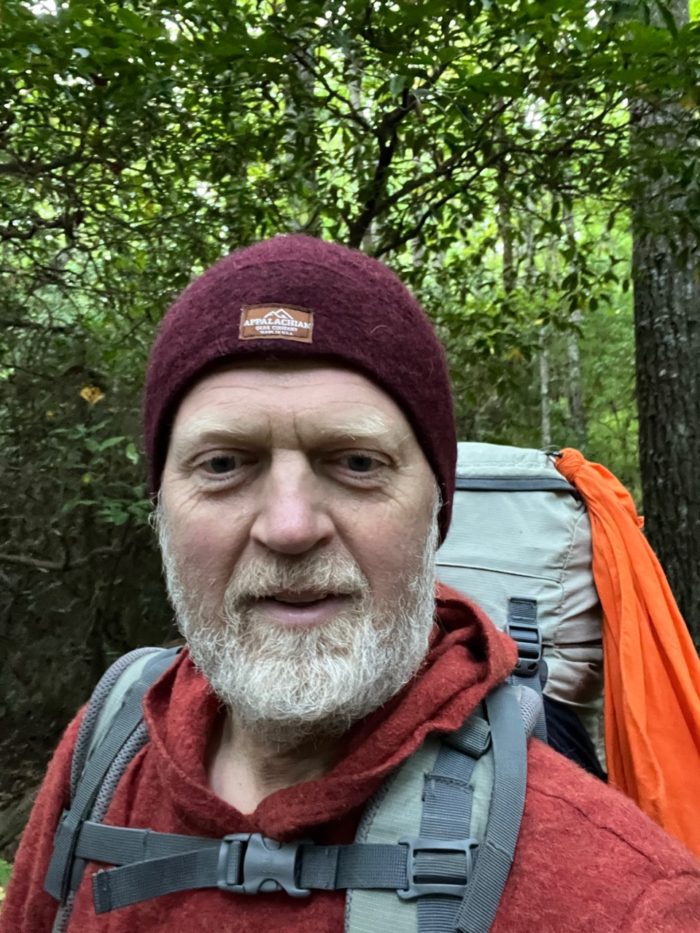 As you might expect, I was up and out of camp early in the morning – just after 8 AM.  The sun would appear over the ridge shortly thereafter, but it wouldn't be enough to dent the cold:
The three miles to the summit of Springer Mountain flew by as images of the last five months raced through my head.  And then suddenly I had reached the top!  Here's the west-facing view from the summit.  Not a lot of high peaks to be seen out there:
Arriving solo, I managed as best as I could to take some summit selfies:
But I was thrilled and relieved when some section hikers arrived.  They gladly volunteered to take a few rounds of much better pictures of me on the summit.  Strike a hero pose — I'd finished the whole AT!
A closing tribute to my dad
Those of you who have been blog readers from the start know that I've hiked the AT in honor of my father, a man who loved the mountains more than anyone I knew.  His joyful on-trail singing of "Loch Lomond" led me to take the trail name "High Road" in his honor.  I've honestly felt that he's accompanied me through this entire trek.
To carry out a small tribute, I had purchased a Morrison tartan swatch and Morrison clan crest at a Scottish Tartan store in Franklin.  I wanted my dad to celebrate with me at the conclusion of my hike.  I was honored and humbled to include these symbolic pieces as a part of my summit celebration:
As I held the crest and tartan over my heart at the summit marker I felt tears start to well up.  We did it, Dad!  The hiking adventure of a lifetime, 100% complete!
At my shuttle pick up location, two lunching day hikers offered me a celebratory beer.  I'd never have thought that my first post-hike beer would be a Modelo. but here I am drinking it down.  As you might expect, it tasted awesome!
What's Next? Back to work!
So many people – hikers, readers, non-hikers, family and friends – have asked me the question "What's Next?" as I've approached the finish line.  I want to note that I'm not some idle multi-millionaire sitting back and deciding which bucket list items to tackle next.  I'm actually a working guy who left a good paying full-time job over a year ago to chase my AT dream.  As a result, I'll be job hunting over the next several weeks, looking for a Head of Product position.  With my background in leading the launch of innovative web and mobile app experiences in financial services, I'm confident that I'll find an exciting opportunity to dive into.
With that being said, sometimes a village can do things that an individual can't.  If any of you faithful blog readers know of opportunities out there, please let me know.  My LinkedIn profile gives you all of the details on my past accomplishments, and I'll be happy to connect with any of you who indicate "blog reader" as part of a LinkedIn invite.  By now you realize that pulling off a successful thru-hike requires strong skills in strategic planning, logistics, flexibility and decisiveness.  I bring all of that (plus the drive to compete and win!) to my working role as well.  I'm favoring an opportunity with a small, growing company or division right now – a place where I can really make an impact.
But surely some more hiking and blogging in the future!
As far as future hiking adventures go, I'm not eager to take on either of the other big US thru-hikes.  Those are the CDT (Continental Divide Trail) through the Rockies, and the PCT (Pacific Crest Trail) in Washington, Oregon and California.  The terrain, elevation, and logistics are quite a bit different for those treks.  For one thing, I'd likely not be able to use my beloved hammock in Western terrain – and that would be an epic change for me.
I do expect to take on the rest of Vermont's Long Trail at some point, covering the last one hundred miles to Canada that I didn't hike on the AT.  And maybe there's some overseas hiking in my future:  Scotland, New Zealand, Croatia?  It's not going to happen near-term, though.
As for blogging, I plan to churn out a few summary-type AT articles that I had assembled in my mind but never had time to write on the trail.  I believe that The Trek will keep this blog pipe open for me, and that you'll all get e-mails when I send a new one out.
A big heartfelt THANK YOU!
And finally, I want to thank all of you blog readers for being an incredible source of support during my time on the AT.  I can't tell you the number of times that I'd go hours or even days without seeing another hiker, but I'd open up my e-mail to a warm comment from one of you about my most recent blog!  Believe me, your words were precious and cherished at those points.  I felt an incredible sense of support knowing that many of my family, relatives, friends, former co-workers, and church family were reading about my trail experience!
I'm overjoyed that so many of you have noted that you've gained (or regained) a true feeling of what it means to hike the AT through my writing.  I hope it has been inspirational, and that at least some of you will move forward to experience some of what I have over the last five months.  The Appalachian Trail is a special place.  I departed on April 21st, 2022 expecting the adventure of a lifetime, and the AT delivered all of that and more.  Thank you all for coming along on the journey with me!
Affiliate Disclosure
This website contains affiliate links, which means The Trek may receive a percentage of any product or service you purchase using the links in the articles or advertisements. The buyer pays the same price as they would otherwise, and your purchase helps to support The Trek's ongoing goal to serve you quality backpacking advice and information. Thanks for your support!
To learn more, please visit the About This Site page.
Comments
26
Wow what an accomplishment. I'll miss the posts, now get outta here ya big lug sniff

Congratulations! I'll miss reading of your adventures, but I'm glad I was able to get a sense of what through hiking the AT can be like.

Congratulations, High Road! Hope you made it back home safely and find something soon that's rewarding. This was my first year following along with AT bloggers and you were my fav. As I pick sections to do I'll be reviewing your entries on them to help me decide. Cheers and thanks again.

Yesss! Congratulations Highroad! I often cry reading completion blogs, but I smiled also. My slow progress toward Springer (and Katadhin) will be aided by your experiences. Good luck w job search, and happy future trails!

Congratulations on your successful hike! I hope you can find someway to covert your amazing blog into a book for your family.
Safe travels home.

High Road,

It was such a pleasure to meet you on trail after following your journey on your blog. Congratulations! I look forward to your follow-up comments and observations, especially as they may relate to hammocking experiences, something we share in common.

My best to you for your future,

OMMA

Congratulations Scott. Quite an accomplishment for sure! I have enjoyed following your journey via this blog. It was a pleasure to meet you and I will always remember fondly our conversation on the short ride from Franconia Notch to Bretton Woods. Good luck on all your future endeavors.

Congratulations Scott!

I looked forward to and truly enjoyed reading every post. What a great job you did making us readers feel like we were on the trail with you. Thanks for sharing your epic adventure.

Cheers to you!
Jeff B.

Congrats Scott! You'll have to tell my oldest about your adventures we just started back day hiking with the kids at the end of August.

Congrats! Glad u got done before it got too cold. I've read a lot of your posts but will go back and catch up on the ones I missed. Liked your writing style and humor. I thru hiked the AT in 2019 and this August did 218 miles to finish Long Trail (did 54 last August then bad blisters-wanted to do all but worked out). Doing what u haven't done on LT is a good plan-become an End to Ender. One tough trail. Good luck with job-will work out!

Congratulations!! I enjoyed following your journey!!

Awesome to hear from so many of you so quickly, from my long-time regular readers (Smitty, Pinball) to my hiker-readers (OMMA, Shocktop) to friends like Scott T, Jeff, Deanna and hitchhiker savior Steve! Really glad that you enjoyed taking the trip with me through this blog! A million thanks for the support….

Scott
"High Road"

It was so much fun to travel along with you all these months. Congratulations and good luck on your next adventure (I mean job)

Fabulous achievement Scott.
I can't believe you did it so quickly and I had a tear in my eye too as saw your pics at the summit of Mt Springer.

Congratulations on finishing your AT hike. Enjoyed your excellent journal. David Odell AT71 PCT72 CDT77

Congrats High Road! Really enjoyed following along – you provided a great narrative and lots of good recon for my own attempt in a few years. And as a fellow craft enthusiast I've especially enjoyed the occasional shout outs on the local brews. Thanks for writing it all up for us.

Cheers and best of luck in whatever comes next!
Mark

I'm a total stranger who enjoyed reading your posts and learning lots in the process. I was amazed reading how much quieter the trail was via flip flop instead of the traditional nobo. Thank you for writing for trek so I could "follow" along.

Congratulations High Road! I loved following along on your SOBO AT hike. You helped bring back a lot of memories for me, especially in NC and GA since they were recent for me. Best of luck on your job search; I'm confident you'll find the job of your dreams. Loved the tribute to your Dad; inspiring!!
Papa

Congrats to you, Scott the Scot.
Best wishes and happy trails.

Congratulations, Scott!! What an amazing accomplishment! We've enjoyed following your travels and all the inspiration you've given to others through your blog. We'll look forward to seeing you soon. We are just arriving in Croatia, but alas, no hiking for us in these mountains. 😉

Congratulations, Scott! I have followed you from the beginning, although not always every post in sequence. Thanks for the beer reviews! While I read many Trek blogs from time to time, yours is one of a few I would seek to read. All the best for your pist AT days.

God bless you, Scott! What a great adventure. I so enjoyed accompanying you via your words. You are a fantastic writer! I hope that powerful skill can be incorporated into your next paid job. Welcome home!

Congratulations Scott! What can I write that hasn't already been written? Really enjoyed following you from the start and look forward to perhaps following along on your next adventure on The Trek.

As one comment above mentioned a book have you considered writing a beer drinker's guide to the AT? You'd have at least one sale here in the UK.

Congratulations, Scott! Really enjoyed following this year!

Congratulations Scott. Tremendous achievement.

Congratulations!!! I've followed your journey since the beginning and loved reading every entry. I wish you all the luck in the world and look forward to reading more posts whenever you venture out on a new trail!