AT Days 32-35: Animal Bite Hurts! Feisty Connecticut Miles
I was very excited to be headed into my home turf of New England on Day 32 of my hike.  My four days in Connecticut, though very enjoyable, would carry a bit of an unexpected bite to them.  Here's the summary, which included an in-town stopover in the quaint hamlet of Kent:
Day 32:  Telephone Pioneers Shelter, NY to Ten Mile Shelter, CT (13 miles)

Day 33:  Ten Mile Shelter, CT to Fife and Drum Inn, Kent CT (9 miles)

Day 34:  Kent, CT to Stewart Hollow Brook Shelter, CT (7 miles)

Day 35:  Stewart Hollow Brook Shelter, CT to Limestone Shelter, CT (21 miles)
I departed on Day 32 by filling up a water bottle at the shelter and seeing the first frogs of my trip thus far.  One actually went to great lengths for attention by taking a monstrous two-foot jump into the stream that I was filling up at!
Shortly thereafter, I found myself in a pasture section of the trail, where cow pie avoidance was my primary objective.  That windmill looking contraption at the bottom right of the photo is what allows a hiker to scale a pasture fence:
The trail eventually returned to the woods, and I got a second recent dose of trail magic, as a gentleman named Chris had left out coolers of Gatorades, sodas, and snacks at a roadside.  It was awesome to unexpectedly bag a little sleeve of Oreos at midday.  Thanks Chris!
Later that afternoon I crossed into Connecticut and was overjoyed to be nearing familiar portions of the Trail.
I had planned a short day as part of a "double nearo" into Kent on Day 33/34 and arrived in the early afternoon at Ten Mile Shelter.  My spirits were sky high as I felt much closer to home, and a shower, clean laundry, and restaurant food awaited me in Kent!
Upon arrival at the shelter, I was immediately struck by the numbers and activity of creeping creatures.  Ants and spiders of all types roamed across the picnic table and a nearby wooden bench.  Chipmunks and some very beefy squirrels ran circles through the nearby trees.  In fact, as soon as I had crossed the border from New York into Connecticut I had noticed fat squirrels.  I thought—a better squirrel health plan in Connecticut?
Rain was moving in, and even though there were no other hikers at the shelter, I'd set up my hammock nearby.  But where to stash my pack? I knew I wanted it off the ground with all of the crawlers, so I hung it from a spike on a shelter pole to keep it dry.
The Mouse that Roared
When potential thru-hikers discuss their AT plans with friends and family, it's common for these listeners to bring up the common "trail dangers:"
Where will you sleep?

How will you get food?

What about wild animals?
And for that last one, bears and snakes are the popular topics.  Maybe an occasional mention of wild boars and wolves.  But no one ever mentions mice. 
I found out firsthand the next morning how nasty these creatures could be, as I pulled my pack down and started to rearrange gear.  My beloved alpaca hoodie had a quarter-sized hole chewed in it, right at the belly button.  The mouse had crawled into my pack and chewed through a plastic liner and a towel to munch on my most costly clothing item.  There wasn't even any food in my pack. Ugh!  The crime: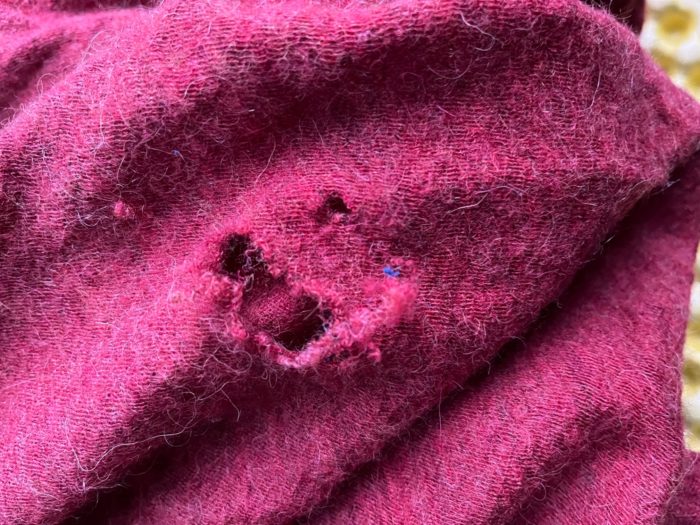 Almost unbelievably—a few minutes after my discovery, the little hoodie chomper appeared in front of me.  (I knew it was him, I could see it in his eyes!)  The prime suspect:
And then, incredibly, he had the audacity to run up and down the pole that I had hoisted my pack on!  It was as if he was saying to me, "Do you see how easy this is for me?  How stupid were you to think I couldn't reach your pack?" I restrained myself from throwing things at him, but I was angry at that little rodent.  You can complain about snakes, but the reports I got from shelter sleepers in New York and points south were that mice were never a problem there.
Town Days
When I departed the shelter and headed towards my waiting hotel room in town, I was hoping for a pleasant trail trip in.  The morning of Day 33 was very enjoyable, but the trail grew rough and stubborn towards the end of the nine miles.  Like a distraught child, the trail kicked and screamed at points where I thought an easy descent was coming.  I battled steep uphills and rocky terrain all the way down to the road.  It was a foretaste of what I'd later face in Connecticut.
The bulk of Days 33 and 34 for me were spent in charming Kent, CT, as I did all of the things that thru-hikers do when they hit town:
Dump every piece of clothing I had into a laundromat washer and dryer
Shower as many times as possible in a warm hotel room
Restock the food supply at the local grocery outlet
Eat as much freshly made food as possible
On that last item, my MMM (Most Memorable Moment) for Day 33 was devouring a Balsamic Bacon Jam Burger, medium-rare, at the Fife and Drum Restaurant. I swear it was one of the best burgers I've ever had in my life!  A Captain Lawrence Hop Commander draft was the perfect complement!
Caterpillar Crunching
I departed Kent about midday on Day 34, having spent time getting a great breakfast and doing some blogging at the local library.  About an hour into my hike I heard what I thought were raindrops hitting the leaves around me.  I soon came to realize that the constant pattering in the forest was due to black inch-long caterpillars chewing holes in every nearby leaf:
The sound grew louder over the next several miles of hiking.  Like a dandelion attending a zombie picnic, I knew that I personally (not being of species flora) wasn't in danger of becoming the next course in this non-stop meal — but that it didn't make it any less creepy and unsettling.  Wonderful living green trees all around me were being eaten alive.  I later learned that the little beastie is called a spongy moss caterpillar.  I'd hear crunching of this type all the way through Connecticut over the next several days.
I'd also experience the roughest descent of my AT trip thus far just past St. John's Ledges, in a twisting, vertigo-inducing rocky descent that could only be described as "harrowing." Thankfully at the bottom, the trail flattened out completely, running beside the Housatonic River for a number of miles.
A Big Day to Get Close to Massachusetts
I felt a need to put up some significant miles after my nine- and seven-mile days in and out of Kent, so I targeted the Limestone Shelter 21 miles away on Day 35.  The morning was very chilly, and I awoke before five a.m. to get on the trail by 6:35.  Even though the trail again ran flat along the river, I couldn't get into a good rhythm sporting my extra clothing early on.  Once a real climb started, I got into a better groove – even though I was taking web hits around every corner.
Now, if you are a website designer or an online business owner, web hits are a wonderful thing!  It means people are visiting your site, looking to interact with you or purchase your products.  If you are a thru-hiker, web hits are not so great.  It means your face, eyes, forehead, and mouth are running into practically every insect web that was constructed since last evening.  And wiping off a web is just not as simple as brushing off a bug or a leaf—they somehow always stay invisibly attached to you!  After about three miles, I was overjoyed to have a Georgia-starting thru-hiker pass me by.  Let him do all the nasty inhaling in front of me!
After about three hours of this big hike, I started to think that maybe "Connecticut" is a Native American word that means "up and then down."  Because that's what I'd spent most of the day doing—climbing over small dome-like summits, heading straight downhill to maybe cross a stream, then repeating!
Now I'm on record within my blog ranting about boring, straight trails with no character (hey there, PA!)—so I'm not complaining.  But man, that 21-mile day was rough on the lower chassis!  But I certainly felt ready for the higher elevations of Massachusetts and beyond!
CT word game!
I was so pumped to enter Connecticut, a New England state, that I played a trail game to think of as many words as I could that ended with "CT" in two minutes.   I got 13—how many can you get? Give it a shot now.
My answers are below the next picture—which is a photo of a Connecticut ridge on which a group of supersize trees strangely tower above all others.  Very unusual, I thought:
My 13 CT words were:
react, connect, duct, pact, redact, conduct, contact, compact, transact, collect, correct, sect, bisect
How'd you do?  That's all for now…
Affiliate Disclosure
This website contains affiliate links, which means The Trek may receive a percentage of any product or service you purchase using the links in the articles or advertisements. The buyer pays the same price as they would otherwise, and your purchase helps to support The Trek's ongoing goal to serve you quality backpacking advice and information. Thanks for your support!
To learn more, please visit the About This Site page.