AT Days 36-39: Massachusetts brings scenic variety and bugs!
During this trail section, I'd exit Connecticut and tackle the lower portion of the trail in Massachusetts, my home state. Here's the summary of these four days:

Day 36:  Limestone Shelter, CT to Race Brook Falls Campsite, MA (15 miles)

Day 37:  Race Brook Falls Campsite, MA to Tom Leonard Shelter, MA (17 miles)

Day 38:  Tom Leonard Shelter, MA to North Mt Wilcox Shelter, MA (7 miles)

Day 39:  North Mt Wilcox Shelter, MA to Rte 20, Becket MA (16 miles)
Heading to my home state
I was pumped up on Day 36 knowing I had a mostly downhill five miles to Salisbury CT. Breakfast and some library time for blogging was in my sights. As I departed the Limestone Shelter I didn't expect to run into such a stunning view across an open pasture, but here it was: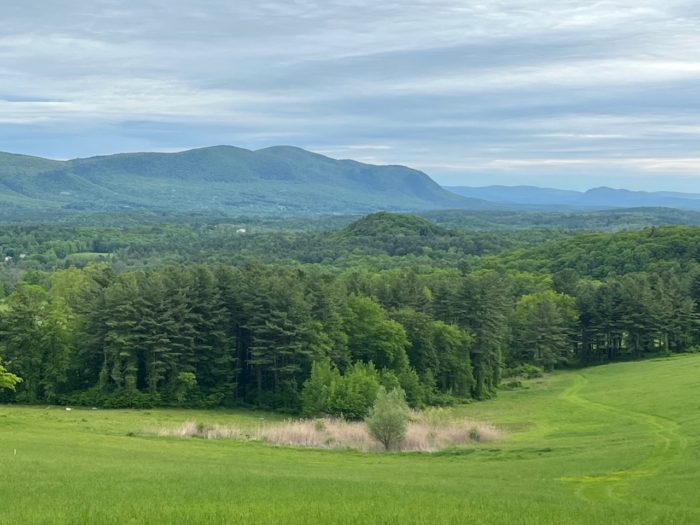 Apparently this is a much-celebrated viewpoint on the AT called Rand's View.  It provides a panorama of three mountains that I'd tackle later that day:  Lion's Head, Bear Mountain, and Race Mountain.
But first and foremost, there was a second morning meal for me in the form of a freshly-made breakfast sandwich from LaBonne's Market in Salisbury, CT.  What a grocery store/deli!  They had all kinds of great food selections and an awesome craft beer section!
When I exited Salisbury I headed up a familiar part of the AT.  Just six weeks earlier, before going to Harper's Ferry, I took a day hike on this trail section.  It was a bit surreal, retracing footsteps of a much less experienced, pre-Trail me. I'd done and seen so much since that first trip.
My MMM (most memorable moment) of Day 36 was standing once again on the rocky ledge of Lion's Head and enjoying the incredible view.  The sky was sun-filled but a cooling breeze made the temperature perfect!
Enter MA, enter scenic variety
The trail continued over Bear Mountain, Connecticut's highest point – where another great view awaited.  The other side of Bear Mountain presents a rough, steep descent into Massachusetts and Sage's Ravine.  This is a beautiful walk along a rushing stream that gushes and dances through boulders for more than a half mile.  I'd seen nothing like this in my first thirty-five days on the trail.  I was reminded of New Hampshire's Sabbaday Falls as I hike alongside the swirling, pooling currents:
The spectacular ledges of Race Mountain provided the next incredible scenic point, just a couple of miles up the trail from the ravine.  As I progressed up the trail I got increasingly wider views of the extensive Housatonic River valley to the east.
That night I'd stay at Race Brook Falls Campsite, where I did my second-ever solo backpacking hike as documented in this earlier post.  I'd come a long way since that trip one year ago!
Day 37 included a foggy morning climb up Mount Everett, and my MMM of the day occurred very early on.  As I neared the summit, I recalled that last year a female day hiker pointed out a beautiful jack-in-the-pulpit flower in that area.  After taking one trail turn I looked down …. and there it was, again in 2022, blooming and beautiful!
But the bugs!
Ah, but with the variety of scenery, especially the lovely water settings, there are bogs and mud and marshes.  And those are the places where bothersome bugs hang out: mosquitoes, black flies, and midges.
Let me say upfront that I'm not a bug spray guy.  I never use it at home, and only on occasion in the woods.  In fact, for this first quarter of the AT I packed only 10 little DEET wipes.  I didn't even use the first one until Day 26!  But what started as bothersome in NY and CT became downright scary at times in MA.  To traverse the infamous "mosquito alley" near Great Barrington I had to bring out special (ridiculous-looking) gear: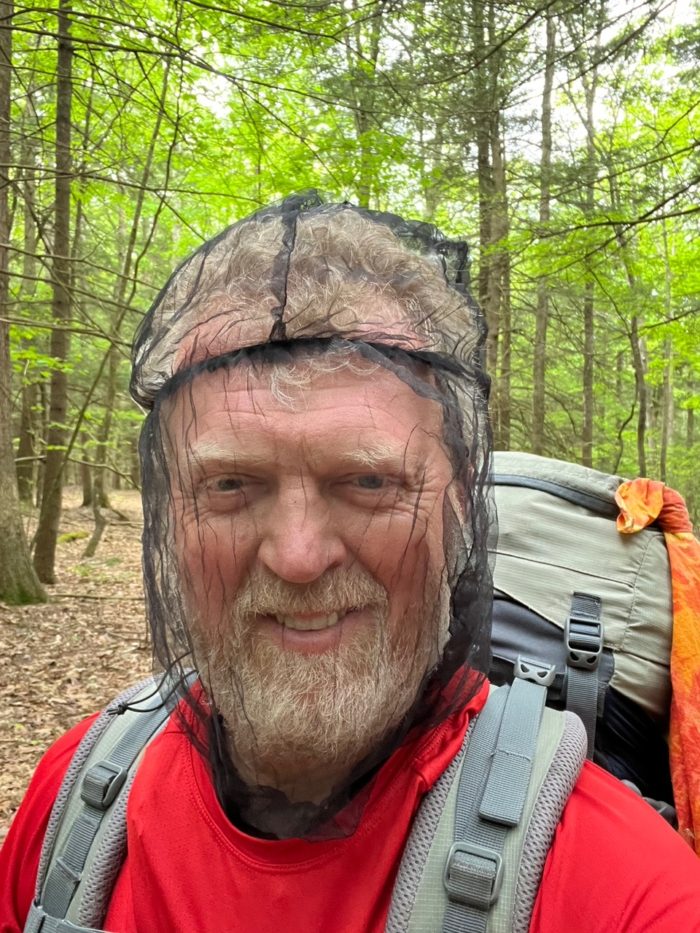 This bog below might be the buggiest place in the entire world!  If you stopped for even a second, dozens of mosquitos appeared directly in front of you!
Later that day, when I wrapped up the day with several thru-hikers at the shelter we discussed Mosquito Alley.  Actually, it was more like a group therapy session for all of us as we tried to recover from the day's bug trauma.  Although each of my companions also had donned a silly head net, they all ended up running a mile plus (with full packs) through the section just to exit it quicker!
On the other side I found a historical marker for Shays Rebellion, which was an economic uprising in the early days of America.  I found it to be a fascinating bit of history.
I'd stay that night at the Tom Leonard Shelter where I spent my very first solo overnight last year (wow, if you're still faithfully reading my blog posts since that post, kudos to you!).  So as you can see, this Massachusetts AT section brought up lots of memories for me.
Cobbling together a couple days before a zero
A few key events would shape Days 38 and 39 for me:
I had arranged for my wife to pick me up on the afternoon of Day 39 to go home for resupply and recharge!
There were about 23 miles of trail between me and the pickup point on Route 20.
Heavy thunderstorms were predicted starting at about 1 p.m. on Day 38.
Bears had recently been roaming around the Shaker Campsite, a potential overnight stay location.
These factors would result in me only hiking 7 miles on Day 38, and holing up in the North Mount Wilcox Shelter at 1 p.m. to watch the skies open up and flood the surrounding area.  I had no cell phone coverage, however, so it was simply a time to sit and do some thinking.  Around 5 p.m., however, a section hiker named Boom came by with some trail magic (a beer!) and great conversation to make that my MMM.  Thanks Boom!
Post-rain Day 39 was foggy and incredibly spooky in the woods at times, as you can see from this picture below:
Singing SSPU to keep the bears at bay
I resolved that I'd be making as much noise as possible on Day 39 to avoid a surprise bear encounter.  The details of the bear sightings in the area were that a mother bear and two cubs lived in a swamp near the Shaker campsite.  I wasn't sure where the swamp was, so I'd be loud the whole way down.
I decided to try to unpack all of the songs I could remember from the Silversun Pickups excellent album Swoon.  So I spent much of the next three hours remembering guitar riffs and lyrics and piecing together as many songs as I could.  (Outdoor karaoke at its finest, with no monitor for lyrics!)  I was really pleased that I could reassemble all of the pieces of "The Royal We", that powerhouse second song with the frantic start, whirlwind turns and spooky death-reference lyrics.  It's one of my all time favorite SSPU songs.  I also wandered a bit into the first album with their awesome tune "Well Thought Out Twinkles".  And guess what – no bears appeared!
On to the Cobble
The climb up and over Tyringham Cobble was interesting and enjoyable.  I know many of you blog readers are located in Massachusetts — this short hike would make a nice day trip to the Berkshires for you.  Plus, you'll hike a part of the AT when you do the loop trail!
And incredibly, as I reached one of the viewpoints the foggy day transformed into this beautiful blue sky:
But certainly one of the most interesting things is that this little land bump is called a "cobble", rather than a hill, view, or ledge.  It sounds very British and cool, much the way the Brits make the word "rubbish" sound way cooler than "trash".
And I wonder if anyone has ever eaten cobbler on Tyringham Cobble?  (These are the types of questions that assault a thru-hiker who spends about ten hours a day backpacking solo in the woods!)  Let's explore this a bit:
They could actually sell some homemade cobbler at the entrance.  If they did, then that would be Cobble cobbler.
How about holding an event on this theme?  That would be a Cobble cobbler gobble.
And if we invited a number of people who repair shoes to join in (do these people still exist?), you'd have a Cobble cobbler cobbler gobble!
Something to think about as a marketing event, Tyringham.  Anyway, visit the Cobble.  Bring some cobbler.
The Mass Pike "finish line" for the first part of my trip
Day 39 brought me to the bridge over I-90, the Massachusetts Turnpike!  I had a goal of reaching it by June 1st, and I surpassed that!
Many of you know that I've spent many of the past twenty years working in the 529 College Savings industry.   In an amazing twist of numerical synergy, I'd cross this bridge on Sunday, 5/29 during mile 529 of my hike!
I also discovered that this bridge (below) is actually two pieces, not one.  You actually walk beside the highway twice to get across — who knew?  Anyway, I was excited to get some home cooking, a few great beers, and some rest!
Affiliate Disclosure
This website contains affiliate links, which means The Trek may receive a percentage of any product or service you purchase using the links in the articles or advertisements. The buyer pays the same price as they would otherwise, and your purchase helps to support The Trek's ongoing goal to serve you quality backpacking advice and information. Thanks for your support!
To learn more, please visit the About This Site page.