AT Days 44-47: LoVermont !!
I'd travel familiar terrain in this section of the AT / Long Trail in Vermont.  It was incredibly beautiful, accompanied by perfect hiking weather.  I've previously waxed poetic about my love for the Green Mountain State in this blog space.  This hiking visit affirmed the beauty and serenity of this place.
The weather tone was set on Day 44 when a forecasted rainy night did not occur.  Four absolutely perfect hiking days (sunny, 70 degrees, cool breeze) followed.  I was also spared from the worst of the state's infamous trail mud.  Here's the daily summary:
Day 44 Congdon Shelter to Goddard Shelter (14 miles)
Day 45 – Goddard Shelter to Stratton Pond Shelter (19 miles)
Day 46 – Stratton Pond Shelter to Peru Peak Shelter (21 miles)
Day 47 – Peru Peak Shelter to Minerva Hinchey Shelter (20 miles)
Up on Harmon Hill
The Irish have long believed in thin places – places of energy where the veil between this world and the eternal world is thin.
I've been to Harmon Hill in southern Vermont twice now, and I count this on my list of thin places.  On Day 44 I arrived at 8 A.M. on a foggy morning and yet there still was a bright glow:
Harmon Hill is on the end of a ridge overlooking the town of Bennington.  Sections of open meadow on the sides of the trail resonate with an amazing variety of bird calls.  There is a huge amount of natural light and airiness in the space.
And yes, there are great views of the town and the western mountains:
Getting a Lift from an Old Friend
My longtime friend Scott Trafton, a Bennington resident, had volunteered to help me do a resupply when I came by on the AT:
After being incredibly patient as I roamed Price Chopper for my food items, Scott brought me to Bennington's best breakfast place – the Sunny Side Diner. We shared a delicious 10:30 breakfast and caught up on 15 years of people and life. It was great fun!
Long Trail Connections
Vermont's Long Trail runs from Massachusetts to Canada and is a popular summer thru-hike.  For about the first 100 miles it coincides with the AT.  On my first three nights in Vermont, I shared the shelter with a couple of solo Long Trail hikers: Daria and Chris.  I soon found them to be smart and positive with a good sense of humor – which made for great company.
On our third night together at Stratton Pond Shelter, I let them know that I was planning a 21-mile day to Peru Peak tomorrow.  I'd made a reservation at an inn in Killington in 4 days, and I wanted to take a nearo the last day so I could resupply in Rutland. As Chris was tending to his blisters and Daria was contemplating seeing the sunset over the pond, I felt we might be parting ways on the trail.  But … there are twists and turns in people connections on the AT.

I thought there might be a trail name for Daria tied to her quest to view sunrises and sunsets.  As I headed off to my hammock I said, "Maybe Suncatcher?" She said she'd consider it.  I'd find several Long Trail hikers at Peru Peak that night, but not Daria and Chris. 
Beautiful Sights …
This is the fire tower on top of Stratton Peak.  When I arrived the wind was gusting crazily and the summit (usually filled with tourists) was empty.  The winds made the fire tower climb kind of scary.  But the views were still special.
Later, the top of Bromley Mountain offered fantastic 360-degree views.  However, it also offered its incredibly gusty winds – forcing me to crouch below a summit rock for shelter.  I had hoped to write some blog material, but it was a "too windy to think straight" setting.
I've now been on top of Bromley four times, and three out of four have been strong wind days.  I've never skied the mountain, but it's got to be cold at the top in winter!
Little Rock Pond is a beautiful and peaceful setting.  After I stopped to eat lunch at the shelter, I encountered a dragonfly convention by the shore!  I'd seen only two dragonflies on my entire trip, and there I saw about a hundred identical black and white ones at once!
I recall thinking on that first full Vermont hiking day that there really was no place else I'd rather be at that moment.  Some of you might say "Wouldn't you rather be almost finished with the trail?"  But I'd answer "no" to that.  Here I was:
One-quarter of the way into the greatest adventure of my life, and I felt great
Confident in my ability to hike the AT, and comfortable with the trail routine
In familiar, beautiful surroundings and headed to New Hampshire and Maine, the "big attractions" on the AT
So thanks to all of you who have enabled and supported my amazing journey thus far! I'm eternally grateful for this experience.
Mount Baker Sparkles
The last time I scaled this peak in September 2021 was on a cloudy morning.  It started raining halfway up the difficult summit rocks, making for a rough climb.  This time around – with the picture-perfect weather- it was a fantastic and memorable ascent: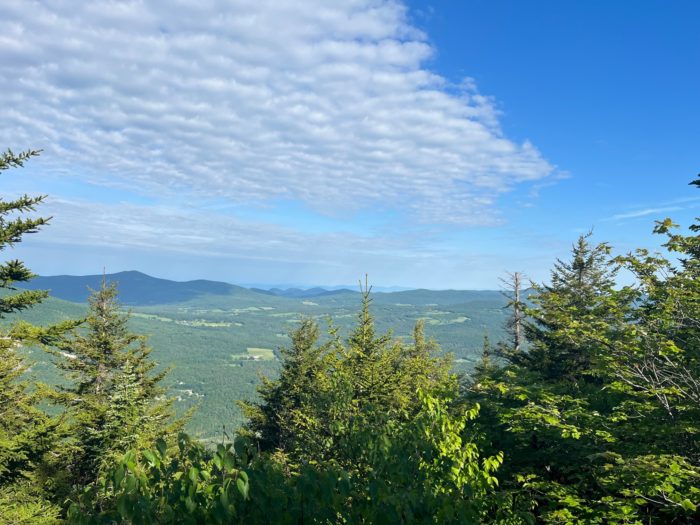 But, those rocks were still tough!
I also have to mention the amazing hemlock and birch trees near White Rocks junction.  A phenomenal forest of tall, healthy beautiful trees!
And some strange turns …
There were a few really odd moments worth sharing as well:
On Day 45 I was charged by a grouse who was no more than a foot high!  She went into some kind of squawking alarm mode, flapping her wings and making a crying sound.  I can only guess that her nest was close by.
A half-hour later I came to a confusing turn where I recalled I got lost momentarily on my prior hike.  I stopped, spun, and found a path in an odd direction- but it was clearly the trail.  It wasn't until I reached a very familiar-looking view 0.4 miles later that I realized I was heading back in the opposite direction – southbound on the AT!  First time for me on this trip and the longest wrong way turn in my hiking career!
I had a seriously scary reaction to seeing this (bear!!!) as I turned a trail corner:
I stopped, made noise – and with no further movement this "bear" turned out to be a stump of wood!!  You know, I think we hikers should be able to put little tags that say "This scared the snot out of me!" on things like this!  If trail crews want to improve the hiker experience, let's start by removing these stress-inducing pieces of wood!
Vermont's Music Soundtrack
The music most frequently running through my head during this amazing four-day stretch was from Taproot's Welcome album.
This alt-metal album made a major splash when it was released in 2002 with the singles "Poem" and "Mine."  Unfortunately, these excellent Taproot songs haven't found their way into "classic rock" rotations, and the album is far too underappreciated.  I find the entire album to be excellent end-to-end, and full of positive self-improvement mantras:
I must eliminate and change, (yesterday's) yesterday's pain today
And some mad guitar riffs and a bit of screamo vocals always tend to give me a trail lift!
VT word challenge!
I got a ton of feedback from readers who tried the CT word game challenge, so I played a VT word game on the trail- and I'm here to share it with you.
In 2 minutes, find as many words as you can that contain a single V and a single T in that exact order.  Plurals ending in S are not allowed.  (Hint:  the word doesn't have to start with a V).   My total and list of words are below the Bromley summit picture.  Go!!
Back?  I got 15 words in 2 minutes: 
vat, vast, vaster, vitamin, vital, invite, vote, voted, voter, voting, devote, revolt, revolution, vest, invest. 
How'd you do? Let me know!  Next up on the trail is Killington, the highest AT peak in Vermont!
Affiliate Disclosure
This website contains affiliate links, which means The Trek may receive a percentage of any product or service you purchase using the links in the articles or advertisements. The buyer pays the same price as they would otherwise, and your purchase helps to support The Trek's ongoing goal to serve you quality backpacking advice and information. Thanks for your support!
To learn more, please visit the About This Site page.