AT Days 52-55: First Miles in New Hampshire
After a wonderful stretch of AT trekking in Vermont, I'd cross into my "home hiking state" of New Hampshire.  However, I had never hiked any of the upcoming trail miles between the Vermont border and the western edge of Mount Moosilauke.  These first miles in New Hampshire would prove to be both interesting and challenging.  Here's the daily summary:
Day 52 – Thistle Hill Shelter, VT to Velvet Rocks Shelter, NH (16 miles)
Day 53 – Velvet Rocks Shelter, NH to Trapper John Shelter, NH (15 miles)
Day 54 – Trapper John Shelter, NH to Hexacuba Shelter, NH (12 miles)
Day 55 – Hexacuba Shelter, NH to Jeffers Brook Shelter (16 miles)
Heading into the valley – and a "Zoinks" moment!
Thistle Hill Shelter sits on a lovely ridge overlooking the Connecticut River Valley.  Hanging my hammock in the tenting area above the shelter provided me a front row seat for a yellow-orange morning sunrise on Day 52:
I wanted to get into Hanover, NH as quickly as possible that day as the town library would only be open until five o'clock.  There were 14 miles to cover in the interim, mostly downhill.  The early morning started with a number of pasture crossings offering great valley views:
A fellow flip-flop hiker named Shaggy had also spent the night at Thistle Hill Shelter, and I'd catch up to him just outside of the small town of West Hartford, Vermont.  Last night I'd read about the town in the FarOut app, and it painted a picture of a once-bustling stopover that had closed up a bit in recent years.  As we exchanged a few words about the last few miles, I absently said "So I guess we're about to head through a ghost town, here, huh?"  Shaggy's eyes got wide, his jaw dropped and he repeated "ghost town?" back to me.
It wasn't until a half-mile later that I realized the hilarious irony of what I'd just done.  I'd played the cartoon role of Freddie by telling a companion named Shaggy that we were about to go through a ghost town!  I started laughing out loud recalling Shaggy's wide-eyed reaction to my statement.  Really the only thing missing from the whole sequence was the "G-g-g-g" that would go before "ghost", and a shivering Scooby Doo leaping into Shaggy's arms!  The whole concept here is just hilarious to think about!
Town Time
Ultimately the trail emerged from the woods onto an asphalt road outside of picturesque Norwich, VT.  What a nice little Vermont village!
The next several miles required a two-mile roadside walk across the Connecticut River directly into the center of Hanover, NH.
The quaint home of Dartmouth College was abuzz with people everywhere, as graduation ceremonies were to be held the next day.  I definitely felt a bit out of place toting my hiking gear and trail aroma through the sidewalks of the crowded little town.
As luck would have it, Hanover's library is located right next to Ramunto's Pizza, which offers thru-hikers a free slice.  They also have a fine selection of craft beers on draft. I took full advantage of both after finishing up a blog post next door.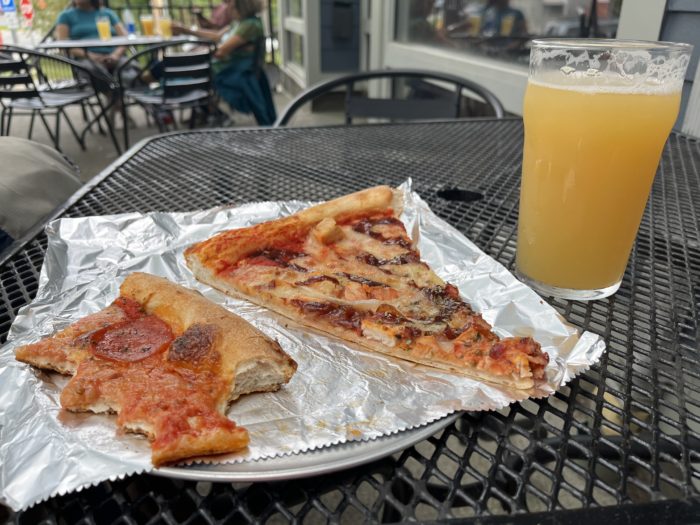 For the record, my beer selections that day were Fiddlehead IPA, Industrial Arts Wrench NEIPA, and a delicious Cloud Drop IPA from Vermont's Upper Pass Brewing.  All paired well with three slices of pizza.  Gotta keep packing on those extra calories!  After a resupply at the Hanover Co-Op Market, I'd head to a shelter just about a mile out of town.
Going Over Moose Mountain and Holt's Ledge
Day 53 involved a couple of small climbs:  Moose Mountain and Holt's Ledge.  I'd encounter a number of day hikers taking advantage of a sunny Sunday.  The Most Memorable Moment (MMM) of the day was this incredible view from Moose's South Peak:
I wish I could speak as glowingly about Holt's Ledge, but that late-day climb turned into a real grind:
A swampy area at the base had some of the most vicious bugs I'd seen since Mosquito Alley, MA.  On went the bug-net headgear!
The ascent was brutally steep at times on an increasingly warm afternoon.
Several times I reached locations that I thought were the high point of the climb, only to find out they were false summits.
The bugginess of my Holt's Ledge hike brings up memories of another buggy "Ledge" climb.  Back when I was maybe eleven or so, my whole family embarked on a short day hike to a place called Hall's Ledge near Pinkham Notch, New Hampshire on an early June day.  We brought along our bug spray but really miscalculated how vicious the black flies would be on that trail that day.  As it ended up, we never even took our lunches out of our packs — instead fleeing downhill to the car to escape the little nasties.  "Hall's Ledge" became the extreme point for our family's barometer on just how buggy a certain place was.  So think twice next time you're planning to climb some "Hxxxx Ledge" – the bugs may drive you crazy!
Smarts Mountain / Mount Cube
I'll tell you, I really have to applaud the marketing genius of the fourth-largest self-storage company in the United States.  You can annually pay tons and tons of money on TV commercials, billboards, or the side of a NASCAR vehicle to get your company name seen.  But for CubeSmart to have a couple of side-by-side New Hampshire mountains donning their corporate name, well that's just plain genius!
But seriously — I found these two peaks to be beautiful and truly challenging.  In ascending them, I felt I'd finally reached the White Mountains as I'd face a tough "rocks and roots climb" — the type of climb I'd loved since I was a kid.  The amount of ledge, both quartzite and granite on these two peaks is incredible, and a hiker is asked to scale many sections of it, both up and down.  But the view rewards are fantastic and well worth the effort:
The fire tower view from 3200-foot Smarts Mountain was simply astounding – the clear MMM from Day 54!
I'd wrap up the day by staying at the unique Hexacuba Shelter, a wonderfully quiet spot on a ridge of Mount Cube.  How many six-sided shelter buildings have you ever seen?  How about a five-sided "Penta Privy?"  Hexacuba has them both!  I also found out firsthand that they sometimes have a very large napping black bear in the afternoon.
Shortly after I arrived at about 4 p.m., I walked towards the tent sites and heard a crash as the large head and shoulders of a bear emerged above me and took off up the mountain!  I'd not see or hear him after that, but it did set an uneasy tone for my solo visit to an otherwise peaceful location.
On Towards Mount Moosilauke
I had some climbing to do on exiting the shelter, up to the summit of Mount Cube.  Again, views were abundant to the west and south of the peak.  But what I really desired was to see Moosilauke and the rest of the White Mountains.  Fortunately, a 0.3-mile side trip to Mount Cube's North Peak provided me that view, the MMM of Day 55!  I know that many thru-hikers won't take the extra time or miles to follow a side trail, but I've done it on many occasions thus far.  And the rewards (such as the awesome view below) are often meaningful:
I was thrilled to get a clear view of the 4800+ MOUNTAIN that I'd be scaling tomorrow!  I regard many of the New Hampshire 4000-foot mountains with a bit of reverence and awe, recalling their beauty and majesty on bright sunny days as well as their ferociousness in bad weather.  The forecast looked to be pretty good for this trip, so I eagerly anticipated the climb.  I finished out the remainder of that day's 16 miles of hiking trying to quell my anticipation.
The real White Mountain section of my AT hike was about to begin, and I couldn't be happier!
Affiliate Disclosure
This website contains affiliate links, which means The Trek may receive a percentage of any product or service you purchase using the links in the articles or advertisements. The buyer pays the same price as they would otherwise, and your purchase helps to support The Trek's ongoing goal to serve you quality backpacking advice and information. Thanks for your support!
To learn more, please visit the About This Site page.