AT Days 52-55
James River Trailhead to Brown Creek Shelter, 20.1 miles
Charlie dropped me and one other hiker off at the James River Trailhead just after 7 AM. I thanked him for the great night's stay and headed back into the woods for my next stretch of trail to Waynesboro, 77 miles North.
The first mile was very flat before beginning the big climb for the day up to Little Rocky Row, ascending over 1,600 feet in roughly 2 miles. It was an overcast day, giving the woods a dark ominous feel, which I love. The rocky summit provides amazing views of the rugged peaks surrounding me. Apple Orchard Mountain and Highcock Knob were clearly visible along with the James River Footbridge down below.
The next few miles were completely flat before a gradual climb up Bluff Mountain, the final climb for the day, before descending down to Reservoir Road. The AT crosses a huge suspension bridge where it then makes its way through a large pine forest for 5 flat miles leading to Brown Creek Shelter. The last mile followed the bank of Brown Creek, and I was able to get a great spot for my tent close to the creek several hundred feet in front of the shelter. I was asleep early that night in preparation for the big day I had planned the following day.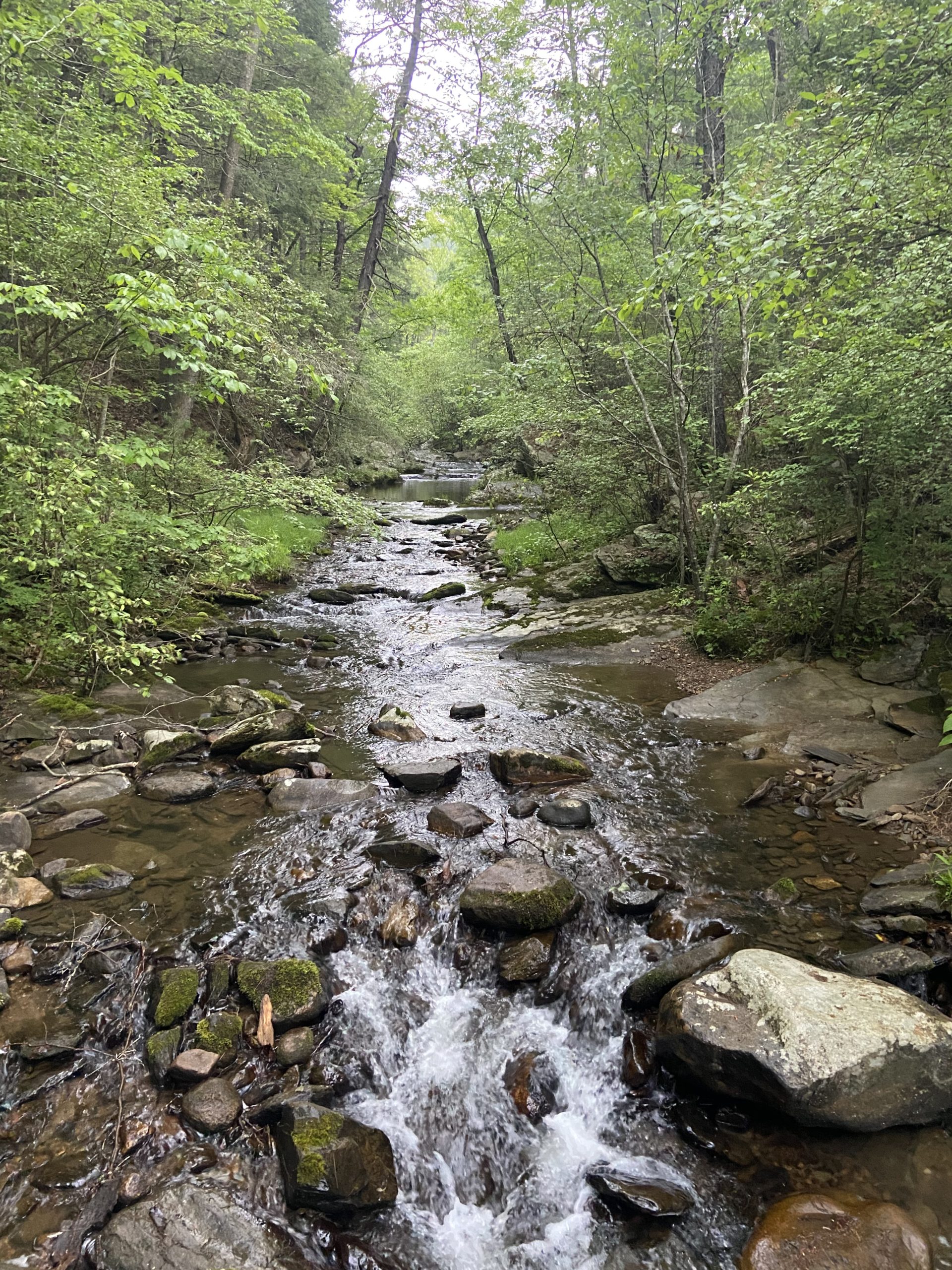 Brown Creek Shelter to Harper's Creek Shelter, 30.0 Miles
My alarm woke me up at 4:00 AM as I wanted an early start for my first 30-mile day that I had planned. I broke down camp in record time, had a breakfast of three instant oatmeal packets with my coffee, and headed down the trail in the dark, guided by the light from my headlamp. I was fired up and ready to put my body, and my mind, to the test.
It was fitting to start off the big day with a big climb: over 2,600 feet of elevation gain in roughly 4 miles. I reached the top just as the sun was beginning to rise over the nearby mountain tops. The AT descends briefly before a quick climb to Cole Mountain; a grassy bald summit with a scenic 0.5-mile meadow walk following the peak, before going back into the forest where it would remain the rest of the day.
I was now in the George Washington National Forest – and this section of forest was some of the nicest forest I've hiked in on the entire trail. The entire ground was covered in greenery with yellow dandelions scattered throughout. The trail was very mellow today with mostly flat, smooth terrain making for quick miles. When the trail did climb, it was very short, gentle climbs and descents down to various gaps. The trail remains like this for about 14 miles before a steep climb up to Spy Rock, the perfect spot for a lunch break 18 miles into my effort.
The intensity of the trail turned up a notch from Spy Rock. The trail became much rockier with steeper bursts of incline. A tough one-mile climb up to The Priest offers stunning views before a looong, rocky 4.5-mile descent down to Tye River. 27.5 miles in for the day, I wasn't quite done yet. Crossing the river on a large suspension bridge, The AT begins its long ascent up Three Ridges Mountain, and I gained roughly 1,000 feet of elevation in 2.5 miles to reach Harper's Creek Shelter, capping off my big day. I was thrilled to have hiked my first 30 miler, as I love pushing myself to see what I'm capable of in an attempt to find my limits.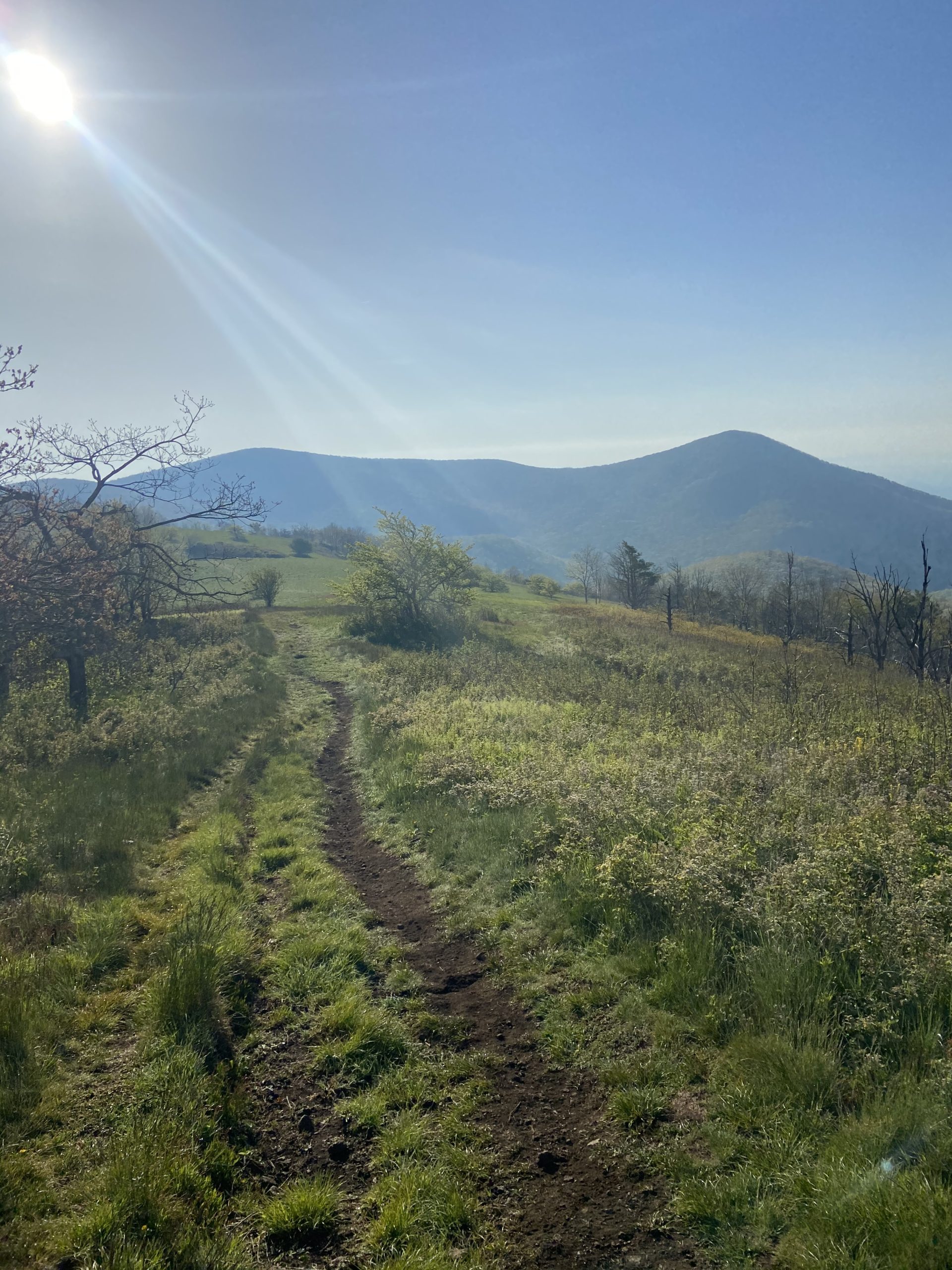 Harpers Creek Shelter to John Wolfe Shelter, 21.9 miles
I was surprised with how good my legs felt when I was up breaking down camp at 6:30. I instantly resumed the long climb up Three Ridges Mountain, gaining another 2,000 feet of elevation in 3.5 miles. This ascent was tougher than the other two big climbs from this section, mostly because of how rocky it was.
The rocks continued and became much more frequent and technical once the AT crosses Reid's Gap. An uneventful and rocky 4 miles leads to a shorter but steep climb up Humpback Mountain. The terrain and climb were not exactly enjoyable by any means, but at least there was a great view at the top. It was very hot today, most likely the hottest it's been yet on my hike. A couple of times throughout my hike, I found myself daydreaming about lounging in my pool with a beer.
16 miles in, the terrain became much easier and the rocks gradually dispersed descending from Humpback. Long gradual descents and cruisy flat stretches lead to Paul Wolfe Shelter, home for the night. My legs were definitely feeling a bit sluggish and sore in the evening and I was looking forward to a good near-o day coming up.


John Wolfe Shelter to Rockfish Gap, 5.0 miles
For the second time on my thru-hike, I opted to sleep inside the shelter the previous night, partially because I was too lazy and tired to pitch my tent and partially because it was a new, nicer double-decker shelter. I was able to snag my own personal platform on the top level, and only three other hikers slept on the bottom level. I slept pretty solid that night but yet again confirmed that a shelter is not nearly as cozy as my tent.
I took my time with my morning routine and enjoyed a relaxing breakfast with two cups of coffee since I didn't have to be a Rockfish Gap until 9:30, where I had arranged a pickup time with my friend Great Legs who lived in the area. I met Legs way back at the NOC and have been hiking on and off with him until Damascus; Legs is a 2013 thru-hiker who is section hiking this year and does a variety of trail magic when not hiking. He reached out to me offering a chance to spend the night at his place and I gladly accepted. Great Legs is the perfect example of what a "Trail Angel" is.
Legs was awesome enough to drive me to the grocery store to resupply before heading back to his place. I enjoyed what was to be my favorite near-o day yet as we hit up the popular Devil's Backbone Brewery for lunch, and later a solid Thai restaurant for dinner. This micro-taste of civilization and "normal life"  was exactly what I needed after my previous stretch, and for my upcoming push through Shenandoah National Park. So far I'm loving the grind of pushing myself on trial, and I'm only getting started. Long-distance hiking is my sport; it's my passion, and the Appalachian Trail is my Super Bowl. Why not give it everything I've got and leave it all out on the trail?
Affiliate Disclosure
This website contains affiliate links, which means The Trek may receive a percentage of any product or service you purchase using the links in the articles or advertisements. The buyer pays the same price as they would otherwise, and your purchase helps to support The Trek's ongoing goal to serve you quality backpacking advice and information. Thanks for your support!
To learn more, please visit the About This Site page.